Since my last Fans perspective piece for the Sweden event I've continued to speak openly about my favorite sport. I've written fan based MMA blog articles and had many a Twitter rants discussing this great sport. And now It's Time to experience my third UFC event live.
This time I flew from Stockholm Sweden to Nottingham England to support our Nordic fighters and see Dan Hardy perform in his home town.
Fight week – finally the week had arrived and the MMA Twitter stream gets interesting. The UFC and media are finally hyping this card and getting exited about the up and comers that have everything to win on Saturday night. Personally I like seeing the guys that are really hungry for the glory and not just sitting pretty protecting there ranking or belt by safely grinding out victories like on some of the latest UFC # cards. I hope I'm right.
Myself and a friend from Stockholm Sweden are leaving for Nottingham on Friday morning.
The week drags on but the twitter excitement increases during Nottingham's fight week.
Dan Hardy's open workout (seen above) where he hold the pads for a young boy is a classic and also the knowledge that Dana White actually arrived in Nottingham the day before the weigh-ins shows he is giving this event some special attention. Fighter interviews and Fighter blogs on you-tube are always a favorite during fight week. As is sending good luck tweets to favorite fighters. And last but not least posting you own fight pics online is a must.
The Trip,
07:20 Friday flight to London, train to Nottingham, check in to Hotel and head straight down to Capital Arena for the UFC Fight Club Q&A with Ross Pearson then the Weigh-ins at 16:00.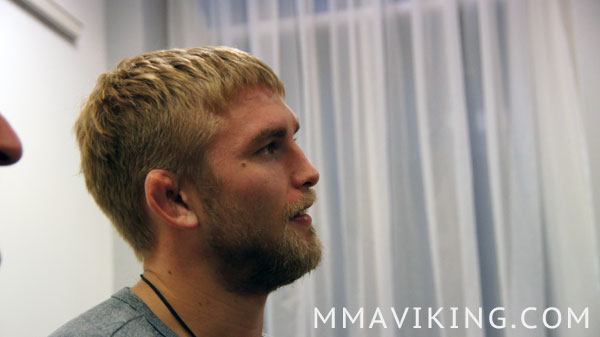 Some great questions for Ross, and I saw Alex Gustafsson in the arena and we gave him a huge cheer to let him know he had some Scandinavian fans in the house. Sitting in front of me were a couple of Gunnar Nelson's entourage with Gunnar walk out shirt on.
The weigh-ins were a great teaser for the coming event. 24 hours left…….
After the Weigh-ins we had dinner with the mmaviking.com crew in anticipation of the coming day.
I had found out where the fight day fighter signings was going to happen, at a local MMA store Fearless Fightwear in Nottingham. Pat Berry and Shane Carwin were booked for this.
Fight day.
Some touristy stuff was planned for the day to help pass the time before the event. I brought another UFC t-shirt in a sports store that had load of MMA gear.
Then went to the Fighter signings and the Fearless Fighter Store. Sadly after standing in the queue for nearly an hour and only moving 10 meters I gave up as people just kept pushing in in line. Bit sad that the Nottingham mma fans couldn't help themselves here and keep to the rules. Apart from that the talk in the queue was full of excitement and anticipation for the event that was just 5 hours away.
Walking the small cobbled streets of Nottingham it was a joy to see loads of MMA shirts and jersey's being proudly worn by all the MMA fans that had taken over the city center.
The Event – 7 hours of MMA indulgence.
I thought our tickets were mid second tier looking slightly down into the ring. I was wrong, they were bottom row bottom first tier on the fighter entrance walkway. DANG as my man Rener Gracie would say. Front row seats and physical access to the stars, couldn't be better. We were slightly star struck.
This is the list of celebs we spoke to, shoke hands with got the photos and autographs from as they walked back and forth from backstage and into the arena.
Jon Anik, Kenny Florian, Brittney Palmer, Bruce Buffer, Herb Dean, Mark Goddard, Stitch, Mouse, Burt Watson, Pat Berry, Alex Gustafsson, Akira Corassani, Brad Picket, Joe Silva and yes Dana White.
These seats were as far as I'm concerned the best in the house. Because getting a chance to ask direct questions about Nordic MMA to Joe Silva is priceless.
The Fights
So we sat in the front row as the fighters entered the arena and walked right past us. I saw their intense stares as these warriors marched into battle. So powerful so see these men that are about the enter a world of pain. The eyes of these men tell a tail…… It was intense.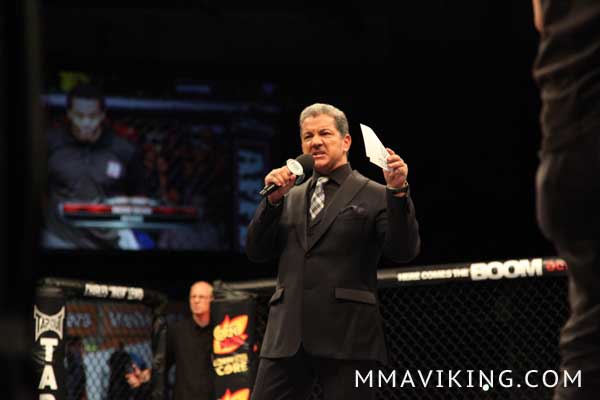 First fight silenced the British croud as their boy Jason Young got quickly and brutally knocked out and lay still for almost a minute.
Things just got serious!!
"Viking Power" was heard from screaming Nordic fight fans as Islander Gunnar Nelson entered the arena. Gunnar with his karate stance and then sick jiu jitsu controlled Johnson easily enough to announce his arrival to the UFC…. the first Nordic win of the night was secured.
Then our next Nordic fighter, New York based Swede Akira Corassani made his UFC debut against Andy Ogle, slow to start and both guys scored points. The feeling of the crowd was that Ogle had won, but the judges gave it to Akira via split decision.. Anyway another W for the second and last Nordic fighter of the night.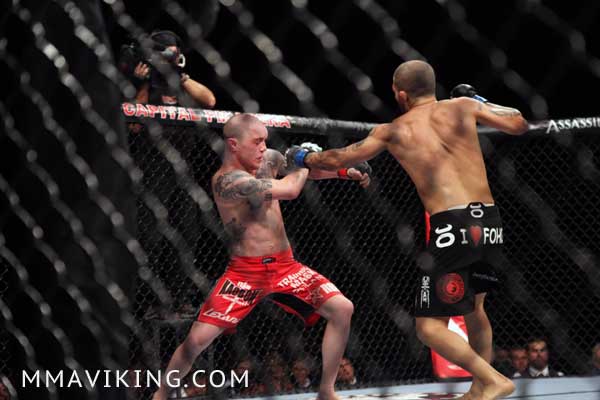 I was happy to see Wiman win, as I sensed urgency and slight desperation in is mannerisms as he walked past us towards the cage. And also just seconds before the fight started he looked ready to leave everything in the ring. Something had this man motivated and the huge release of emotion he showed when he won confirmed this.
Brad Pickets uppercut knockout was huge, the crowd went wild and you can't help but like this guy. He's got what it takes both in and out of the ring.
The walkout song "England belongs to me" – almost rose the roof of Nottingham's Capital Arena as local boy Dan Hardy walked towards the Octagon.. Experiencing a Dan Hardy fight in Nottingham and him wining was a once in a lifetime experience. I've had his walkout song "England belongs to me" on my phone for over a 1.5years and to hear it live like this was magic.
Struve……..well I was disappointed with this fight in some ways. I wanted to see Struve more dominant than this. Letting Stipe Miocic get into the fight during the first round was a worry.
I want to see Struve evolve and get better, which he is. But I'm afraid he isn't quite at the highest level needed to get to the top at this age. What I mean is it's all happening so quick at such a young age for Stefan that I'm afraid his next two opponent's will have so much more high level experience that he may falter at the door to the belt. If Stefan let's Verdum inside like he did Stipe then Stefan will be in a would of trouble.
Morning after, leaving Nottingham mid morning I noticed the strange absence of the MMA army. The predominant absence of MMA clothing on the streets of Nottingham was apparent.
The yesterday proud MMA fans had vanished into the background…..or is the underground? How far we have we come, but how far have we got left? Why did I take off my MMA gear to travel back to London and Sweden?
Maybe it's just the beginning of a new era, maybe it's up to companies like FOX and Nike who have embraced MMA that can push this further into the mainstream. Some if us do adorn MMA sport branded clothing during out free time and feel proud and ok promoting our favorite sport. But a certain stigma is still there.
Us fans are doing our part by supporting the fighters and the events, and behaving responsibly in the the cities we are invited to. This sport has so much to offer and brings people together with a common passion.
As I leave Nottingham early Sunday morning their are football fans arriving to the train station for a big match. Police are in abundance and I guess will be working hard to keep order around the fotball event. At the UFC there wasn't one police officer visible before or after the event. And from what I saw they wern't needed. Violence and dissorder isn't a problem UFC events have to deal with. And this is a tribute to the fan base that the MMA community can be very proud of.
Thank-you Nottingham and the UFC for putting on a great event, but mainly thank-you fighters for your heart and dedication that spilled over last night to give us fans a night to remember.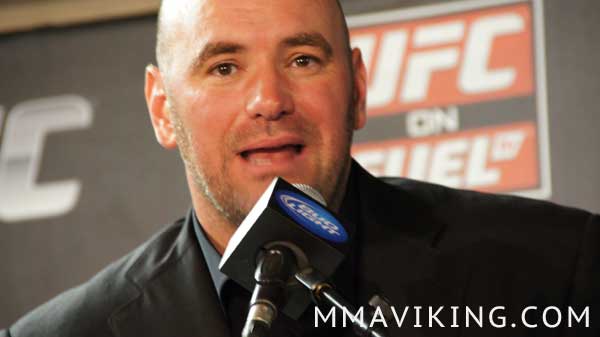 ps – @danawhite, thanks for the autograph in my program. Made me one happy fan tonight.