Finnish featherweight prospect Makwan Amirkhani (9-1) continued to climb the featherweight ranks with yet another submission win at the first ever Fight For Glory event on the 6th of April in Turku, Finland. In the co-main event of the night hometown hero Amirkhani faced experienced Frenchman Nayeb Hezam (14-14) , a short stocky grappler with crushing chokes. But this time it was the Finnish wrestler who was doing the choking in the ring. After a feeling out period on the feet Amirkhani managed to hurt Hezam on the feet with punches and took him down. On the ground things escalated quickly to the Finn's favor as he snatched Hezam's to a anaconda choke that forced the Frenchman to tap out.
Amirkhani is now riding a seven fight win streak with six of the wins coming by submissions. The Finn , who trains with beasts like Tom "Stoneface" Niinimäki, Juha Saarinen and Tipi Hirvikangas at the FinnFighters Gym in Turku, has publicly declared that he is aiming for the UFC.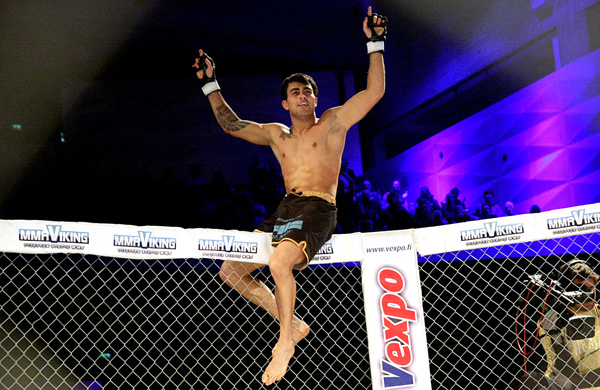 In the main event Finnish lightweight veteran Niko Puhakka (28-13), who took this fight again on short notice, bulldozed through Dutchman Berrie Bunthof (9-5) who also took the fight on short notice, a two days notice to be exact. Puhakka set the pace for the fight right from the bell with strong takedowns and active work on the ground. Bunthof went for a guillotine of his own in the second round but Puhakka popped his head out and few moments later countered with a choke that made Bunthof submit.
Fight For Glory Results
MMA:
Niko Puhakka vs. Berrie Bunthof, Netherlands: Puhakka by sub R2
Makwan Amirkhani vs. Nayeb Hezam, France: Amirkhani by sub R1
Teemu Packalen vs. Konstantinos Persson, Sweden: Packalen by sub R2
Aleksi Kainulainen vs. Ville Lehmusmetsä: Lehmusmetsä by UD
Janne Rantanen vs. Richards Vaicys, Belarus: Rantanen by sub R1
Muay Thai:
Daniel Forsberg vs. Jani Toivonen: Forsberg by KO R5
Deo "Check Bin" Phetsangkhat vs. Igor Klimovits, Belarus: Phetsangkhat by KO R1
American Boxing:
Petteri Hosio vs. Petteri Kiviniemi: Kiviniemi by UD