Sweden based fighters Fernando Gonzalez and Bruno Carvalho are set to take the stage in Amman, Jordan at Cage Warriors Fighting Championship's Fight Night 9 event. Gonzalez, who is making his promotional debut, will look to extend his unbeaten streak (currently 5-0) in a lightweight bout against Ryan Roddy (5-1), who will attempt to rebound from his submission loss at CWFC 51. In the welterweight main event of the evening Bruno Carvalho (15-6) will look to string together two back-to-back victories with a win over Gael Grimaud (18-6), the French former CWFC champion.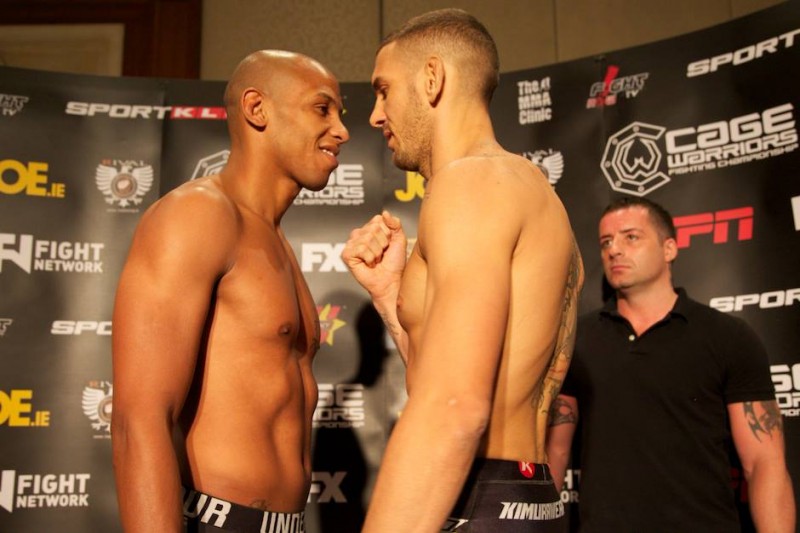 Play-By-Play and Results
Preliminary bouts will be available, free of charge, on Facebook at 7:45 PM EET, followed by the six-bout main card, streamed live via CageWarriors.tv at 9 PM local time (7 PM UK, 2 PM ET, 11 AM PT).  Check out a more in depth preview here.
Fernando Gonzalez (Sweden) Versus Ryan Roddy
Round 1: The bell has rung, and Gonzalez takes the center of the cage, clipping Roddy with an overhand right and dipping low for a takedown. Gonzalez pushes Roddy to the cage, then hits a single leg. Roddy stands, but his back is half-covered by Gonzalez, who swings out and presses Roddy against the cage. Gonzalez gives up the takedown and regains the center of the cage. Gonzalez drops a right hand and peppers with jabs, while Roddy finds himself scoring with kicks to the legs and body. Another big body kick from Roddy. Gonzalez catches the kick, pushes Roddy to the fence and lands a right hand. Gonzalez places another right hand and Roddy continues to circle away. Gonzalez again changes levels and presses Roddy to the cage, securing a takedown. Gonzalez in Roddy's closed guard, throwing in volume and then moving back to the feet where Roddy nearly secures a takedown of his own, though Gonzalez is saved by the fence. Both men exchange a few jabs and the round ends.
Round 2: Gonzalez opens with a one-two and absorbs a lead hand from Roddy, who then follows with a solid kick. Gonzalez pushes to the fence again, headed low for the takedown, but failing to complete. Missed up-kick from Roddy. Gonzalez reaches in with his right hand, misses with the headkick, then backs toward the fence, throwing a hard left hook. Roddy finds himself being circled and pushed briefly to the fence before regaining the center of the ring and finding a home for his body kick. Gonzalez takes the center and lands a solid uppercut. Body kick lands again for Roddy, and then Gonzalez pushes him to the fence once more. Roddy defends the takedown and looks for a kimura which isn't there. Knee to the body of Gonzalez as Gonzalez grinds Roddy to the cage. Spinning back elbow from Roddy as they separate. The round ends as Gonzalez takes Roddy's back.
Round 3: Gonzalez moves forward on the feet, both men are keeping a lively pace. Gonzalez takes a poke to the eye, and lands a left hook upon resumption. The story of the fight so far goes on and Gonzalez puts Roddy briefly to the fence again. They separate, circle and Roddy hits a takedown, putting Gonzalez's back to the cage. Gonzalez regains the feet and they exchange lightly, but now Gonzalez is finding his back to the cage, absorbing knees from Roddy until he manages to circle out and hold Roddy against the cage. Gonzalez takes the back and sits down, dragging Roddy with him. Gonzalez is searching for the rear naked choke. Gonzalez has a neck crank, but Roddy does not appear in danger. Gonzalez releases and locks in a body triangle as Roddy stands. Gonzalez still searching for the Rear Naked Choke with 10 seconds left. The final round ends, with no submission scored.
Decision: The judges have scored the bout 29-28 Gonzalez, 29-28 Roddy, and 29-28 for winner by split decision, Ryan Roddy.
Bruno Carvalho (Sweden) Versus Gael Grimaud
Round 1:  Touch of gloves begins our contest. Grimaud explodes out with a big right hand and immediately puts Carvalho to the mat. Big shots from the top. Carvalho is tossed to the mat, then rises, before being pushed back to the fence smashed with an incredible right hand and follow up punches. Bruno Carvalho is unconscious, and Gael Grimaud finds himself the victor of the contest by way of Knock Out in 45 seconds of the very first round.