Two top Scandinavian fighters were in action at Bellator MMA's Season 8 middleweight tournament, but both Dane Mikkel Parlo and Swede Andreas Spång came up short in their first round bouts.  The Bellator 89 event took place in North Carolina at Charlotte's Bojangles Coliseum last night.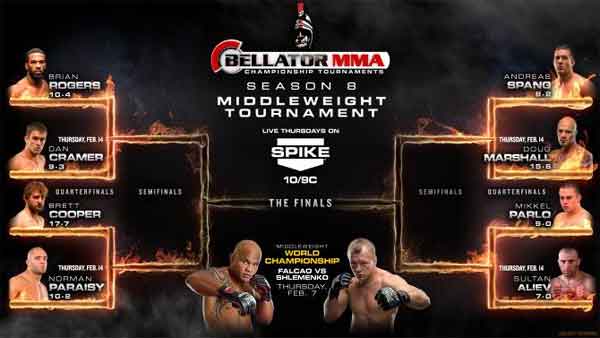 Results
Dane Mikkel Parlo lost a narrow decision and Swede Andreas Spong was stopped in round 1. Both fighters had high hopes of challenging for the title, and were set to clash in the semi-finals, but their bids to continue were stopped the card headlined by bantamweight title fight pitting champion Eduardo Dantas versus challenger Marcos Galvao, plus all four quarter-final bouts Thursday night.
Parlo Handed First Loss with Narrow Decision
Parlo saw that the unknown Sultan Aliev was for real, when the Russan was able to drop him with a jab in the first round of their three round bout. Aliev was able to defend the strong Dane's takedown attempts early, as judges saw him win both rounds 1 and 2.
The Copenhangen fighter was looking to land his classic big punches to end the bout, as the fighter was able to do in his debut, but was unable to find the mark. Round 2 was a closely contest round, where Parlo began to find momentem, but the crisp striking from the Russian was able to get judges to see it in his favor.
Parlo finished the bout strong winning the third round with a switch-kick with hurt his opponent. Aliev was put on the mat with the unbeaten Dane looking to finish the bout, but it wasn't enough time and the ground-and-pound continued to the final bell. All three judges saw the bout 29-28 for the winner by unanimous decision, Sultan Aliev
Aliev remains unbeaten, with 9 wins and 0 losses, while Parlo gets his first loss dropping to 9 wins and 1 loss.
Spång Stopped with Big Shot
Andreas Spång had a short night of work as his bout only lasted three minutes. The former WEC ight heavyweight champion Doug Marshall's big right hand ended the bout, as he sent Spang to the mat forcing referee Dan Miragliotta to jump in and stop the bout.  The two exchanged punches early, but it was Marshall who was able to land the big shots.  Marshall continues to build momentum as he already had a 1st round KO in his Bellator debut in November.  Spång on the other hand has dropped his second consecutive Bellator bout, and is now 8 wins and 3 losses overall.
Next Bouts
Marshall moves into the middleweight tournament semifinals and will meet Aliev, in bouts versus the two fighters that downed their respective Scandinavian counterparts.