Timo-Juhani Hirvikangas (10-3) will headline the upcoming NFC Fight Night 2 card this Saturday at the Gatorade Center versus Marc Gomez (20-8).
Get your live updates and results here, followed by pictures and videos.  Ian Cowie is cageside doing play-by-play and Jarnu Juutinen is taking pics.
Henri Lintula vs Vavan Holubiev
Round 1 – Holubiev wastes no time by throwing a spinning back kick to open the fight. Lintula catches a kick and takes Holubiev down. Holuviev scrambles to his feet, but not for long as Lintula again takes him down and quickly takes his back. Lintula sinks in the RNC and Holubiev goes to sleep.
Winner – Henri Lintula by RNC in round one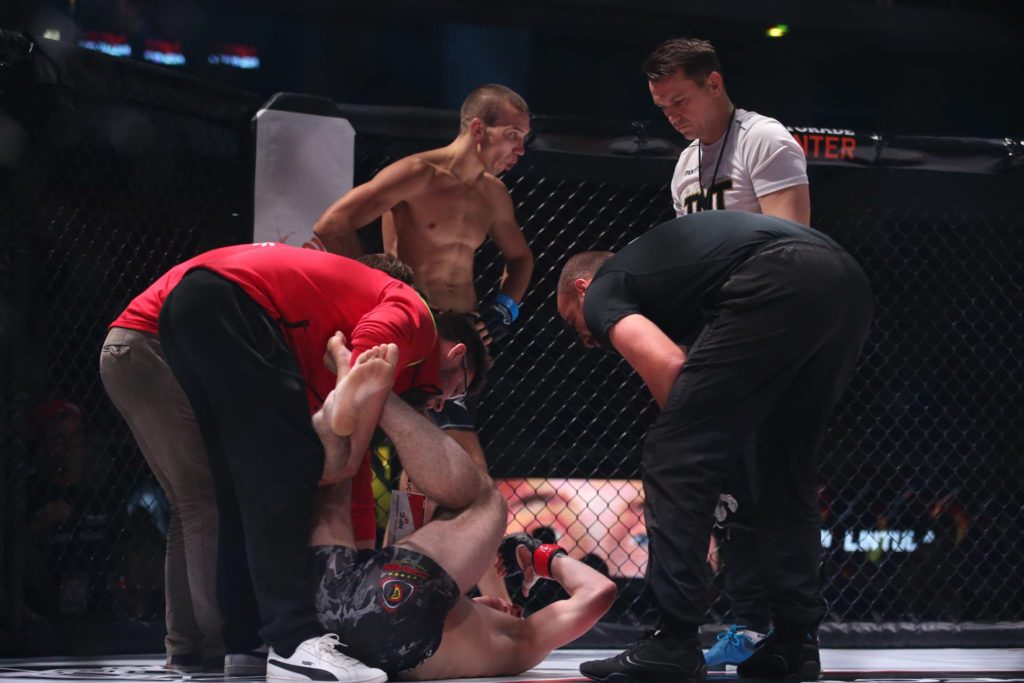 Hannan Housmand vs Alexis Giannakopoulos
Round 1 – Giannakopoulos shoots a single leg, but Housmand wraps his neck and quickly chokes him out, 30 seconds into the first round.
Housmand wins by guillotine in round one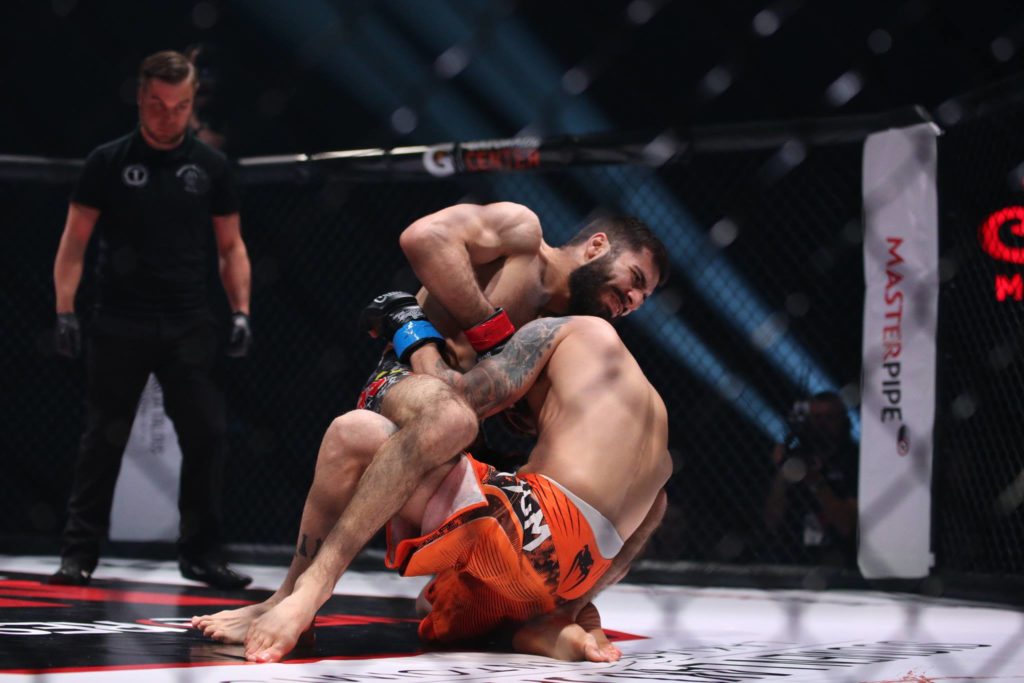 Suvi Salmimies vs Evelina Puidaite
Round 1 – Salmimies is sporting a new purple, green and gold hairstyle… why not. She comes forward and immediately scores a double-leg takedown and finishes in mount. Puidaite shows zero defence as Salmimies blasts her in the face. Thankfully, the ref comes to her rescue.
Winner – Salmimies by TKO in round one
Olli Santalahti vs Freddy Alexander Campbell
Round 1 – Both men come out guns blazing, exchanging big punches. Campbell takes an accidental eye poke and the ref stops the action. Santalahti lands a big leg kick, and then Campbell takes him to the ground. Santalahti has a strong guard, and immediately gets Campbell to tap via armbar.
Winner – Santalahti via armbar in round one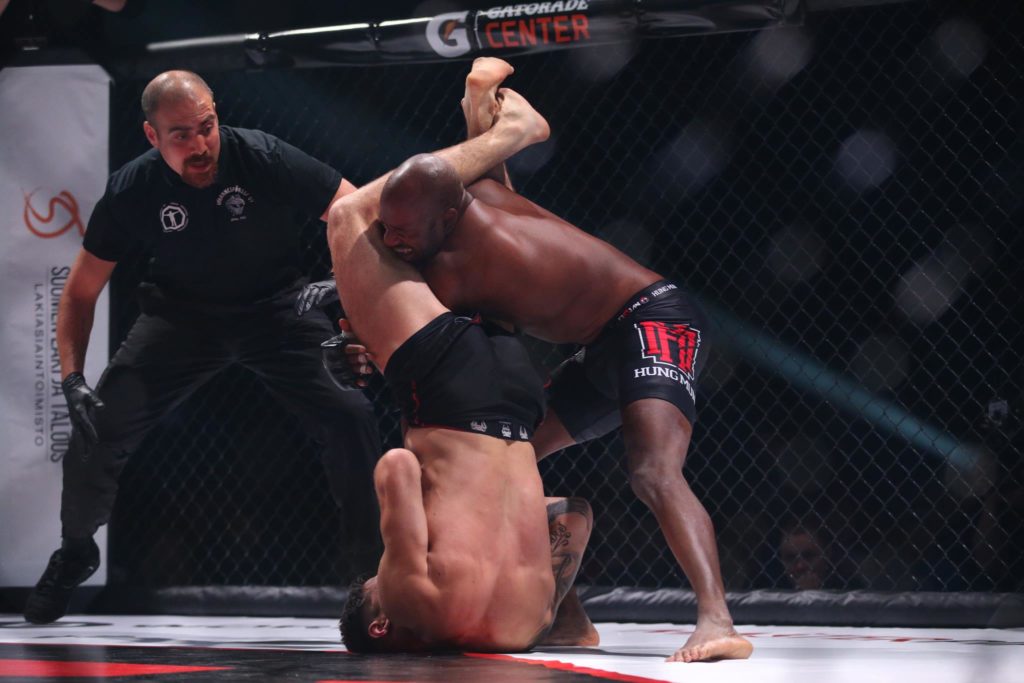 Niko Puhakka vs Jani Ridasmaa
Puhakka steps into the cage for his 48th professional fight. The Espoo Kehähait fighter has been doing the damn thing for 15 years and will look to rebound after a loosing by TKO in his last fight against Ioannis Palaiologos.
Round 1 – Both fighters come out slow, respecting each others power. Puhakka shoots a sinlge-leg and uses it to drag Ridasmaa to the ground. They battle against the cage, with Ridasmaa on one knee. Ridasmaa is able to get an underhook and uses it to get to his feet.
Puhakka is relentless though, and duck under Ridasmaa to take his back and drag him to the mat. Puhakka lands a couple shots before the ref stands them up.
Puhakka again gets deep on a single, and again, uses it to get Ridasmaa to the mat. The horn sounds with Puhakka on top.
Round 2 – Both fighters exchange jabs to start the second round. Puhakka delivers a head kick that´s blocked, and Ridasmaa returns with a combination of his own. It is more of the same with Puhakka going for the single-leg and taking Ridasmaa down. The problem is that Puhakka is not able to generate much offence on the ground and the crowd is getting restless.
Puhakka passes into half guard briefly, but Ridasmaa is quick to regain guard. Puhakka then lands a few good shots, and Ridasmaa threatens with a triangle choke to finish the second round.
Round 3 – Ridasmaa comes out swinging, but Puhakka shows a stong chin. They scramble and Puhakka finishes on top. Both men look exhausted after what has been predominantly a gruelling jiu jitsu match. With one minute left in the match, the ref stands them up. Ridasmaa lands a couple nice shots, but again Puhakka is able to get the fight to the ground. The horn sounds, and it´s up to the judges.
Winner – Puhakka by unanimous decision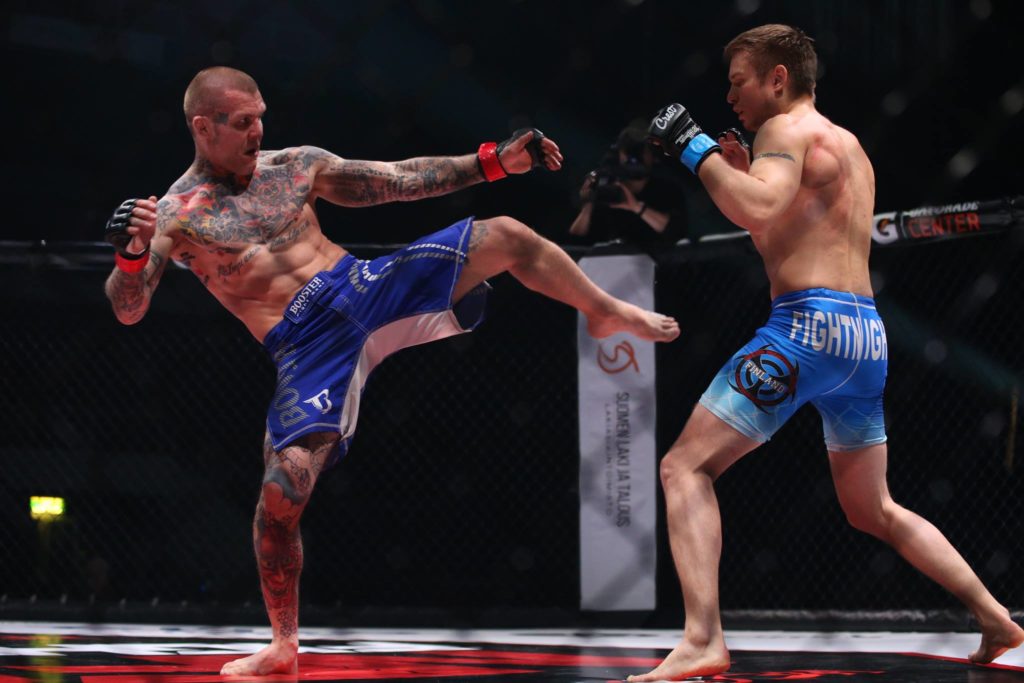 Tipi Hirvikangas vs Marc Gomez
It´s time! Gomez is riding a six fight win streak, while Hirvikangas is looking to rebound from a split decision loss in his last outing. Let´s see if Hirvikangas can get his hand raised in his home town of Turku.
Round 1 – Hirvikangas begins the fight with a thudding low kick and Gomez returns with a fast combination. Hirvikangas shoots and gets Gomez to the mat. Gomez gets his back to the fence and is able to stand up.
Gomez is pressuring Hirvikangas for a moment, but the veteran Turku fighter changes levels and again scores a takedown. Gomez quickly gets back to his feet, but eats an elbow for his troubles.
They resume fighting in the center of the cage. Hirvikangas then presses Gomez to the cage and the horn sounds signalling the end of the first round. A very competitive match thus far.
Round 2 – Gomez snaps his jab and Hirvikangas returns with a low kick. Hirvikangas leaps in with looping punches but Gomez defends well. Hirvikangas then pushes Gomez to cage and looks to land elbows. Some good exchanges back and forth with Gomez leading and Hirvikangas looking to counter.
Gomez just misses with a flying knee. Hirvikangas reverses position along the cage and looks to take Gomez down. Gomez defends well, and they separate. Gomez pumps a jab and then looks to land a big right hand but it´s blocked. The horn sounds to end the second round. Too close to call after two rounds.
Round 3 – The fighters give a manly hug to start the last act of this violent play. They are going toe-to-toe, rock-em-sock-em style here. Hirvikangas scores a sneaky takedown, but Gomez scrambles to his feet. Again Hirvikangas gets the takedown, and again the Spaniard gets to his feet. What a battle!
These guys aren´t leaving anything left in the cage. It is non-stop action. Hirvikangas gets Gomez to the fence and scores the takedown, but Gomez is like a spring; it´s impossible to keep this man down. Close fight. It all comes down to how the judges score the takedowns.
Winner – Hirvikangas by split decision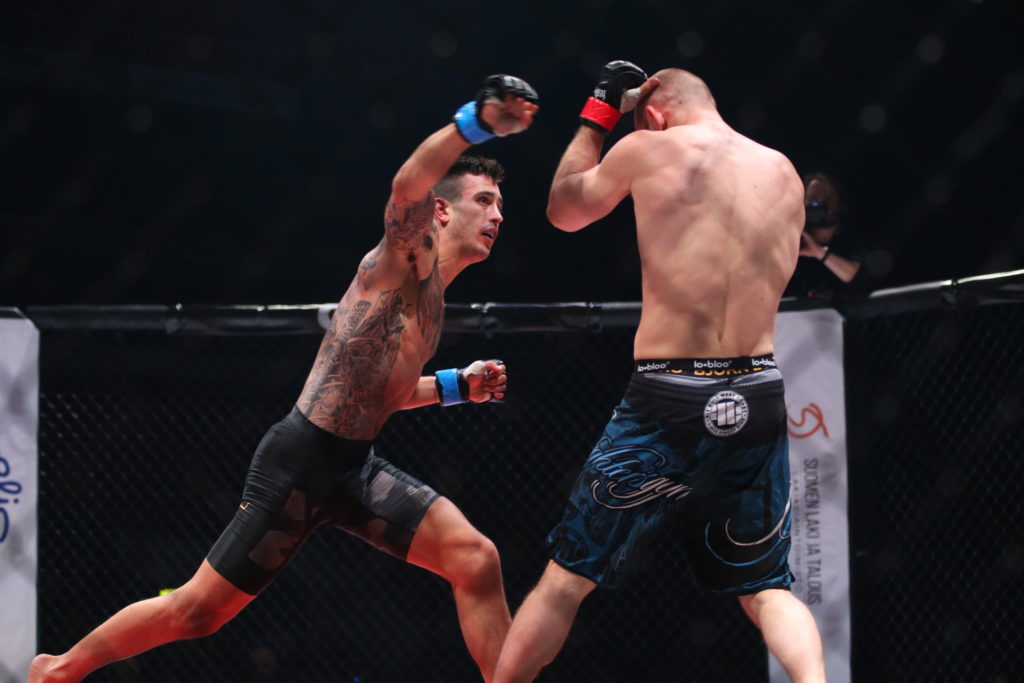 Gomez throwing the right hand, and Hirvikangas blocks.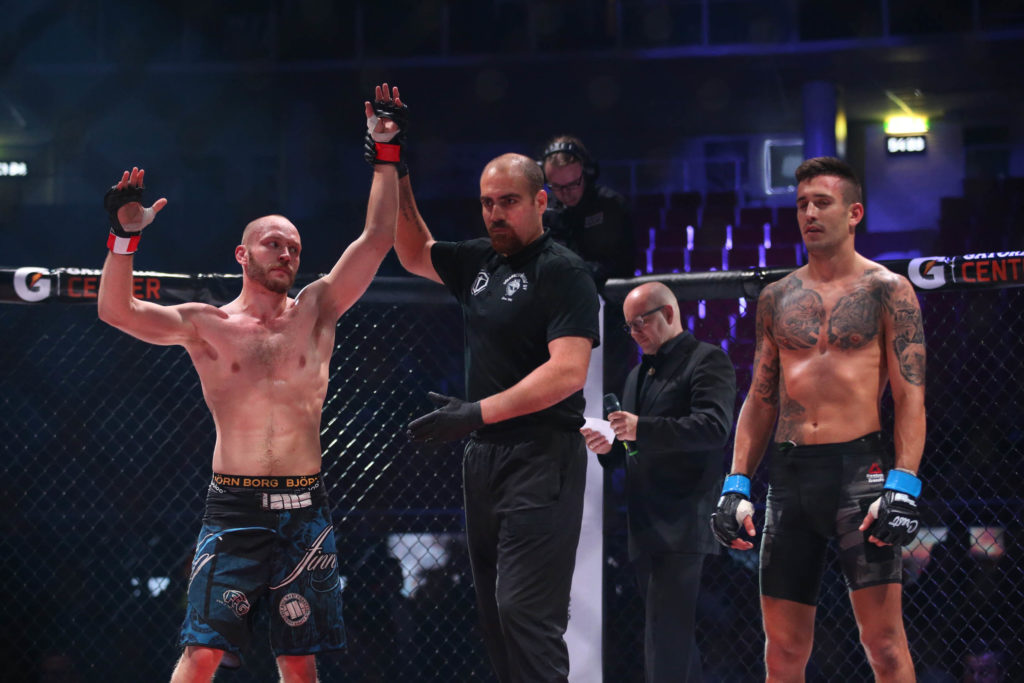 Hirvikangas wins by split decision.