FCR is back at the Västerås Arena and putting on a a stacked main and prelim card. MMA Viking is cageside to report on the action.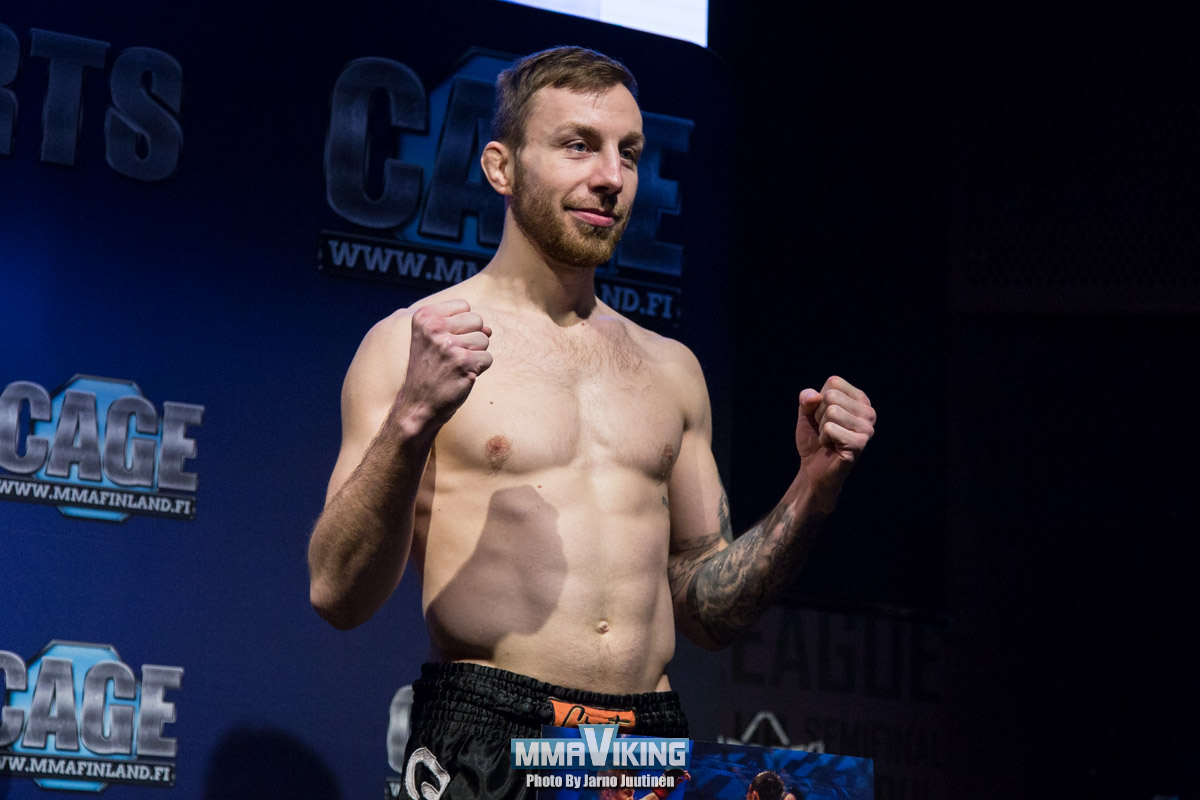 Get your live results here!
PRELIMS
Erik Wahrolen vs. Parraguez – Amateur
40-year-old Wahrolen wins by unanimous decision. Gets one for the old guys!
Anton Hellström vs. Viktor Mangs – Amateur
Mangs wins by split decision in a real tough fight.
Fabian Misk vs. Firas Kaaki – Amateur
– Misk with a strong showing to get the UD, 30-27 on all the cards.
Al-Jasim – Kafeei
– Al-Jasim wins by decision.
Djaba Murtazaliev vs. Waltteri Hakkinen
Murtazaliev with a flying knee attempt to start. Hakkinen stays composed and lands a good left headkick of his own. Good right hand from Djaba. The Sweden based fighter landing some good shots and this time lands with a flying knee right before the 1 minute mark. A low blow from Djaba then a follow-up punch, then the referee comes in. After a break Murtazaliev comes in guns blazing.
A second take-down is defended by the Finn, and the tide seems to be turning after a strong start from Murtazaliev that looks to be having problems with his nose. Another take-down defended. Good left kick from the Finn.
Djaba finally gets a take-down, but Waltteri is able to get up quickly. Now it is the Finn moving forward, and Hakkinen gets a take-down briefly. Good left kick to the body from Hakkinen. A punch lands and Murtazaliev is in trouble. Another punch and punch, and Murtazaliev is on the groud. Hakkinen follows-up and this fight is all over. Big win for the Finn at 3:57 of the 3rd round.
Liam Pitts vs. Enes Ahmemulic
This bout should come down to the last round with Pitts getting the first and a strong second from Enes. Liam takes back and finishes with some good strikes on back to get the win 30-27, 29-28, and 29-28.
MAIN CARD
Baysangur Makaev vs. Grzegorz Szozda
Szozda from Poland, and Makaev from Allstars in Stockholm. Makev with a slick double-leg takedown and stays in control on top till the end of the round. Reza Madadi, Alan Finfou, and Khamzat Chimaev in the corner.
Another takedown to start the second round, but Szozda is able to get out. Makaev trying to land a bog overhand, but just off the mark. Szozda moving forward.
Makaev wants the fight on the ground as he is tiring a bit here late. The first one he can't get, but the second shot he takes down Grzegorz. A 30-27 UD decision for Baysangur Makaev that moves up a class to get the fight.
Nabil Malki vs. Ebrima Faal
Malki in on a single leg, but Faal defends well and lands a knee to startle the Swede. Ebrima follows up and Malki falls to the mat and throws a few more shots. "I'm a violent mother fucker". says Faal that gets the stunning win as a big underdog in the betting odds.
Zoran Milic vs. Rohullah Yousofi
Tense start here. Yousofi winging punches as Milic stalks the light-footed opponent. Wow! Crushing uppercut from Yousofi that drops Milic… he is in trouble! Rohulla pounces and lands more punches, but Zoran keeps his cool and gets full guard to recover. Zoran able to get to his feet and battle for a double-leg takedown. The crowd is going nuts. Posturing up, aldning some straight punches at the end of the round. We got a good one here!
Milic catches a kick and immediatley brings the fight to the ground. The local fighter gets back and in full control as he peppers shots to the head. Now looking for a rear-naked choke, but can't get the angle to finish. Big round for Zoran.
Yousofi with a nice body shot, and then a left kick to the head as Zoran goes down low. You can sense Milic wants this back on the ground, and tries for a take-down, but can't get it. Big left from Rohulla in an exchange and Zoran batles off the mat again! Take-down defended, and the crowd cheers their guy Zoran. Good right, and a take-down from Milic with 1 minute left.A bit of a scuffle as I think Zoran wanted to keep going after the bell rang.
All judges score it 29-28 for Rohulla.
Sahil Siraj vs. Patrik Pietilä
Two such nice guys ready to do bad things. Siraj lands a low then a high kick. Patrik looks relaxed and isn't throwing anything yet. A couple more low kicks, and a left hand from Siraj. And another big one shocks the Finn that stumbles and goes to the mat. And this is all over. Win for Siraj by TKO. "I have confidence in my wrestling now" says Sahil that finally beat the Finn that was labeled as the "Swede Slayer."
FCR Vacant Flyweight Championship
Renato Vidovic vs. Amir Malekpour
Malekpour lands first with a good right kick. A straight left sends Vidovic reeling back, and a smile to Amir's face that walks him down. Vidovic grabs a single leg and tries to land punches, but quickly fighters take their distance. Vidovic falls to his back holding his eye from an apparent eyepoke. Action is stopped, but it ain't looking good. Doctors in attendance. This is a No Contest.
Andreas Gustafsson vs. Toni Lampinen
Gustafsson lands a huge blow to the head to start the fight, and another. Lampinen is composted and ties up with the Swede that tries to put a body lock on him. The two tie-up and roll then back to the feet. Andreas with a good knee to the body. Toni is not going anywhere and digs into the grappling. Good short elbow from the local fighter in the clinch. Two good shots from Bane on the inside. Lampinen lands one! Band comes back. Wow. Right elbow from the Finn! Andreas throws punch after punch LANDING BIG and Toni goes down, now back up to his feet and it is a dog fight! Andreas gets in on a double leg take-down to finish the round on top. BUT BLOOD IS POURING DOWN HIS FACE. Doctors let it continue.
Bane with some punches, and Toni lands a straight left. Mouth piece comes out of the Swede's mouth. Both fighters just going after it. Sweat and blood soaked fighters. Referee calls time-out and doctor comes in to look at, but lets it go on. Both fighters just continue to just blast each other, taking turns as blood poors out of their faces. Looks like round 15 in a Rocky movie. Band with a quick one-two-three, and uppercut. Toni doesn't give a shit and and tries to land big shots of his own. Bane land more big shots and Toni hits the mat and the referee steps in. Holy moly. This was a WAR of WARS!!!
Andreas Gustafsson wins by stoppage at the end of the second round. 4:38. Just wow. "Everything is broken" says Gustafsson. "I didn't know you were so good" says the Swede to the Finn.