Nicolas Dalby (22-4-1, 2NC) beat Muslim Salikhov (19-4) in Las Vegas at UFC Fight Night: Vettori vs. Cannonier in a welterweight battle. It was a clear decision on all the scorecards for the big underdog that secured Dalby his third straight win in the Octagon.  Read the live play-by-play below.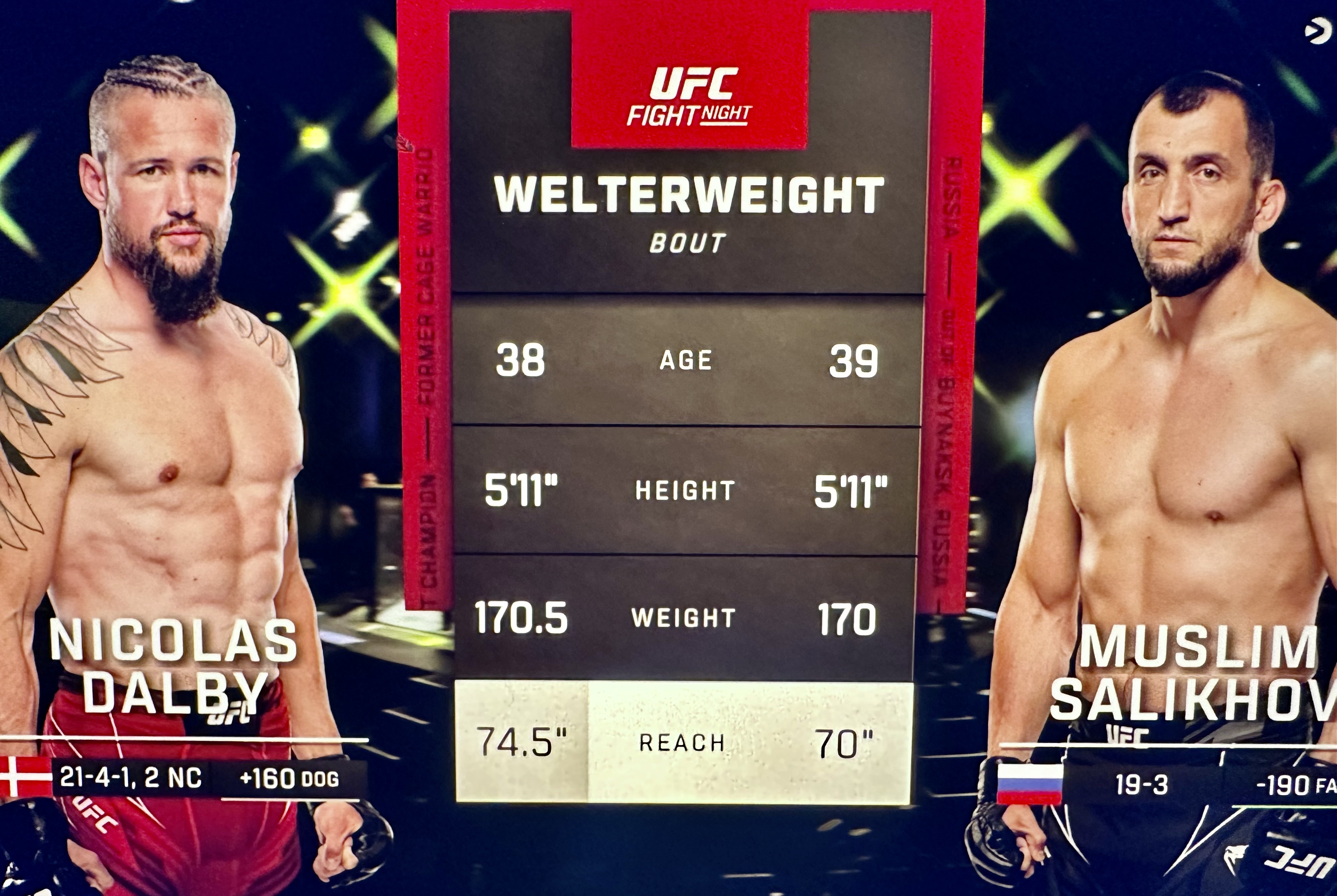 Salikhov lands a solid calf kick to start, showing how he hopes to slow down the active Dalby. The Dane is busy with kicks high and low. Another good calf kick. Dalby now lands one of his own. The left hand of Muslim lands hard. Superman punch attempt, then a spinning kick, then a spinning wheelkick to the body. It's anyone's round, but Muslim coming on stronger here in the middle of the round.  Big counter right hand from the Dagistani fighter that catches a Dalby kick. A good left hook and Dalby took that power punch.
Right hand lands from Dalby. OHHHHHH Right Kick kills shot from Dalby lands with 30 seconds left in the first frame. Shin to the head of Salikhov, and the biggest blow of the fight! Muslim in on a quick take-down as he recovers, but Dalby pops up. What a turnaround, and with that power shot, let's give that round to Danish Dynamite!!! The corner asking if Muslim is alright, and he just slumps down on his chair.
To start the second, it is Dalby that goes for a double-leg take-down. Salikhov looks a little tired. In the tie-up against the cage, the Copenhagen fighter lands a good knee to the head. Salikhov with a spinning hook kick. Nicolas just moving forward with confidence, and looking for a take-down again with a body lock. Muslim however gets the take-down briefly, but Dynamite is up immediately. Landing good knees to the body, and now with a body lock gets a take-down and straight to mount! Now the Rumble fighter takes back and in full control and looking for a choke. Salikhov however battles to his feet. Dalby lands a good shot, then a kick! Big finish to the end of the round! Big round for DalBooty!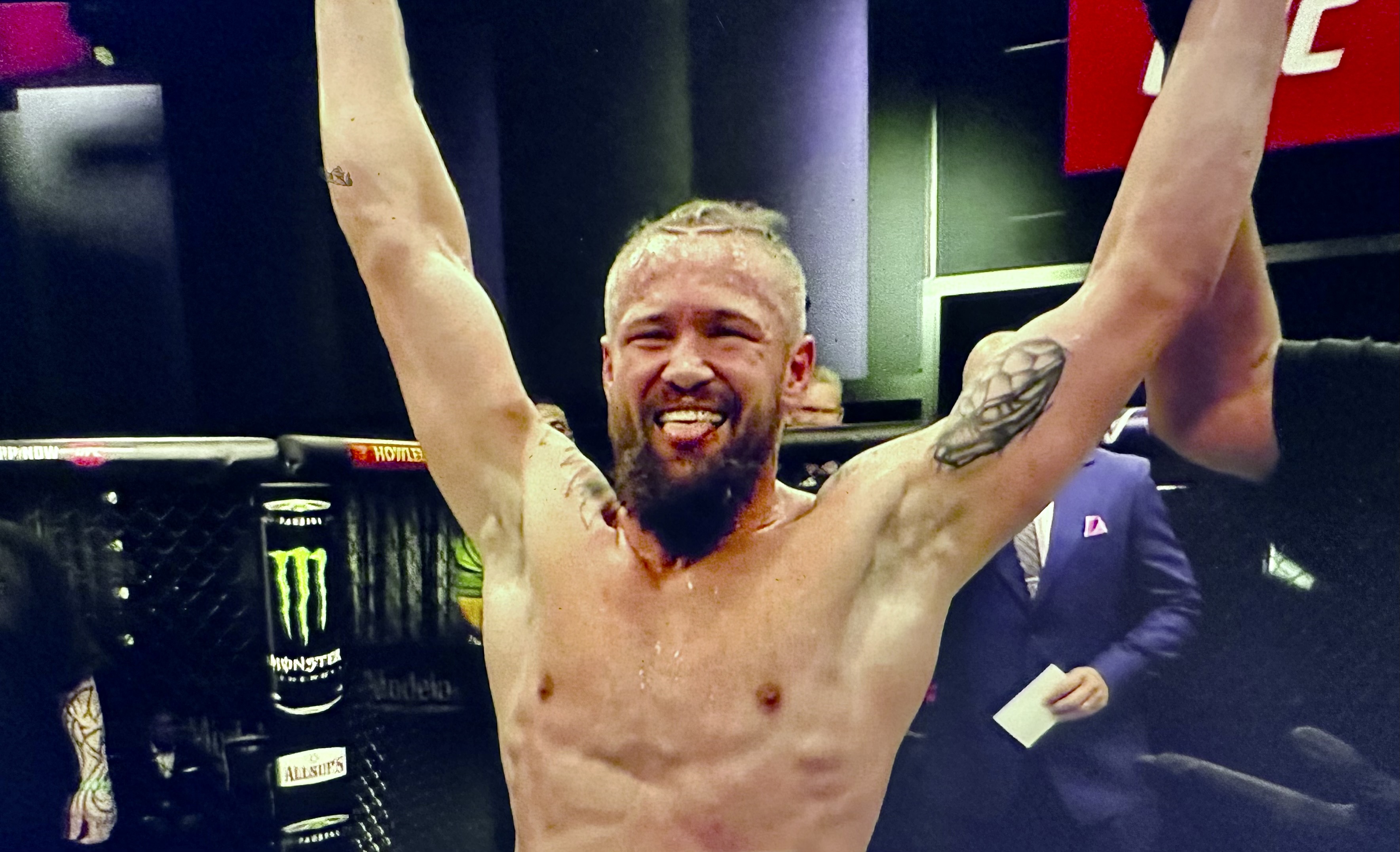 Dalby not backing down and turns up the pace and they both start throwing. Now in the tie-up and coach Tue yelling instructions in Danish, but it kinda sounds like German. Dalby is motivated here and just digging for underhooks. Dalby just advancing forward and throwing hands and kicks.  The momementum is all on the Dane's side. Still throwing and former Cage Warriors champ landing more as Salikhov falls backwards. More Dalby, like more Cowbells. More Dalby! Just grinding this one out. Salikhov looking around like what the heck is going on here. Oh, left elbow from Dalby, then a high kick. Now full body lock and a take-down. Move to back and just big brothering Salikhov.  Another round for Dalby for the win!
All three judges score it for Dalby.  30-27, 30-27, 29-28 for the win and third straight!
"I want somebody ranked next time for my 30th fight." says the Dane.  "Thank you to Martin (Kampmann) for putting us on the map" says Dalby that says he has now won the most fights out of any fighter out of Denmark.