FCR 17 goes down at the Fyrishov Arena in Uppsala, Sweden. 12 fights are slated for the packed card taking place early in the afternoon on a lovely day in Sweden. Renato Vidovic and Jonny Touma were supposed to face off in the main event but has been cancelled due to Vidovic's competition card now being in place for the event.  So, Finn Toni Lampinen and Swede Christopher Bajo will now be the main event.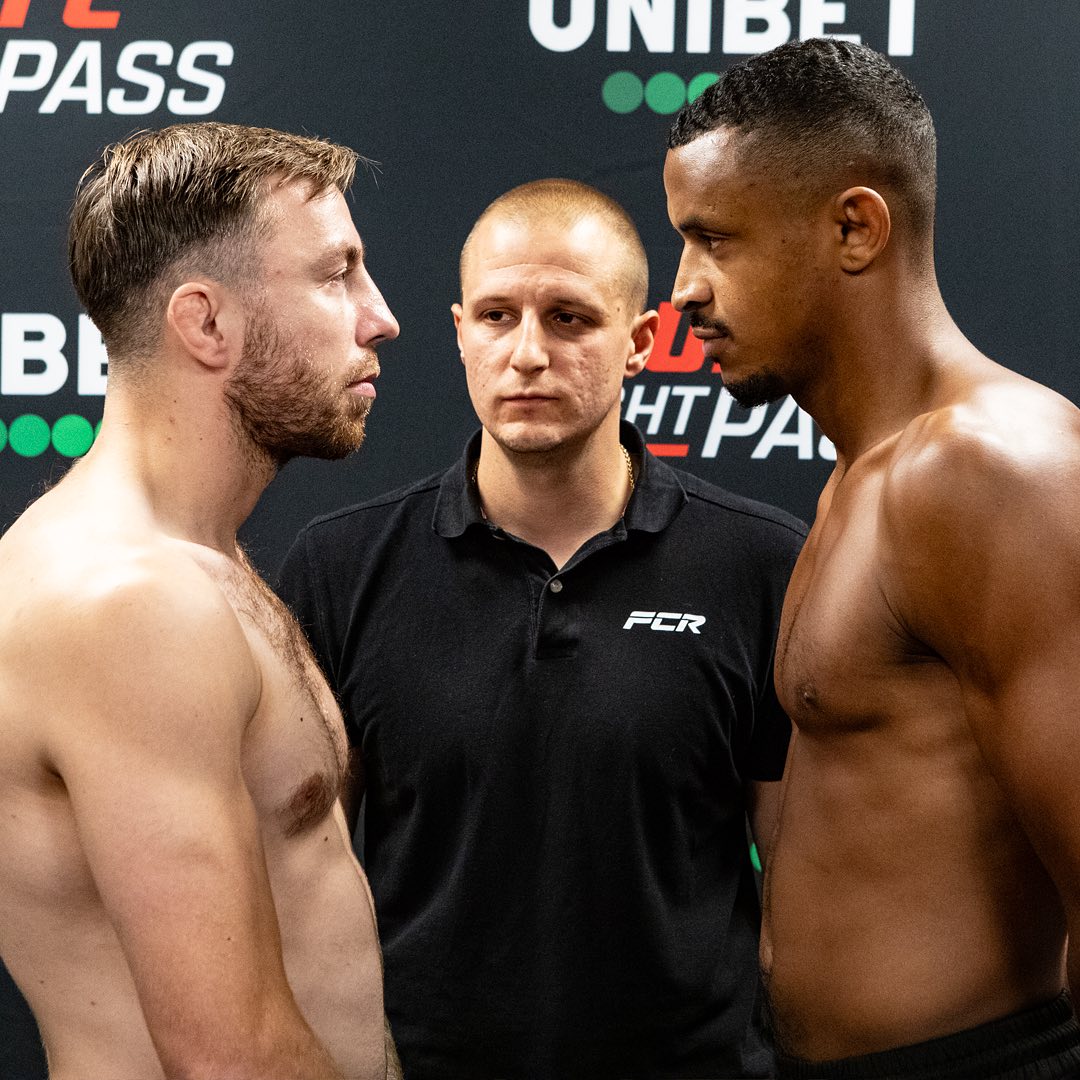 UNDERCARD

Arsen Tuagnov vs Morad Muhyaddin (amateur bantamweight)
Tuagnov wins by Unanimous Decision
Viktor Mangs vs Randy King Fungula (amateur lightweight)
Mangs wins by Unanimous Decision in a Spirited Brawl
Erik Wahrolén vs Ibrahim Milli (lightweight)
Wahrolen with a 47 second right hand KO stoppage.
Nina Back vs Josefine Modig (straweight)
Nina comes out with a nice left right combo.  Modig does the same, and the two women are putting their head down and letting them fly.  A couple good right hands, and then a brief take-down for Josefine.  Full mount, and now back.  Josefine goes for the rear-naked choke and really puts the squeeeeeeze on Back. Nona fights and fights, but it is too tight and no time to tap before she is out.  RNC for Modig.
Dimitris Dimitriadis vs Raymond Johansson (flyweight)
Slick left hand that lands for Dimitris.  Johansson controlling the action and lands body body head shot to put his opponent on skates.  Raymond stalking, but he gets clipped!
Dimitris face is redenned, and he takes several more head shots.  And a kick.  Raymond is coming in for the kill.  Dimitriadis is hurt, and there is the right strike to drop him.  The fight is stopped.  Johansson by stoppage at 3:43.
The celebrating fighter looks for his son, and he jumps on the cage like his dad.
Ali Yazbeck vs Kevin Osorio (catchweight)
Osorio looking to load up on a right hand, while Ali looking to counter.  Oh, a nice knee for the Redline fighter coached by Akira Corrasani.  Ali controlling the distance, but Kevin lands a big right hand and the crowd starts with "Kevin" changes.
Ali with a perfect double-leg takedown into full mount in the second frame.  Some good ground and pound, and control with a back-take to end the round.
Ali shoots in for a double, but it is countered well.  Yasbeck flops to his back, but Osorio wants to strike.  Blood coming out of the eye, but not stopping Kevin from moving forward… but this pressure opens him up for a perfectly executed take-down.  Full mount with a minute left and landing some good shots.
30-26 on all three cards for undefeated Ali Yazbeck.
MAIN CARD
Martin Corney vs Waltteri Häkkinen (flyweight)
A nice pop for Corney as he approaches the cage.  Oh, and the Finn gets a cheering section of his own!  Nice tension here to start off the main card.
The two exchanging kicks to the body.  Southpaw Häkkinen, takes a straight right hand.  Two explosive fighters here.  The left hand of Corney lands, but a bigger left hand just cracks Corney and drops him!  A quick tie-up.  A knee!  Going in for some ground and pound and on top!  More punches and a rear-naked choke is there.  2:12 of round 1 by rear-naked choke Waltteri Häkkinen is the winner.
Arlind Berisha vs Mustafa Atrakchi (light heavyweight)
The only Norwegian based fighter is in the cage.  Oh, a BIG counter right hand and immediately Atrakchi is dropped, follow-up from Arlind with a couple left hand punches…. and it is all over!  27 seconds.
Nabbe Malki vs Maycon James (80 kg catchweight)
Malki and James both came forward to throw down, Malki lands some good shots, then James lands one.
Oh, Malki with two kill shots and James is on the ground!  Malki keeps landing shot after shot after shot, and it is all over.  Nabbe overwhelmed by the win and celebrates on the cage before just feeling overwhelmed and collapses with his coaches on the mat.
Moein "Moe" Ahmadi vs Daniel Karlsson (catchweight)
Karlsson coming out aggressive and lands a good left hand.  The two grind on the cage, and now Karlsson with a body lock and take-down.  Daniel hold Moe down for a while, but as the stand up, Ahmadi has his arms in for a standing guillotine.  Oh, it is tight and there is the TAP with 1 minute left in the first!
Toni Lampinen vs Christopher Bajo (80 KG catchweight)
And now the main event!
The two sizing each other early.  Bajo switches stances.  Lampinen with some nice body shots.  The Swede attacking with kicks and knees… .and two nasty elbows.  Christopher turning it up!
OHHHHH!!!! a KILL shot elbow, but somehow Lampinen hits the mat and automatically in for a double leg!  And the Finn finishes and on top!  Bajo looking for a kneebar, but Toni gets free and is in side control.  Now in full mount.
To start the second it is Bajo that puts Lampinen on the cage and it is an eblow and elbow and punch and punch, and the Finn is hurt!  It is all over as the referee jumps in at 51 seconds in round 2.
Renato Vidovic vs Jonny Touma (flyweight title match – CANCELLED)