The Ultimate Fighting Championship returns to Glasgow with UFC Fight Night 113 on Sunday live from The SSE Hydro.
The main event of UFC Fight Night 113 features a welterweight contest between Gunnar Nelson and Santiago Ponzinibbio, while strawweights Joanne Calderwood and Cynthia Calvillo battle it out in the co-main event.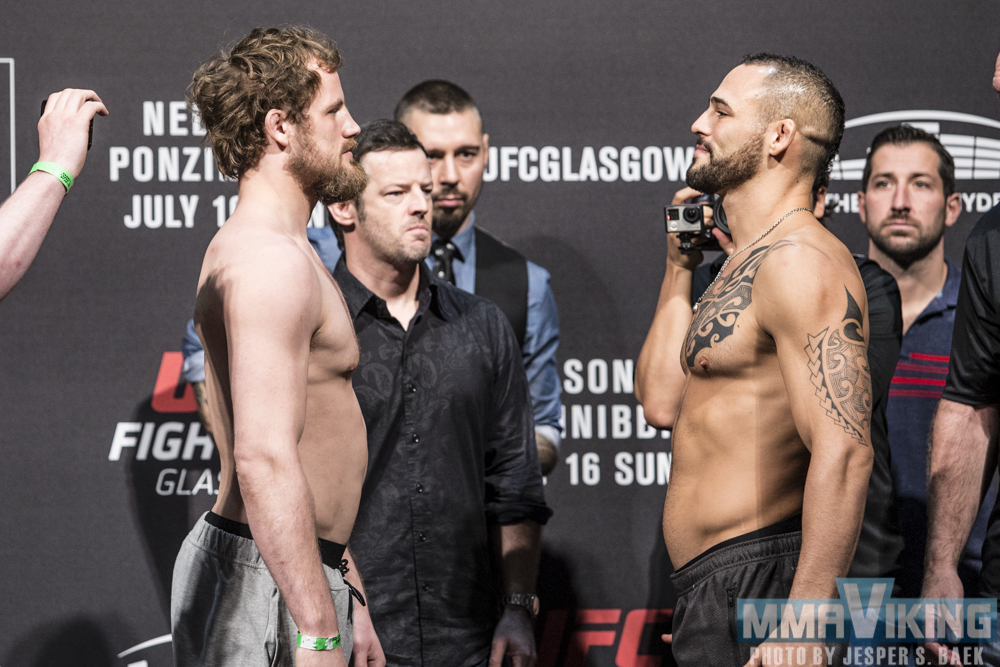 MAIN CARD (FOX Sports 1, 3 p.m. ET)
Gunnar Nelson (170) vs. Santiago Ponzinibbio (171)
Joanne Calderwood (118)* vs. Cynthia Calvillo (116)
Paul Felder (154) vs. Stevie Ray (155)
Ryan Janes (185) vs. Jack Marshman (185)
Paul Craig (204) vs. Khalil Rountree (203)
James Mulheron (240) vs. Justin Willis (264)
PRELIMINARY CARD (FOX Sports 1, 1 p.m. ET)
Bobby Nash (170) vs. Danny Roberts (170)
Alexandre Pantoja (125) vs. Neil Seery (125)
Galore Bofando (170) vs. Charlie Ward (169)
Danny Henry (155) vs. Daniel Teymur (155)
PRELIMINARY CARD (UFC Fight Pass, noon ET)
Brett Johns (135) vs. Albert Morales (134)
Amanda Lemos (134) vs. Leslie Smith (135)
Nordic Fight Results
MAIN CARD
"Gunni" will be looking for his third straight win inside the octagon as he faces the "Gente Boa" Santiago Ponzinibbio.
Gunnar Nelson (170) vs. Santiago Ponzinibbio (171)
Round 1
Nelson looks very measured as always. Nelson lands a lead uppercut that backs Ponzinibbio up. Ponzinibbio lands a devastating right straight that rocks Nelson, then follows up with a left hook that put the lights out.
Ponzinibbio wins by KO at 1:22 in the 1st round.
PRELIMINARY CARD
Danny Henry (155) vs. Daniel Teymur (155)
Daniel is following in his brother David's footsteps into the Octagon, who has won all three of his UFC fights.
Round 1
Teymur presses the action to start the fight, landing heavy leg kicks and a big overhand right that wobbles Henry. Teymur´s thaiboxing is on full display as he makes use of all eight limbs.
Henry shoots for a takedown, but Teymur reverses it and briefly ends up on top. Teymur then beats up his opponent´s legs before the ref stands Henry up. Henry seems to catch his second wind as he lands a few good shots to end the first round.
Round 2
Teymur starts the second round with two heavy uppercuts that get the Scottish fighter´s attention. Henry answers with an elbow over Teymur´s guard. Henry cracks Teymur with a left hook and the Swede is on wobbly legs. They go to the ground briefly, but Teymur manages to get back to his feet.
Henry again lands a series of punches that drops Teymur. Henry goes for a RNC, but this might have been a mistake as Teymur defends well and is able to catch his breath. The buzzer sounds to end round two.
Round 3
Henry seems to be the fresher fighter to start the last chapter of this slugfest. Teymur´s hands are down. Once, twice, three times Henry cracks Teymur, and Teymur´s head snaps back. Henry presses his man to the fence and secures the takedown. He quickly advances to mount where he reigns down punches. Teymur seems to be doing just enough to prevent the ref from stopping this fight.
Teymur´s has heart of a lion though. He is trying everything in his power to stand up, but to no avail. Henry takes his back and lands a few more measured shots to cap off an excellent performance.
Henry wins by unanimous decision.