The build-up and hype for the Dane versus Dane bout was huge, as Mikkel Parlo faced Simon Carlsen at Royal Arena 2… and the bout did not disappoint. The headlining showdown is awarded the Nordic Fight of the Year for local MMA (UFC bouts were excluded by design) between the young lion Parlo, already signed by Bellator, who stepped back into Royal Arena for a dangerous bout against Carlsen.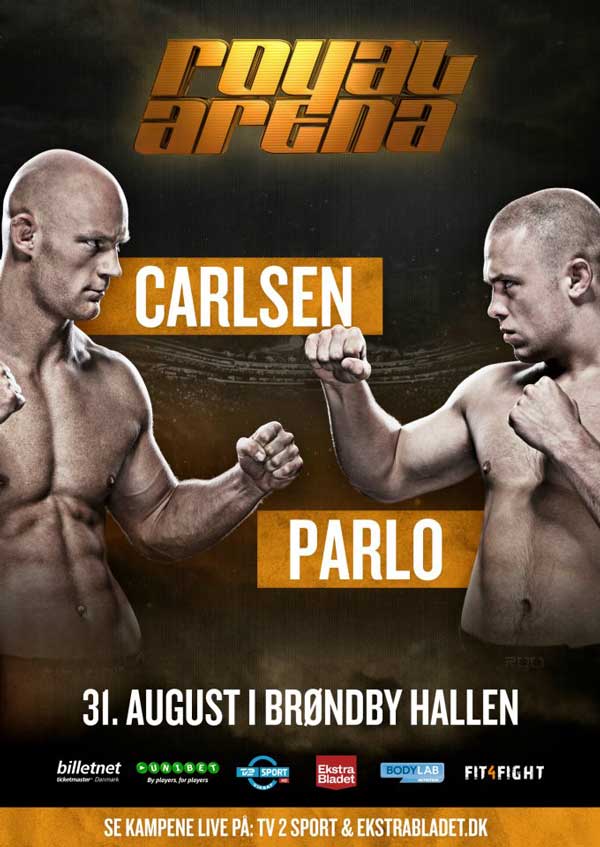 There was already competition for the fans in Brøndby, Denmark, in August as chants "Parlo, Parlo, Parlo" were washed out by "Simon, Simon, Simon".  The tension was emense, as the two slugged it out.  Carlsen was effectively defending the takedown and landing knees and combos, as he absorbed some big shots for Parlo.  The energetic crowd showed support for their local hero.  Here is our play-by-play of the event :
ROUND 1 The crowd chants "Parlo, Parlo!", now some "Simon, Simon"! Parlo is bouncing around, looking for the opening. Carlsen is being way more cautious than usual. Parlo throws a huge right hand that just misses. Carlsen throws a strong legkick, Parlo answer with one as well. Carlsen lands a spinning kick, wow. He is mixing it up, he lands a knee as well to Parlo's midsection. Parlo closes the distance and they throw bombs, wow! Hard shots. They clinch, Carlsen lands a solid knee, Parlo a solid hook. Parlo lands a strong leg kick, Carlsen a strong right. Parlo looks a bit puzzled, a bit wondering. He lands a nice one two though. Wow, a strong right hook, Carlsen has an iron jaw. Carlsen lands a knee to Parlo's face. Carlsen lands a HUGE overhand right, Parlo goes down for a split second, stands up, the round ends. Wow!  MMA Viking scores the round for Carlsen 10-9
ROUND 2 Carlsen comes forward, pressuring Parlo. He lands another Knee to Parlo's stomach. It hurts, you can tell. They clinch, they throw bombs. Wow, Parlo ducks and lands a huge overhand right. He closes the distance, they both grab each others neck with the left and punches with the right, wow, Parlo is throwing some HUGE rabbit hooks, again, again, again, Carlsens legs are giving out, he is dropping, he is down! THE REF STOPS IT! WOW! Everyone is on their feet! Completely insane, the crowd goes WILD with the chants of Parlo's name! Parlo does a backflip, his coaches jump on the cage, a beatutiful moment indeed.
Video