Morten Hougaard Djursaa is breaking through one of Europeans most competitive weight divisions.  The Danish welterweight (11 wins and 4 losses) veteran is coming off one of his most significant wins with a KO of Poland's Aslambek Saidov at European MMA 2 stopping his 7 fight winning streak.  Djursaa, out of Fight Centre Odense, talks to MMA Viking about the big win, training, life as a dad, and when we could see him in the cage again.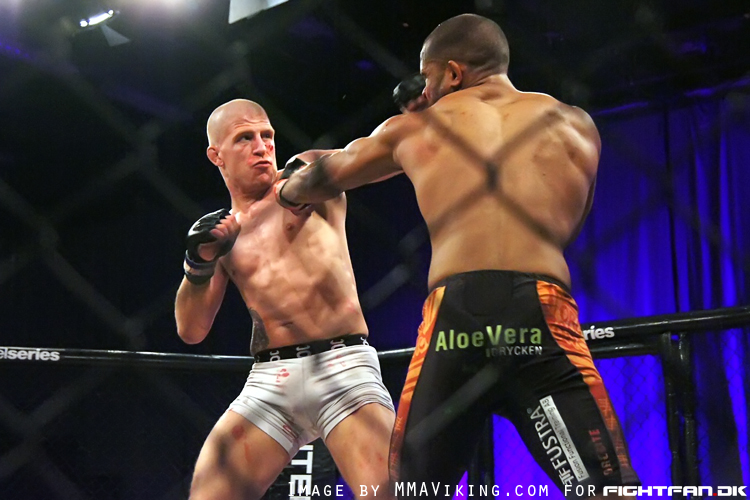 Exclusive Interview
MMA Viking : You had an impressive victory against Saldov. Talk about how important the bout was for you and winning the belt.
Winning the European MMA welterweight title was great, and especially against an opponent as renowned as Aslambek. I knew he was good at wrestling and had great power but I was certain that I could outstrike him on the feet, and use my grappling to neutralize his wrestling. That I finished the fight the way I did just made the whole fight that much better.
MMA Viking : I think I heard rumor that you may train abroad… is there any truth to that.
At the moment I have no plans of going anywhere. But I did spent a month training in the USA this summer with Fightgym.dk's MMA head coach David Rosmon, Danish pro-fighter Damir Hadzovic and the young talent Mathias Appelgren.
In Las Vegas we actually ran into Aslambek, who was there on a training camp too. We had just agreed to the fight a couple of weeks before.
I trained at Extreme Couture and Robert Drysdale jiu jitsu in Las Vegas, and  then Victory MMA in San Diego where we trained with Dean Lister and Fabricio Camoes.  Afterwards I spent 10 days in Skt. Petersburg at the IFMA world championships in muay thai with the Danish muay thai national team were my training buddy (and muay thai talent) Kasper Tobberup got a bronze medal.
MMA Viking : Now that you have a new family member, does it change your perspective on fighting and your career?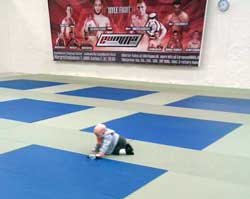 Being a father has made me think about the future a lot. But most importantly it has given me an even stronger focus on getting the most out of everything I do. When I do something I try to put my focus 100 % in that given activitity, that being work, training or my family.
And of course it means that me and my wife have to plan everything. My wife Maria Hougaard is a professional fighter as well and is eager to return to the cage after her layoff due to the pregnancy.
MMA Viking : When do you think you can fight again… will it be to defend the European MMA title or another promotion?
I was supposed to fight in December but we decided to move it to the spring giving me time to recover from small injuries and really get a good training camp in.
MMA Viking : What does it mean to get some recognition as a top Nordic fighter, including being included in rankings –You are #5 in the Nordics according to MMAViking.com behind 3 UFC fighers– with some of the world's best?
I feel I have been lurking just beneath the top fighters some time but in my last 2 fights I have tested my skills against some of the best Europeans in my weight class.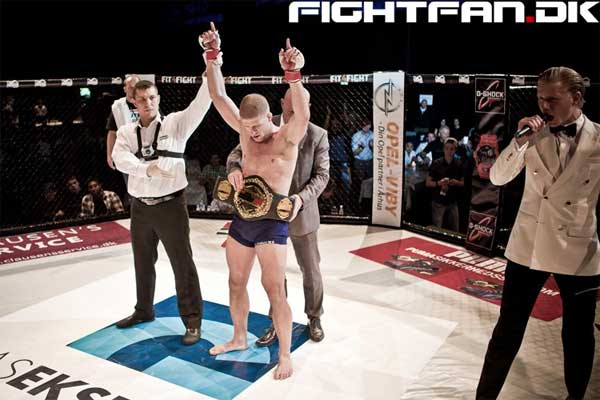 I have just rewatched my fight against Assan Njie and even though it was a good fight I am not entirely satisfied with my own performance in that fight and know I could have done better. Nor am I happy that Aslambek could take me down in our fight, but I will improve that aspect of my game as well.
In general I am very happy about the recognition from MMAViking.com. Now I just hope that my next fight will put me even higher on the top 5 list.
I plan to achieve that goal by the help of Nipponsport.dk, my teammates in Fightgym.dk from the MMA team, the muay thai team and the BJJ guys that all help me out in preparation for my fights. And of course my friends from Scrappack.dk.
If you are looking for MMA in Denmark, be sure to check out European MMA 3 on December 13 at the Falconer Hotel & Conference Center, Frederiksberg, Copenhagen.   MMA Viking will be reporting live from the event.