Ole-Jørgen Mandt Johnsen (3-0)…. sounds like a viking doesn't it? For sure he is… "OJ" is a proud "Drammenser" (Norway 6th biggest city) and is a big talent coming out of Frontline Academy Drammen where he trains under Nic Ruben Nikolaisen and alongside Kenneth Evensen, among others.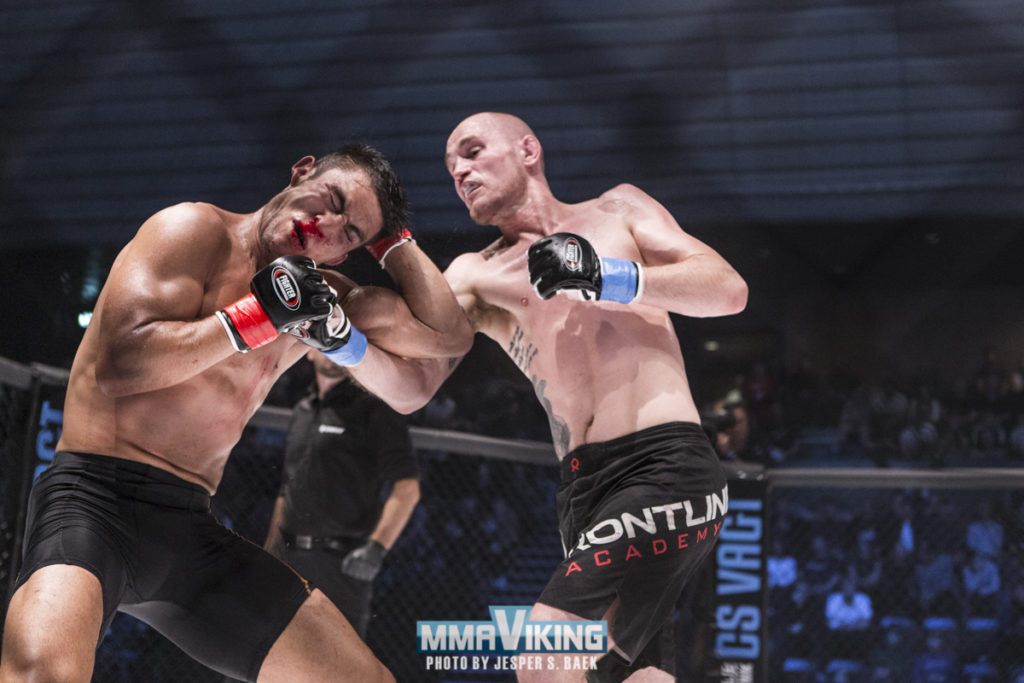 After a start in boxing he went full into BJJ for some years before transitioning to MMA and the lightweight fighter is now 3-0 into his professional MMA career. He is fighting Andrej Kalasnik (6-1) at Oktagon 17 in Brno, Czech Republic this Saturday.
"I know that he is a tall and lanky freestyle wrestler who likes to grind" says OJ to MMA Viking. "I am usually a lightweight, but this is a welterweight fight.  I am in great shape and I have been looking for opportunities like this fight."
Kalašnik trains at Jetsaam Gym Brno, the home gym for Jiří Procházka, a UFC light heavyweight. The Czech debuted as a Pro in 2018, at XFN 7 where he won a unanimous decision against Jiří Novák. Following his loss to Alihan Mizaev at Fusion Fight Night Series in his next fight, he managed to score two more wins the very same year, to make it a total of 4 fights in 2018. The following year, Kalašnik stayed active. In April of 2019, he stepped into the cage of Oktagon MMA and beat Gabriel Fuksz via TKO in round 2. He then went on to beat David Sokolovsky via unanimous decision before returning to Fusion Fight Night Series and putting another decision win in his record against Jan Janka. For his fight against Johnsen, Kalašnik returns to Oktagon MMA.
"My ambition is to do as much damage as possible in every fight. I do not play around. This is a serious sport where time is everything. I am ready for everything. Always."
Johnsen, despite less experience as a pro, has more fights than his opponent as an amateur. His bout as a Pro took place in 2019, against James Dixon from England, where "OJ" finished his opponent just 17 seconds into the first round. Dixon, at that moment was also debuting as a Pro with an amateur record of 6-1. Johnsen then went on to fight Carlos Zamora at Olympian Fight Night, where he would take the unanimous decision win. In his last fight, which also happened in 2019, Johnsen submitted Lucas Ghidelli in the first round at Battle Arena 57.
"Shout out to the Pro team at Frontline Academy Oslo , Nic Ruben and the crew in Drammen. Christopher Wolf (my cardio coach), optimization.no, Alexander Hallafors (nutrition), Amadeusz Rybica management for stretching out a hand to me with this fight. Combat corner for top gear and Mateusz Legierski for recommending me for this fight. Andreas Lagaard for his continuous support."