The Zone Fighting Championship takes place tonight in Gothenburg at the Lisebergshallen. There are 10 bouts on The Zone FC 12 – 'Kamikaze'.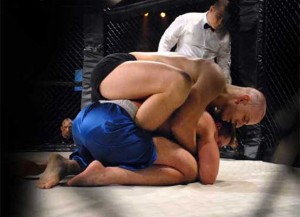 Preview
The Zone FC is back at Gothenburg's Lisebergshallen this Saturday. The Zone FC 12 – 'Kamikaze' card is highlighting Swedes versus Frenchmen for the most part, as 8 of the 11 bouts on the card feature country versus country battles.
The big name on the card is August Wallén, who among other things has been the president of both the Swedish MMA Federation and the International MMA Federation. Wallen who is also a coach at Gladius MMA will return to fighting. The Swede was The Zone FC belt holder before sustaining injuries.
Wallen has an overall professional record of 6 wins and 1 loss. His MMA fight record dates back to 1997, and he has fought such notable fighters as Elvis Sinosic, Vernon White, and Yuki Kondo. Wallen last fought at The Zone FC 7 back in November of 2010.
Jean-Francois Lenogue, Team Lenogue, from France is the man who will face Gothenburg-based Wallén in this main event. Lenogue and Wallén were scheduled to face each other back The Zone FC 11 last November, but Wallén was injured and the audience saw Lenogue win over replacement Swede Martin Wojcik.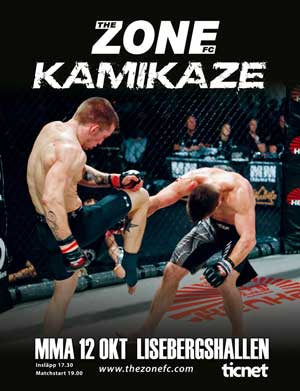 The other more known name on the card is Muay Thai and MMA fighter Elina Nilsson (Gladius MMA) who makes a return to the cage to face Zarah Dos Santos (Platinium, France) in a catch-weight fight at -69kg. Nilsson has appeared three times before at The Zone FC and was scheduled for a fight on last years The Zone 11, but was also forced to withdraw close to the event. Since then Nilsson, who did fight on Invicta, has won a bronze medal in this year's European Muay Thai Championships.
Also, Rami Aziz from GBGMMA, makes a return to the card. Aziz is a popular local fighter, who has more potential than his 3 win and 2 loss record suggests. He returns for a 4th time to The Zone FC and will face Brian Hooi (Shaolin-Ryu, Netherlands) in this featherweight match.
Results
For an overview of weigh-in results.
Match 1 (70,3 kg)
Haci Firat Dogan, Kampsportscentret Linkoping (SWE) vs Amin Afsan, Gladius MMA (SWE)
The fights have begun, and we have an evenly matched first bout. The two Swedes are trying to find weaknesses in each other's game, but so far each aren't having any luck. Dogan looking to land a big right, but Afsan avoiding. Afsan keeps his hands down as he looks for a counter. The Gladius fighter uses his jab and speed in the later rounds to pull away. The two embrace to show appreciate for a good fight.
With August Wallen fighting tonight, it looks like Besam Yousef has taken over corner duties for the Gladius fighters, and so far they are on the winning track.
Unanimous decision for Amin Afsan
Match 2 (61,2 kg)
Samir Faiddine, Crossfight (France) vs Binh Son Le, Gladius MMA (SWE)
The local gets a big pop from the crowd. Le has got power in his right, and he is using it early to look for damage. The Frenchman is using good footwork to circle, as Le looks for a big punch. Faiddine gets a takedown in the first, but Le is back to his feet quickly. Le with a takedown of his own to win the first round.
Le again on top with a slick take-down and ground and pound in the second round. Faiddine looks to have good cardio and a chin as he picks up the pace late in the second round. Very evenly matched here, but it looks like the Gladius fighter's wrestling will make the difference.
Le takes control of the third round, and wraps up this match against the game Faiddine.
Unanimous decision for Binh Son Le
Match 3 (83,9 kg)
Marco Alunno, Werdum/Pythagore (France) vs Zvonimir Kralj, Frolunda Kampsport Center (SWE)
Nice left from Kralj early to drop the French fighter.  More ground and pound and damaging blows, but the bout is not stopped.  Alunno almost locks up a triangle, but can't finish it, instead he transitions to a reverse headlock and forces a top.
Alunno by submission in round 1 in a fun little scrap.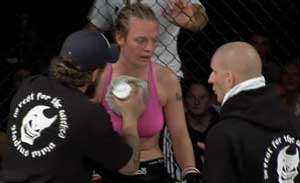 Match 4 (65,8 kg)
Peter Ryrland, Snow MMA (SWE) vs Robin Gidlöv, Gladius MMA (SWE)
After exchanges early in the first, it is Gidlöv that finds his way to a guillotine in the first round forcing a tap.
Gidlöv wins by submission in round 1.
Match 5 (70,3 kg)
Zarah Dos Santos, Platinium (France) vs Elina Nilsson, Gladius MMA (SWE)
August Wallen is in the corner of the Gladius fighter, just a few bouts away from his return to the cage.
Nilsson and Dos Santos battle through the first two rounds, keeping the fight standing.  No significant advantage for either fighter, and whoever comes out strong and wins the third could take this one.  It's Dos Santos with a couple of hip tosses to get the fight briefly to the ground to mix things up, but Nilsson seems to press the action late in the bout once she is cut.  Nilsson with knees to finish strong.
Nilsson wins the bout by decision 30-26,29-27,29-28.
Note : There will be a 15 minute break after this match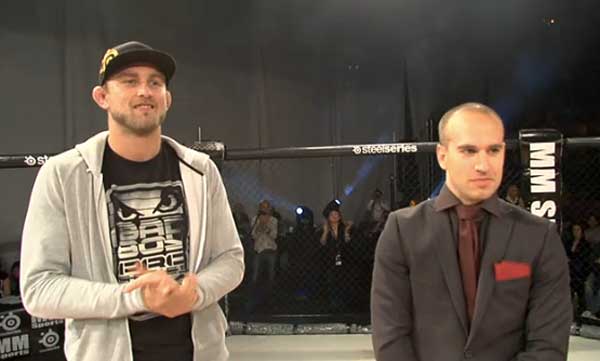 Match 6 (Catch weight 78,6 kg)
Peter Elelian, Crossfight (France) vs Erik Carlsson, Frolunda Kampsport Center (SWE)
Carlsson looks very confident with striking early.  He pins Elelian against the cage in the first round, and brings the fight to the ground, but it doesn't last too long.  Carlsson is in control of this, and it extends to the second round where he spent a majority of it on top in full mount raining down punches.  The Swede finishes the bout with a rear naked choke in the third round.
Carlsson by rnc submission in round 3.
Match 7 (77,1 kg)
Ylies Djiroun, Evolution Pancrase (France) vs Per Franklin, Gladius MMA (SWE)
Franklin dominated round 1 and two, using take-downs to bring the fight to the ground. Djiroun tried over and over for a guillotine choke, but could not get it. Per came close to submission of his own looking for an armbar and triangle in the second, but couldn't secure it.
The Frenchman found his way to the top after reversing Per in the third round. Again, the Swede goes for an armbar in round 3, but it's not enough to force the tap. The tiring Franlin hangs on to win, with a dominant performance.
Franklin wins by decision.
Match 8 (65,8 kg)
Brian Hooi, Shaolin-Ryu (Holland) vs Rami Aziz, GBG MMA (SWE)
Aziz with an early take-down, and the GBG fighter is too strong for Hooi. Aziz takes his time finding a way to finish it, and he finally does in the second round by rear-naked choke.
Aziz wins by submission in round 2.
Match 9 (70,3 kg)
Damien Lapilus, Crossfight (France) vs Alexander Prodér, Adrenaline Fighters (SWE)
Lapilus rocks Prodér and doesn't stop punching as the fight moves to the ground. It's Prodér with punches to the head that force a stoppage.
Prodér by TKO in round 1.
Match 10 (83,9 kg)
Jean Fracois Lenogue, Team Lenogue (France) vs August Wallen, Gladius MMA (SWE)
Wallen enters the ring second, and has his Gladius MMA team walk him in. Wallen and Lenogue embrace to show respect before the bell rings.
Wallen is making his comeback here. He looks good to start wtih a good lig kick, then closes the distance. Knees from Lenogue and a few punches, but Wallen covers up nicely. The Frenchman wants to keep his distance, but Wallen gets to him on the cage and brings the bout to the mat. Wallen looking for ways to get to full mount as he works his punches to the head and the body. The Swede looks to be relaxed and has snap in his punches. A rear-naked choke is slapped on and it is tight. After some resistance, it's the Frenchman that is forced to tap.
August Wallen Wins by submission in round 1.