MMA Viking's content partner FightSport.fi reported today that Finland's Joni Salovaara (10-5) will fight Sweden's Per Eklund (14-5) at the Vision FC. The featherweight bout will take place at the Vision FC 5 show on the 1st of December in Stockholm, Sweden.
Salovaara will fight this Saturday at Fight Festival 32 where he meets Belgian Mohtar Beckani (8-2). The Finn is 8-1 in his last nine fights with the lone loss to top ranked Sergej Grecicho of Lithuania. The fight against Eklund will be 26 year old Salovaara's first outside of Finland.
Sweden's Per Eklund has been fighting professionally for over a decade. At the high point of his career the Swede fought his way up  to the UFC where he went 1-2 in three bouts during 2008-2009. After getting released by the UFC, Eklund took two years away from fighting but decided to fight again  in 2011. After an unsuccessful comeback that ended to a knock out loss to Thomas Hytten, Eklund has again stayed out off the cage.
Press Release from Vision
VISION 5 presents to you Per Eklund vs Joni Salovaara. Per Eklund is back in the game after a year's lay off and change of camp. The new Stockholm Shoot member has been focusing on new strengths and is back to prove his quality. He is aiming high and wants to fight top European guys taking on Finland's Joni Salovaara who has 8 wins out of his last 9 fights.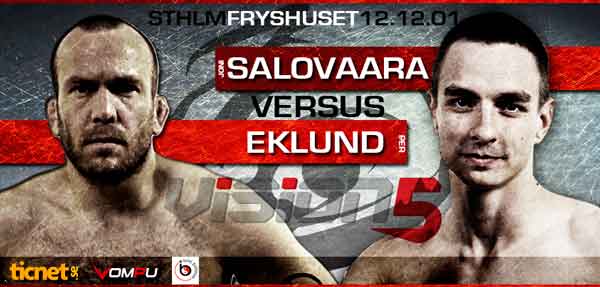 Recent Interview with Eklund