The UFC has finalized the viewing order for Saturday's UFC 153 event, and the first fight will be Sweden's Reza Madadi versus Brazilian Cristiano Marcello. "Mad Dog" is the only Nordic fighter heading into enemy territory for the UFC 153: Silva vs. Bonnar card on October 13, 2012 at the HSBC Arena in Rio de Janeiro, Brazil.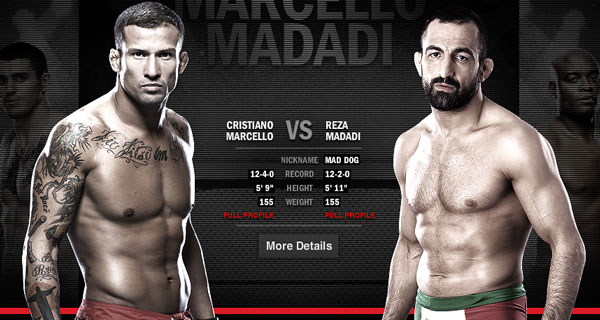 Madadi's bout is the first listed, and will be shown live on UFC's Facebook page.
PRELIMINARY CARD (Facebook, 7pm ET / 4pm PST / 01:00 Stockholm / 02:00 Helsinki)
Reza "Mad Dog" Madadi vs. Cristiano Marcello
Chris Camozzi vs. Luiz Cane
PRELIMINARY CARD (FX, 8 p.m. ET / 5pm PST / 02:00 Stockholm / 03:00 Helsinki)
Renee Forte vs. Sergio Moraes
Diego Brandao vs. Joey Gambino
Gleison Tibau vs. Francisco Trinaldo
Rony "Jason" Mariano Bezerra vs. Sam Sicilia
MAIN CARD (Pay-per-view, 10 p.m. ET / 7pm PST / 04:00 Stockholm / 05:00 Helsinki)
Demian Maia vs. Rick Story
Phil Davis vs. Wagner Prado
Jon Fitch vs. Erick Silva
Dave Herman vs. Antonio Rodrigo Nogueira
Fabio Maldonado vs. Glover Teixeira
Anderson Silva vs. Stephan Bonnar – light heavyweight fight
Exclusive Video
Madadi is not worried about fighting in Brazil, and has been "dreaming" about this bout with Marcello. Hear about the conflict, and Mad Dog's approach heading into the bout.