Simeon "The Grin" Thoresen fighting out of Oslo, Norway has just achieved what very few fighters have…. a UFC contract.  The 27 year old inked the deal for his Octagon debut on the sold out UFC in Sweden card on April 14, where he will take on Besam Yousef fighting out of Sweden.
"Finally it is my turn to show everybody what I can do."
– Simeon 'The Grin' Thoresen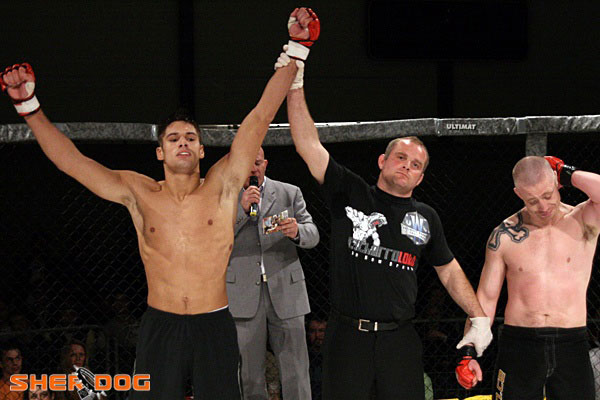 The lanky 6′ 1″ (186cm) Norwegian has amassed a 16 win and 2 loss record.  At 27, the welterweight's two recent victories at Ultimate Warrior Challenge put him in position to be recruited by Zuffa. Let's get Thoresen's reaction to getting signed to the UFC in this exclusive interview.
Interview
Congratulation to the UFC contract! Such a wonderful news! When did you get the news?
Thoresen: I got the news just before Christmas.
What was your reaction when you got the news?
Thoresen: Finally it is my turn to show everybody what I can do.
You have been operating tremendous submission victories. Which is your best fight?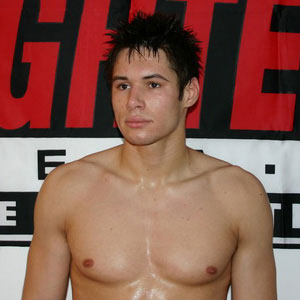 Thoresen: My best fights were against John Maguire and Fabricio Nascimento. John Maguire was a well respected fighter and a big victory.The Nascimento fight was for the title and it felt really good beating a more experienced fighter.
Can you introduce your gym to our readers?
Thoresen: Frontline Acadamy. Bogstadveien 27b, 0355 Oslo Norway. www.frontlineacademy.no
When and why did you get the 'Grin' nick name?
Thoresen: I got it when I was living in Sandefjord and training there. I dont know why they gave it to me, but probably because I was smiling a lot and always in a good mood.
How many hours do you train in a week now?
Thoresen: I train around 14-16 hours a week now. When it gets closer to a fight that number will probably double.
Who are your 3 favorite UFC fighters?
Thoresen: Jon Jones, Mark Munoz, Jon Olav Einemo
What do you wish and want to show in the cage?
Thoresen: I want to show the world a good and entertaining fight and showcase all my abilities.
Highlight Video
"Like" MMA Viking on Facebook and follow us on Twitter for updates on the UFC in Sweden and all things Nordic MMA.