Tina Lähdemäki (5-1) made history by becoming the first Nordic female fighter to step into the Octagon and a participant in the first UFC women's strawweight bout. While the RNC Sports fighter lost in a decision to the undefeated Brazilian Claudia Gadelha (12-0) in an entertaining 15 minute war, her stock rose on the international level with her performance.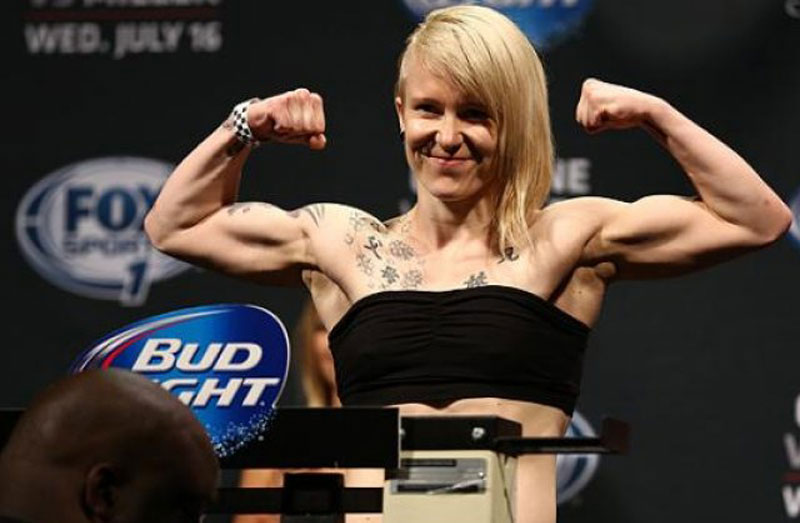 Lähdemäki Steps on Scale for UFC Debut – Pictures from SHERDOG.COM
MMAViking.com checks in with the 26 year old Finn known as "Jelly Bean", to see the origins of her nickname, timing of her UFC return, RNC Sports, and more.
Exclusive Interview with Jelly Bean
What has been the most surprising feedback you've gotten from your last bout?
I was surprised to hear that people were so impressed about my fighting although I lost and I know I did a lot of stupid mistakes and I know I can do better than that. But it felt great to hear positive feedback when I myself was just disappointed about the loss.
Your previous opponent Claudia will fight again in December… when do you want back in the Octagon?
I really wanted to fight again during this year because fighting is the best part about all of this! But I started having trouble with my wrist after the fight and now I'm waiting for surgery to get everything fixed. The biggest problem at the moment is that I have to use the public healthcare and getting that surgery is taking forever. It breaks my heart 'cause each and every one of the days I have to wait is away from my fighting.
Can you set the record straight on the Jelly Bean nickname. How did this come about?
The whole nickname was actually an accident but luckily it suits me really well. It all started when everyone kept pressuring me to get more involved with social media. I was eating my favorite jellybeans when I finally decided to create a twitter account just to shut my friends up. I used the jellybean name and I had no idea how quickly it would stick. Someone used it in an article and after that everyone started to use it no matter what I said. But in the end, I never even wanted to be "killer", "beast" or anything like that 'cause it's just not me. Jelly Bean is me.
Tule Hyvinkään Prismaan tapaamaan RNC:n superstaroja ja osallistu arvontaan, jossa palkintona ilmainen peruskurssi! pic.twitter.com/ewyE976Vfk

— Tina Lähdemäki (@JellyBeanRNC) March 29, 2014
What do you like most about RNC Sports Club?
The best part about our gym is our coach Janne Tulirinta (pictured above on the left). He is the best coach Finland has to offer and we all love him. He knows what it's like to fight so he knows what you need to do to build a great career and how you can screw it up and destroy everything. He has been there for all of us in all the ups and downs but he doesn't take credit for what we have achieved although he has a lot to do with it. We have a great gym and we are all really proud to be a part of it and to get to represent it when we fight.
From the land of a thousand jellybeans
Love
Tina