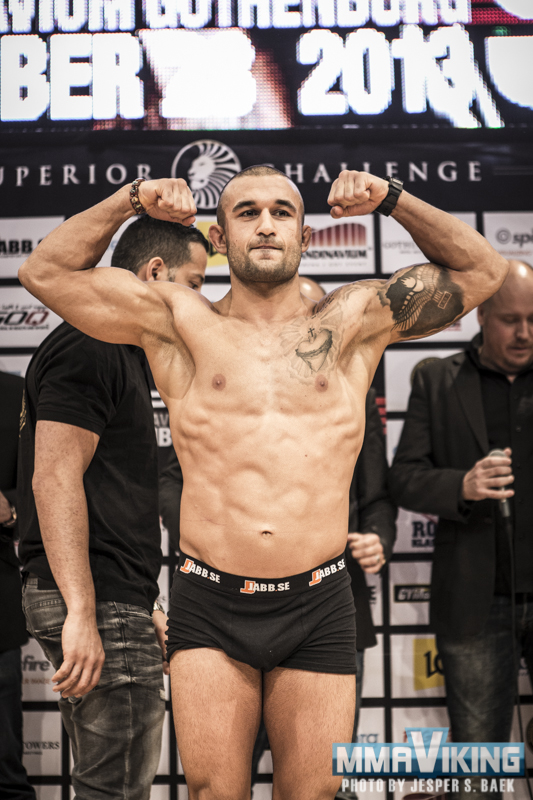 Swede and Allstar Gym pupil Michel Elroy really impressed tonight with his agressive style of striking. The bout ended in the second round after a determined Michel had his way with opponent Perttu Paatola. Below you can view the play-by-play.
Round 1 – Michel rushing the cage and looks to be the agressor, being cautious and picking his punches. A hard combination from Michel forces Perttu to circle and get out of there. Michel still going forward and the Finn looks a little bit overwhelmed. Finn goes for a takedown but Michel sprawls way before he is in any danger. Michel teeing off with punches and the Finn is just trying to defend. Michel going forward and hard! The Finn takes him down though, looking to improve position but Michel gets out of danger and is up again. Pertty again shoots for the takedown and gets it, Michel is on the bottom and Pertty transitions into half guard. Michel trying to get up but the Finn is persistent, doing some damage from the top is Perttu. End of round.

Round 2 – Michel trying to find the distance, and after a minute Michel connects with hard shots. Going to the body, the Finn is looking for the takedown, and there he goes for it, taking him down after a scramble. Perttu goes for a armbar, it's close but Michel recognizes and gets out! The two are back standing and Michel looks like a man on a mission. Throwing hard combinations, really teeing off! Perttu looks in trouble but is still standing, Michel with vicious knees forces the referee to intervene and save the bloody Finn!