MMA Viking will be reporting live from Karlstad, Sweden for the Vision bouts.  Visit this page for results, photos, and more.
So Daniel here reporting as a fill in for Ryan who couldn't be here tonight, but will attend tomorrow's event at Lisebergshallen in Gothenburg. In other words I've got very big shoes to fill but I'll do my best! All the pictures tonight are brought to you by my wonderful girlfriend Sofia.
As for now the  rehearsals  are underway featuring UFC fighter Magnus "Jycken" Cedenblad. The first bout is scheduled to start at 18:00 and tonights main event with the welterweight title fight between Jani Lax vs. Bobby McVitie is scheduled to start at 21:25. Tonights bouts will be fought in a cage as oppose to last years event. The event is also being hold in a new smaller venue housing 810 seats.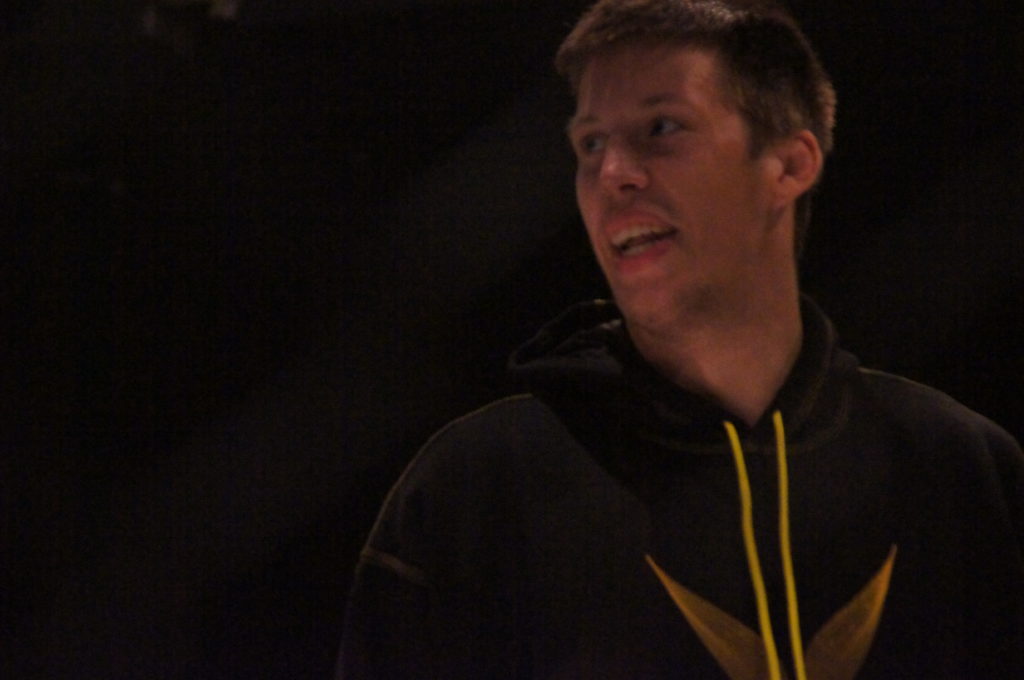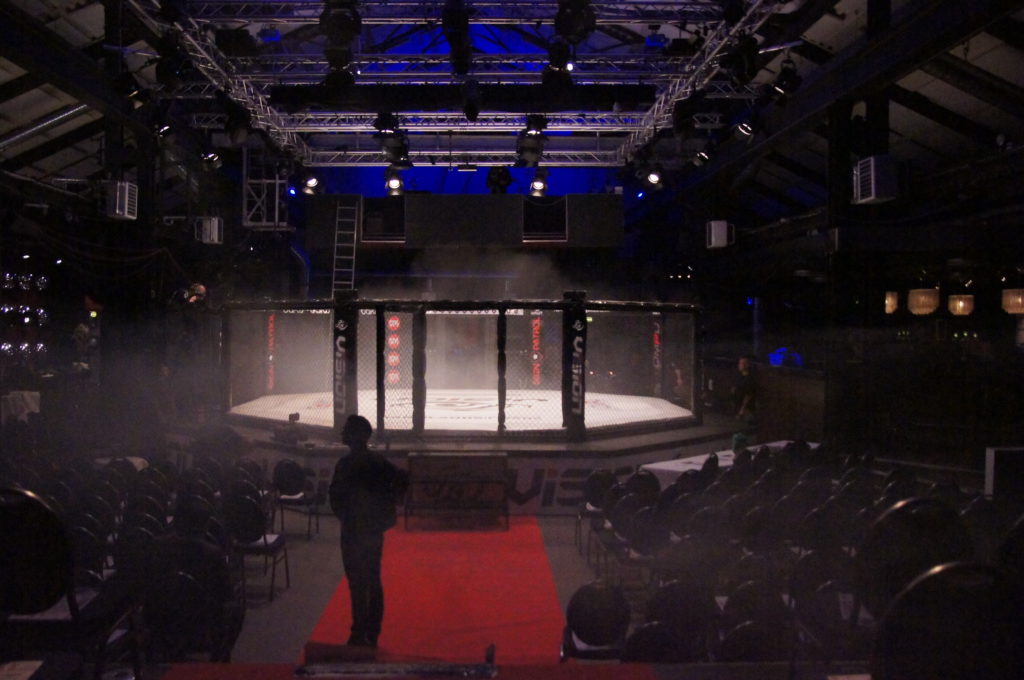 Fight Card
Kenny Karlsson vs Emil Alqvist – kl18,00 -70,3kg
Lights out and here we go, the first bout of the evening. Tonights ring announcer is Paul De Valle from kimura.se
Round 1
Emil opening with a flurry of strikes and trips Karlstads own Kenny Karlsson. Emil ends up in Kennys guard and is looking to punish Kenny with some ground and pound. Kenny stands up and is looking to redeem himself but gets put up against the cage by Emil. Kenny takes Emil down and works for a guillotine, it isn't successful but he ends up in top position and mounts. Kenny works with some good ground and pound but Emil gets saved by the bell!
MMAviking scores the first round for Kenny Karlsson
Round 2
Emil rocks Kenny with a left hook in the opening of the second round and Kenny clinches. Kenny lands a good combination and is landing more shots. Emil clinches and gets the takedown. Emil looks to pass Kennys open guard. Kenny is looking for a triangel choke but Emil is aware of it and defends. Kenny pushes Emil of and gets up to his feet. Kenny lands solid shots and knees to the head of his opponent possibly just stole this round as well.
MMAviking scores the second round to Kenny Karlsson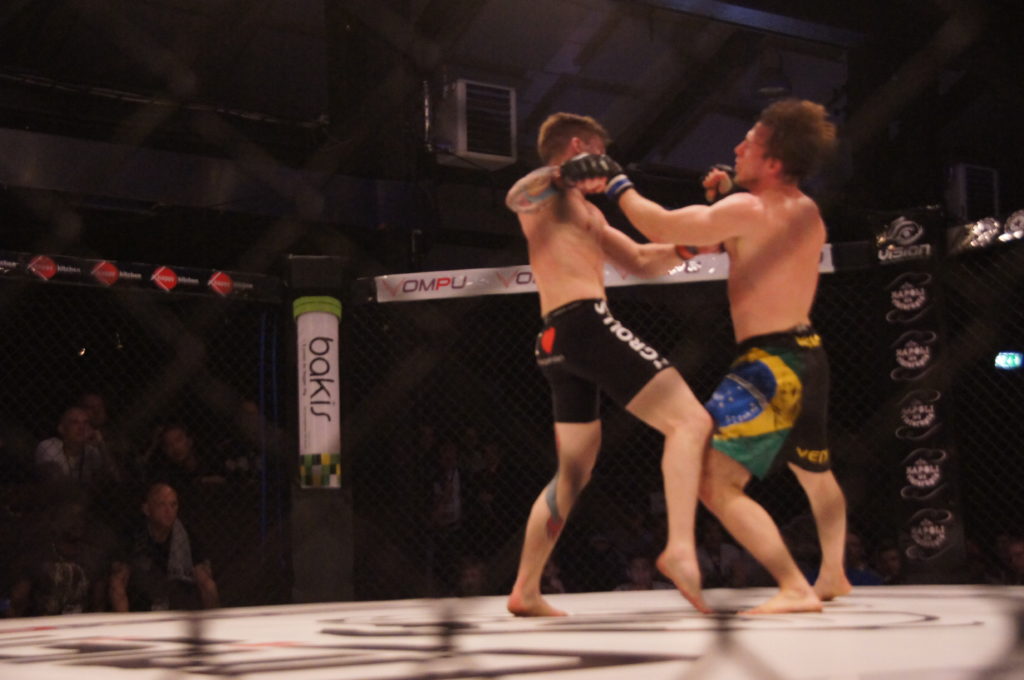 Round 3
Kenny rocks and drops Emil and is trying to get a stoppage with heavy ground and pound but Emil is able to withstand the flurries and gets on top  and in side control after Kenny lets him up. Emil has one hook in and is looking to take Kennys back, and he does and works for a RnC. Kenny defends and lets Emil into mount but thereafter regains half guard.  Emil however passes again to mount. Emil is able to land some good shots with one minute left but Kenny gets up against the cage for a short while but gets taken down again.
MMAviking scores this round as a win for Emil Alqvist.
The bout is judged to a draw.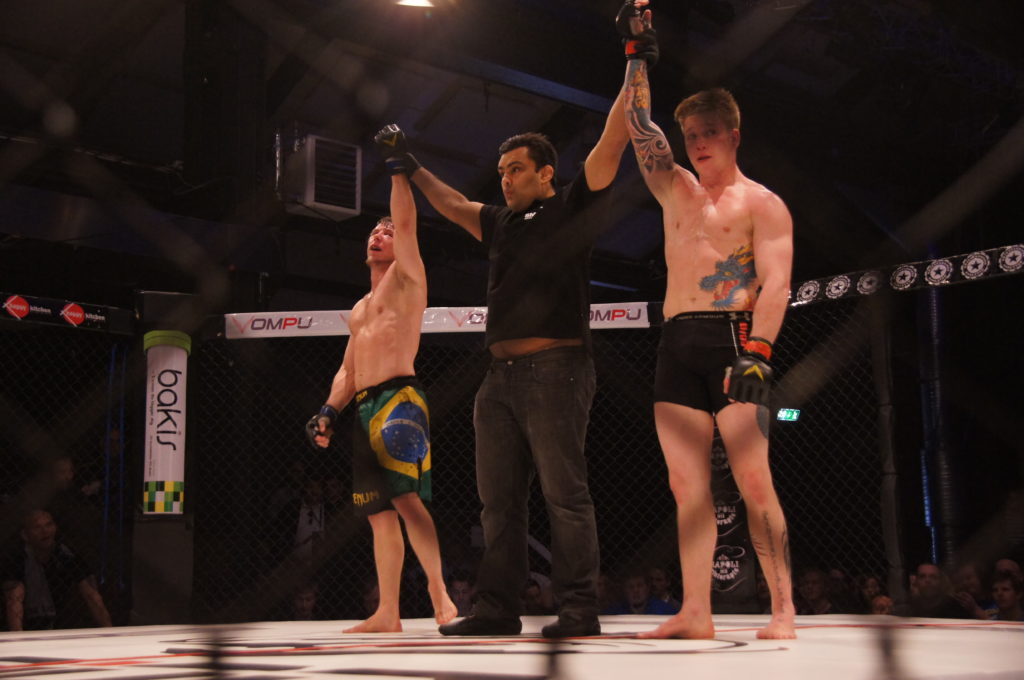 Jonas Krus vs Mikael Gustavsson – kl18,20 -120,0kg

Round 1
 Next up is the heavyweights. Mikael comes out as a southpaw and is able to land with a few good shots. Jonas gets the thai clinch and works the knees against the cage. Miakel takes many hits begofe he's able to escape. But not for long as Jonas shoots and get Mikaels up against the cage once more. Mikael needs to find a way out. Mikaels throws huge overhand lefts but Jonas blocks them both. Jonas looks tired and his pace is noticeably slower. Mikaels continues to land some nice kicks to end the round, but is it enough to get away with the points.
MMAviking scores the round 10-9 to Jonas Krus.
Round 2
Jonas works the clinch in the beginning of this round but Mikael is able to escape quick this time. Mikael gets a takedown and ends up in mount, HE's landing huge shots and the ref pulls him off.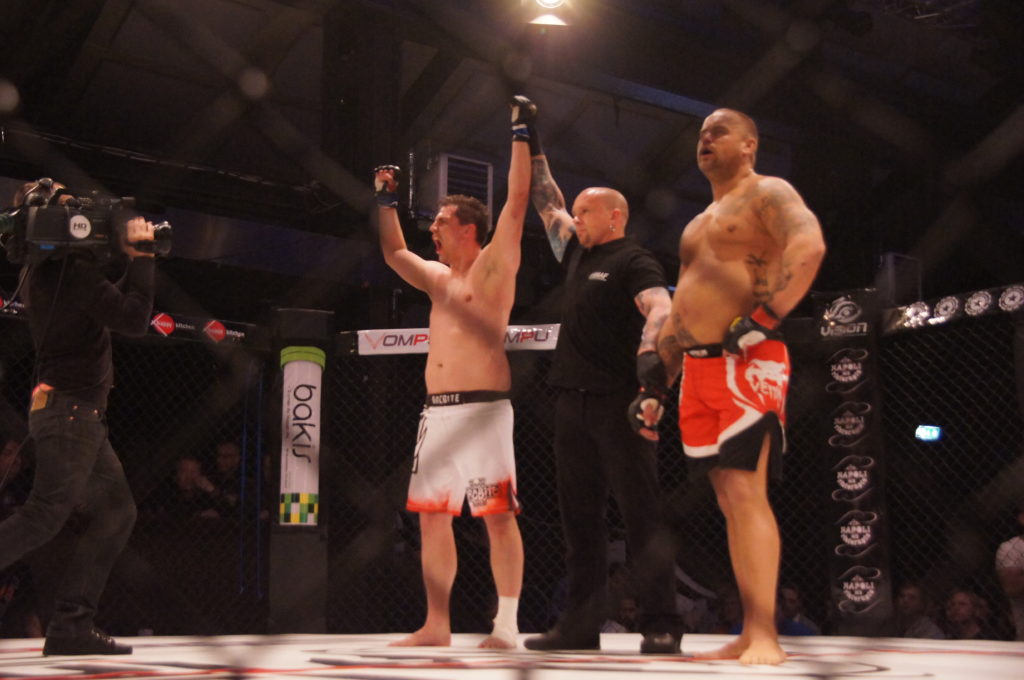 Mikael Gustavsson wins the round by TKO early in the second round.
Håkon Foss vs Nisse Påholm kl18,40 – 77,1kg
Time for a welterweight bout and Nisse is very excited, Foss looks focused though. Part of Team Hellboy Foss trains with a very competent team including Mohsen Bahari, Thomas Moon Lee Hytten and of course, Joachim Hansen.
Nisse opens up with a nice head kick. but Goss responds with one of his own and gets a takedown ending up in Nisses guard. Foss is able to land hard and Nisse tries to stand up against the cage and he does. Foss lands a nice throw and takes Nisses back after a short stay in the mount. Nisse is in a very bad spot as Foss lands hard. Foss is looking for an armbar. Nisse defends and Foss counters with Hard shots. Foss pulls the arm out and gets the tap!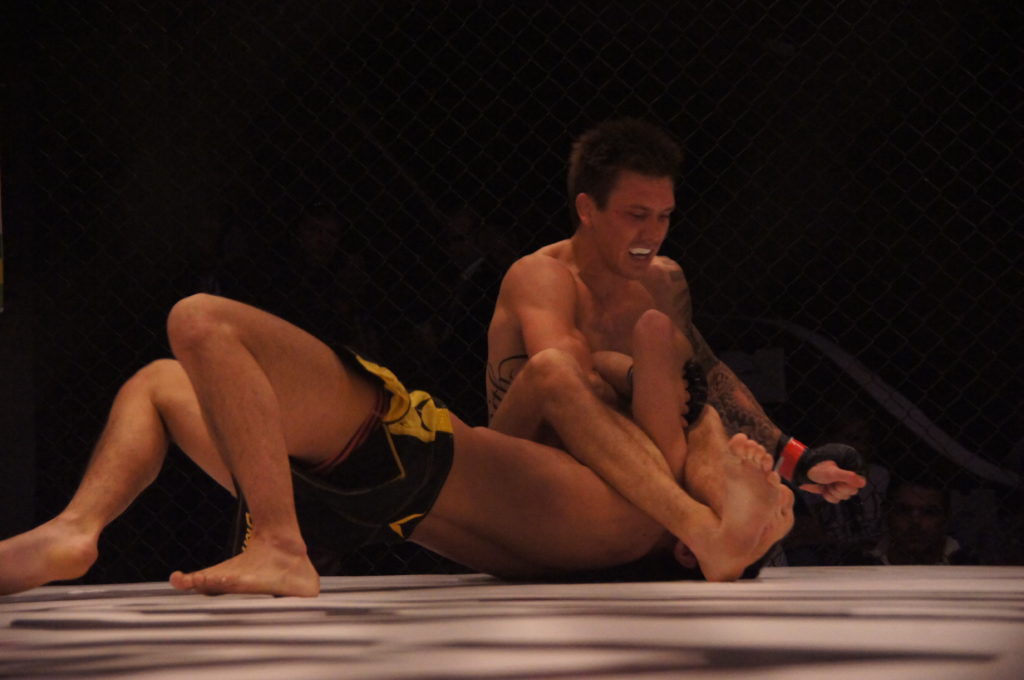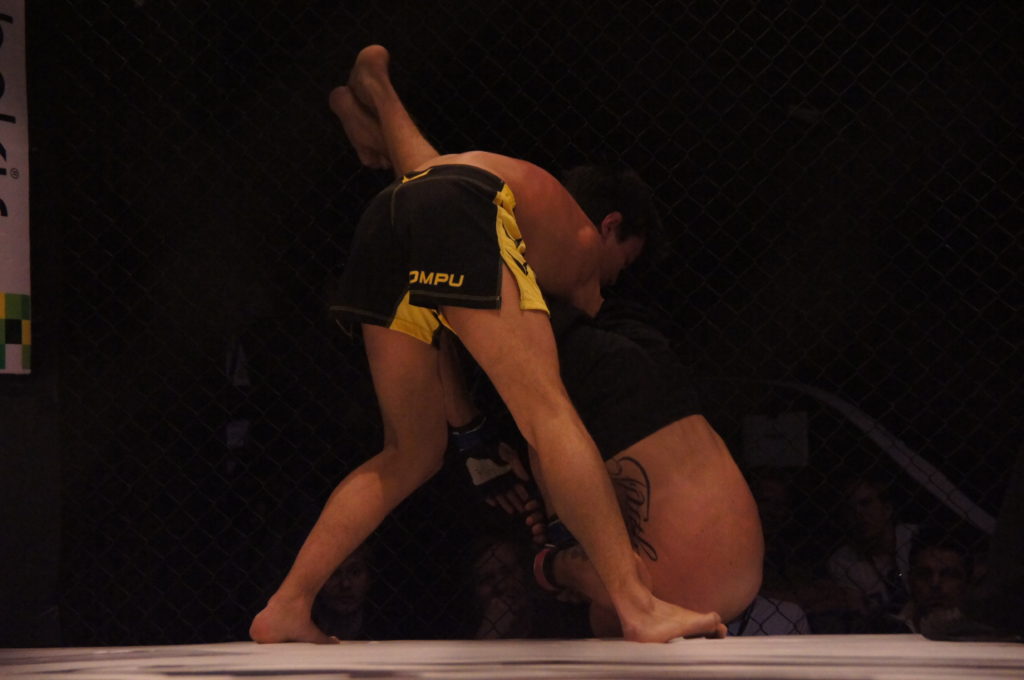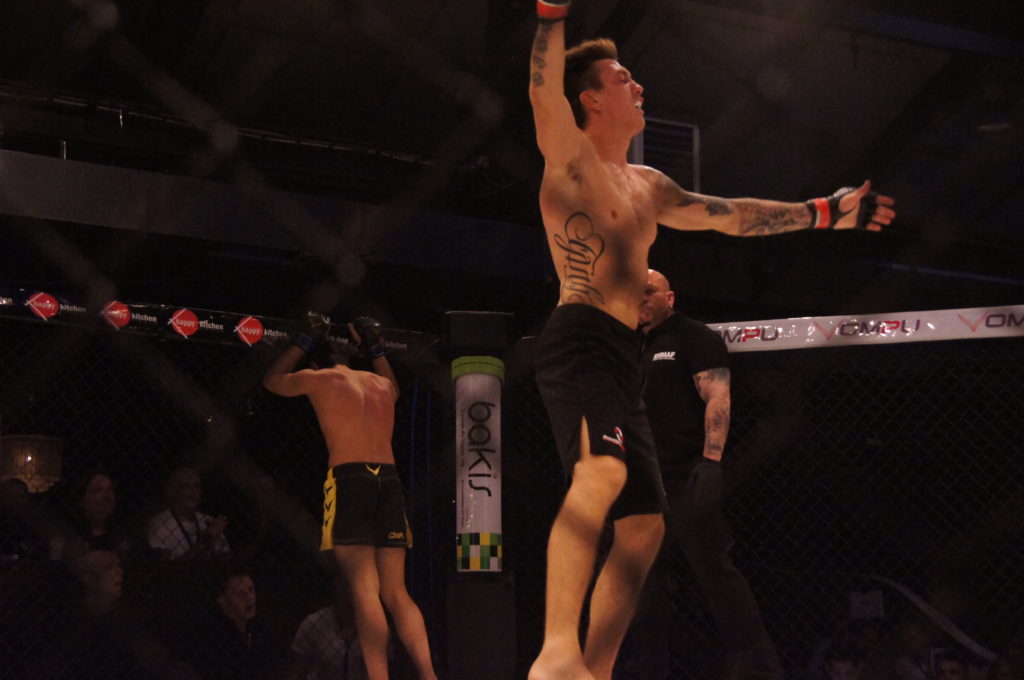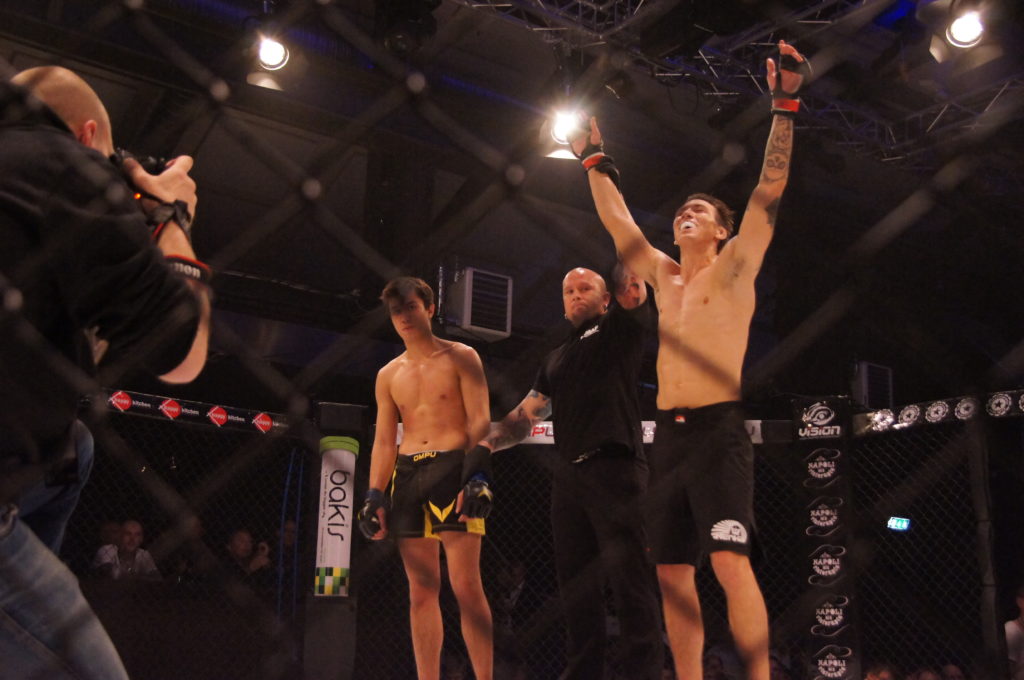 Winner by submission in the first round, Håkon Foss.
Johan Sjölin vs Botan Tokay kl19,00 – 65,8kg
Next up is Karlstads Johan Sjölin and GBG MMA´s Botan Tokay, both had  appearances at the last event held in Karlstad. Botan won by decision against Danny McBride and Sjölin lost against Rami Aziz by decision.
Sjölin definitely has the crowd behind him. Botan opens up with strikes and Sjölin clinches. Sjölin gets the takedown and ends up in side mount. Botan is up alongside the cage to so he's in a tricky spot, let's see if he can use the cage to his advantage. He reverses, gets up and gets the takedown to Sjölins guard. Botan is able to land good punches and nullifying Johans guard with one minute left of the roud. Botan is looking for a triangle though but Botan gets up and on top once more.
MMAvkiking scores the round 10-9 Botan Tokay
Round 2
Botan gets a takedown in the opening of the round and ends up in Botans half guard. Sjölin regains guard but is having a hard time keeping Botans posture down. Botan is bleeding from the nose. Not much going on now and referee Bobby Rehman should consider standing the combatants up. Sjölin sweeps just as Bobby was about to stand them up and he is now on top in Botans guard. He goes for a foot lock but Botan gets saved by the bell.
MMAviking scores the round 10-9 for Botan Tokay
Round 3
Botan gets a takedown and ends up in Sjölins guard once more. I think he could benefit keeping the fight standing and landing shots but that obviously doesn't seem like the gameplan as Botans cornerman Domingos Mestre seems very content with Botans work getting the takedowns. The ref stands them up and Botans cornermen is calling out for at takedown. Sjölin clinches and gets Botan up against the cage. Sjölin gets the takedown and is looking to take Botans back, but Botan reverses and stands up before landing a takedown of his own. Sjölin works for a triangle but isn't able to connect it. Botan is saved by the bell again but is probably able to secure a win.
MMAviking scores this round as well as 10-9 to Botan Tokay. Official decision is coming up next.
And the winner by split decision is Botan Tokay!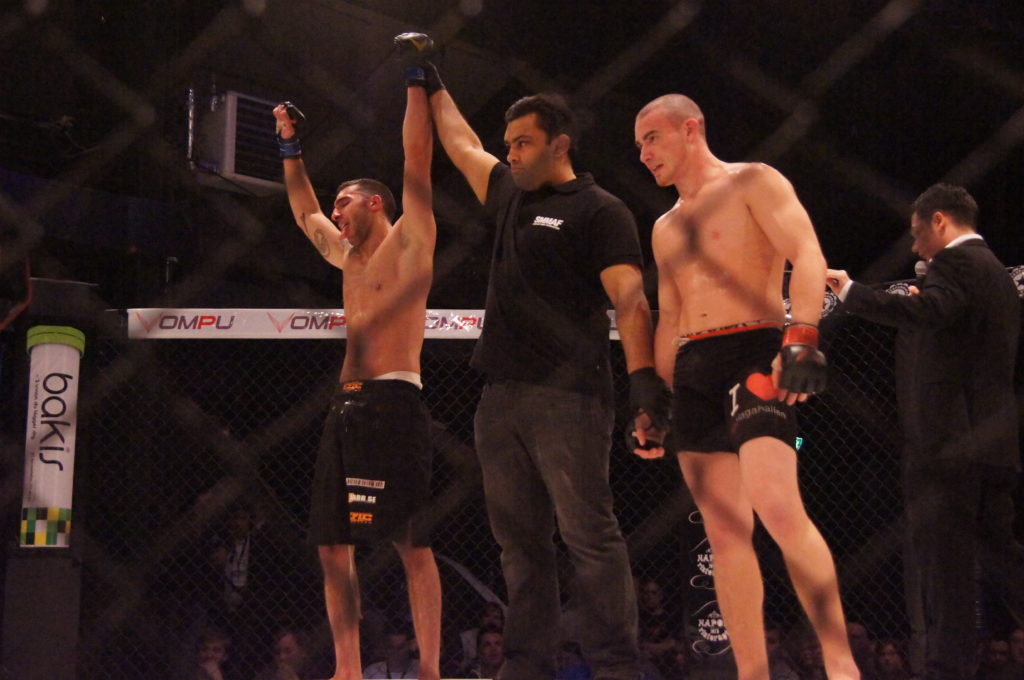 Kristian Lexell vs Sam Boo – 83,9kg
Lex has a significant reach advantage in this fight. Swedish superstar Alexander Gustafsson and Max Philipsson is in Lex´s corner. Lex defends a takedown well and gets on top. Lex get's in Boos guard and is struggling the get shots of as the Brit has an overhook on Lex´s right arm. The ref stands them up. Sam Boo looks slow and hesitant. Lex is looking to land straight punches and lands a heavy headkick that drops the brit and Lex is swarming him getting the mount pounding until he gets a finish.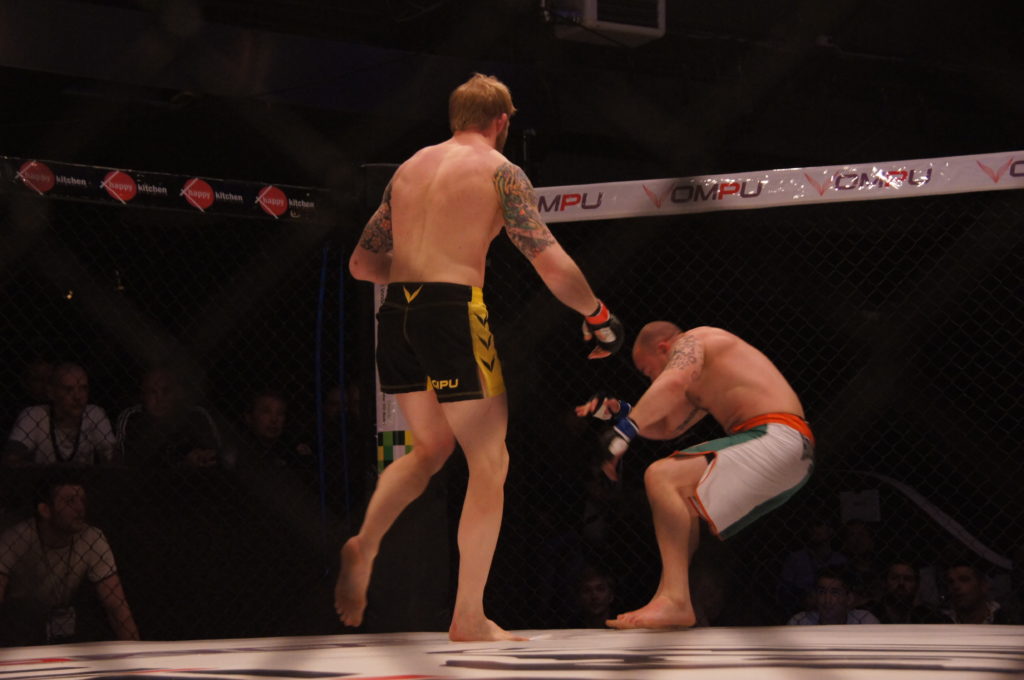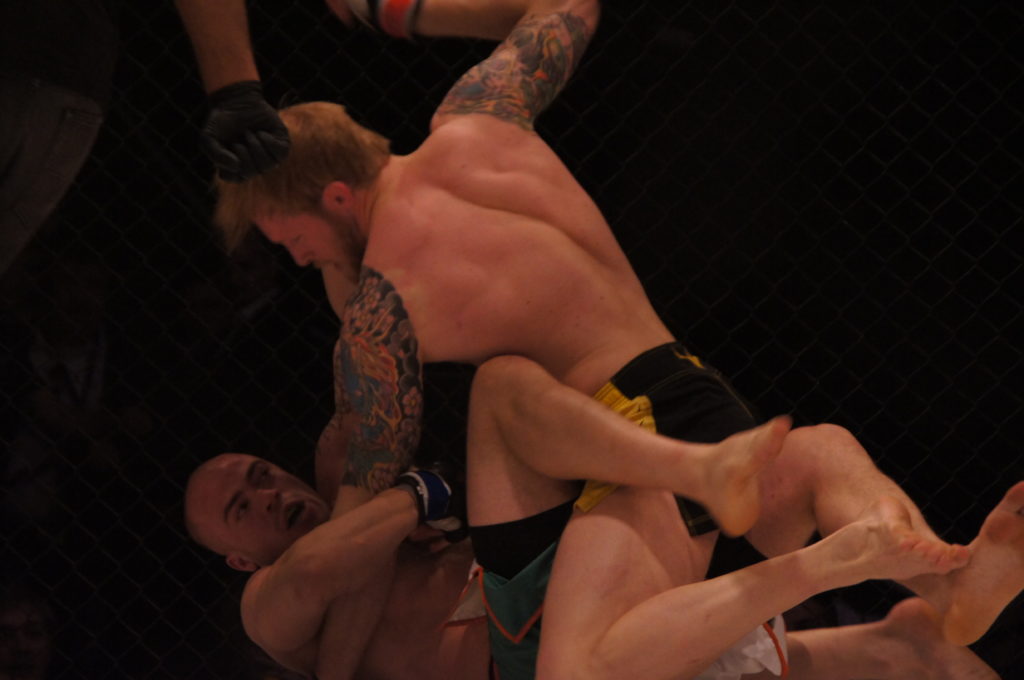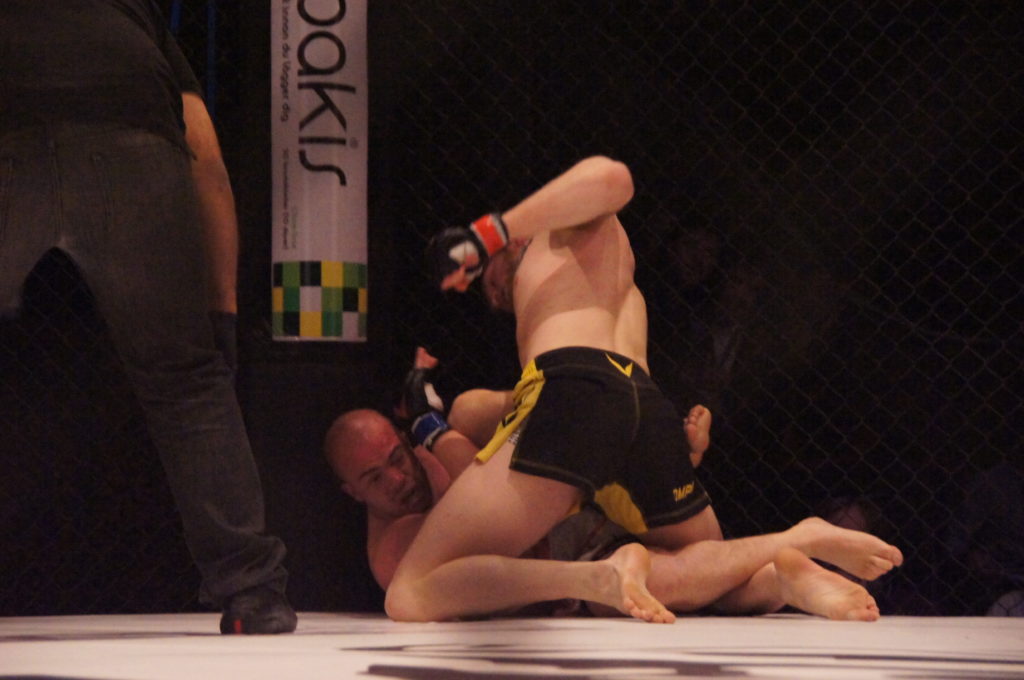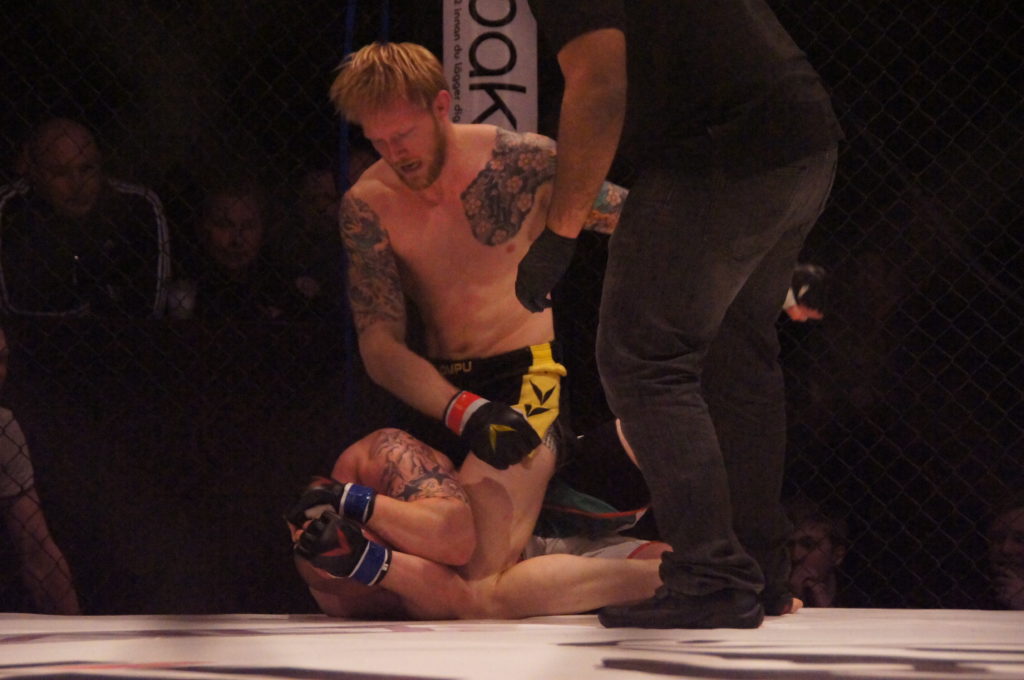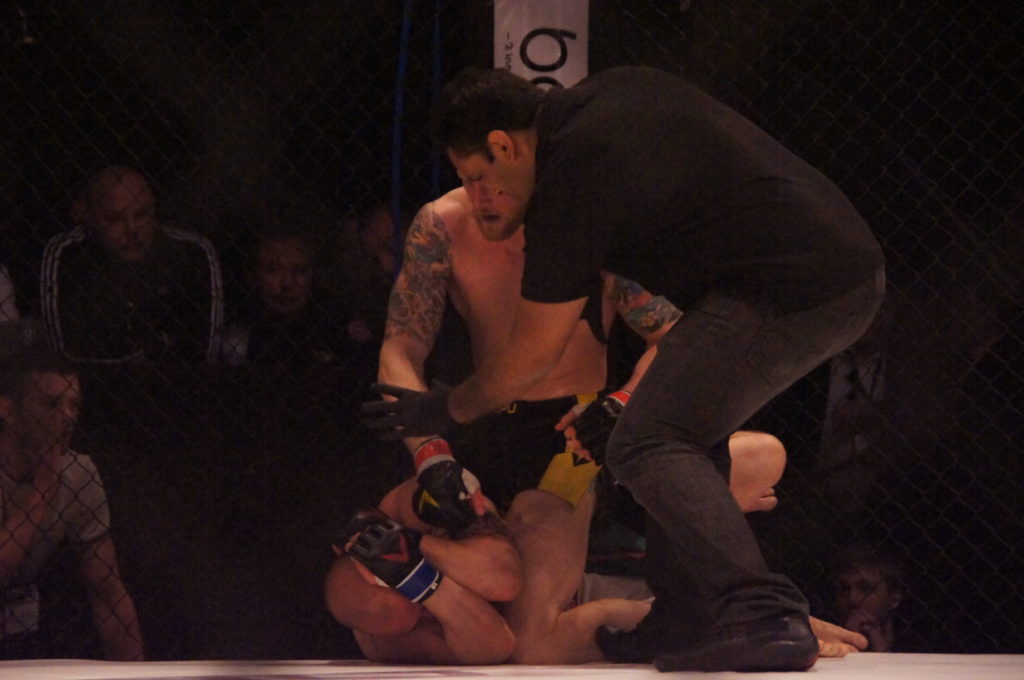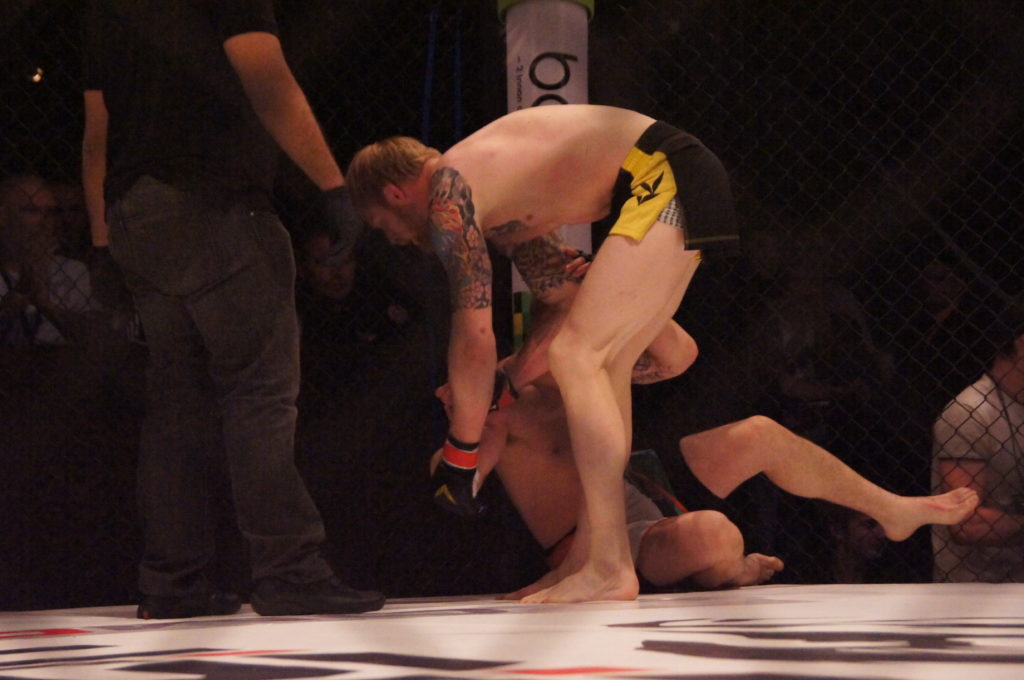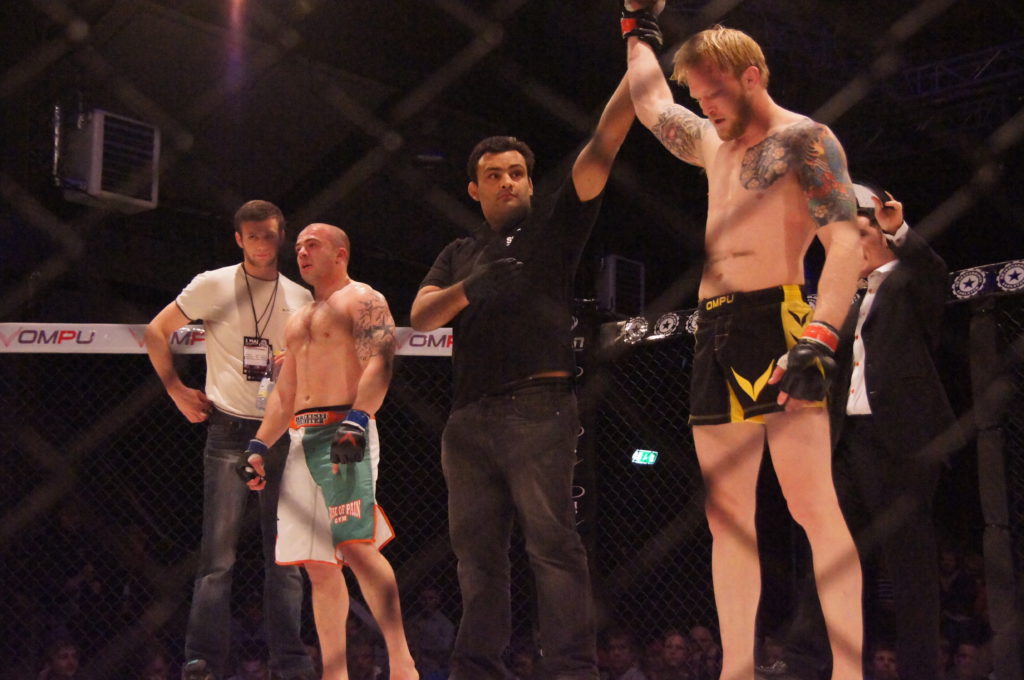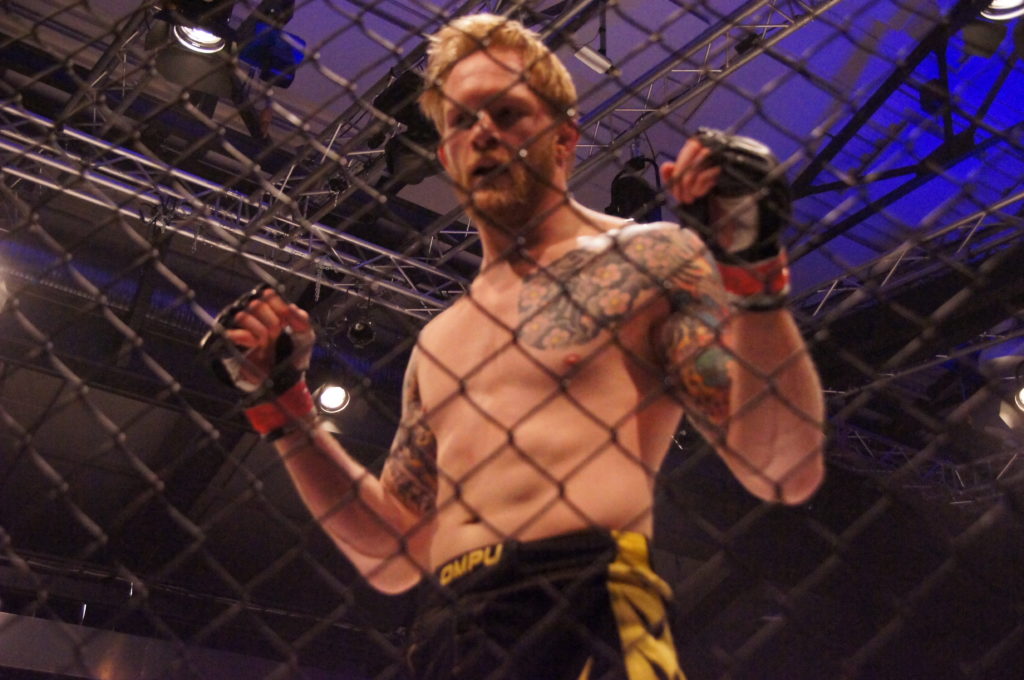 Winner in the first round by TKO due to ground and pound Kristian Lexell.
83,9kgSharyar Shayar vs Marcus Andersson kl19,20 – 83,9kg
Marcus opens up with a takedown and tries from a guillotine from the top, Sharyar withstands and tries to stand up but gets countered by Marcus who is able to land another big throw. Magnus has sustained a cut after an exchange in the start of the round and the ref stops the bout to have a look at the cut. It's under his left eye and not to big. The ref starts them standing even though Marcus was on top in side but Marcus lands a beautiful double leg and looks to take Sharyars back and works a RnC and gets its! Marcus Andersson is the winner in the first round by submission, rear naked choke.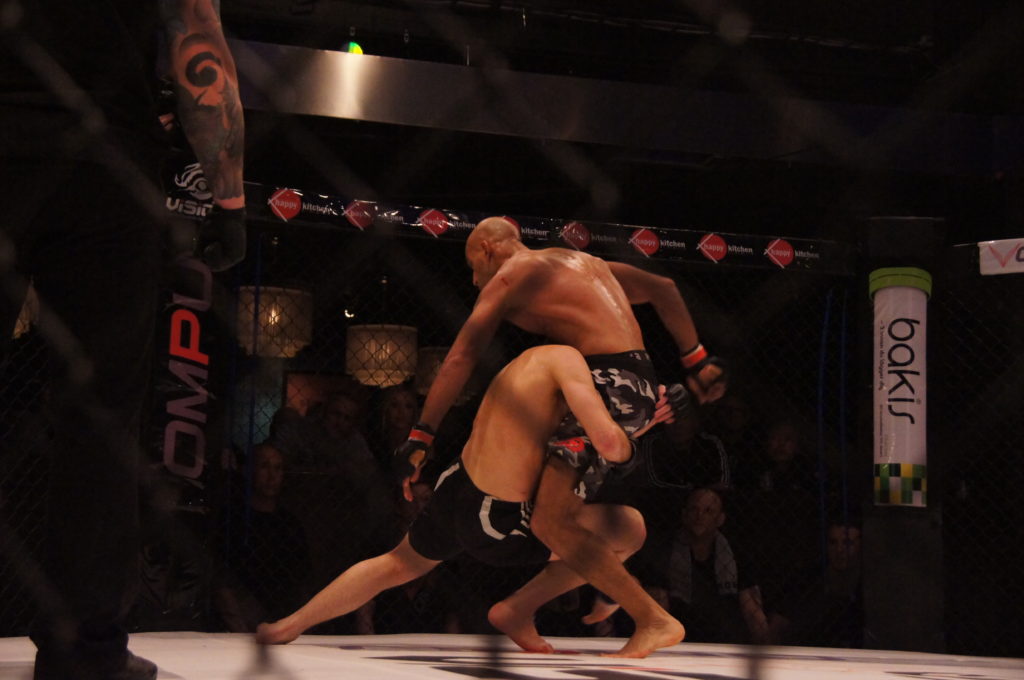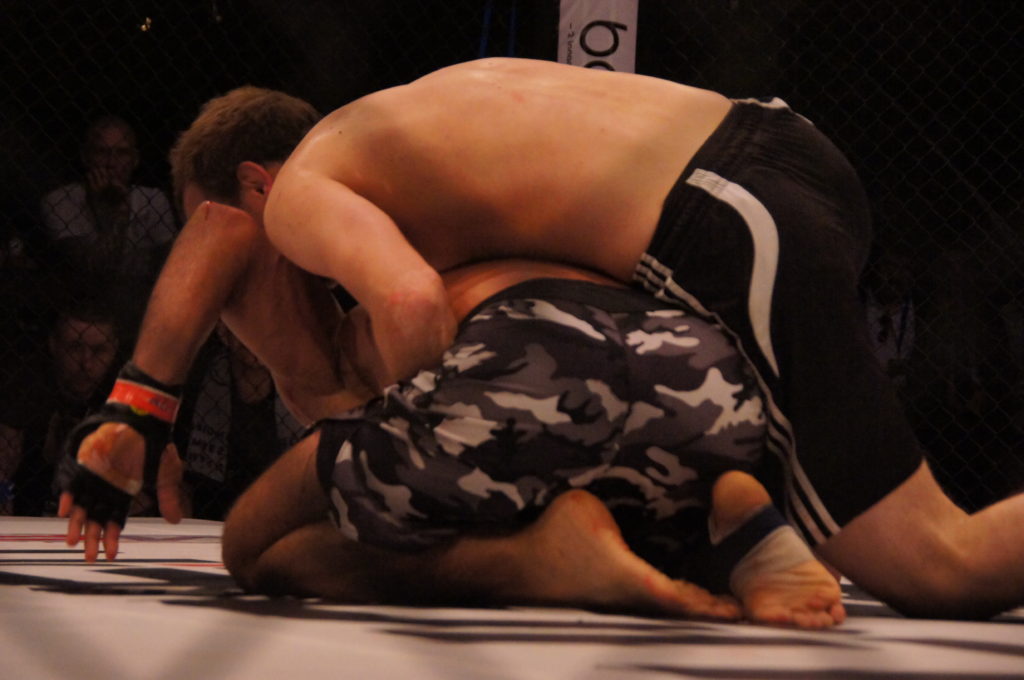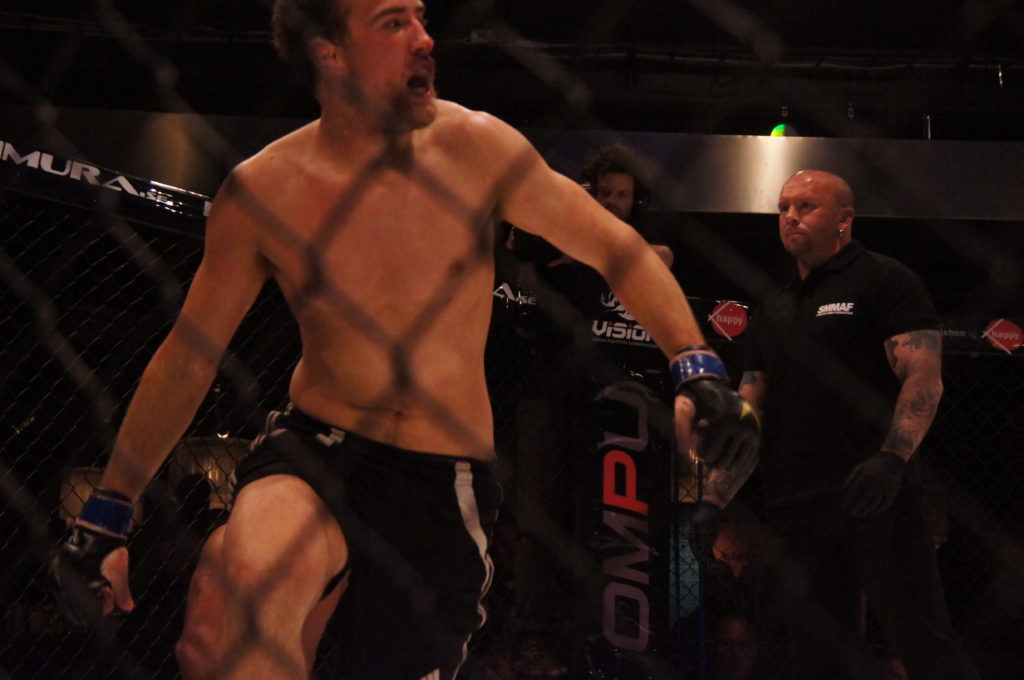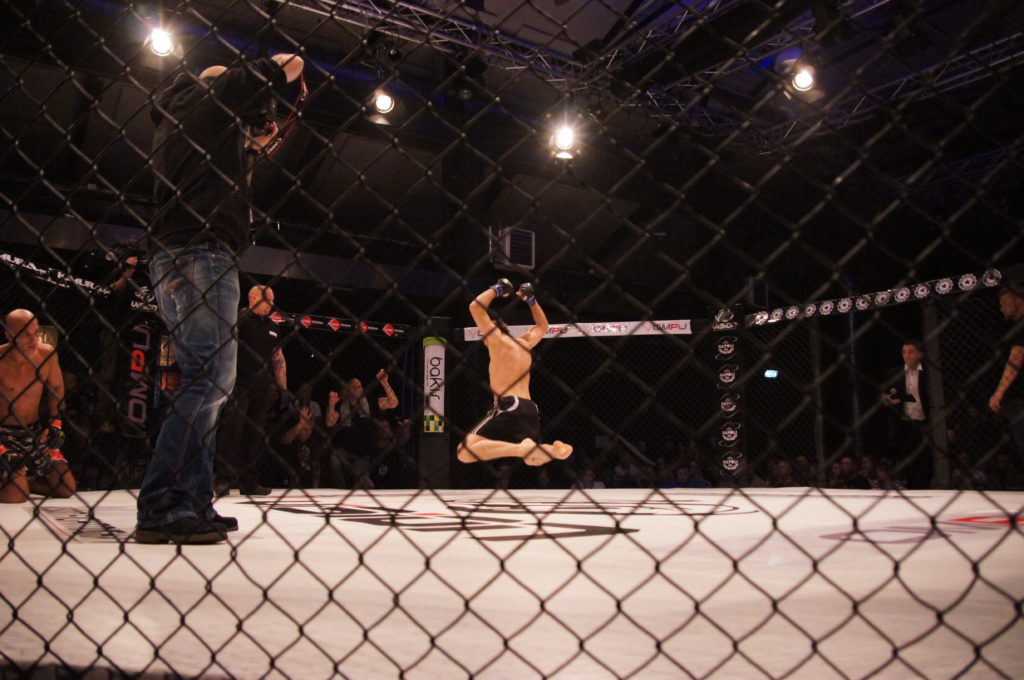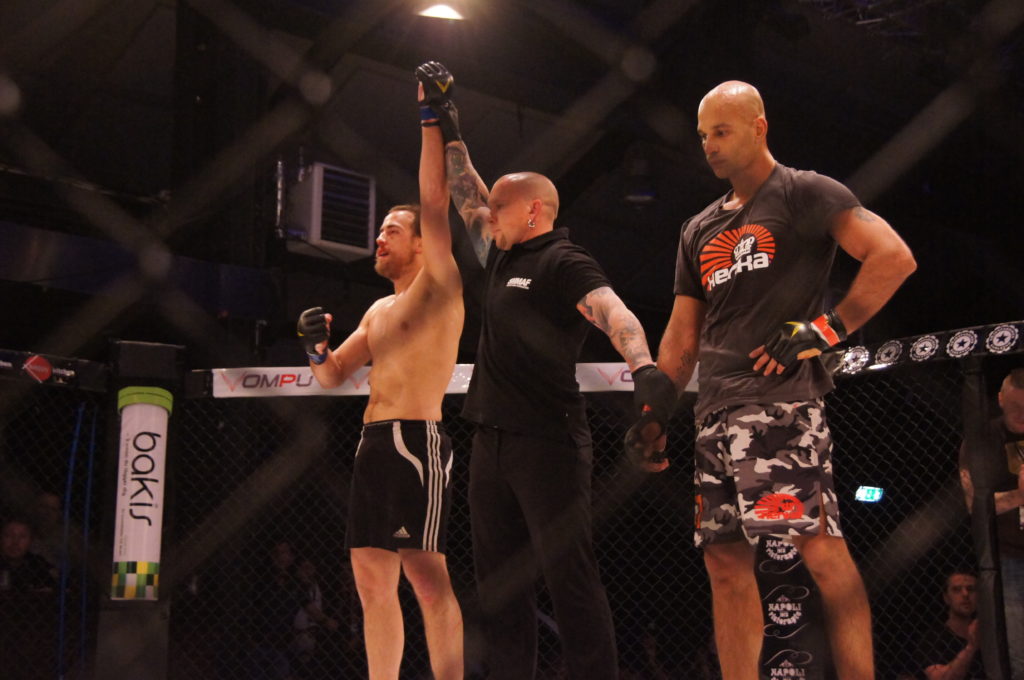 Now there's a 20 minute break until 20:30 leading up to the main card
Dennis Erdogan vs Niclas Danielsson kl19,40 -77,1kg
We're back after the break with a battle of wrestlers in Niclas Danielsson and Dennis Erdogan.
Danielsson looks very focused starting out with a few jabs. Erdogan looking hesitant. Danielsson drops Erdogan and follows up with huge ground and pound. The shots we're heard through all of Karlstad. Very quick finish by TKO by Niclas Danielsson.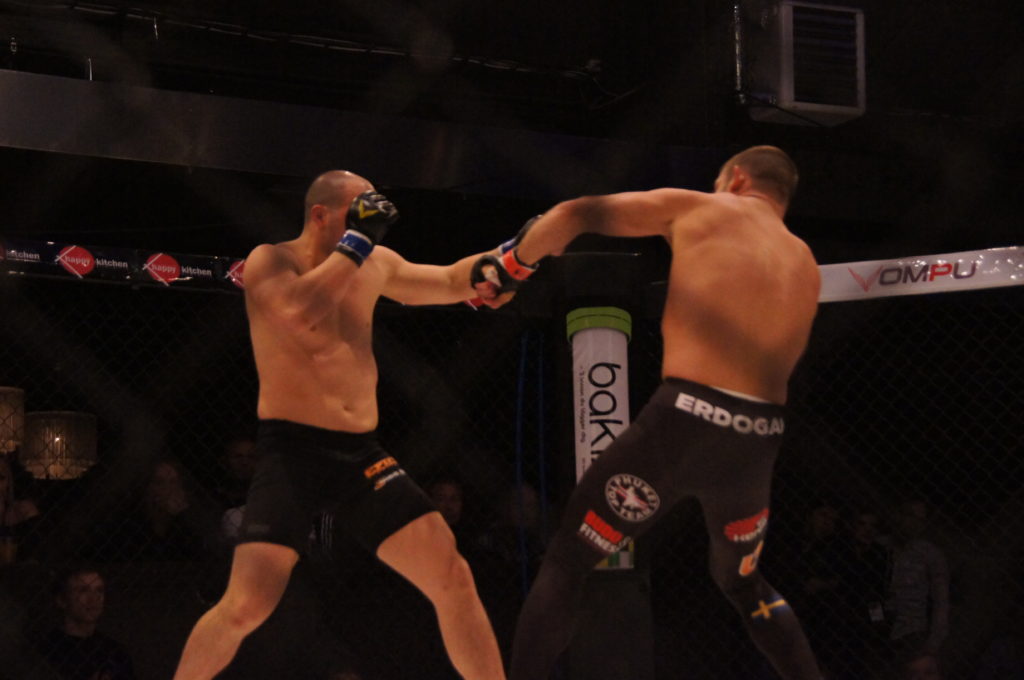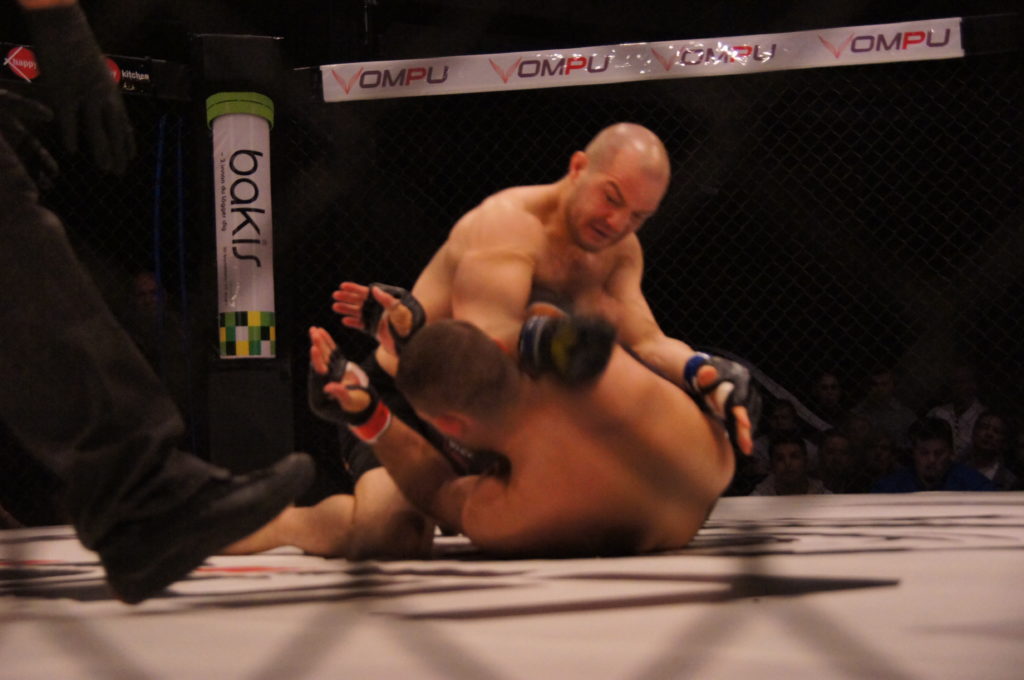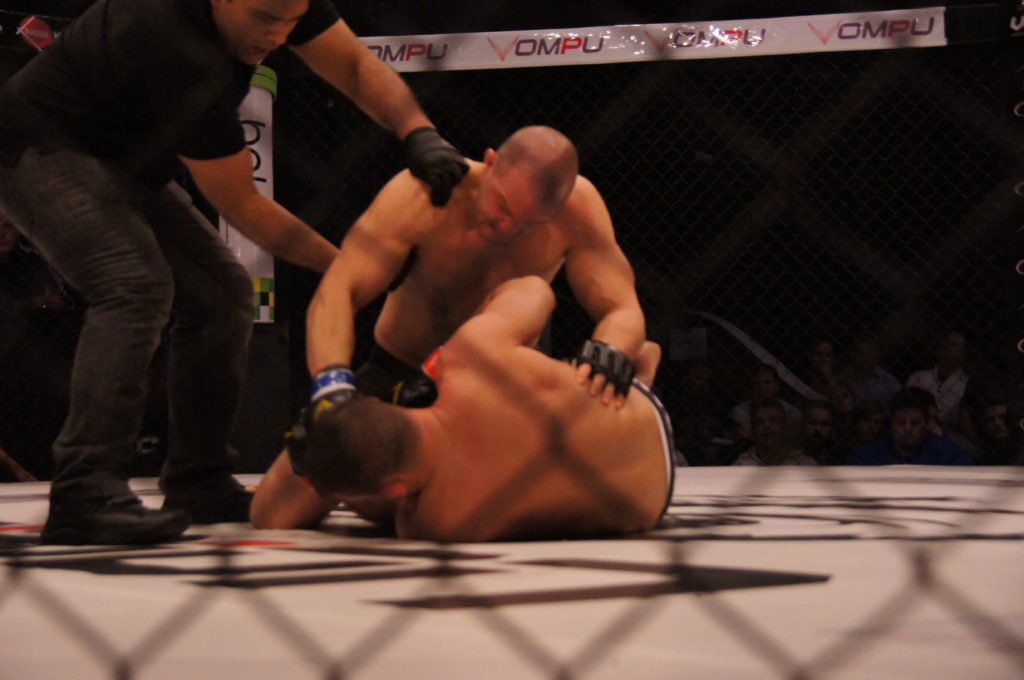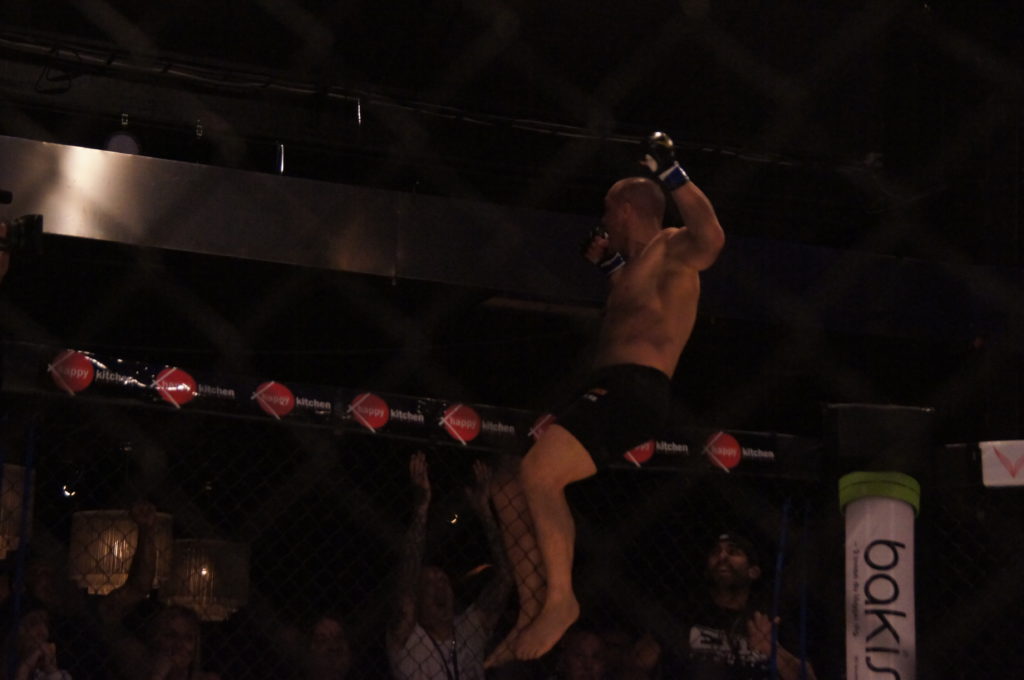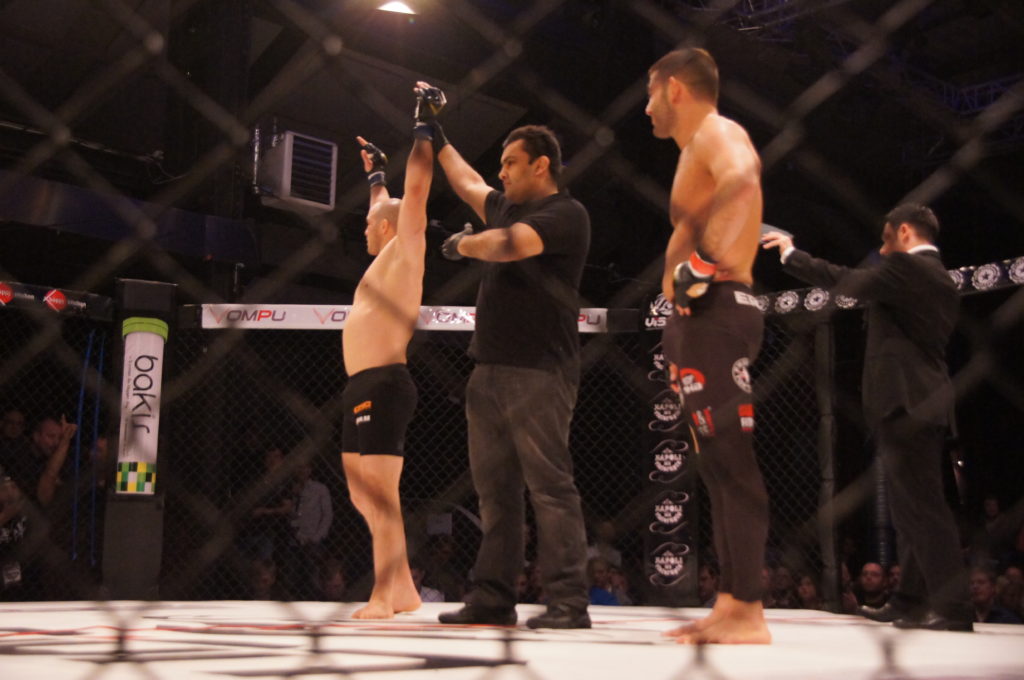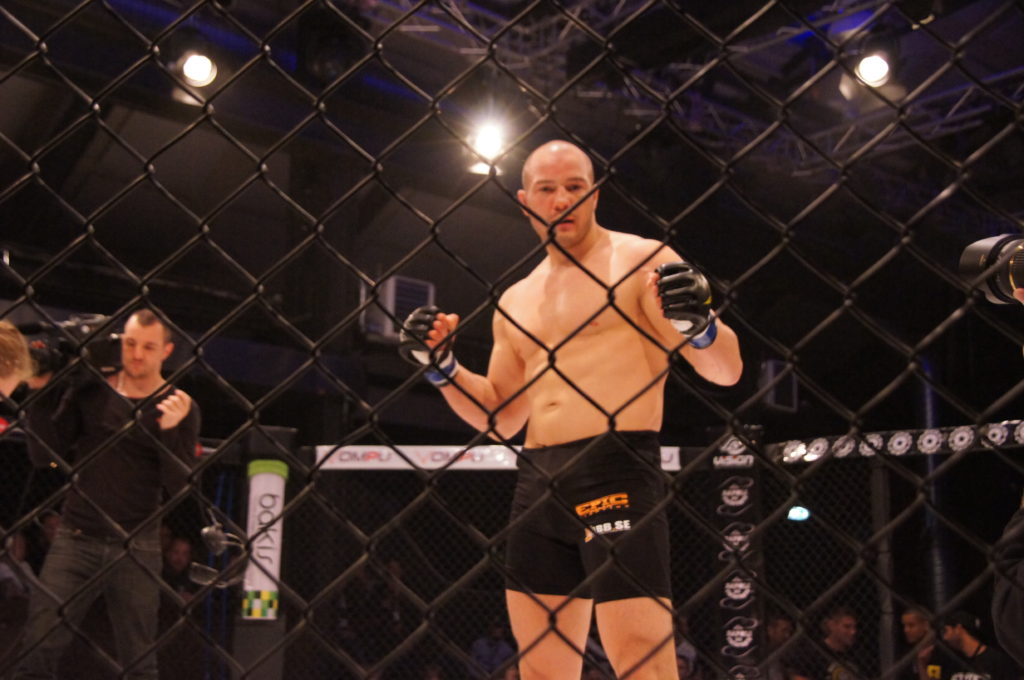 Thomas Moon Lee vs Niklas Bäckström kl20,00 – CONTENDER TITLE FIGHT- 65,8kg

Round 1
Next up the Luleå native against the very experienced Thomas Moon Lee Hytten. Niklas does his entrance with his gi and purple belt. He has a lot of experience in his corner in David Bielkheden and Reza Madadi both having UFC experience. This is going to be a fight!
Niklas moves to his right and uses his reach before closing the distance and clinching up Moon Lee against the cage. He wants to bring the fight tot the ground and does it.  Moon Lee is working for a kimura but Niklas defends it. Niklas postures and passes to side but not for long as Hytten works side and tries to get close to the cage to stand up. Niklas knocks him down as he tries to stand and follows up with strong punches. Very intense coaching by Reza who smacks the press table as he frenetically puts himself in the fight mentally and physically. Referee Marko Gyllenland stands the combatants up and Niklas is able to land good combinations to finish up the first round.
MMAviking scores this bout 10-9 to Niklas Bäckström.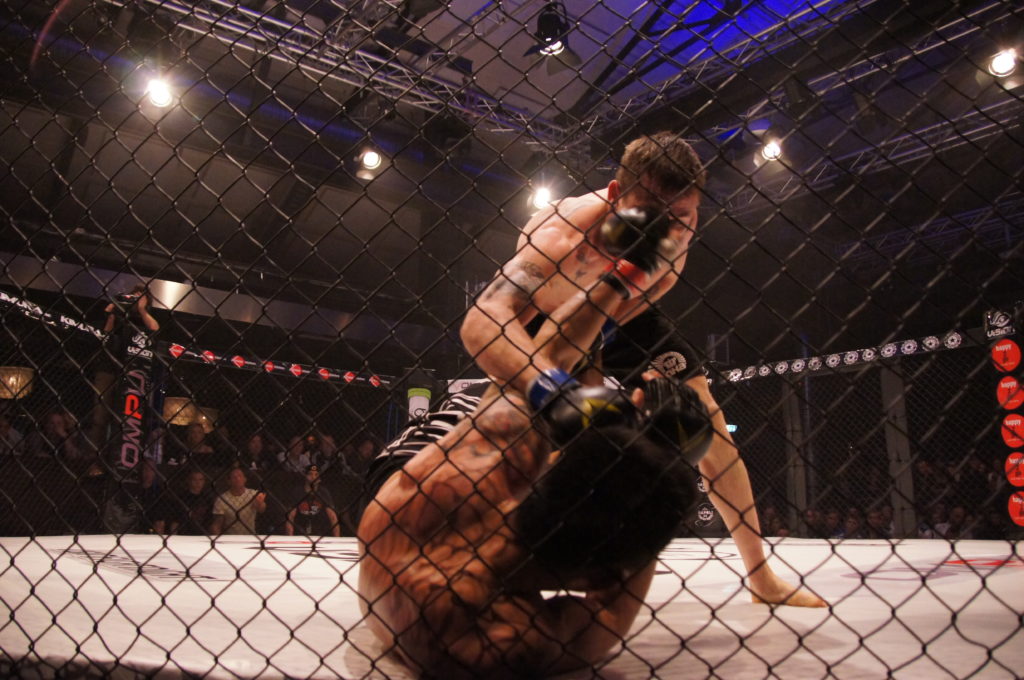 Round 2
Niklas is controlling where the fight takes place and takes Hytten down once again after landing solid knees in the muay thai clinch. Niklas postures and picks his shots. Niklas passes to side and Hytten is looking for a kimura, it isn't successful. Niklas mounts and lands a barrage of punches from the top before referee Marko pulls him off Niklas wins by TKO in the second round. A very solid performance by the Swede.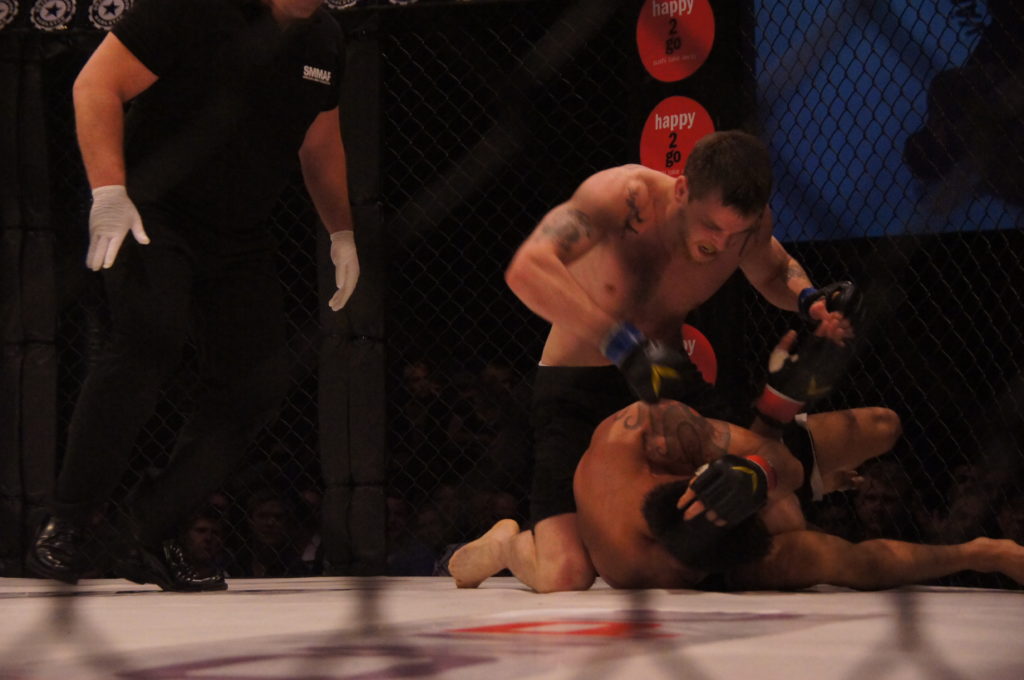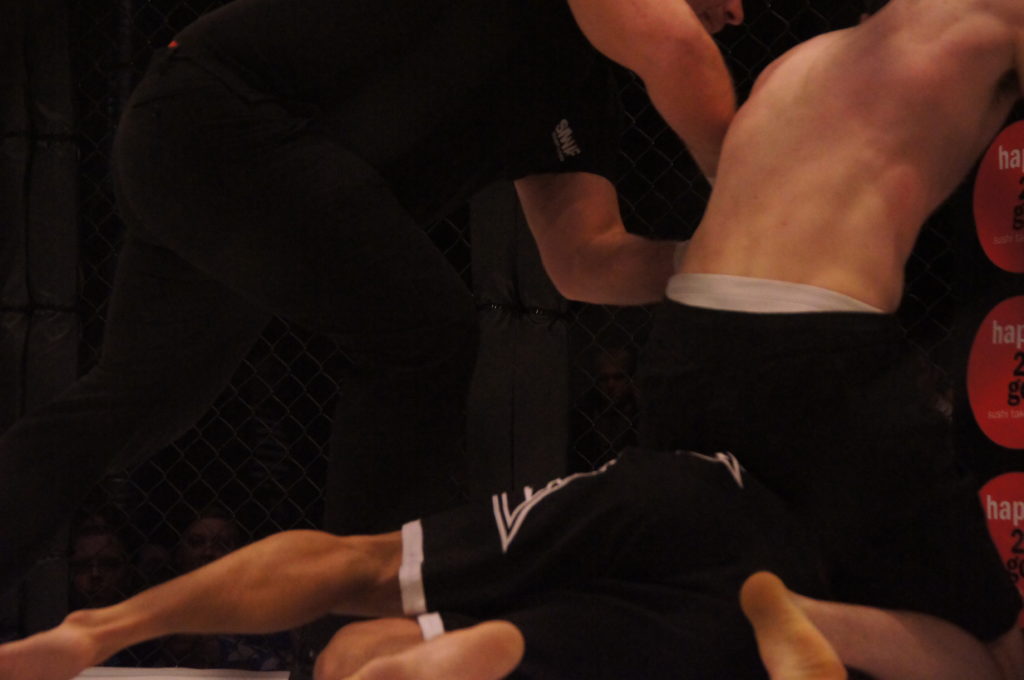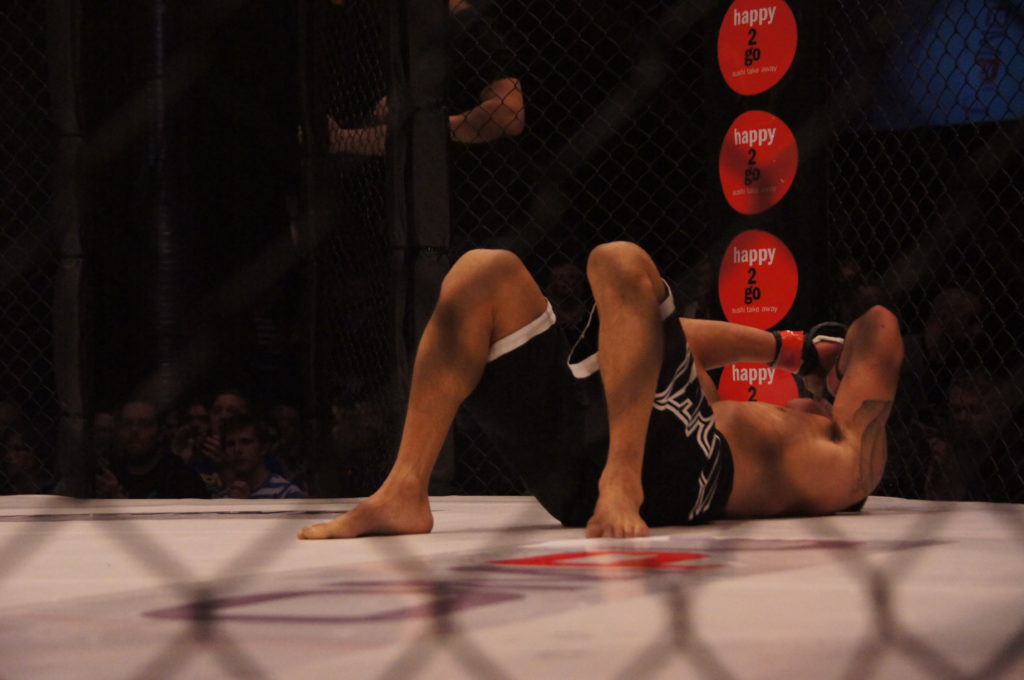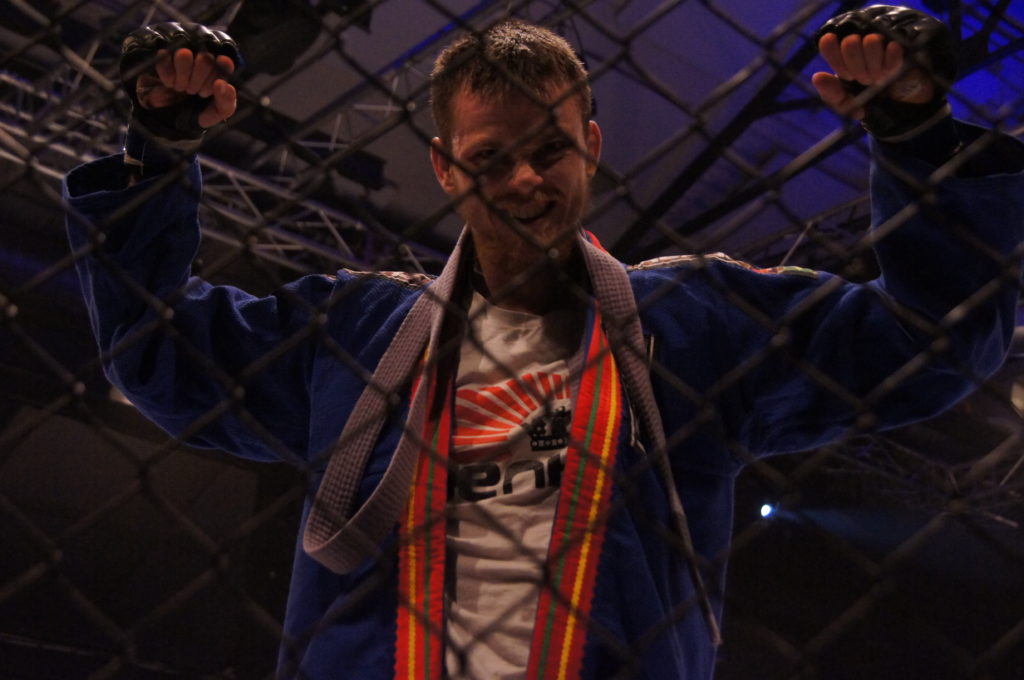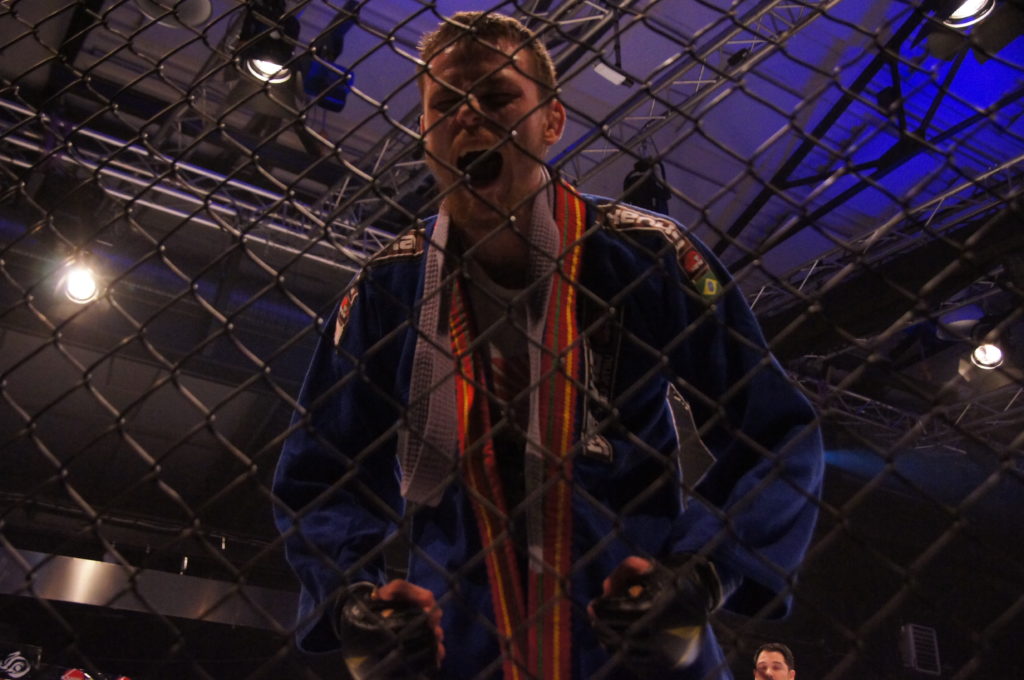 Jonatan Westin vs Robert Radomski – kl20,25 – TITLE BOUT -77,1kg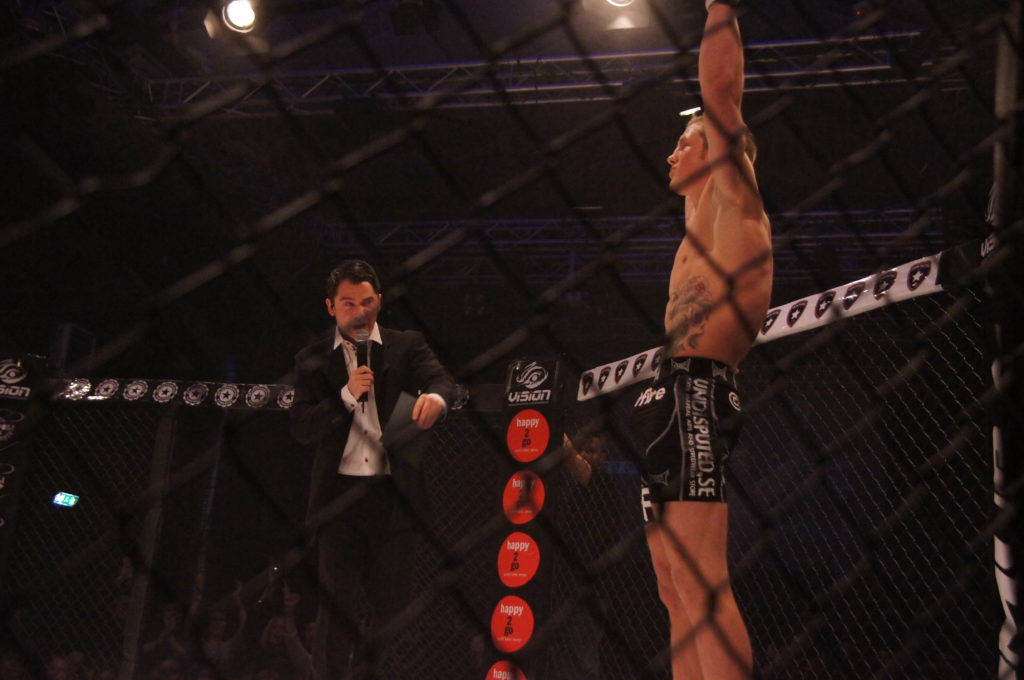 Tonights first title fight is underway. Westin gets hit flush by a straight right and Robert Radomski puts Westin down with a solid combination and finishes up with some vicious ground and pound having Westins head bounce against the canvas. A very quick and impressive performance by the Polands Robert Radomski.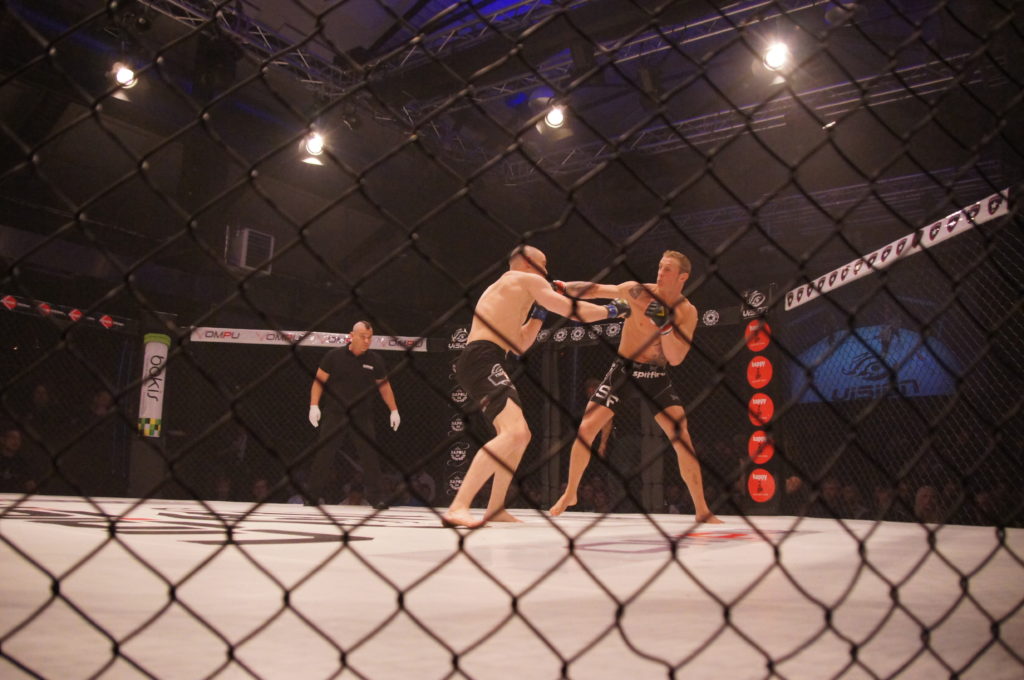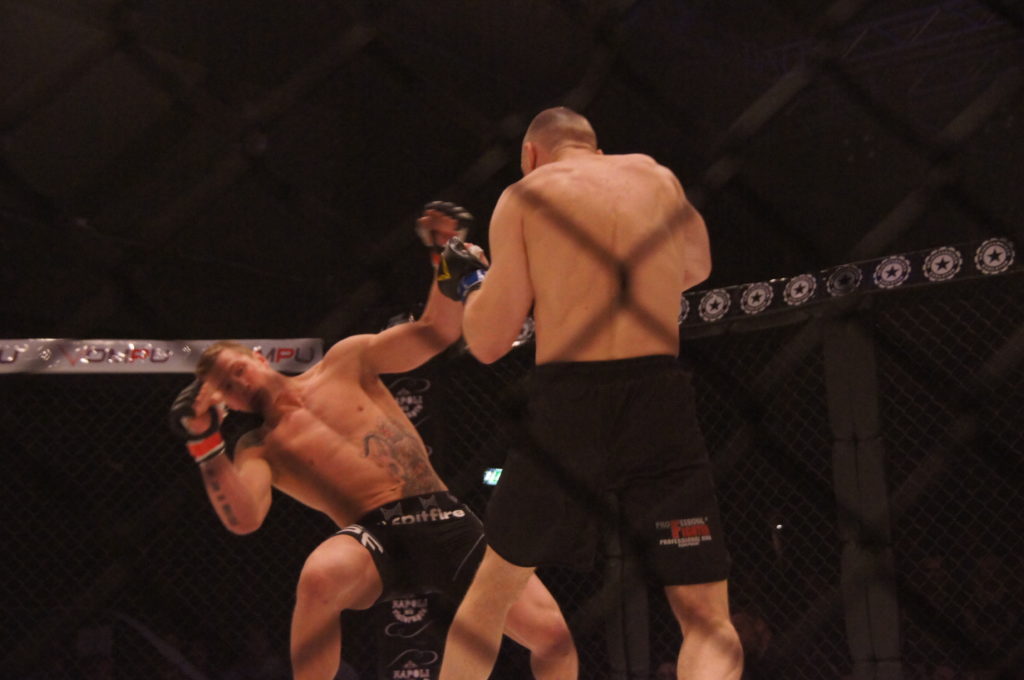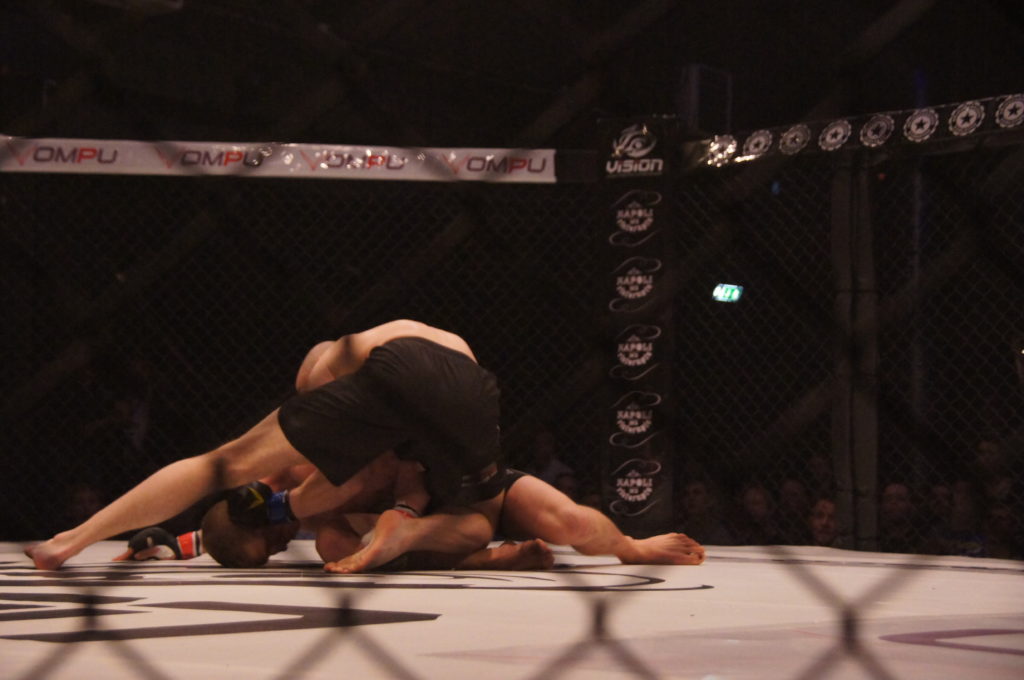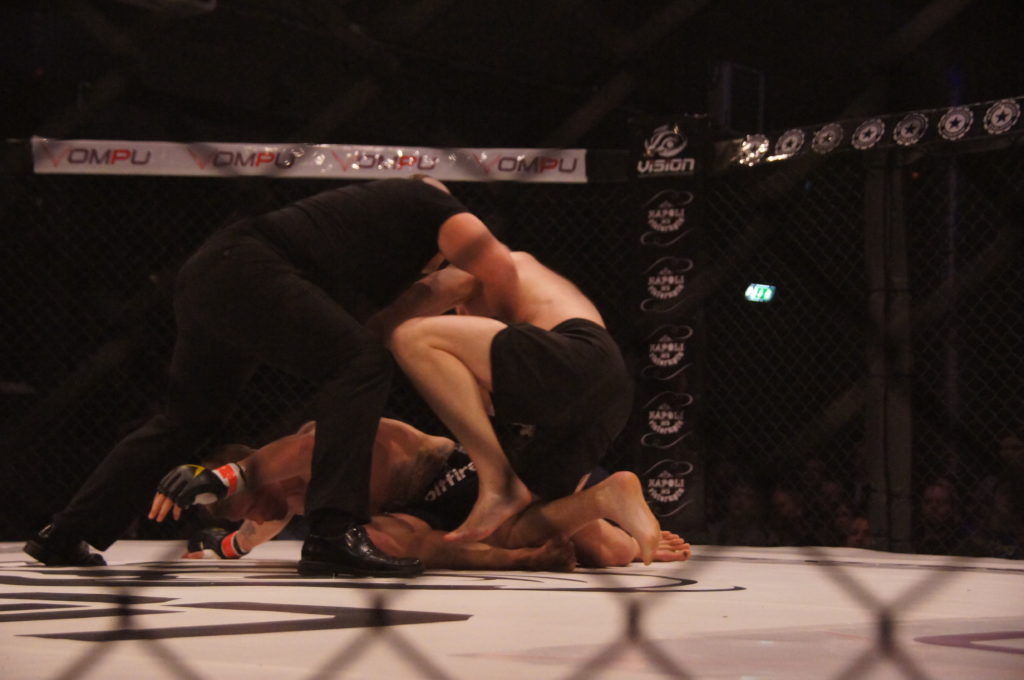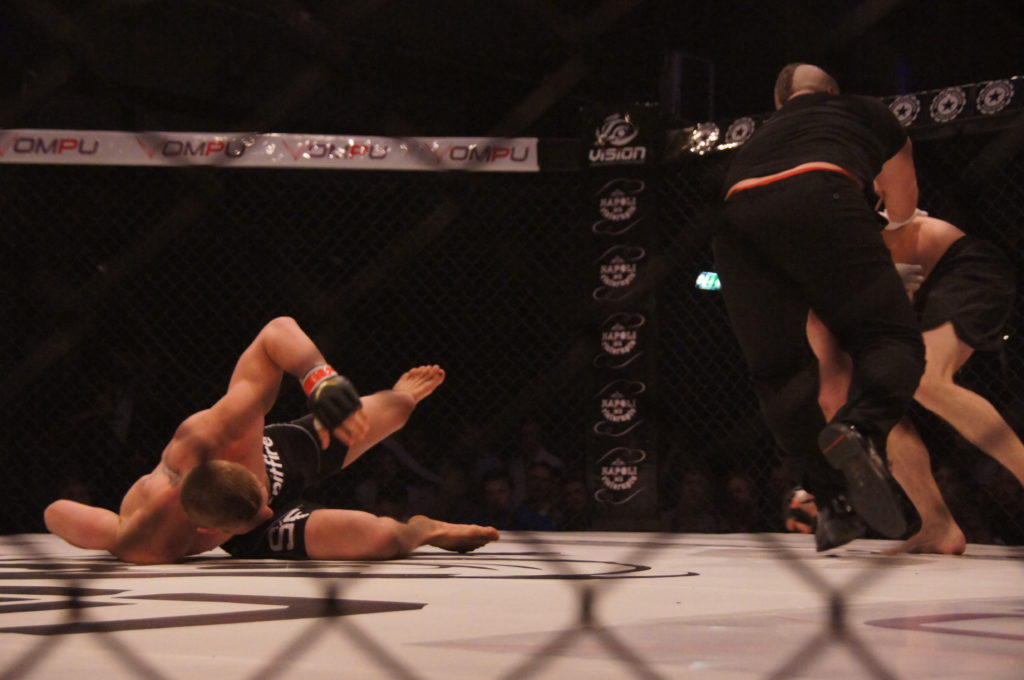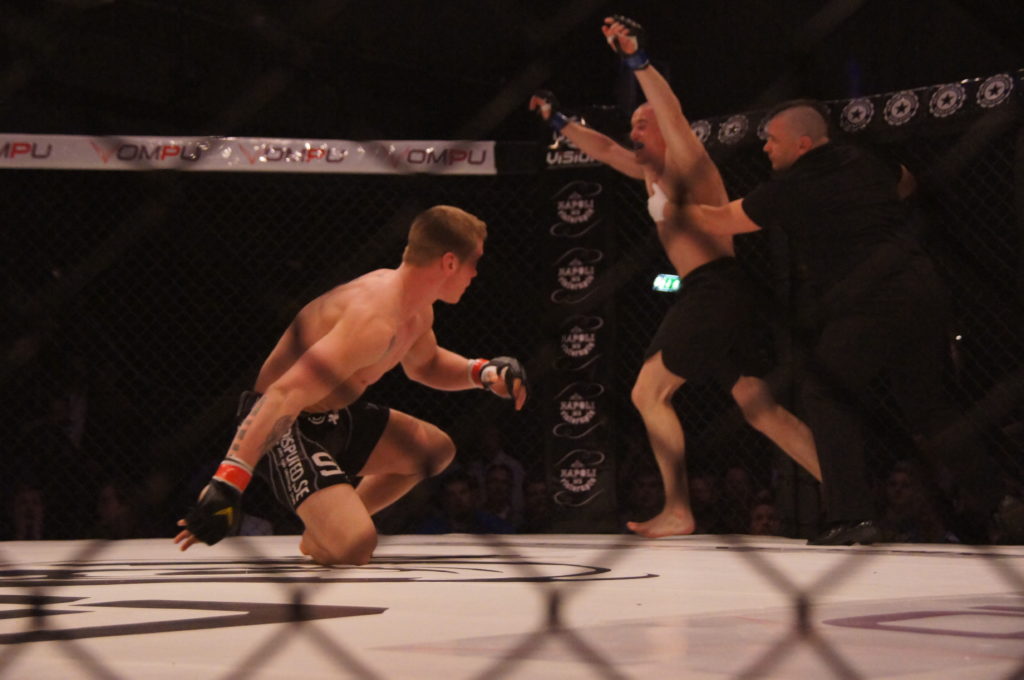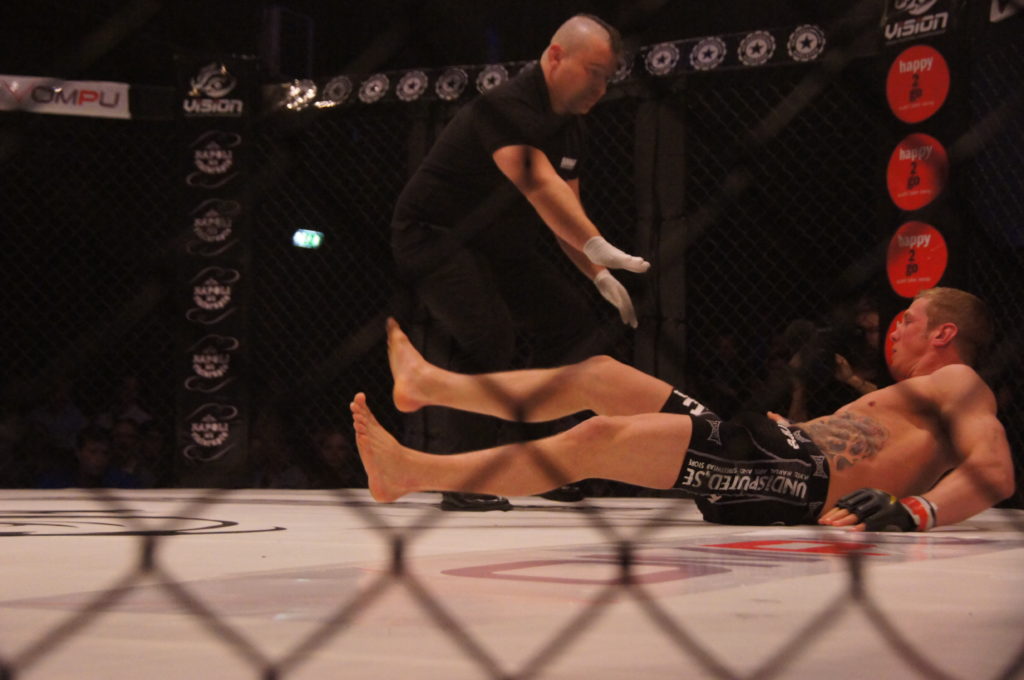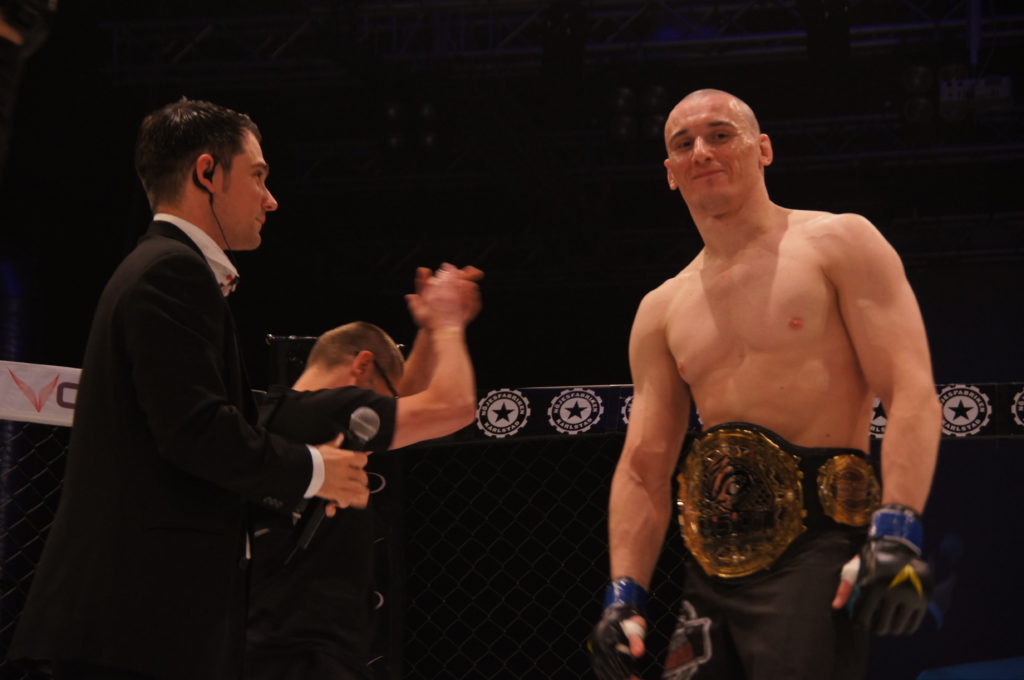 Winner by KO, Robert Radomski
Jani Lax VS Bobby Mcvitie – kl20,50 – TITLE BOUT -70,3kg
Huge support for Jani Lax as he makes his way to the cage!
Here we go! Jani lands with a combination and Bobby counters with a leg kick. Jani clinches but Bobby reverses and puts Jani against the cage. Jani escapes. McVitie didnt't come here for nothing and is giving Jani a fight, Janis experience might prove to be to much for the scott in the end. Jani lands a stiff right hand that rocks Bobby, Jani punces with animalistic ground and pound and knocks Bobby McVitie out. The crowd goes nuts and defeat is a fact for the Scottish figher. Winner by KO Jani Lax.
Jani grabs the mic and announces his retirement from the sport, a short reign for the new champ.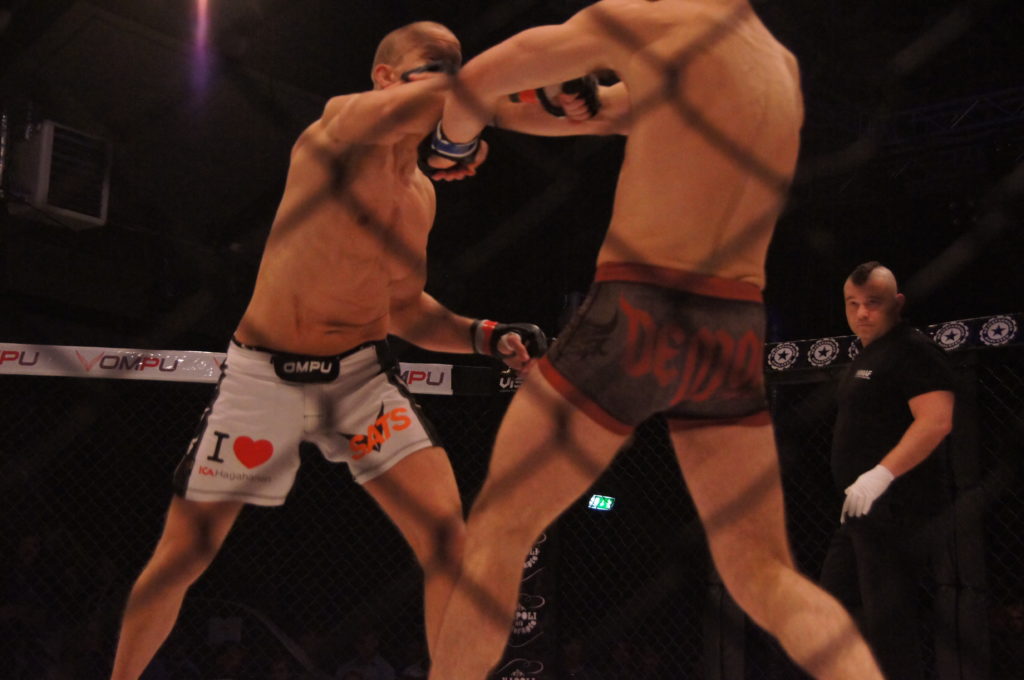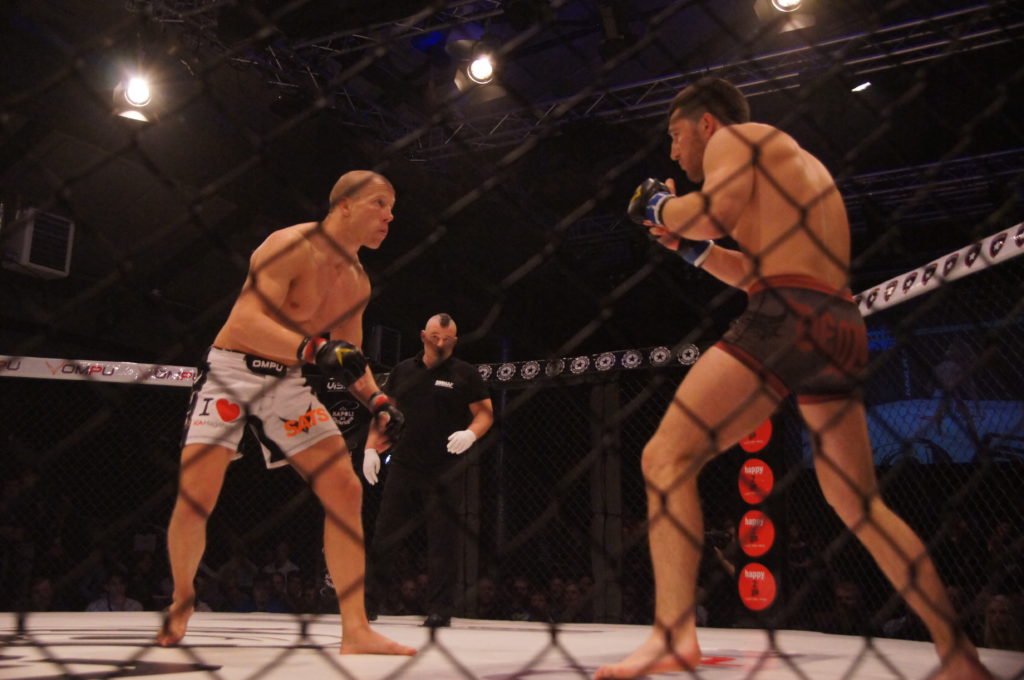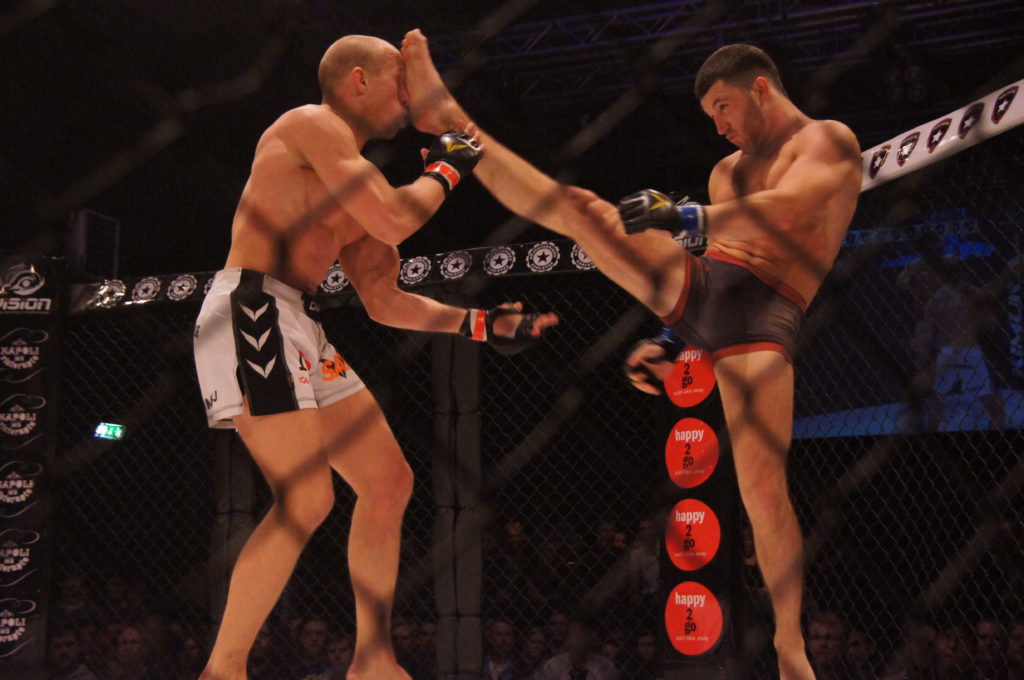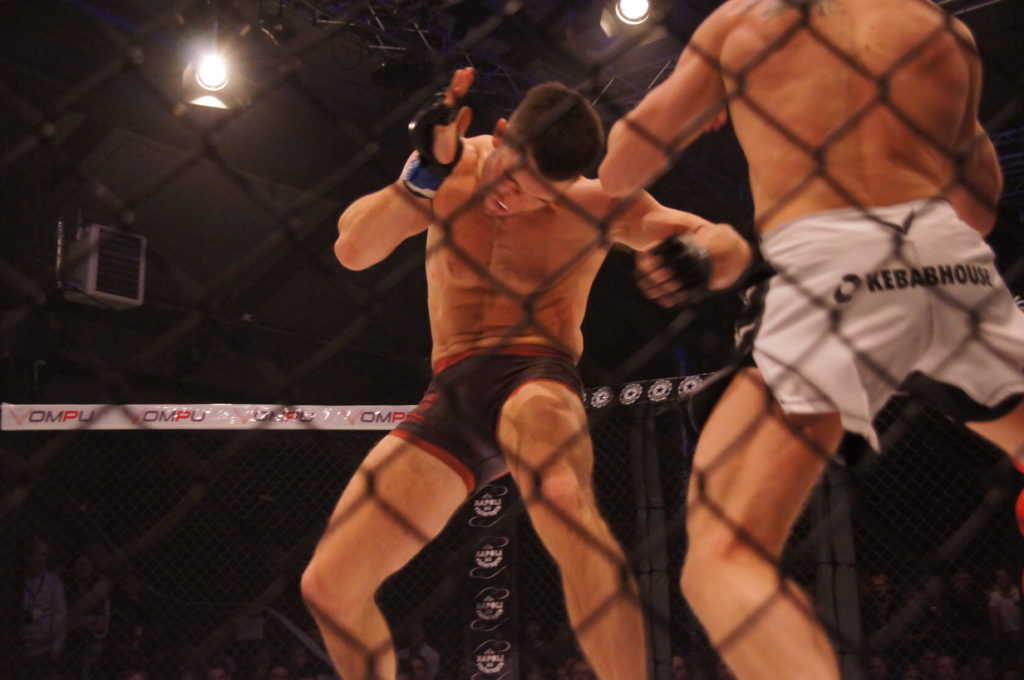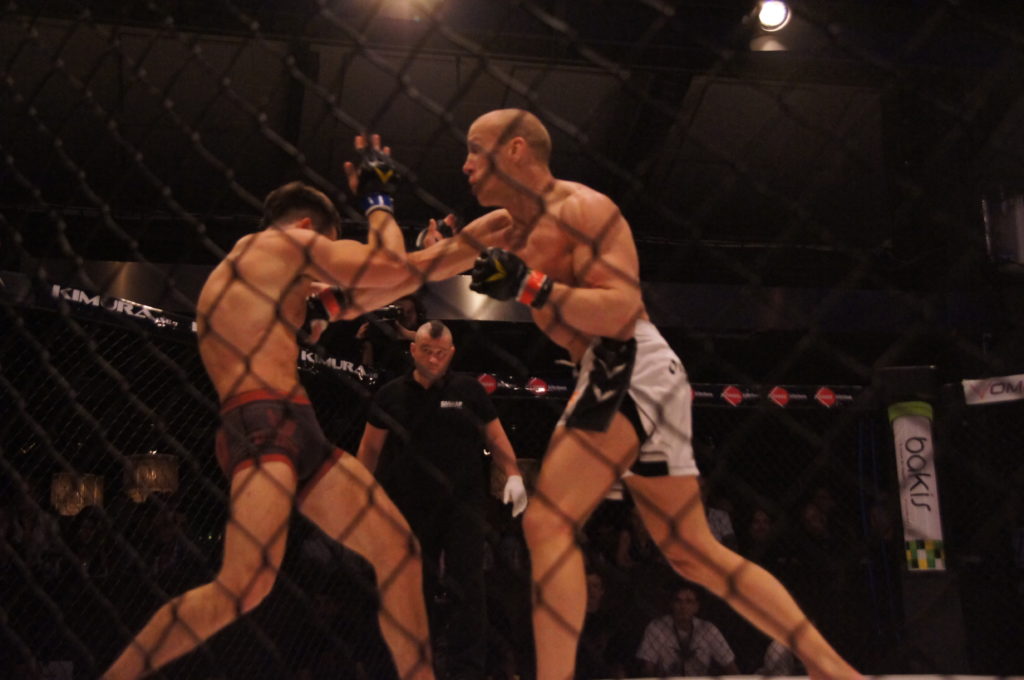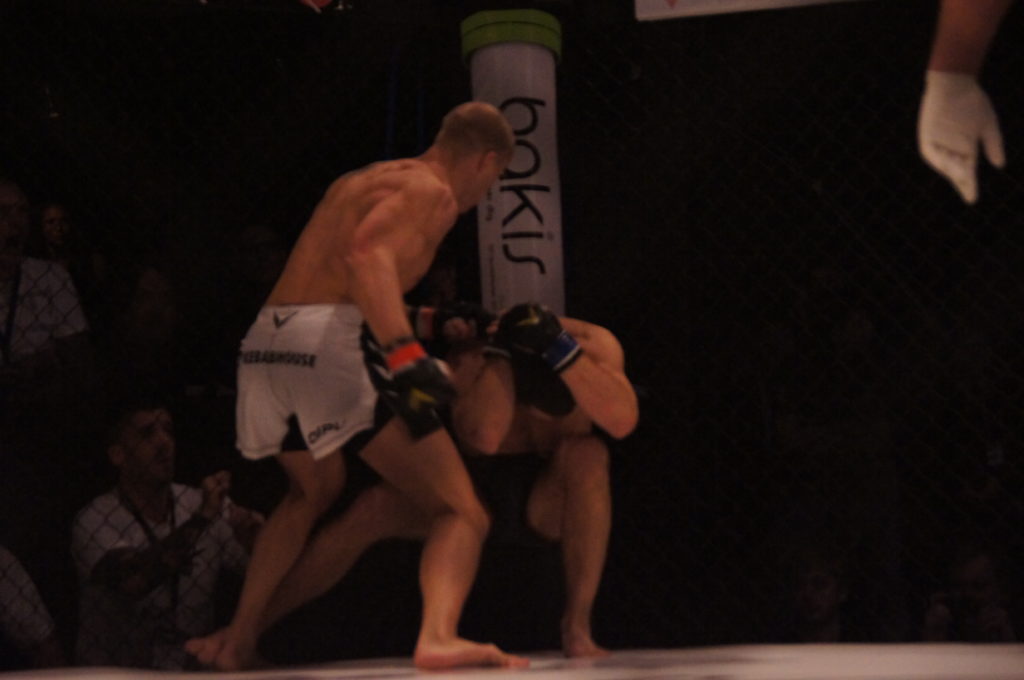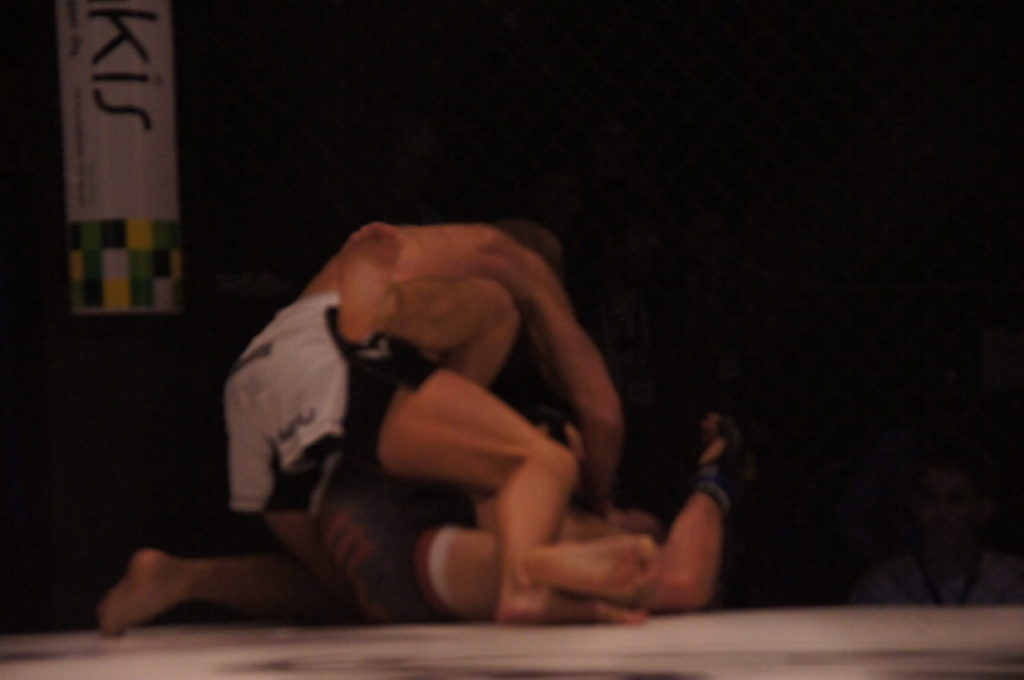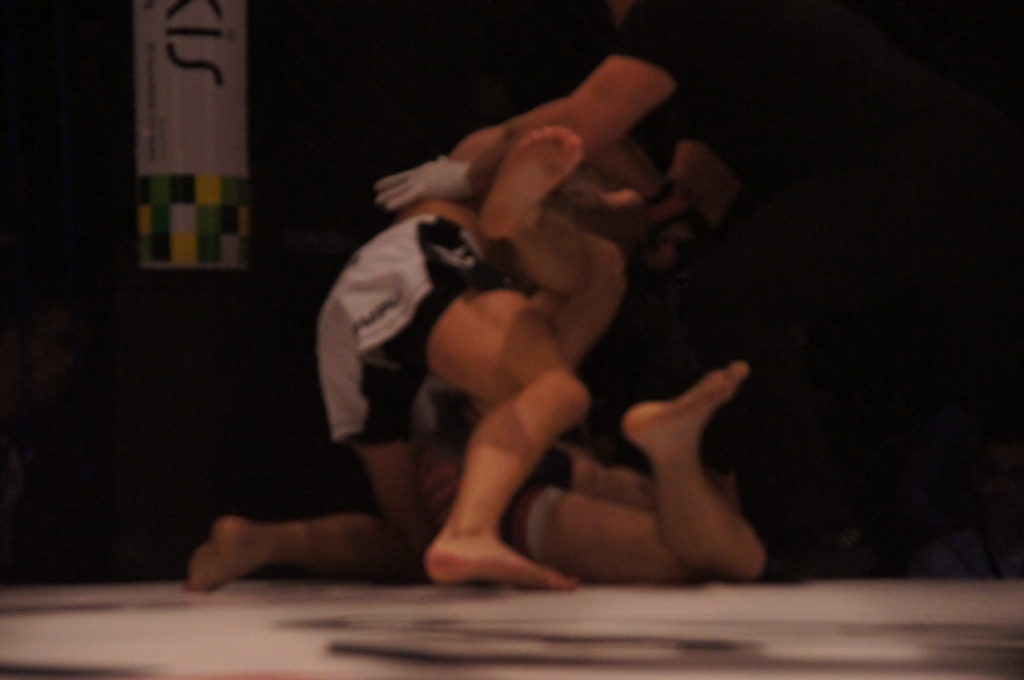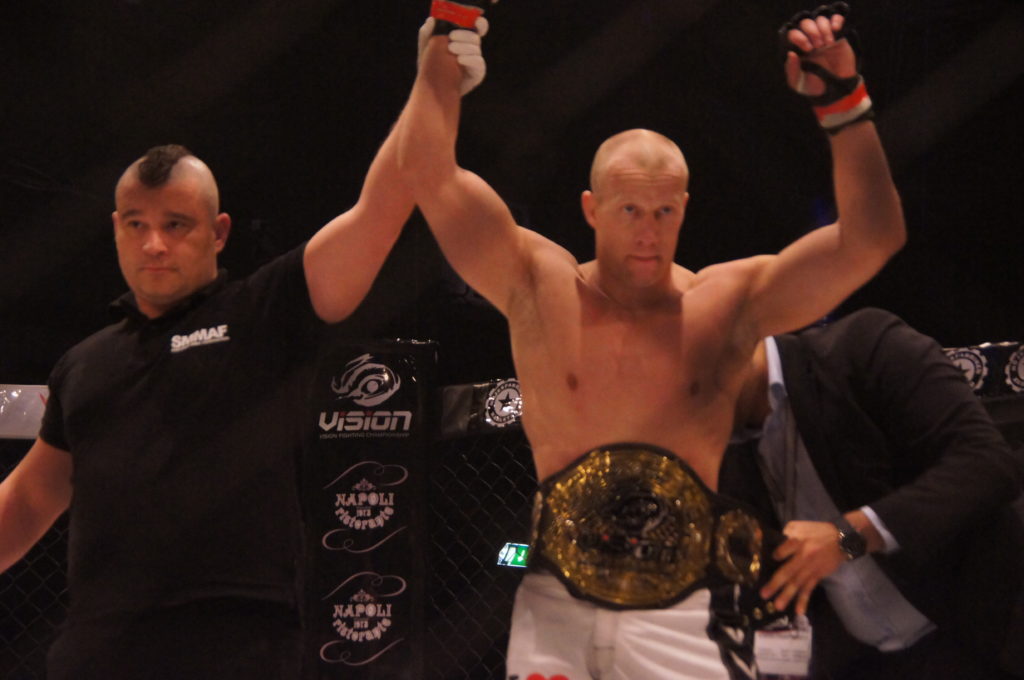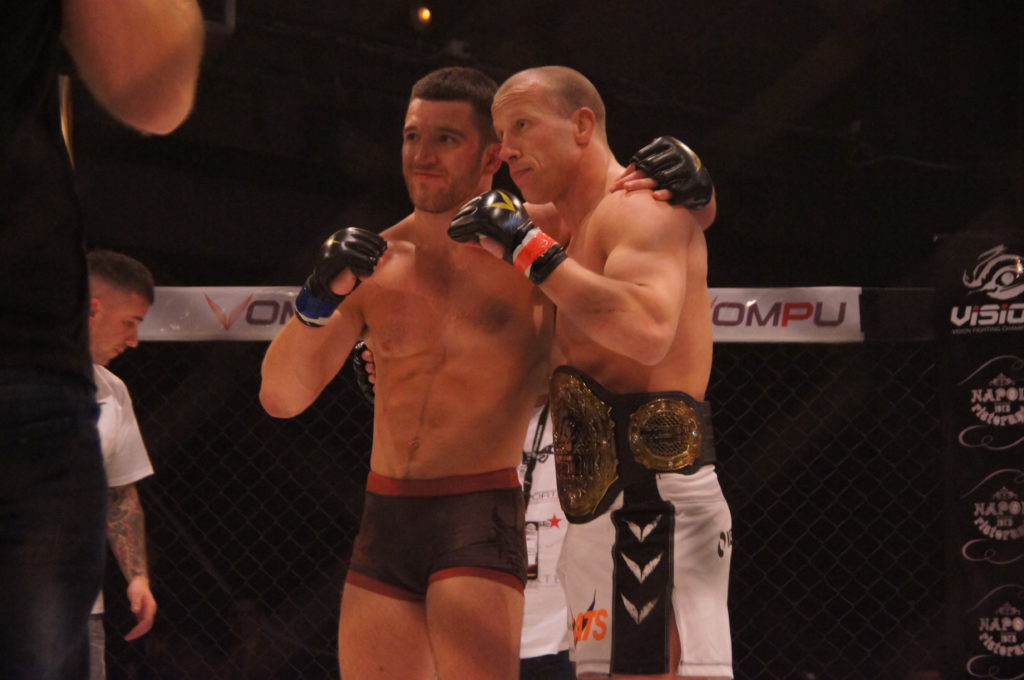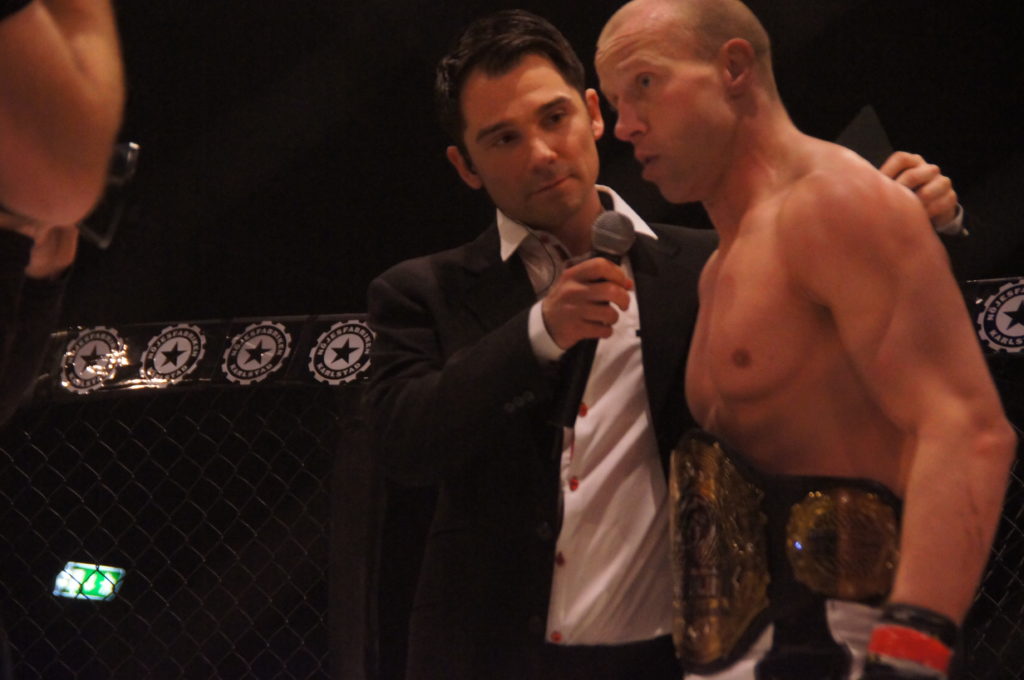 And thats it folks I hope that you found some joy in tonights report and that it could come anywhere close to the caliber of Ryans reports. He will be reporting live from The Zone in Gothenburg tomorrow night, don't miss it it's going to be a good night of fights!
Over and out!