Tapiola Sports Hall hosted a multidimensional combat sports event on the 5th of May in Espoo, Finland. Besides the Finnish amateur championship bouts in kickboxing and MMA, the event also had two professional MMA bouts on the card. Main event of the night was the bout between two top ranked Euro featherweights in Finland's Joni Salovaara (10-4) and Lithuanian's Sergej Grecicho (13-5). Hometown hero Salovaara came into the fight riding a seven fight win streak and fighting undefeated since 2009 while Grecicho was 4-3 in his last seven with a recent loss to Sweden's Niklas Bäckström at the Botnia Punishment 11 in March.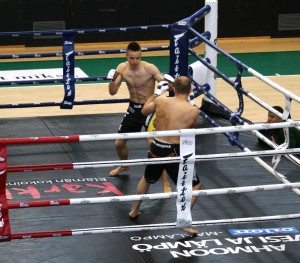 Beforehand the bout was seen as a classic striker versus grappler match up and that's how the fight played out in reality too. Taller Salovaara started with couple of heavy leg kicks and seems to be the faster and more technical striker of the two but soon Grecicho's super slick grappling skills came into play. Lithuanian clinched with the Finn and the fighters got tangled in the ropes almost dropping out of the ring. Grecicho took advantage of the somewhat confusing situation and took Salovaara's back. From the back mount Grecicho was able to sink in a rear naked choke after a short struggle. Salovaara defended the first attempt but Grecicho readjusted and forced Salovaara to tap out early in the first round. Great win for the Lithuanian veteran and a disappointing loss to the young Finn who had been training really hard for this bout.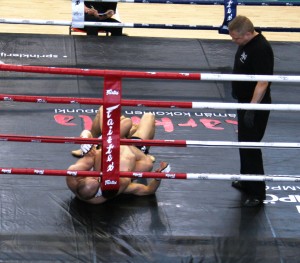 Russian rising prospect Oleg Khramov (7-1) caused another disappointment for the crowd when he tapped out Espoo's own Janne "Jamba" Elonen-Kulmala (4-3) with a  rarely seen reverse triangle choke in the second round. Jamba controlled the action in the first round with numerous takedowns and strikes from the top. Early in the second round Khramov connected with strikes that made Jamba shoot for the takedown. Khramov sprawled swiftly and locked in the triangle choke from the top position.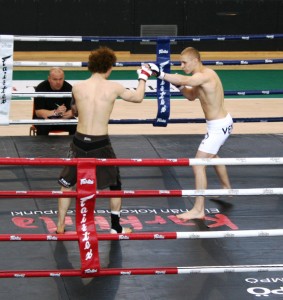 All photos by MMAViking.com