CAGE 40 goes down tomorrow at the Helsinki Culture House.  The 7 fight card is headlined by Finn Joni Salovaara (17-9) taking on late replacement Alexey Oleinik (11-12) with a much anticipated co-main event with a Finn versus Finn battle of Mikael Nyyssönen (9-3) and Patrik Pietilä (8-5).  Get all your live action updates with additional Finnish talent Aleksi Toivonen, Abdul Hussein, Suvi Salmimies, Tuukka Repo, and Edward Walls.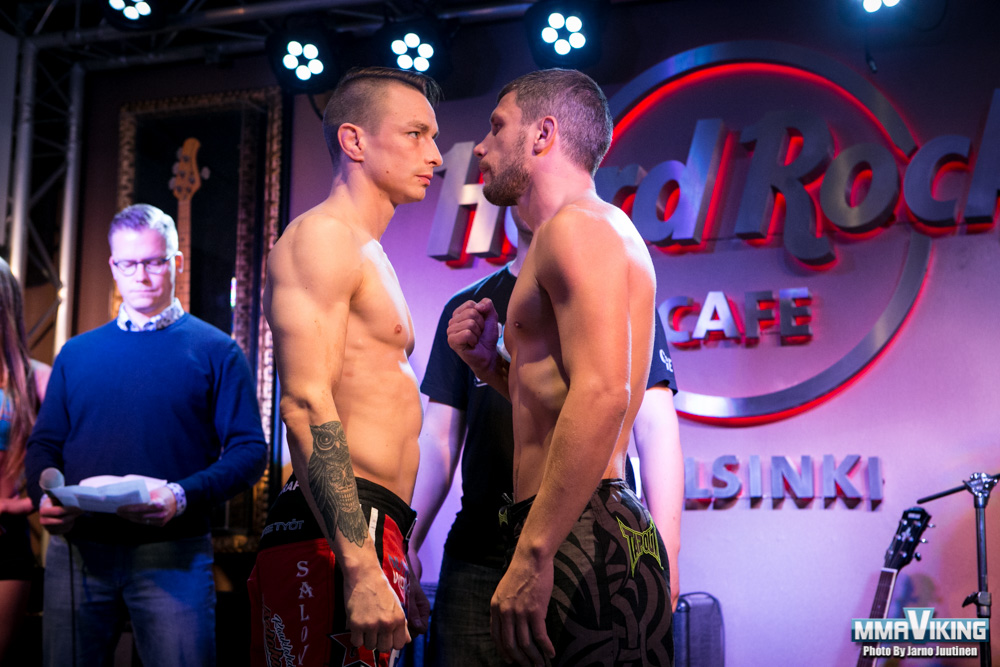 Live Cage 40 Results
MMA Viking's Jarno and Jyrki Nurminen are cageside for live reporting with Jarnu Juutinen cageside with his camera.
Edward Walls versus Artur Aliev
This is a debut match for Edward Walls in the Cage organisation. His pro record is 4-1-0 and he is facing Aliev with a similar record (3-1-1). Walls is known for exciting matches, so this should be a good way to get the event going.
Fun fact: Aliev is wearing Reebok's UFC shorts.
Round 1
Round starts, Walls takes the cage control. Aliev lands a solid kick to the mid section. Walls with a successful 1-2, aliev misses with a spinning back fist.
Aliev with a single leg take down, Walls defends with a butterfly guard and soon stands up. Strong scramble and Aliev on top of Walls again. Half guard. Soon Walls is up again. No big damage done in the ground by Aliev. Walls goes for a kick but Aliev catches it and forces another take down. Walls up immediately and pushes Aliev against the cage. Aliev turns Walls against the cage and punishes him with a shoulder to the face.
Walls more successful in the end of the round with a couple of good kicks and strikes.
Round 2
Aliev pumps the jab, but no strikes. Walls dodges Aliev's strike and lands a good strike of his own. Aliev gets a take down, Walls up quickly again and now against the cage. Aliev has both underhooks. Aliev grabs a leg, goes for high crotch take down and Walls is on his back again on the mat.
Aliev strikes with a couple of short elbows from top position, Walls clinches well. Walls turns his back to Aliev, but the Russian knees Walls to the calf and hamstring of the left leg. Aliev attempts another take down, but Walls stuffs it and takes distance.
Walls lands a right hand, and soon that is followed by a short exchange of punches. Aliev's lowkicks are nasty!
Round 3
Round begins with a crisp kick to the body from Aliev. Walls lands a huge straight right and Aliev is knocked down, however Aliev is soon on his feet pushing Walls agains the cage again.
Aliev shoots for a single leg, Walls sprawls well. Aliev with another attempt, this time succeeds. Aliev again punishing with shoulder strikes to the face of Walls.
Corner tells Walls to stand up now, Walls replies "Yes" and soon he is on his feet again. Aliev pushing Walls against the cage wisely, but Walls clears the clinch. Right after that Aliev shoots and gets the top position yet again. Walls doing everything his corner asks him to, but Aliev's top control seems to be too much this time. Round ends with Aliev on top.
Winner: Aliev by unanimous decision.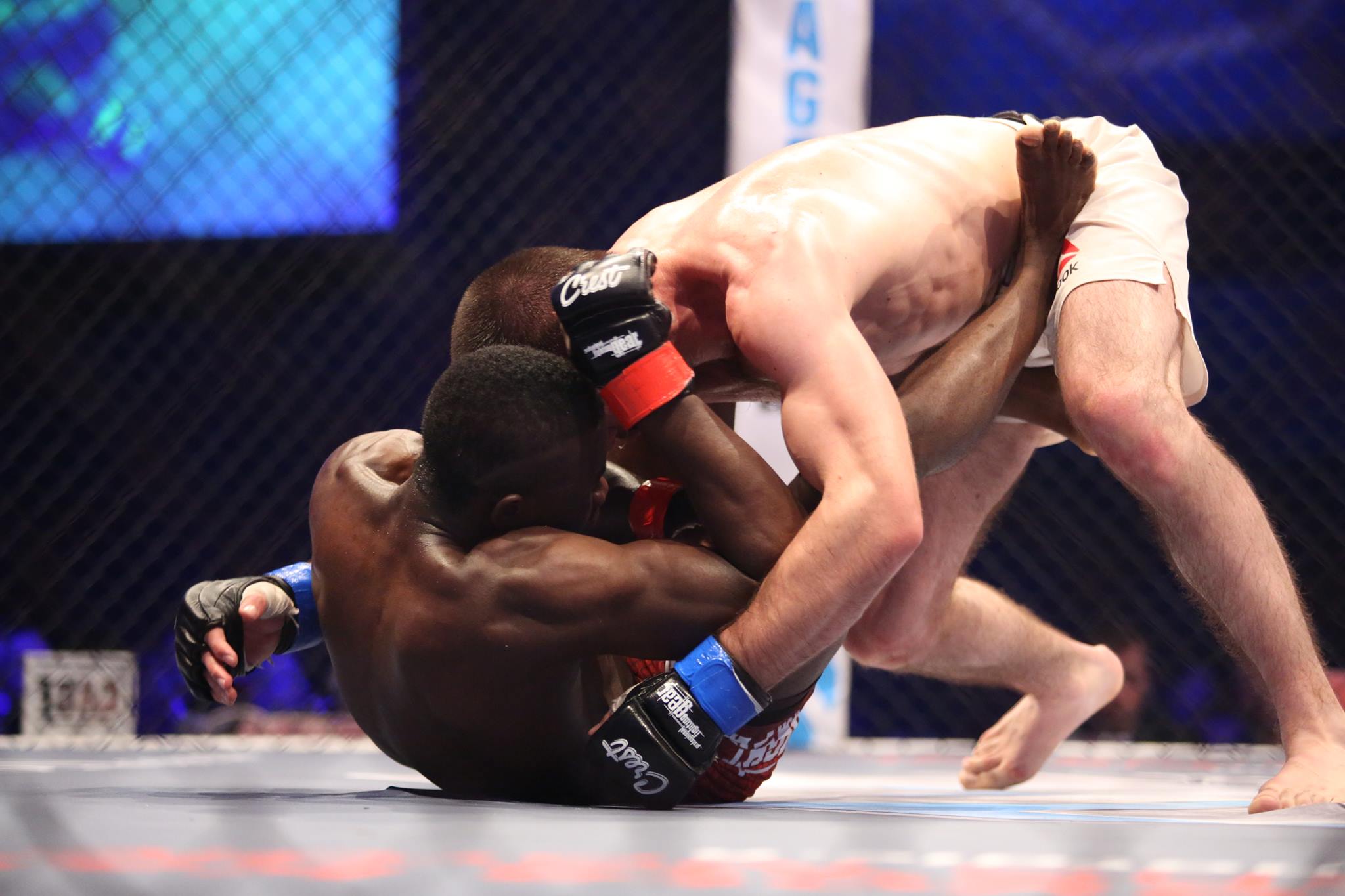 Tuukka Repo versus Vítězslav Rajnoch
Rajnoch has a huge reach advantage in this fight. According to match maker Jukka Paananen Rajnoch's reach is 13cm more than the Hardknocks Helsinki prospect, Tuukka Repo. Repo, however, has dynamite in his hands.
Round 1
Repo takes control early in the match. Repo lands a left hook and jab to the body of Rajnoch. Both fighters landing strikes, but Repo now with the control as he pushes his opponent against the cage and has an underhook.
As the clinch ends Rajnoch goes for a knee, but Repo is well aware of this and dodges it. Rajnoch pressuring Repo agains the cage, but the Finn is having none of it as he lands a huge right hook and Rajnoch is knocked out cold. This one is over, Dynamite Repo gets the crowd off their seats.
Winner: Repo by KO in round 1.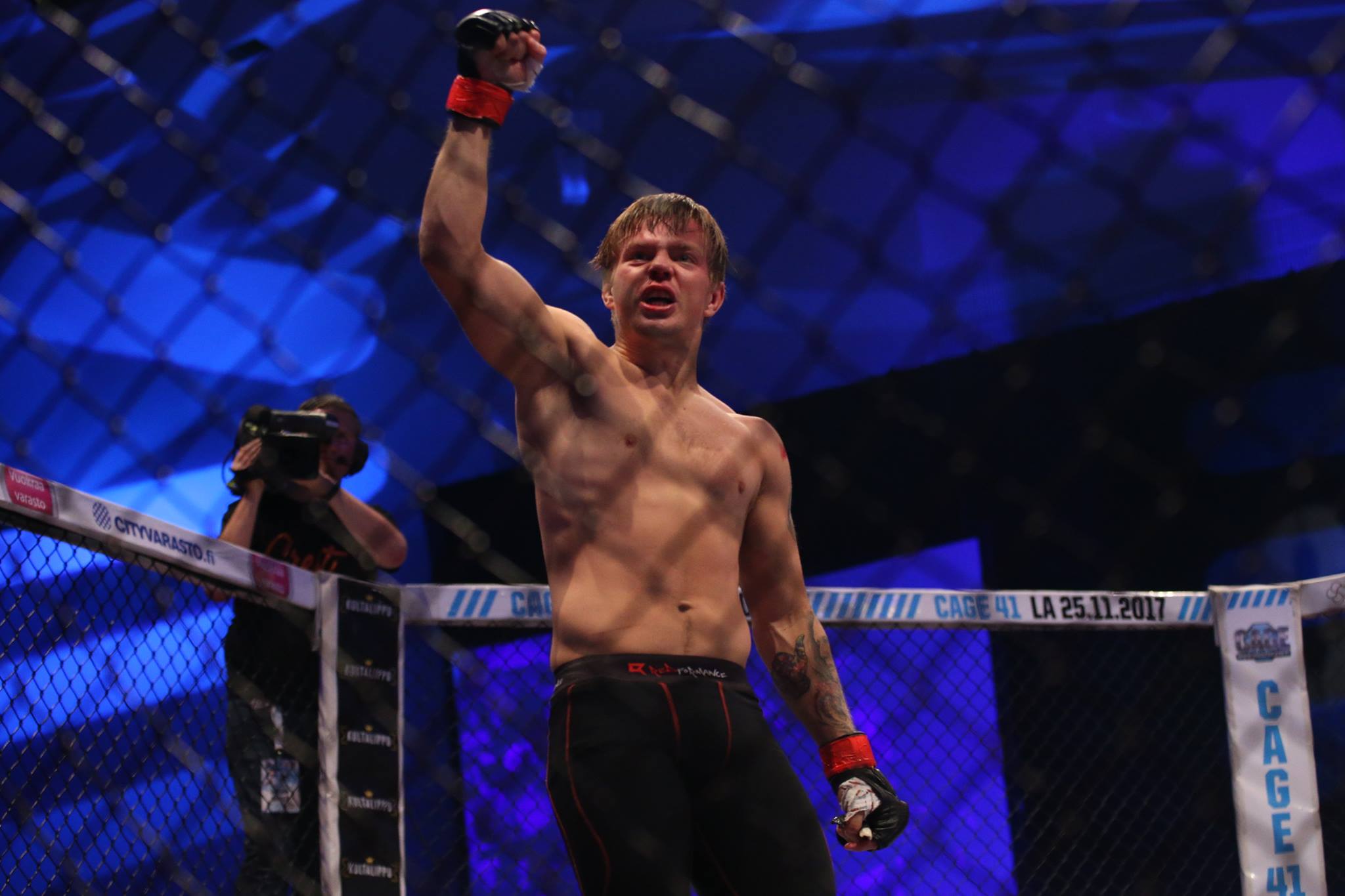 Suvi Salmimies versus Zarah Fairn Dos Santos
Round 1
This match has a much slower start as the fighters are measuring each other. Salmimies with good movement, but Dos Santos catches her with a jab. Soon Salmimies points her eye, Dos Santos probably caught her with extended fingers.
Dos Santos keeping Salmimies well in her preferred range, but soon Salmimies initiates the clinch. Dos Santos turns Salmimies against the cage, but she soon reverses the situation. Salmimies with good knees to the body. Dos Santos seems to be slowing down a bit, Salmimies pushes her against the cage again, but is the target of a knee to the groin.
As there is only 8 seconds left of the round Salmimies frees herself from the clinch and lands a straight left to the face of Dos Santos.
Round 2
This round fires off with aggressive action from both fighters. 1-2 landed by Dos Santos, Salmimies now in the outer circle of the cage. Dos Santos dictating the pace. Salmimies struggling a bit with getting into the range. Salmimies gets a takedown, Dos Santos up immediately, but another takedown by Salmimies straight away.
Dos Santos manages to get the top position in this take down initiated by Salmimies. Guard and underhook by Salmimies. Soon both fighters are standing.
Salmimies goes for a single leg take down, but that is stuffed by Dos Santos. Salmimies pushing her opponent against the cage, but Dos Santos with another groin kick. Round ends.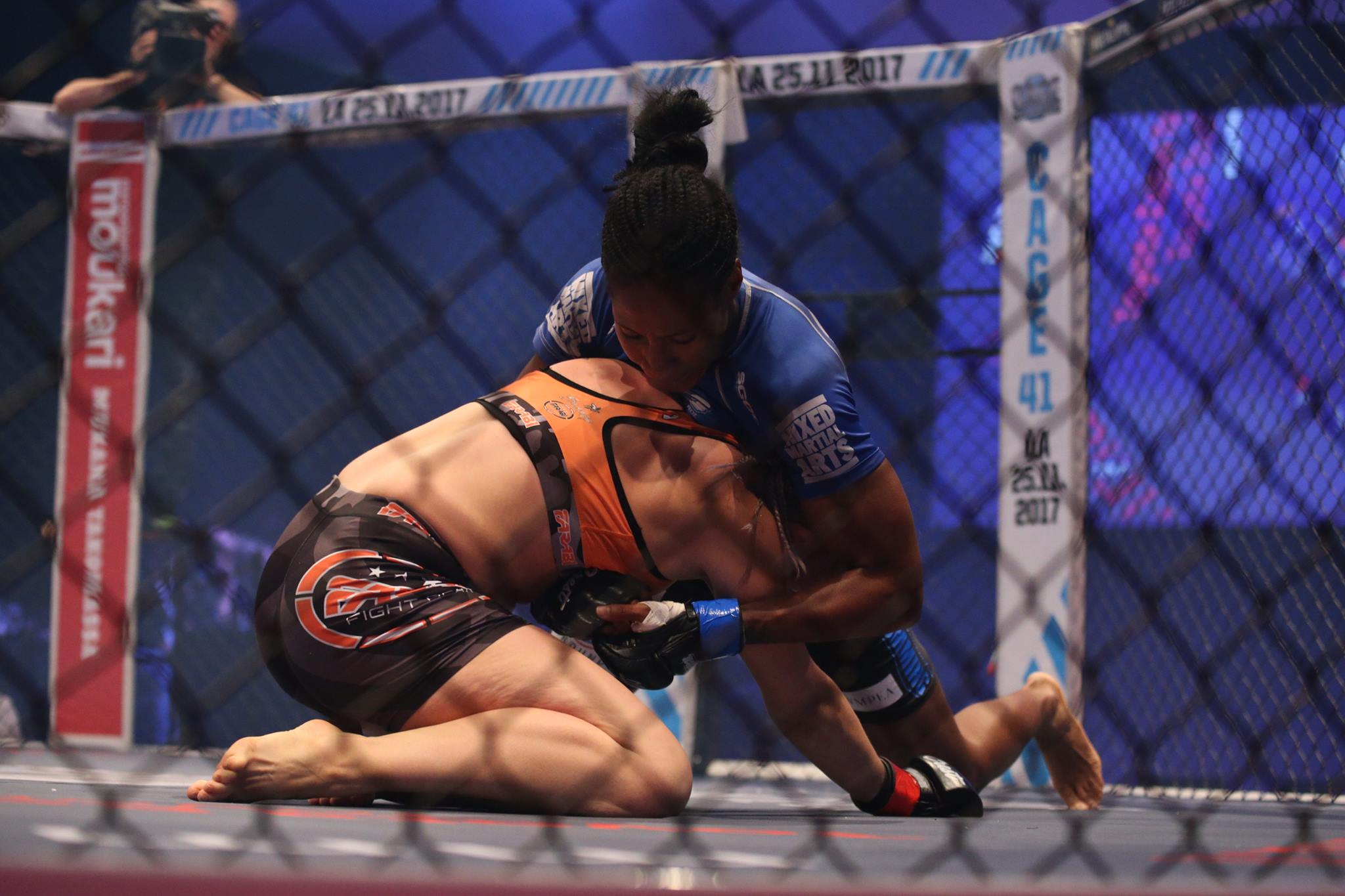 Round 3
Dos Santos more aggressive again, lands a left hand followed by a knee to the forehead of Salmimies. A couple of good combos landed by Dos Santos.
Salmimies shoots, Dos Santos sprawls. Dos Santos preventing any further take down attempts by elbowing Salmimies to the temple 5-6 times. Salmimies persistent with the take down as she grabs both legs, then switches to single leg but Dos Santos defends it.
Fighters on their feet, Dos Santos lands another 1-2 combo and keeps the pressure on the Finn. Third groin shot by Dos Santos. Referee deducts one point from the French.
In the end Salmimies goes for another take down, but Dos Santos defends it well and strikes from above.
Winner: Dos Santos by unanimous decision.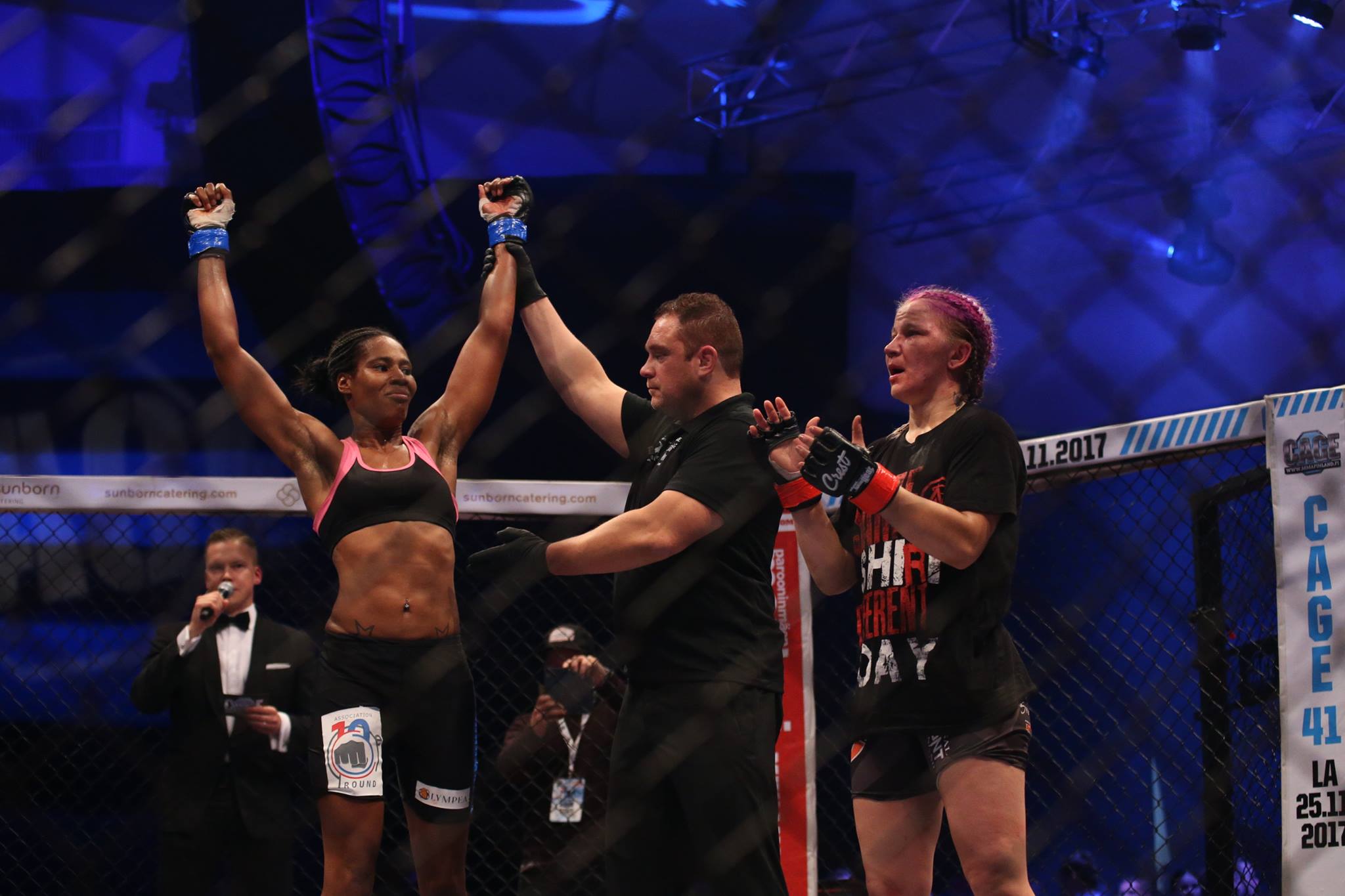 Abdul Hussein versus Ilkhom Aliev 
Round 1
Ding ding – round starts! Aliev kicks, Hussein dodges. Hussein keeping the pressure, Aliev putting everything to his punches right from the start. Aliev shoots, Hussein sprawls well. Aliev with body kicks, Hussein marching forward dodging the bombs from Aliev.
Hussein now taunting with his hands down and punishes with a vicious low kick. Jab, straight left, everything is landing for young Hussein!
Hussein dominating, knees Aliev hard to the body and soon attacks the neck with a guillotine choke. The grip is tight…. too tight, it's a tapout!
Winner: Hussein by guillotine choke in round 1.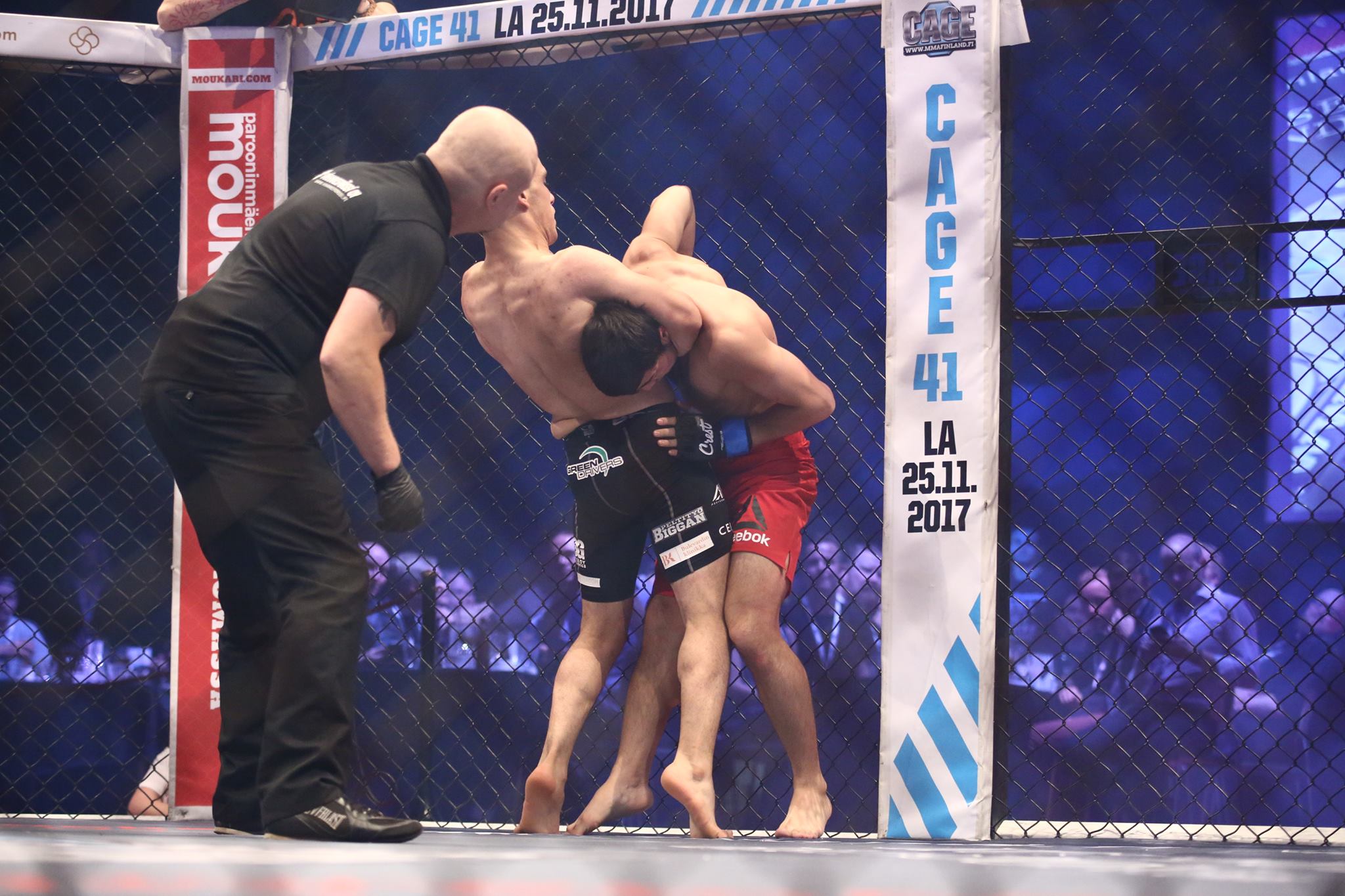 Aleksi Toivonen versus Oleg Mykhayliv
Round 1
Mykhayliv pumping the jab, lands a left to start the round. Toivonen goes for clinch, trips his opponent and gets the takedown. Half guard, short punches from top and Mykhayliv is on the mat his back stuck against the cage.
Toivonen now in side control, the Ukrainian attempts to wall-walk and soon gets up. Toivonen forces another take down with a leg trip and enters the crucifix! A rain of elbows suddenly appears, Ukrainian in trouble big time. Toivonen threatens with a kimura, but since Mykhayliv defends it well Toivonen attacks the back. Toivonen gets the back control, goes for the neck and it is all over with a tight rear naked choke. Tight, I tell ye!
Winner: Toivonen by RNC in round 1.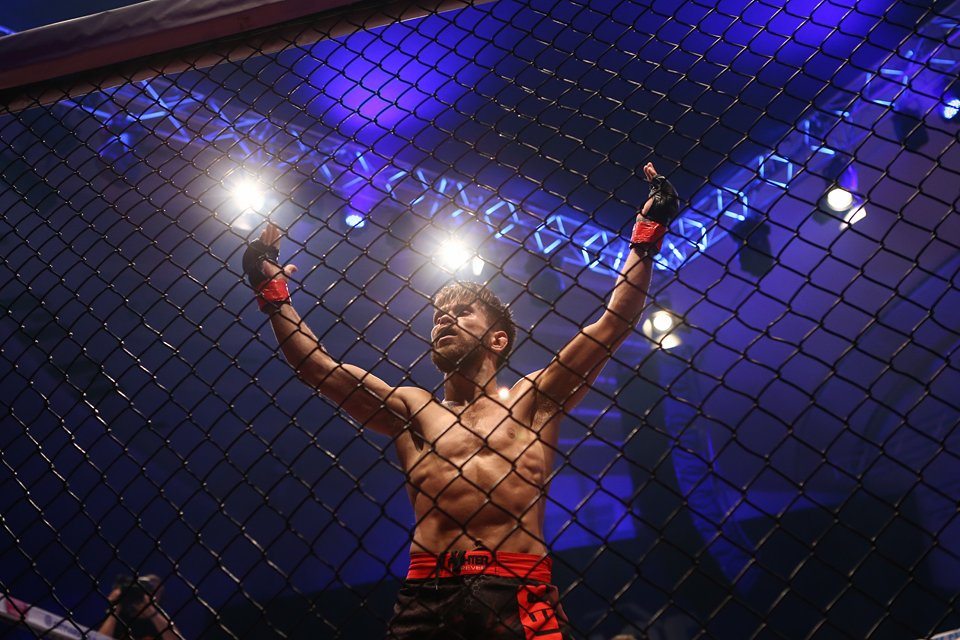 Mikael Nyyssönen versus Patrik Pietilä
It's a Finn vs another Finn. This one should be an interesting match, especially if it goes to the ground.
Round 1
Nyyssönen starts with a low kick to the leg. Pietila striking with 1-2. Nyyssönen gets the first significant strike with a body kick.
Pietilä's heavy jab finds a home in Nyyssönen's chin. Pietilä pushing Nyyssönen now against the cage. Both underhooks in. As the clinch ends Pietilä lands a straight right. Nyyssönen reverses and lands two knees to the body. Pietilä soon gets a take down and moves to half guard.
Fighters are back up. Nyyssönen attempts a high kick with front leg, but this is blocked. Nyyssönen dominating the cage now by pushing Pietilä againts the cage and gets a partial take down. Both up again, Pietilä reverses. Nyyssönen attempting a single leg TD, but Pietilä punishes with short elbows to the temple. Both fighters must be exhausted after a round like this!
Round 2
Nyyssönen starts with a body kick and soon a solid right overhand. Pietilä gets a take down immediately as he was having his back against the cage. Pietilä takes the back, but somehow Nyyssönen manages to turn himself on the back control!
Nyyssönen punching from back position, but Pietilä reverses! Pietilä now on top. And soon both fighters are standing again. What. A. Pace.
Nyyssönen lands an elbow, Pietilä a jab. Clinch, and Pietilä gets the back and the take down. Nyyssönen reverses again and attempts a double leg. No success. Pietilä with the back control again. Nyyssönen on his knees agains the cage. Round ends in the clinch. This is a war!
Round 3
Fighters hug each other as the last round starts. Nyyssönen lands two hard strikes, Pietilä shoots for a take down. Enter the clinch.
Both on their feet, exchanging punches. Both are landing and missing. Pietilä pushing Nyyssönen against the cage, Nyyssönen is having none of it and gets a take down. Nyyssönen takes the back, but Pietilä escapes. Heavy strikes landed from both. Nyyssönen attempts a spinning kick, but Pietilä takes the back and drags him down. Nyyssönen stands up quickly.
Nyyssönen lands elbow, Pietilä struggling to keep on his feet. Nyyssönen takes him down, but soon they are up again. Corner calling for Nyyssönen to take distance and keep on striking.
Pietilä gets a take down and threatens the neck. Gets the back mount now, both hooks in.
The round ends with another exchange of punches. This one is up to the judges now, but there can be no losers after a war like this.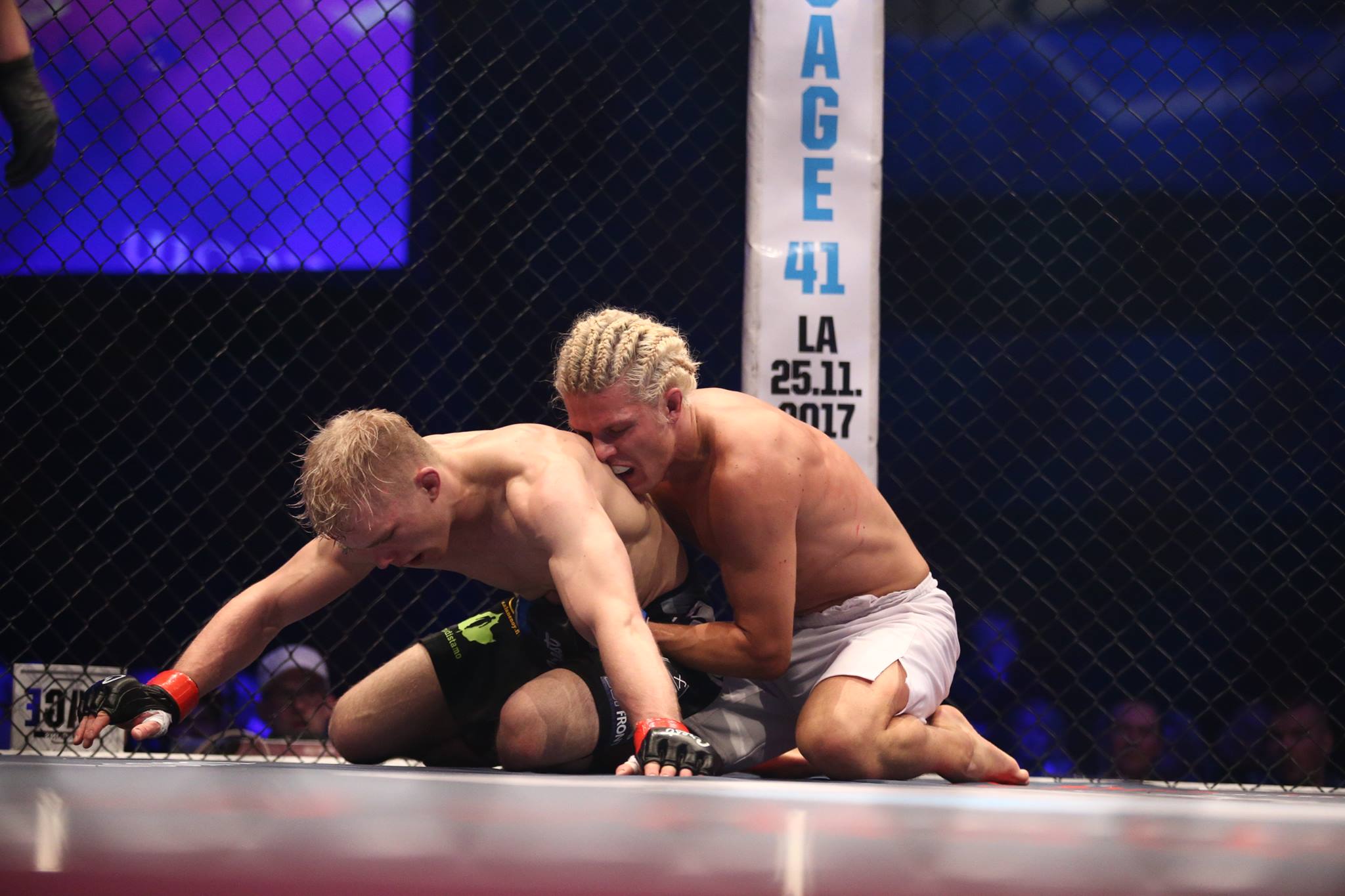 Winner: Nyyssönen by split decision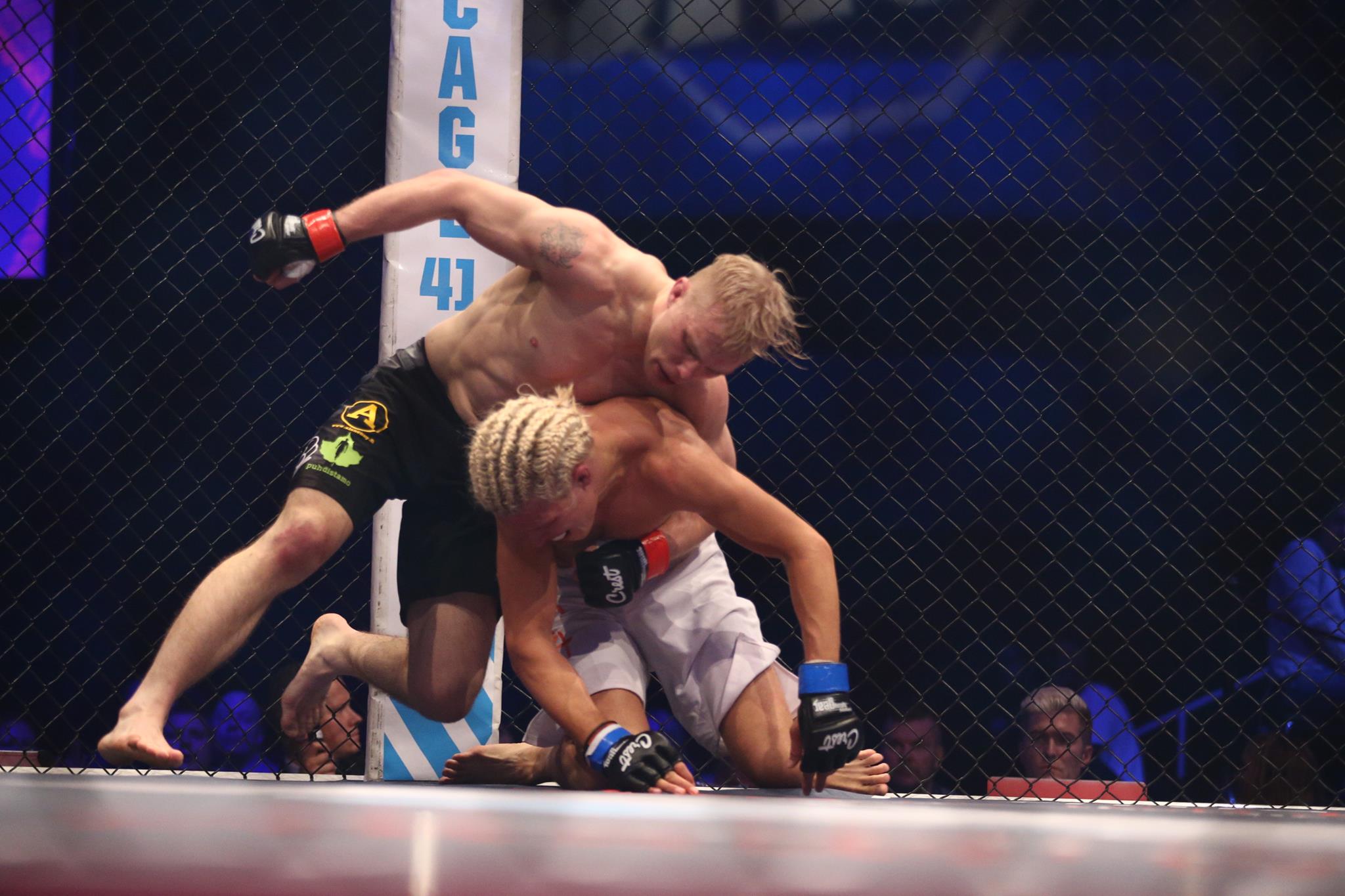 Joni Salovaara versus Alexey Oleinik
This is the main event. The stage is set for these two veterans of the sport. These fighters have fought 51 professional fights in their careers in total, so let the skills speak for themselves.
Round 1
Salovaara with a calf kick in the start. Salovaara keeping good range, but suddenly Oleinik shoots and gets a double leg take down as there is 4 minutes left in the clock. Salovaara defending well from his back, clinching his opponent tight.
Oleinik attacks with an armbar, but Salovaara defends well and gets the top position. Salovaara in Oleinik's guard, dropping short elbows. Referee warns Oleinik for grabbing Salovaara's gloves. Salovaara kicking legs from top. Oleinik grabbing gloves again and is warned.  Salovaara has a cut in his nose.
Salovaara dropping heavy bombs from top, elbows and straights. 40 seconds left. Oleinik attempts an upkick, but it does not land. Salovaara kicking his opponent on the ground and finishes the round with an axe-kick to the torso!
Round 2
Salovaara starts again with lowkick. Salovaara dominating the cage, two strong kicks. Oleinik smells his opportunity, catches the kick and takes Salovaara down. Oleinik punching well from top.
Closed guard. Salovaara opens it and attempts a triangle choke. Oleinik up, and tries to take the back. No success. Salovaara on top again after the scramble and strikes from the dominant position.
Salovaara punishing from top with various strikes, Oleinik goes for upkicks again but Salovaara takes his back. No hooks in yet. Salovaara back in the guard, soon half guard and attacks with elbows to the ribs. Salovaara then moves onto elbowing Oleinik and soon stands up. Oleinik still on his back as the round ends.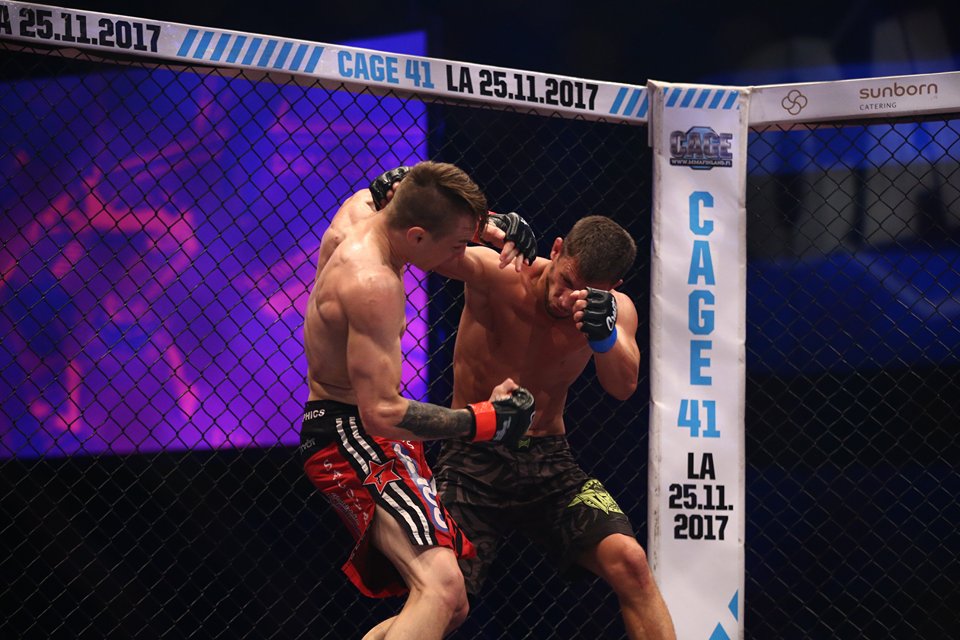 Round 3
Before the round ends Oleinik's corner seems to be signalling for the ref to stop the fight but the fighter seems to want to go on. Fight continues after an additional time for Oleinik.
Round starts and Salovaara makes quick work of his exhausted opponent. A failed take down, Oleinik on his back and the fight is stopped by the referee. Odd ending to a good fight.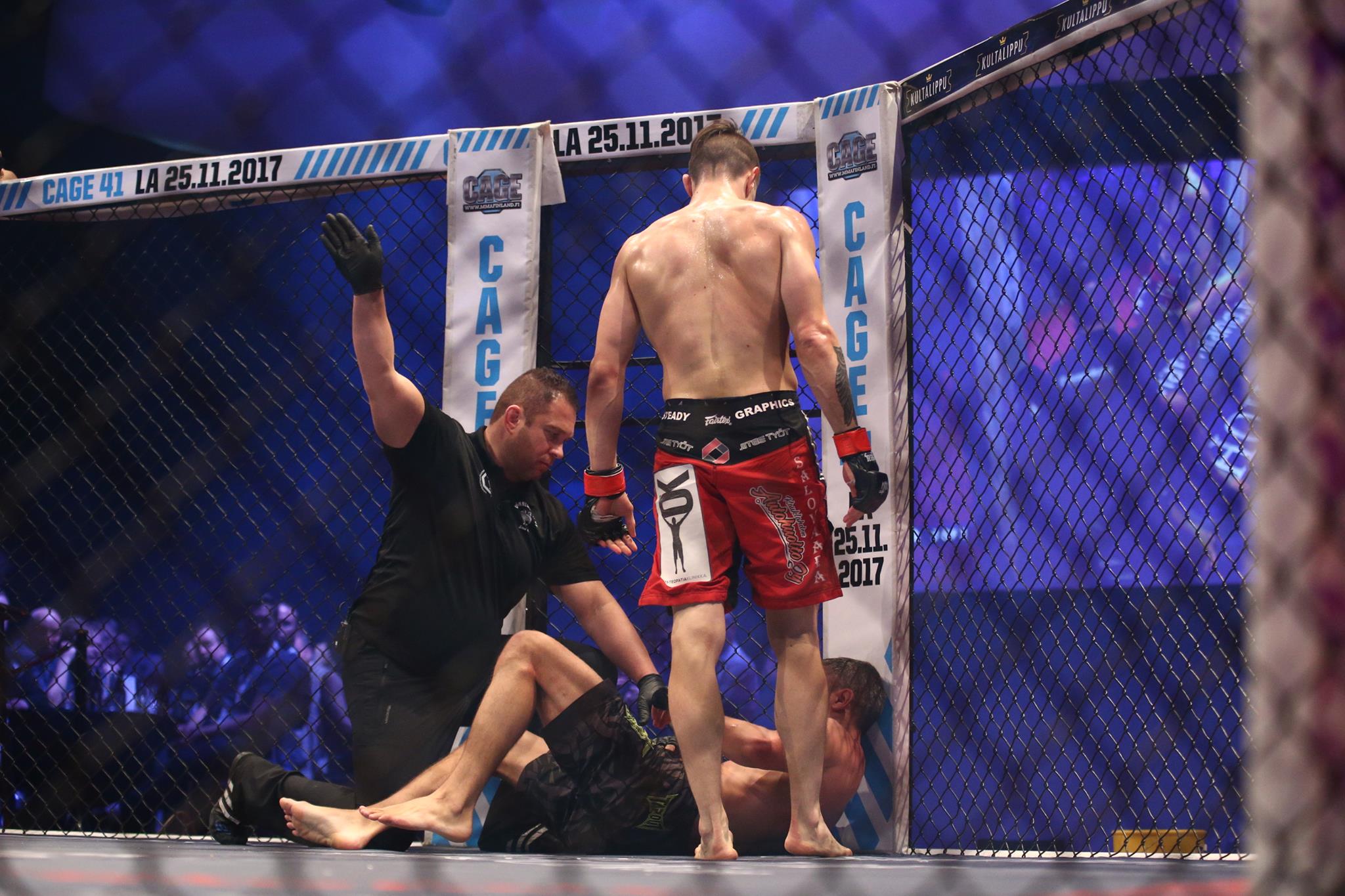 Winner: Salovaara by verbal submission (due to strikes)