In an exclusive interview with Anton Kuivanen, MMA Viking gets to know Finland's most popular fighter. The 27 year old from Helsinki is coming off another impressive victory at Cage 17, and with a 16 win and 4 loss record is knocking on the UFC's door.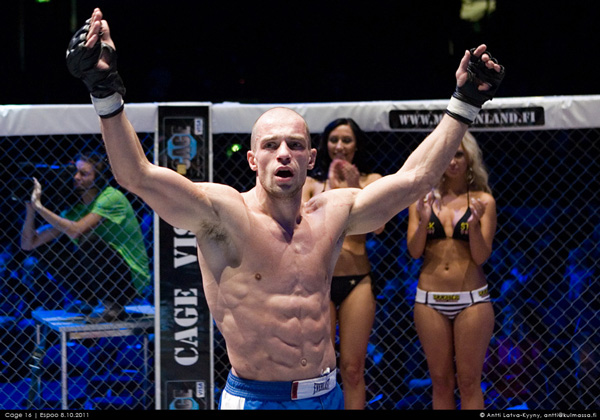 Let's catch-up with this top lightweight before he packs his bags as he goes to join another training camp in Florida.
Interview
MMA Viking : For those that aren't familiar with you and your fighting style, could you tell us another fighter whose style is like yours or who you try to emulate?
Kuivanen : I guess there's quite a many fighters whose fighting style is more or less like mine. I'm not trying to emulate any particular fighter. I watch lots of MMA (and other) fights, I find strengths and weaknesses in fighters and their games.
I train hard, I have a great coach Sammy Hämäläinen, and we try to develop my game every day by adding things that suites me, and leaving out things that don't fit into my game that well. I'm a eager student of the sport, trying to evolve. My goal is to be ready for anything that goes down in the cage, and I'm always looking for ways to win and to finnish my opponents.
MMA Viking : You haven't lost since being caught in a kneebar in 2008, and just had another high profile victory the other week against Thiago Meller to continue your winning streak to 9. What did this win mean to you?
Kuivanen : The meaning of this victory was huge for me. Not only because I love the sport and winning, not just because losing sucks. I worked really hard to get ready for this battle, and I'm on my way to the top. By keeping my winning streak alive, and by beating all the opponents who steps in the cage with me, im sure I'll get my shot to fight the best guys. Most of them are in the UFC, so thats where I wanna be!
Round 2 of Anton Kuivanen vs Thiago Meller Fight at Cage 16

MMA Viking : You spend time training between GB Gym & Team MMA Finland and ATT Coconut Creek. How is this split working for you?
Kuivanen : Most of the time I spend training at GB gym, in Helsinki. We have tough guys training there, and the atmosphere is great. I also train with guys from team MMA Finland, and with some top finnish fighters like Kai Puolakka, Michael Grönfors, Janne Tulirinta, Tom Niinimäki, Niko Puhakka, J-P Vainikainen…
I've had couple of training camps with American top team, in Coconut Creek, Florida. I'm planning to head over there again real soon since they invited me to help Jorge Masvidal to get ready for his upcoming fight against Gilbert Melendez, for the Strike Force lightweight title.  I've also spent time training MMA in Russia with some of their top fighters, BJJ in Brazil with Demian Maia and his students, boxing in Mongolia, muay thai and boxing in Thailand, Laos, Kambodia, and some sanda in China…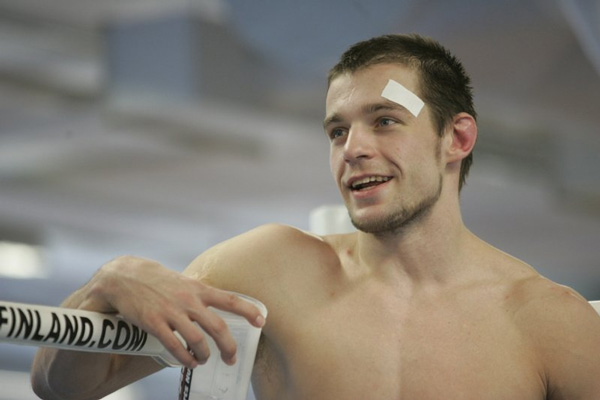 MMA Viking : You became popular outside of just hardcore MMA fans in Finland due to a reality show called "Sali" (the Gym) that followed the lives of Finnish MMA fighters. How has this impacted the perception of you and MMA in Finland?
Kuivanen : It was a good experience. The show introduced the sport of MMA, GB and the people involved in positive ways to the finnish audience. It was quite a big step for a marginal sport towards the mainstream. The sport and the fighters gained some recognition, and the audience gained some knowledge of what's it all about.
MMA Viking : The rumors are swirling about a potential UFC in Sweden next March. Have you ever had talks with the UFC? What would it mean to get on this card?
Kuivanen : UFC coming to Sweden is great news! Especially for the fans, and for some Nordic fighters who might end up on the fight card, of course I hope i'm one of them. We are working with my team and management to make that happen. If I'll stay healthy, keep on enjoying the sport and put more effort in it than the others, it's only a matter of time that I'll get to fight under the UFC banner in the octagon, and i'll do my best to become the best.
Thanks MMAVIKING.com for the interview! I also want to give thanks for my team, sponsors, fans, training partners and everyone who's supporting me.

Learn more about Anton Kuivanen at www.antonkuivanen.com. MMA Viking looks forward to covering Kuivanen's career, and hopes to get updates from his training camp at ATT. "Like" MMA Viking on Facebook and connect with Ryan O'Leary on Twitter for updates on Nordic MMA news.