Botnia Punishment has built it's 12th show mainly from local ingredients as the event is headlined by hometown heroes Jarkko Latomäki and Katja Kankaanpää. The show will go down on the 14 of September at the Rytmikorjaamo arena in Seinäjoki, Finland.
There will be a live stream from the event at the Botnia Punishment's Facebook page. The fights will begin at 19.00 EET (18.00 CET)
Catchweight 74 kg: Jarkko Latomäki (18-9) vs Piotr Hallman (9-1):
Finland's Jarkko Latomäki has been fighting pro since 2004 and can be considered as a true veteran. During the past few years Latomäki has beaten many solid opponents but lost all the big fights against guys like Ivan Buchinger and Mairbek Taisumov. Back to back losses to Diego Gonzalez and Ivica Truscek made Latomäki re-evaluate his MMA career. Latomäki decided to take a year off from fighting to recharge and regroup.
Now it's time for him to get back to business. Latomäki has always been known as a ruthless athlete who works extremely hard and always shows up in shape so the ring rust probably won't be an issue for him. As a fighter Latomäki is like a human bulldozer who rams his opponents to the ground using brute force and good wrestling technique. On the ground Latomäki usually prefers to beat up his opponent before hunting for chokes.
Polish MMA fighters are usually more grappling than striking oriented. 25 year old Piotr Hallman is no exception. Hallman has been fighting for just three years and racked up ten professional fights with nine wins during that time. His only loss came in 2010 to Germany's Christian Eckerlin who soccer kicked Hallman to a TKO stoppage. In his latest fight at the Cage Warriors Fight Night 5 in April of 2012 Hallman completely dominated England's Kevin Donnelly with superior grappling and Ground and Pound. Hallman has decent striking on the feet but he uses it mainly to set up his takedowns. The Polish has an excellent single leg that he uses a lot to take the fight to the floor. Hallman has been on fire lately:  5-0 in the last five with four wins coming via rear naked choke and one by knock out.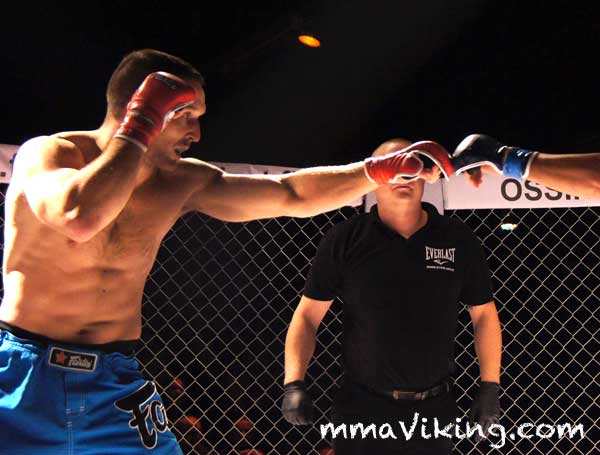 Summary: Lately Hallman has been choking out guys left and right but then again he hasn't faced the caliber of fighter that a in shape Latomäki is. If the Finn returns to the cage with sharpened blades it will be a tough night for Hallman. Style wise this is an excellent match up as both guys prefer to grapple and actively hunt for submissions instead of just cruising to a boring decision win by controlling the opponent.
Jarkko Latomäki vs Cengiz Dana at BP 7

Piotr Hallman vs Kevin Donnelly at CWFC Fight Night 5

Strawweight: Katja Kankaanpää (6-0) vs Simona Soukupova (2-2): Highest ranked European strawweight Katja Kankaanpää meets English striker Simona Soukapova in a bout that could be Kankaanpää's last fight in Finland for a while.
Undefeated Katja Kankaanpää has climbed to the top of women's strawweight division in three years. Seinäjoki's own heroine has dominated all of her opponents so far with effective grappling, hard nosed brawling and high level athletic abilities. In her last fight Kankaanpää got the biggest win of her career when she impressively beat Japanese veteran Mei "V.V" Yamaguchi by decision. Obviously North American promotions are interested in having the Finnish talent fighting for them and if things go smoothly against Soukapova, we will see Kankaanpää on bigger stages after this fight. Before this bout Kankaanpää fined tuned her grappling at the ADCC European championships in Slovenia where she took the third place in women's open weight class.
English lady Simona Soukupova hails from a kickboxing background so she brings dangerous striking skills to the cage. Soukupova won her first two fights by TKO against mediocre competition and got thrown to the deep end after those wins. Spanish striker Karla Benitez was able to eek out a decision over Soukupova and then in her latest fight American Felice Herring outstruck Soukapova on the feet.
Summary: Both fighters have recently faced Karla Benitez. Soukupova dropped a decision to the Spaniard while Kankaanpää pretty easily outgrappled her. While Soukupova is definitely dangerous on the feet and in the clinch where she throws mean knees, it's obvious that she will go into this fight as an underdog. Kankaanpää is bigger and stronger with superior grappling so the odds are on her favor.
Katja Kankaanpää vs Mei "V.V" Yamaguchi at BP 11

Simona Soukupova vs Karla Benitez at Hombres de Honor 16
Welterweight: Olli-Jaakko Uitto (8-2) vs Jordan Boussin (3-3): Hometown hero Olli-Jaakko Uitto meets on an unknown fighter in Jordan Boussin of Belgium. Uitto is a powerful grappler who besides MMA has also reaped success in submission wrestling. He has good arsenal of takedowns and on the ground Uitto's top control is hard to deal with. Uitto's striking has been his weakness in the past and that was the main reason why he lost to Ville Räsänen and Nicolas Musoke who are both high level welterweights on the Nordic scale.
We were unable to fight any information on Jordan Boussin or the fights that he has had so it's hard to evaluate how he matches with the Finn.
Featherweight: Johannes Isaksson (4-0-1) vs Makwan Amirkhani (5-1): Undefeated Johannes Isaksson of Mäntän Sutemi faces the biggest challenge of his career when he locks horns with the wrestling powerhouse Makwan Amirkhani of FinnFighters Gym. This is an exciting match up between two high quality up-n-comers who both should have a bright future ahead of them.
Isaksson is a typical new breed fighter: solid skills in all areas of the game combined great physical attributes. The young Finn hasn't tasted defeat yet but two years ago he fought a draw with Sweden's David Haggström (6-1) who is now among the top bantamweights in the Nordic. In his latest Isaksson won a clear cut decision over Filip Macek by taking the Czech down repeatedly and punishing him with strikes from top position.
Makwan "Maku" Amirkhani has been training wrestling since a kid and is still in active wrestling training as he is a part of the Finnish national team. Amirkhani has competed in both greco and freestyle wrestling with the latter being his primary style. In his fights so far it has been obvious that Amirkhani's wrestling is from another planet compared your average fighter in the Nordic scene. If the FinnFighters Gym fighter gets a hold of your body or limb, you're going down. Outspoken Amirkhani doesn't like hide his talents or his goals. In a recent interview by FightSport Magazine, he stated that he will be in the UFC within 2-3 years. With this goal in mind he has lately put in a lot work to improve his striking and ground game. It will interesting see how much the young talent has improved since his last fight in April.
Makwan Amirkhani vs Ivan Chernykh at Cage 18 (short clip)
Johannes Isaksson vs Filip Macek at Botnia Punishment X
Catchweight 72 kg: Jake Antila (4-4) vs Jani Ridasmaa (2-0)
Featherweight: Juhani Aho (1-1) vs Miika Kauppinen (2-1)
Middleweight: Matias Rantala (pro debut) vs Alexander Bergman (pro debut)
Bantamweight: Daniel Winiarczyk (pro debut) vs Victor Gustavsson (pro debut)
Flyweight: Timo Suihkonen (pro debut) vs Tuomas Gronvall (pro debut)
As usual MMA Viking will be at the show in Seinäjoki and deliver quick results as well as an detailed event report with pictures on the following day.