Today, Botnia Punishment made the announcement that Friday's fight card will be shown live on Facebook. Read the press release for all the information.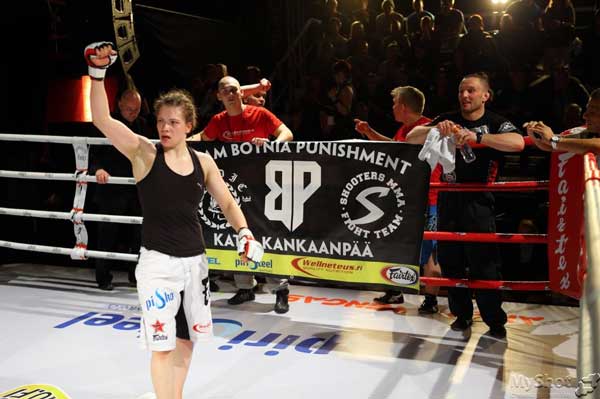 READ MMA VIKING EXCLUSIVE PREVIEW HERE
Press Release
Botnia Punishment is having its 12th MMA event in Rytmikorjaamo venue in Seinäjoki, Finland. The event features fighters from Finland, Poland, England, France and Sweden. The fight card includes 9 fights, which all are fought within professional rules.
In the main event, Katja Kankaanpää will be fighting in front of her home fans in Botnia Punishment "XII". She will be fighting against Simona Soukupova from England. Katja is coming off from a most important victory in her career when she beat Mei Yamaguchi by unanimous decision. Katja's ranking took a jump after the last fight and she is still undefeated. Katja's opponent Simona Soukupova is not as experienced but she is still considered as a very dangerous fighter. She has a strong background in Muya Thai and Submission Wrestling, and she has won awards in the No Gi British Open. Soukupova likes to be an aggressive in her stand up game and is known to throw strong knees and elbows. This fight should be an exciting one, when these two women step in to the ring.
Olli-Jaakko Uitto will be defending his title against Jordan Boussin from France. Uitto took a year off from competing while rehabbing and staying busy with his studies. His original opponent was supposed to be Jonatan Westin from Sweden, but due to an arm surgery he couldn't fight.
Jarkko Latomäki will also make a return to the ring when he faces Piotr Hallman. Latomäki took a break from competing and focused on training for the past 11 months. The Finn is looking to make a comeback after suffering two tap out losses in his previous fights. Hallman is a young promising prospect from Poland. He has fought professionally 10 times in the last 3 years. All of his fights have ended by referee stoppage, 7 of them in the first round.
The event will also feature a highly anticipated Finn vs. Finn fight, when undefeated Johannes Isaksson fights against showman Makwan Armirkhani. Both are young promising fighters with bright futures. This is the type of fight everyone is looking forward to see.
You can also see when Seinäjoki's own boy, Juhani Aho, takes on promising fighter Miika Kauppinen. Couple of amateur fighters will also make their debut fights as professionals at Botnia Punishment XII. The excitement of turning pros will certainly provide an energy filled fight for all spectators in these match-ups.
We want to serve our fans and partners by providing an opportunity to watch the fights live and free. We also want to offer to foreign promoters and managers the ability to view the event, so the fighters have a chance to show their skills to a larger audience.
In Finland, the distances are big and not everyone has a chance to come and see the fights. Fighters' family members, friends and other fans are now able to watch the fights live and free. Live stream will also increase the interest and appreciation of the event.
The event will be aired live via Botnia Punishment Official Facebook site at www.facebook.com/BotniaPunishment. Viewers are limited to ensure the functionality.
BOTNIA PUNISHMENT "XII"
Place: Rytmikorjaamo, Vaasantie 11 Seinäjoki
Time: 14.9.2012
Doors open at 18:00, event starts at 19:00
READ MMA VIKING EXCLUSIVE PREVIEW HERE