In the first part of the Cage 18 preview we took a look at the main card. In this second piece we concentrate on the undercard fights.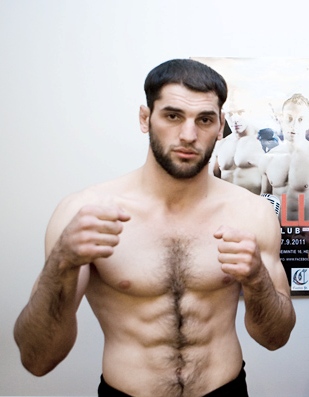 Welterweight: Musa Amagov (1-0) vs Mindaugas Baranauskas (5-3) Lithuania
GB Gym's super talented Musa Amagov is one of the most promising fighters in the whole Nordic. Helsinki-based Amagov is a technical, yet brutal striker with a solid takedown defense and impressive physical attributes. The brother of StrikeForce prospect Adlan Amagov comes to this fight riding a string of three devastating knock outs, two of which happened under amateur rules.
Cage promotion has had problems finding opponents to Amagov before and this fight was no exception. Original opponent cancelled but luckily Lithuania's Mindaugas Baranauskas was brave enough to take the challenge and step up to face Amagov. Knight of Plunge gym fighters are usual regulars at the Finnish shows but this is Baranauskas' first fight in Finland. After racking five wins in his first five fights, Baranauskas has dropped losses in his last three fights. In his latest fight the Lithuanian got knocked out cold early in the first round by undefeated Danish prospect Nicolas Dalby's headkick.
Lightweight: Makwan Amirkhani (3-1) vs Ivan Chernykh (5-1) Lithuania
Hometown hero Makwan "Tsingis Khan" Amirkhani gets a legit challenge from Lithuania as he faces Ivan Chernykh. This fight is a match up between two excellent grapplers who both have earned all of their career wins by submission. Amirkhani wasted no time in his latest fight in the Cage 16 where he heelhooked seasoned Lauri Väätäinen in 50 seconds of the first round.
Russian born Ivan Chernykh fights out of Knight of Plunge gym in Lithuania. Knight of Plunge fighters are known for their super slick ground skills and Chernykh is no exception. Like many eastern European fighters also Chernykh has fights missing from his pro record at Sherdog.
Bantamweight: Timo Juhani Hirvikangas (2-1) vs Miika Kauppinen (2-0)
ADCC veteran and grappling wizard Timo-Juhani Hirvikangas faces another leglock artist in Miika Kauppinen. Hirvikangas fought his first fight in 2008 but then put his MMA career on hold and focused on grappling. In his second career fight Hirvikangas was matched up with now top ranked Joni Salovaara who proved to be too much for the inexperienced grappler. In his latest bout Hirvikangas earned a decision win over Mikkeli Full Contact's Jaakko Väyrynen at Cage Challengers II show.
NHB Iisalmi's undefeated Miika Kauppinen has won both of his pro fights by heelhook. In his last bout at Cage 17 Northern Storm show Kauppinen moved from leg lock attempt to next until he was able to lock a heelhook on GB Gym's Markus Rytökari, forcing him to tap out in under two minutes of the first round.
Welterweight: Juho Valamaa (1-1) vs Jussi Pulkkinen (2-0)
Turku's own Juho Valamaa meets Imatra MMA's Jussi Pulkkinen in a match up between two rising welterweights.
Featherweight: Aleksi Kainulainen (1-0) vs Jarmo Paunonen (pro debyt)
FinnFighters Gym's Aleksi Kainulainen tries to keep his record clean in front of his hometown when he fights GB Gym's Jarmo Paunonen.
"Like" MMA Viking on Facebook for updates on all things Nordic MMA.