Earlier this week MMAViking reported that Cage 18 card took some hits in a form of cancellations due to fighter's being injured. UK's Paul Reed had to withdraw from the main event fight against Tom "Stoneface" Niinimäki. The promotion is working hard to find a replacement for Reed and according to the promoters we should know more about this on Monday. MMAViking will pay a close attention to the situation and report the news at once. Below is part 1 of the preview:
Preview Part 1
Light heavyweight: Juha "Juice" Saarinen vs Mikhail Zayats
Two excellent grapplers meet in the lone light heavyweight fight of the night. Finland's Juha Saarinen hails from a wrestling background but has over the years developed an excellent submission game at the Finnfighters Gym in Turku. Saarinen has suffered many injuries which have slowed down his climb to the top of the weight class in Europe. For the last two years Saarinen has been relatively healthy and good results have followed. Saarinen has won his last six fights and five of those by submission. While Saarinen's striking has improved nicely, it's
obvious that his main weapon is still greco wrestling takedowns combined with heavy Ground and Pound and excellent skills in submission holds. Saarinen, who will have a definite size and reach advantage over his opponent, has been preparing for this fight at the famous Imperial gym (home of the Blackzillians) in Florida. A win over Zayats, who is currently ranked #8 in the Euro LHW division, would move Saarinen closer to landing a deal with an international promotion.
Like Saarinen also Russian veteran Mikhail Zayats is mostly known for his slick grappling skills. Zayats has the record to back up these claims as eight of his fourteen career wins have come by submission. Before losing to ADCC champion Vinny Magalhaes in M-1, Zayats racked up four consecutive wins including one over Toni Valtonen of Finland. Zayats put on a good fight also against Magalhaes but in the third round Brazilian's round house kick landed clean on Zayats' head and knocked him out cold. Zayats, like many Russian fighters, is undersized for his weight class but he uses light movement and speed on the feet to compensate his disadvantage in size and reach.
Cage Welterweight Title Fight: Ville Räsänen vs Assan Njie
In the Cage welterweight title fight Finland's Ville Räsänen defends his belt against tough Swede Assan Njie who drops down from middleweight.
MMA Imatra's Ville Räsänen has during the last two years brawled his way up the ladder and beaten a bunch of tough guys. In his last three Räsänen has beaten respectable opponents in Finnish grappler Olli-Jaakko Uitto (8-2), Italian Gustavo Picone (13-3) and lastly Frenchman Seydina Seck (13-7), who knocked out recent UFC signee Simeon Thoresen few months before losing to Räsänen. Räsänen is a hardnosed brawler who relies on his physical strength, gameness and wide allround skillset. Njie is yet another step up in competition for the Finn but constantly improving Räsänen is definitely capable of keeping his belt.

Njie Makes the Drop to Welterweight for the First Time | Get more pictures like this from SHERDOG.COM
Gothenburg's Assan Njie trains at the GBG MMA that is widely considered one of the top gyms in Northern Europe. Njie is a veteran in the sport as he has fought professional MMA bouts since 2003, despite of being just 28 years old. For the last few years Njie has fought mostly just once a year due to injuries and other setbacks. Last year in his lone bout Njie used his trademark guillotine to choke out highly regarded Russian Beslan Isaev (19-5) at the Superior Challenge 7 show. Njie seems to be stepping up the volume of fights in 2012 as he is set to fight in the Zone FC in May of 2012 in addition to this bout. As a fighter Njie is a great allround package which makes him dangerous in every aspect of the game. Explosive Njie has solid striking on the feet and on the ground his notorious guillotine choke has forced many tap outs. Njie has fought before at middleweight, where he currently holds the 8th position in the European rankings, and this is his first time fighting at welterweight. It remains to be seen if the weight cut has an effect on his stamina.
Welterweight: Kai Puolakka vs Nicolas Musoke
Two high quality up-n-comers with identical records meet in an interesting welterweight bout that has excitement and nonstop action written all over it. Both fighters are skilled in all areas of the game with a preference to striking. For the weight class both Puolakka and Musoke have a long frame that they like use on the feet.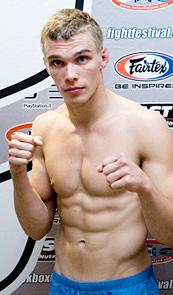 GB Gym's Kai Puolakka is a scrappy fighter and primary training partner of UFC lightweight Anton Kuivanen. After suffering back to back losses to Jonatan Westin and Olli-Jaakko Uitto in 2010, constantly improving Puolakka has stepped up his game and won his last four bouts. In his latest fight at Cage 17 show, the young Finn pulled off a high light reel finish over French veteran Gary Gono who had to tap out to Puolakka's flying triangle.
MMA Viking had a chat with Puolakka about the upcoming bout:
"The preparation for this fight has gone really well. I had a long and sound period in training where I was able to improve my strength and conditioning and became a better fighter because of that. As usual I've done most of my training at GB Gym in Helsinki with Anton Kuivanen and other GB fighters but I also traveled to Imatra to train with Ville Räsänen. We did the final sparring with him and had a great time.
Musoke is solid skill wise and he uses his long reach well. I believe he is the toughest opponent I have ever faced so I got to stay sharp at all times but I have the weapons to deal with him. I believe the fight is going to be a really tough and close battle with loads of excitement for the fans. I want to thank my training partners, coaches, manager and my sponsors Crest and Fast for supporting me. And fans: see you at Turku!"
Stockholm Shoot's Nico Musoke comes to this bout with two consecutive wins under his belt. His latest fight was also in Finland as he fought Olli-Jaakko Uitto at Cage 16 in October of 2011. Against the Finnish grappler Uitto, Musoke showed great takedown defense and was able to sprawl and brawl his way to victory. Before that he choked out Scottish prospect Steven Ray with a rear naked choke at the end of first round. Musoke is skilled in every aspect of MMA but I believe his strength is in his technical sound striking combined with long reach and solid takedown defense. Check out our video of Musoke's training for this fight.
Cage 18 preview part 2 coming up on Wednesday!
"Like" MMA Viking on Facebook and follow me on Twitter for updates on all things Nordic MMA.