Various injuries has forced the Cage promotion to make changes to it's Cage 18 show that will take place on the 3rd of March in Turku, Finland. The most high-profile fighter who had to cancel due to an injury was UK's Paul Reed who was set to face Finland's Tom "Stoneface" Niinimäki in the main event of the night.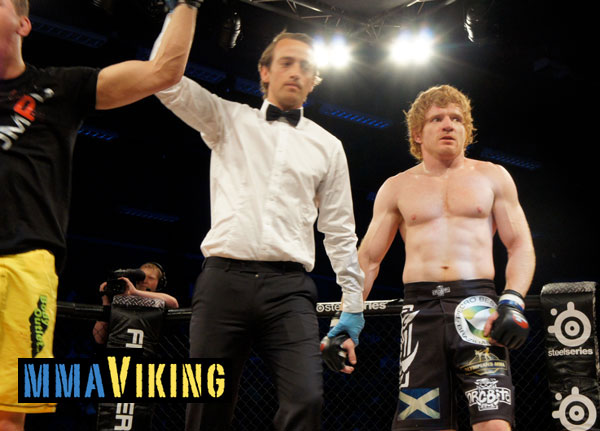 Comments from Reed
MMA Viking spoke to Reed, who had this to say about the pullout:
"yep im out, im very disappointed but i hurt a rib in my back where the joint meets the spine and im in a lot of pain. I cant train I need 3 weeks off for rest and some chiro treatment. I hope Tom gets another guy to fight and my apoligies for not being able to fight. I will be training again sometime early/mid march to get ready for a fight on MMA Attack in Poland. Hopefully if Tom doesnt get signed in the meantime we can fight on the next cage show."
Additional Card Changes
Johannos Isaksson injured his hand in training and is out of his fight against wrestling powerhouse Jerry Kvarnstörm.
Also according to his manager Tim Waage has been sick lately and is not able to fight Finland's Musa Amagov.
Hometown hero Makwan "Tsingis Khan" Amirkhani (3-1) has been added to the card but no opponent for him has been announced yet.
The promotion is working hard to find replacements for the injured fighters.
Cage matchmaker Olli Hartikainen comments on the situation:
"We're working hard to find replacements for the fighters who had to cancel. However it seems quite unlikely that we will see Tom Niinimäki fight in this show.  It's extremely hard to find a high profile fighter who is willing to face Niinimäki in his hometown with less than two weeks notice. Injuries and cancellations are part of this sport and there will always be changes to fight cards. Cage promotion wants to openly share this information to it's fans so that they will know what they will get at the show."
Up-to-date fight card at Cage promotion's website.