Iikka Nikkinen (@SirWoogleOfBoo on Twitter) is reporting live for MMA Viking on tonight's Carelia Fight 8. The show launches the new MMA season in Finland. Tonight's fights take place in Imatra, a city that lies right by the Russian border in Eastern Finland. See tweets below for updated coverage, and a full report on pictures coming soon.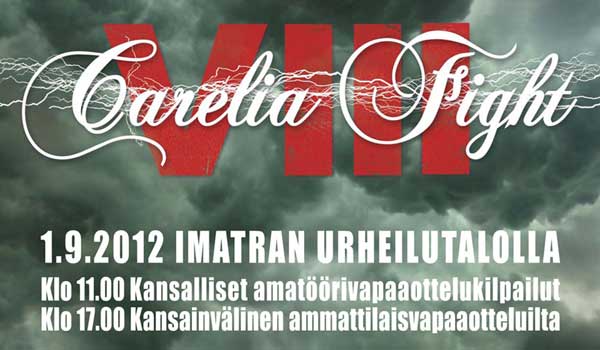 Results
Here are quick results by Twitter :
@careliafightmma about an hour to go before the first fight!
15 minutes until the action starts. First fight Eeva Siskonen vs. Mereym El Banouti
This place is getting packed, by the looks of it there ain't many empty seats.
Carelia Fight 8 started with an explosion and the Pride theme song, can't go wrong with that.
First fight over Aleksi Mäntykivi wins Jani Salmi via judges decision. Great fight. A lot of grappling
So there were three amateur fights that weren't on the schedule, great fights thou. Now it's time for the pro fights.
Pro Card Comments 
1. Hometown star Eeva Siskonen wins her pro debut against Mereym El Banouti via ground and pound on the first round!
2. What a fight between Aleksi Mäntykivi and Jani Salmi. Great action, winner by judges decision Mäntykivi.
3. Timo-Juhani Hirvikangas vs. Freddy Debessel ends in a quick submission, Hirvikangas wins with a kimura.
4. It took Juha Saarinen 24 seconds to knockout Florian Martin. What a night this is turning out to be!
5. Toni Valtonen wins against Ilja Skondric via vicious leg kick.
6. After 15 minutes of intense fighting Niko Puhakka takes the unanimous decision victory against Sébastien Garguier.
7. Ville Räsänen vs. Sergei Bal ended quickly on the second round. Sergei Bal wins via KO.
8. Toni Valtonen wins against Ilja Skondric via vicious leg kick.
9. Balde knocks out Linhares in less than a minute to end the night.
This was an epic start for a great MMA-season in Finland!
Exclusive pictures and event report coming shortly.  Please come back!