Undefeated Norwegian prospect Mohsen Bahari delivered top class entertainment and excitement for the fight fans tonight at the Cage Warriors Fight Night 7 in Amman, Jordan. In the welterweight bout Bahari locked horns with the gutsy Polish Piotr Ptasinksi.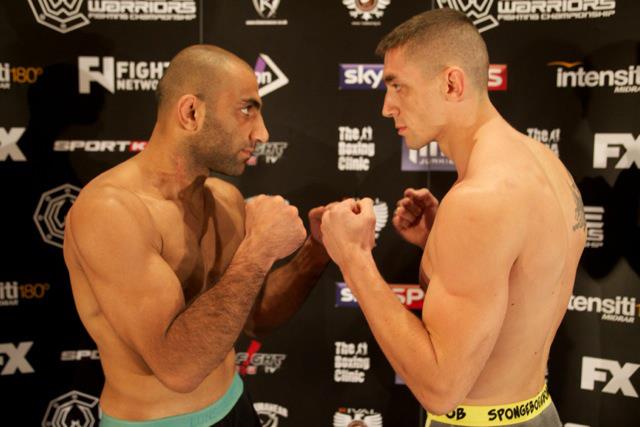 R1: Loads of heavy striking exchanges. Bahari drops Ptasinksi with huge overhand right. Norwegian pushes hard for the finish but Ptasinksi hangs on tight and gets back to feet. More risky striking exchanges and Bahari drops Ptasinksi again with a heavy shot but again Ptasinksi manages to recover. Ptasinksi with a takedown late in the round. Crazy first round!
R2: Both guys are visibly tired from the action packed first round. Ptasinksi with a takedown but can't inflict much damage on Bahari. Action continues on the feet and Bahari lands a takedown. Knees from Bahari from the clinch and some of them land when Ptasinksi has hand on the floor so the ref stops the action. Ptasinksi  pushes the pace after the break.
R3: Action slows down but both guys are still throwing looping punches with bad intentions. Ptasinksi drops down for a kneebar but Bahari defends well. Ptasinksi tries to chase Bahari late in the round but Bahari moves well and stays out of harms way.
Winner: Bahari by UD (29-28)
In the featherweight bout on main card Helsinki based Brazilian Marcio Cesar took on quickly rising American talent Jim Alers. Cesar took the fight on two weeks notice.
R1: Alers hurts Cesar with opening strikes and the Brazilian stumbles backwards. They clinch against the cage without much action. Alers throws Cesar with a beautiful lateral drop but Cesar manages to take the top position. Couple of striking exchanges on the feet followed by more clinch fighting against the cage.
R2: Alers catches Cesar's kick and lands a stiff right that puts Cesar on his back. The Brazilian is in the game and spins for a heel hook but can't isolate the leg. Cesar with a deep half guard and Alers dropping strikes from the top. Alers catches Cesar's head in a Darce choke, squeezes tight and forces the black belt to tap out.
Winner: Alers by Darce choke R2.