Swede Chris Spång has been signed by the Resurrection Fighting Alliance (RFA). The former Strikeforce and UFC fighter has been on the sidelines since his UFC in Sweden loss back in April. He will be fighting for the Las Vegas based promotion that was founded in 2011. Expect to see his bouts on AXS TV. The signing was posted on RFA's website, which featured it's Summer Class of 2013 fighters.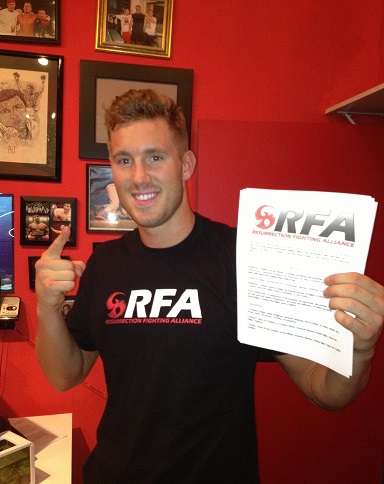 Press Release
Chris Spång
Record: 5-2
Division: Welterweight
Hometown: Växjö, Sweden (Now in Las Vegas, Nevada)
Team: Fight Capital and One Kick's Gym
Twitter: @ChrisTheKiss
How You Know Him: UFC and Strikeforce. In a sentence: Chris "The Kiss" Spång was born to bang. His father was a professional Boxer in Sweden and his older brother Andreas is a fellow professional Mixed Martial Artist, who was a finalist in the Bellator season 6 middleweight tournament. Spång trains under the esteemed tutelage of Skipper Kelp in Las Vegas, Nevada. Kelp's influence via "Left Hook Productions" was on full display last spring. From March to May of 2012, Gilbert Yvel (RFA 2), Andreas Spång (Bellator 66), and Chris Spång (Strikeforce – Barnett vs. Cormier) all won high-profile bouts with devastating left hook KO victories. The younger Spång brother was then brought over to the UFC during the UFC-Strikeforce merger, but he dropped his lone bout for the promotion in his native Sweden via decision to the decorated Russian grappler Adlan Amagov who was making his welterweight debut. Spång is looking to build off of that experience, now that he is in the RFA, and has time to develop and add to his already impressive skill set.
Thanks to Jani Mesikämmen for the tip!