The new promotion Scandinavian Fight Nights will pump MMA action back into Stockholm tonight at the Solnahallen when they put on SFN 1.  MMAViking.com is cageside for high-fives, autographs, and live reporting.  Get your results and pics here.  Let's do this!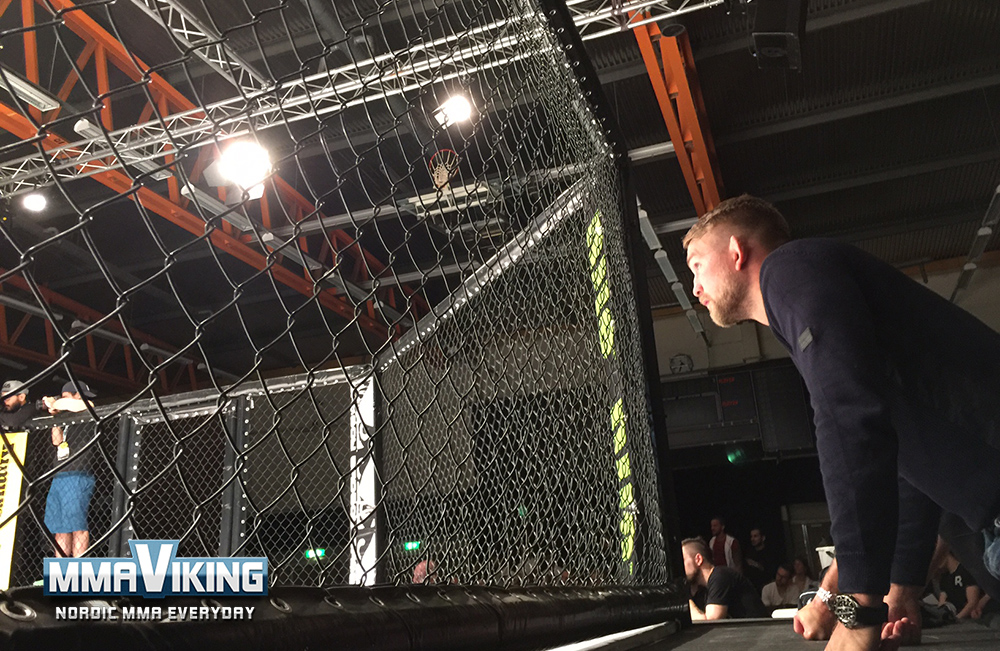 Malik Jahmaze vs. Sehou Fawlise
Round 1 – Jahmaze with a TKO in the first round with a booming big right hand that drops Fawlise, and Malik finishing on the ground with a few punches as the referee jumps in..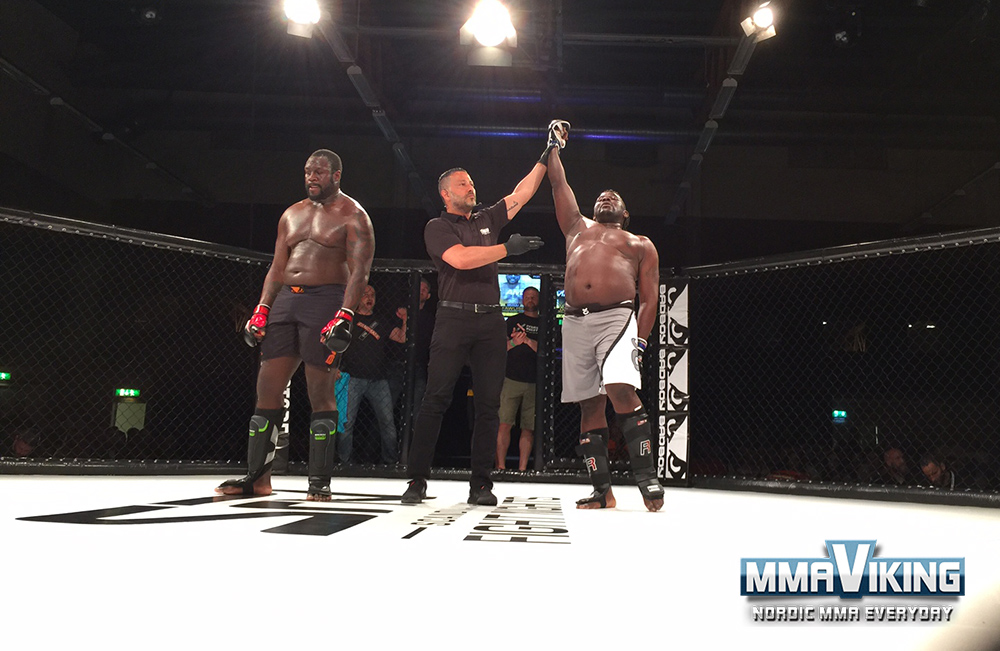 Arturo Chavez vs. Guram Kutateladze
Round 1 – Kutateladze quicker to the kick here, but Chavez is one tough fighter… staying in the pocket as he dodges power kicks and punches. A take down late in the round from the Redline fighter.
Round 2 – Guram with high pressure, and under the coaching of Corassani looks like he has developed an effective double-leg takedown, which he is using over and over. Chavez looks small here for lightweight, but a game fighter. Another strong round for Kutateladze.
Round 3 – Guram is pouring it on with a mix of kicks and take-downs. Just too big and strong here from the Mexican born fighter. Almost a side choke, but not enough. Big right headckick and knee then headkick to end the fight.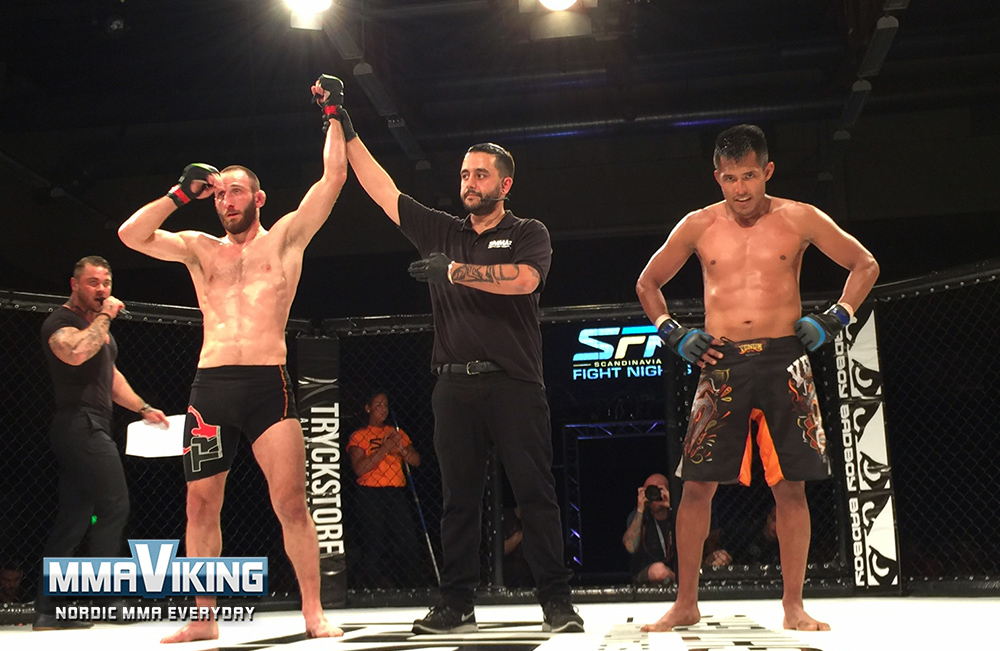 Kutateladze wins by decision.
Amir Albazi vs. Rafal Czechowski
Round 1 – Amir getting a takedown early, but it is Czechowski that looks for a heel hook early and seems to put Amir in danger. Amir is composed and lands several punches to the face as he postures up. The fight moves to the feet, but the Sweden raised fighter gets it back to the ground to take control of the first round.
Round 2 – The prince with another take-down, and the "Amir" chants start. Albazi takes back and he moves to a rear-naked choke… and after some struggle he finally gets it! The home crowd is going nuts!!!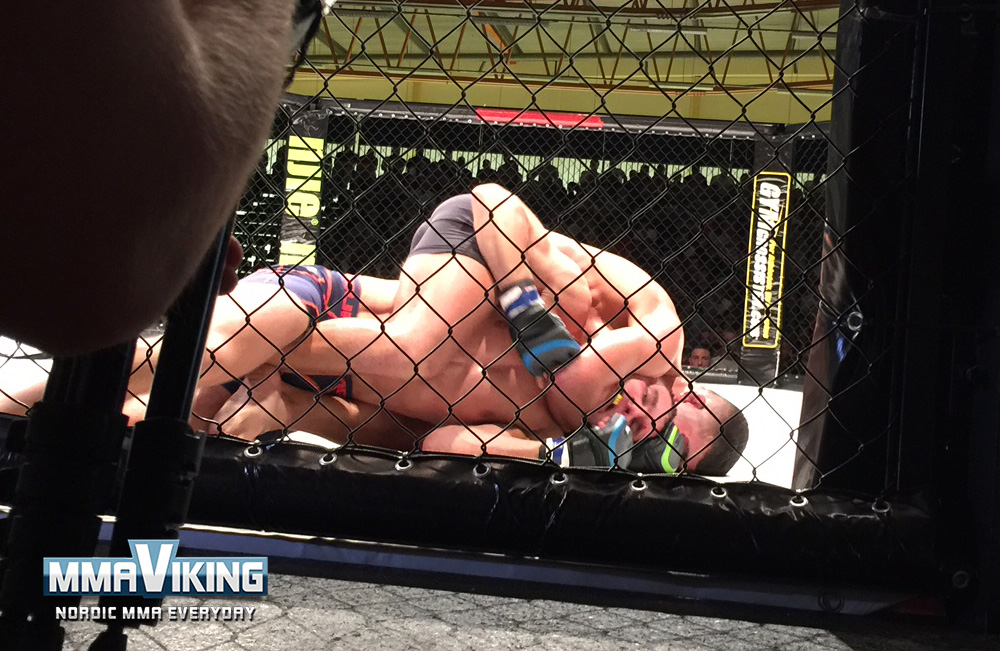 Michel Ersoy vs. Fernando Flores
Round 1 – Flores has a gameplan, and that is to get the fight to the ground. After some exchances, the Umea fighter does exactly that and gets Ersoy against the cage for a take-down. Ersoy pops up, and throws hand. A double-leg from Flores from far away, and it is countered. Flores still agressive against the cage, but back to the feet. Nice right from Ersoy, and they are throwing down. Looked like a big knee from Flores to the face as Ersoy shot in at the end. Round 1 for Flores.
Round 2 – Takedown from Flores to start the second, but this time Michel can't get back up quickly. The Renyi fighter even slams the Stockholm fighter to the ground once he tries to stand up. The crowd goes quiet here, as the local fighter is being suffocated by the top game. Another slam back to the ground. 30 seconds left, and Ersoy gets a kimura and cranks it over to get on top. The Allstars fighter lets go and begins to punch and punch for a last second rally. Flores still gets that round with control of all but 20 seconds. El Torro is full of energy and says LETS GO as heads back to the corner.
Round 3 – The two hug to show respect here, and it is a good battle. Ersoy going for a big punch, and Flores dives in for a take-down, but an awesome sprawl smacking the Umea fighter flat. But, no giving up for Flores that continues to fight and gets the take-down putting Ersoy on his back. 2 minutes left the Allstars corner shouts. Flores doing a good job of staying active. They get back to their feet, and Ersoy lands a bomb with the right, but Fernando jumps to get the take-down and ends up on top.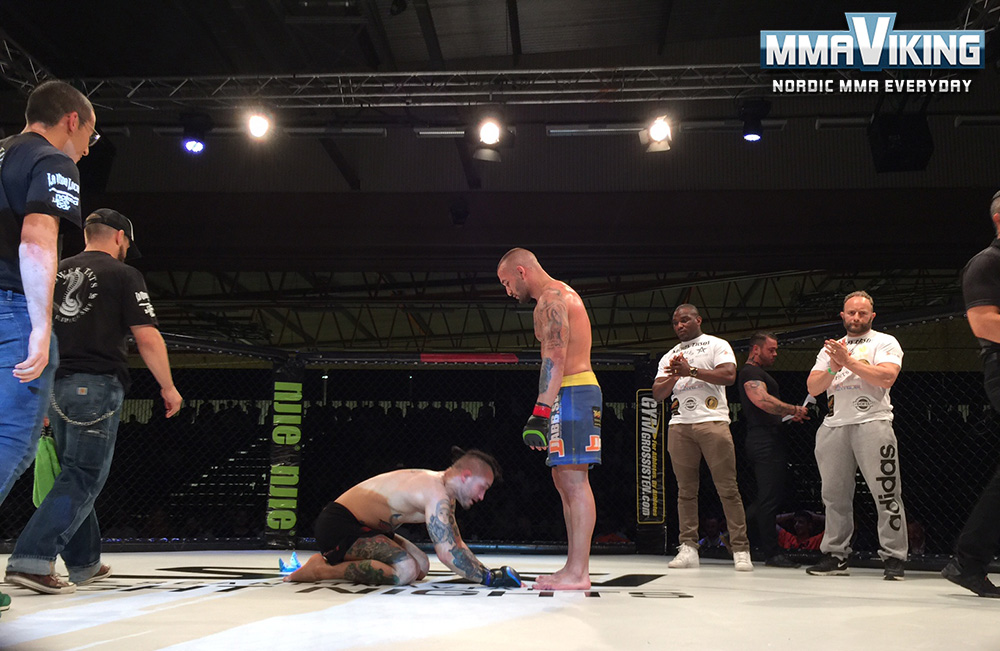 Flores wins by decision.
Chris Spang vs. Andrei Vasinca
Spang looks to be the faster and more competent fighter here. The Swede lands some great kicks, and when Vasinca is against the cage he just gets battered with punches. Chris punishes to the ground and now gets full mount… punches, punches, and more punches… and this fight is over folks!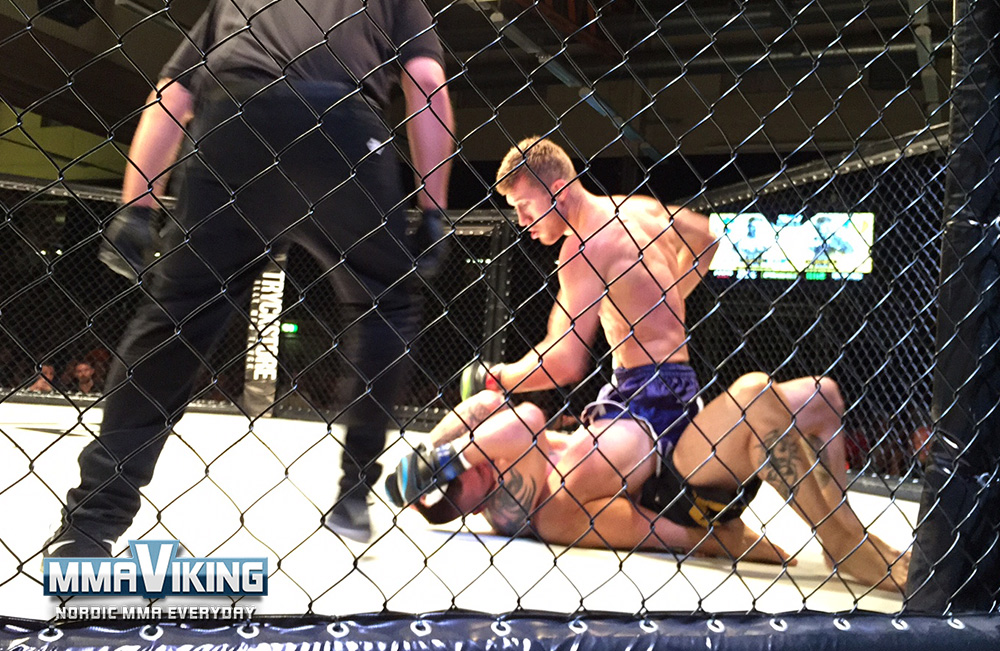 Spang by first round TKO.
Makis Sioutis vs. Hamza Bougamza
Round 1 – The crowd is going nuts for Hamza.  The lanky fighter looks relaxed the cage, and even keeps his composure after a brief takedown, where he is able to roll through and get out of trouble.  The Allstars Training Center fighter lands some nice kicks to the head.  Makis goes for a take-down, but defended well.  The Sweden raised fighter keeps his hands low, and snaps the left.  Good left hand, and left kick to the head.  Good round for Hamza in his pro debut.
Round 2 –  The left kick is snapping high and low on Makis, and he is just a punching bag here.  The low left kick to the lead leg is painful.  He tries a spinning kick, and Reza Madadi in his corner doesn't want any part of it.  Solid right kick to the face this time.  A good right hand from Sioutis that surprises Hamza.  Now a finger poke, but Makis is OK after a brief break.
Round 3 – Another dominant round for Hamza, but this time he is able to land enough to force a stoppage.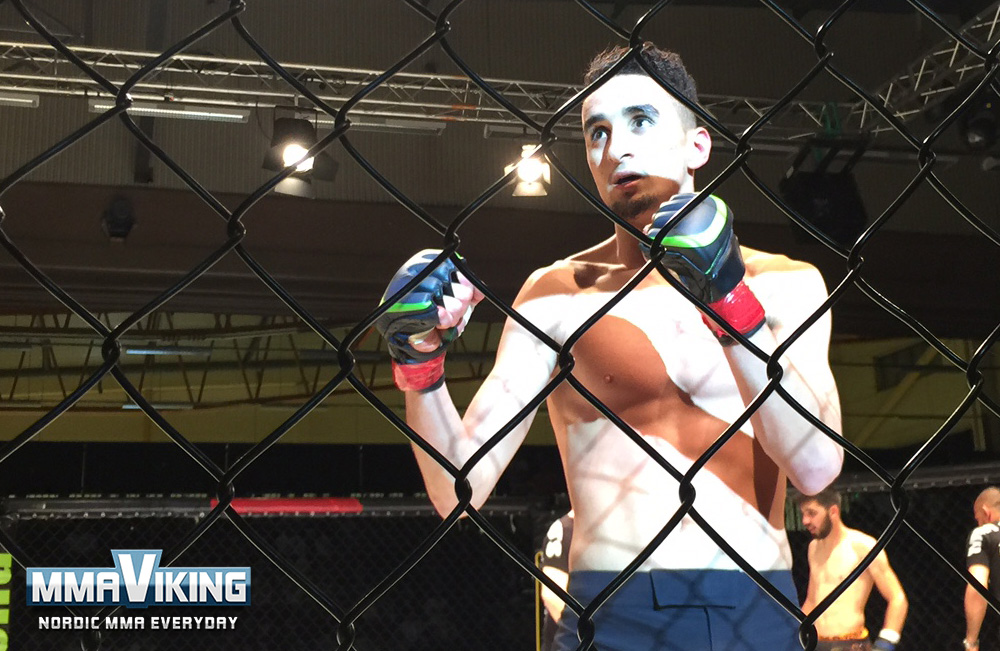 Hamza wins by TKO in round 3.
Davor Matic vs. Daniel Teymur
Round 1 – Teymur lands a kick and punch, dropping Matic to the ground.  Ouch… Teymur decides to just unleash punches to the face form mount.  Instead of finishing that way, the Allstars fighter goes with an armbar… and it is done.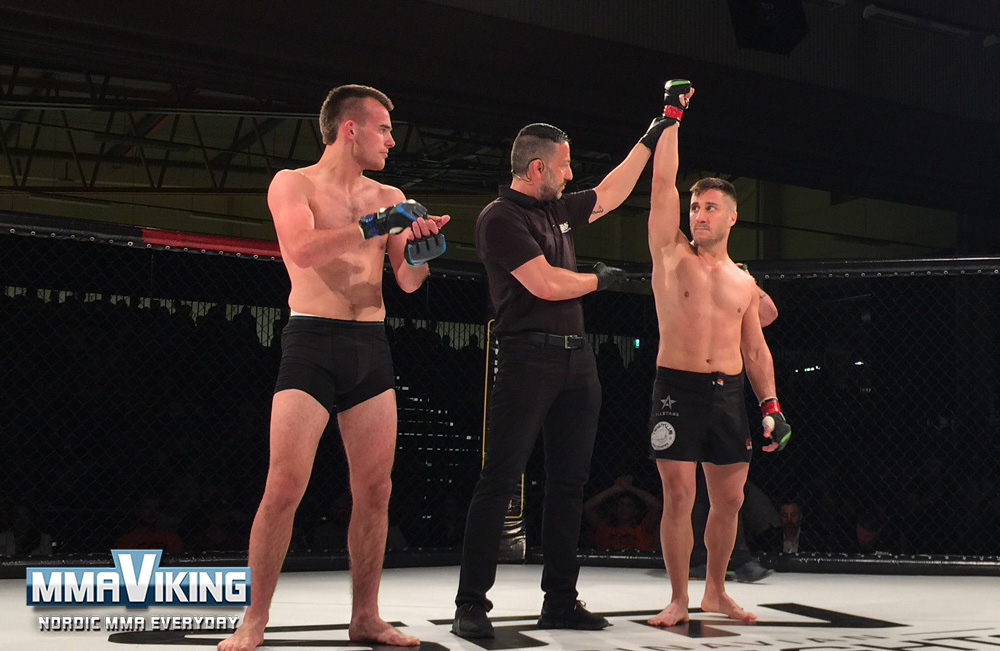 Teymur wins by armbar in round 1.
Daniel Stinghe vs. Jonatan Westin
Round 1 – Westin is a much bigger fighter here, and I predict a quick one.  Westin overpowers Daniel after missing a spinning kick to the body and gets it to the ground.  Now he takes back and lands left and rights to the head of the visiting fighter… and that is it!
Westin by first round TKO.
Martin Fouda vs. Mohammad Babadivand – Featherweight Title Fight
Round 1 – The two throw hands briefly, but then Mohammad gets the takedown.  Fouda hold on to a guillotine, but doesn't seem to be any reason for it… and now the Allstars fighter passes to the side.  Reza Madadi aplouds the move… now an armbar attempt from Mohammad… and damn it is tight now.  Rhonda Rousey would be proud and something will break… but it doesn't and Fouda is out, Mohammad moves to a triangle and this is tight.  Fouda defends well, and now is in full guard.  Babadivand looking for a kimura.  Mohammad gets distance enough to push away, and now the fight is on the feet.  What a fight!  That round is Babadivand for the almost arm break.
Round 2 – Fouda lands some nice punches, and it looks like Mohammad could be rocked.  He is, and Fouda can't capitalize.  Mohammad gets the fight to the ground, and looks for a rear-naked choke and this place is going nuts!!!  Fouda looks relaxed here and actually gets the arm and and spins to get on tip.  The referee stands up the fighters, and a couple good kicks from Mohammad.  What a fight!  Close round.
Round 3 – Fouda's standing game is strange, looking for akward left kicks and backfists. Mohammad lands a jab, then shoots in for a take-down against the cage and gets it. He is in side mount, and lands some knees. Mohammad goes for a kimura, but it is loose and they both end up on their feet. Both fighters with looping punches at the same time, but none of them land. Both fighters waiting. Fouda gets a single leg, but it is countered and quickly to back for Mohammad. The Allstars fighter looks for a RNC, but no time left.
Babadivand wins by decision.
Sadibou Sy vs. Zauri Maisuradze
Sy lands a cracking kick to the body of Zauri that echos throughout the building. An awesome spinning kick for Sy to the head, but Zauri counters with a huge spinning backfist and the visiting fighter KO's a falling stiff Sy! One more punch before the referee can leap in to stop the downed opponent. Maisuradze wins in a wild ending here in the first round.
Maisuradze wins by first round KO.
Niklas Bäackström vs. Danijel Kokora
Round 1 – Bäackström tries a front kick to the face, and avoids a few punches after. Niklas jumps in and picks up and slams Danijel, and I don't think this will last much longer… and it doesn't as the Swede gets a rear-naked choke! Lulea wins!!!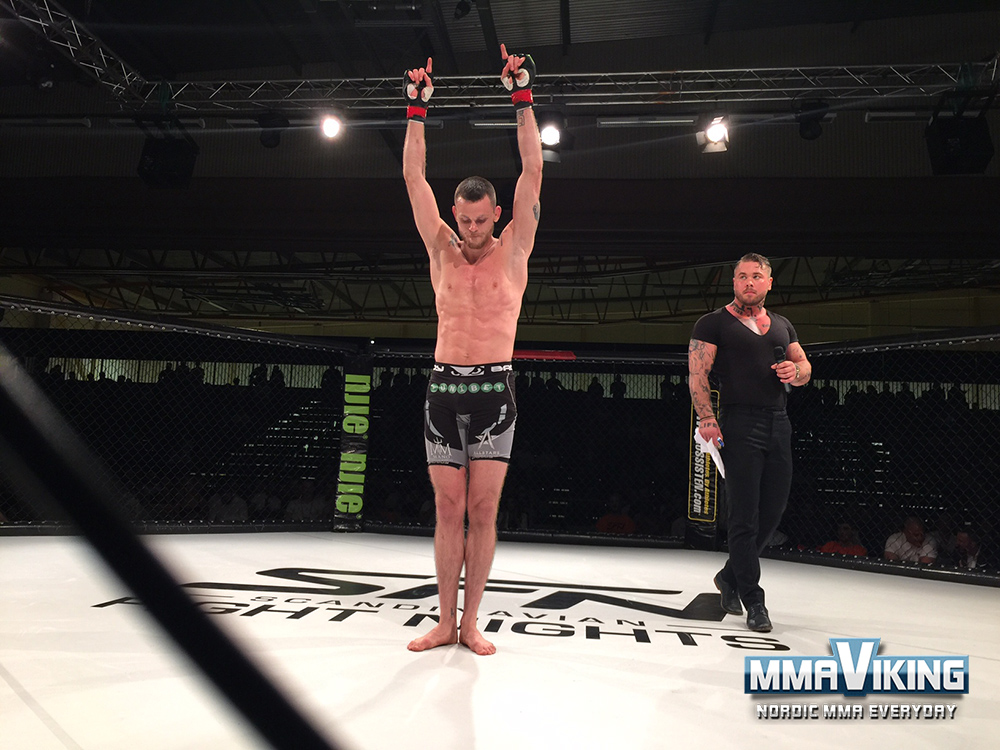 Watch this whole fight on our Facebook page here =)
David Bielkheden vs. Adrian Grec
Round 1 – David chasing down the opponent, that seems to be a much smaller figher. The Brazlian Swede gets his take-down and moves the figher from the cage to the center. It is going to be David by submission or punches as he takes mount and lands punch after punch. More punches, and now it is over.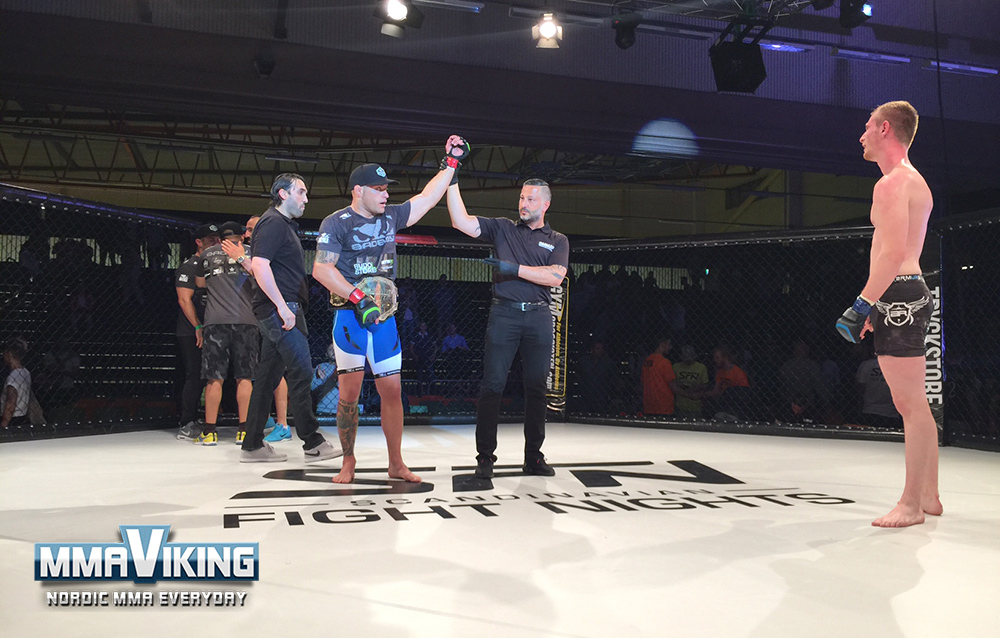 Bielkheden wins by TKO in round 1.