Casino Fight Night was a well marketed event and a big step in the right direction towards making Danish MMA more accessible and mainstream. The sold out even took place in Casino Copenhagen at the luxurious Radisson Hotel Saturday night.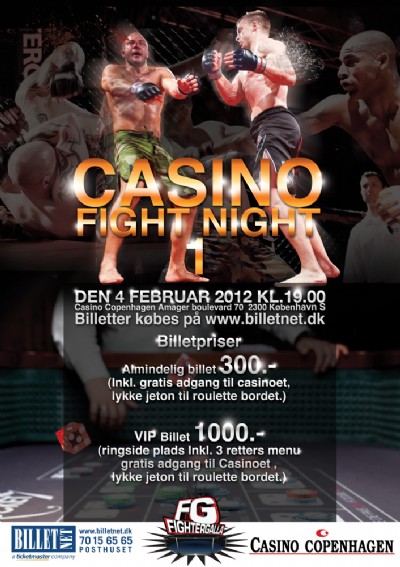 The theme, besides the obvious Casino one, was one of the eternal, albeit friendly, rivalry between Denmark and Sweden.
The scene was set for an exciting event and the rich surroundings even attracted a few Danish "celebrities", such as the Danish pro tennis player; Frederik Federlein and the world renowned boxer Mikkel Kessler's sister; Linse Kessler.
Results
Amateur MMA:
Michael Tunc (SWE, VBC Stockholm) vs. Mathias Lodahl (DAN, Fightcraft.dk)
Winner: Mathias Lodahl by submission (Leglock R2)
Facundo Mendez (SWE, Malmˆ Muaythai MMA) vs. Jason Forsell (DAN, Checkmat)
Winner: Facundo Mendez by submission (Guillotine R1)
Marcus Johansson (SWE, Alive FC) vs. Thomas Iburg (DAN, Fightcraft.dk)
Winner: Thomas Iburg (Side choke R1)
Kevin Akradloo (SWE, GBG MMA) vs. Mads Burnell (DAN, Fightcraft.dk)
Winner: Mads Burnell (TKO R2)
Mathias Appelgren (DAN, Fightgym.dk) vs. Simon Hornsyld (DAN, Frederikssund Free Fight)
Winner: Mathias Appelgren (Split Decision)
Pro MMA:
Sebastian Cepeda (SVE, Vallentuna Boxing Camp) vs. Allan Neuherr (DAN, Butchers Lab)
Winner: Sebastian Cepeda (KO R1)
Per Franklin (SVE, Gladius MMA) vs. Jorge Nicolas Herrera (DAN, Sod Prasat)
Winner: Per Franklin p submission (Arm triangle R1)
This concluded the segment between Denmark and Sweden, and the result ended in a hardfought score of 3-3.
The night was not over though, two more pro fights on the card remained.
Marty Loic (FRA, Team Scorpion MMA) vs. David Rosmon (DAN, Fightgym.dk)
Winner: David Rosmon p submission (Guillotine R2)
Hyram Rodriguez (Atfmilitia Gracie Barra) vs. Cole Lauritsen(TG Academy)
Winner: Cole Lauritsen p point (Decision)
All in all it was a good event and one that surely brought some well needed attention to the Danish MMA scene.
MMA is becoming more and more well known in Denmark, and the future is bright ahead.