MMAViking.com is live in Gothenburg at the Lisebergshallen, Saturday the 26th to report live on The Zone FC 13. The main event features Gladius MMA's August Wallen who will face Raymond Jarman from Holland and co-main event with Sirwan Kakai taking on Englishman Carl Fawcett. See live reporting below.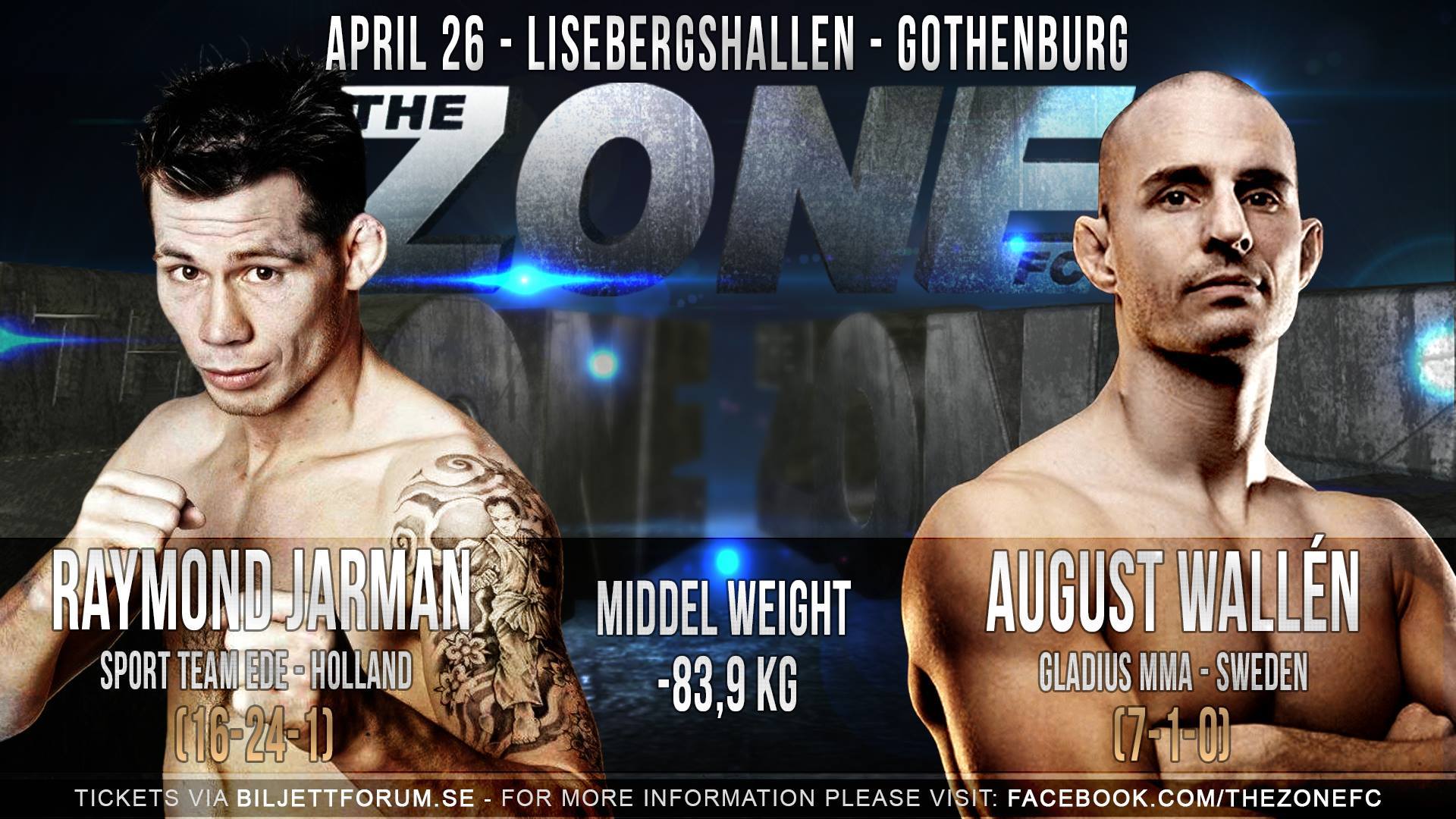 Card Preview
The promotion released the following card overview.
In the gala's main event the MMA-fighter August Wallen will face Raymond Jarman from Holland in a middleweight bout. He has about 40 fights during his career and he will fight anyone at any time and over the years has met European top fighters continuously.
In the gala's co main event Sirwan Kakai fights against Englishman Carl Fawcett at bantamweight . It's a come back from Kakai that many fans look forward to. Kakai is facing his international breakthrough. A win here would take him in the right direction.
Rafael Macedo has since he arrived to the Swedish Top Team made a name for himself and he is well spoken of. He takes on unbeaten Frantz Slioa Palander from Allstar Gym in Stockholm.
Per Franklin takes on KO machine Vitaliy Kalynyuk from Portugal at welterweight.
Erik Carlsson from FKC is known for the home crowd when he once again steps up in the cage. Now wait judoka Aymard Guih with 5 wins 2 losses and a draw in his record .
The strongman Niclas Danielsson, who has been absent due to injury for a longer period is in his best form ever and takes on the thaiboxer Ole Magnor from Norway, who is training with the Norwegian veteran John -Olav Einemo.
Binh Son Le fight in a fast pace and it usually means the action from start to finish , the opponent is Zied Hadraoui .
Fredrik Jostelius is back in the cage and meets Pedro Araújo from Portugal. jostelius won in his debut. Now he's back to show that it was not a coincidence.
Simon Bandarian makes his second professional fight, but his first in front of the home crowd. Bandarian has many fans both in Gothenburg and internationally since he lived for several years in Australia and studied . Expect the unexpected in this fight. He meets Mattia Bertolucci who has several amateur fights, just like Bandarian.
There are two debutantes on the fight card who will bring it all to the fight. The local fighter Pierre Hedberg is matched against hard hitting Ali El Idrissi from Stockholm.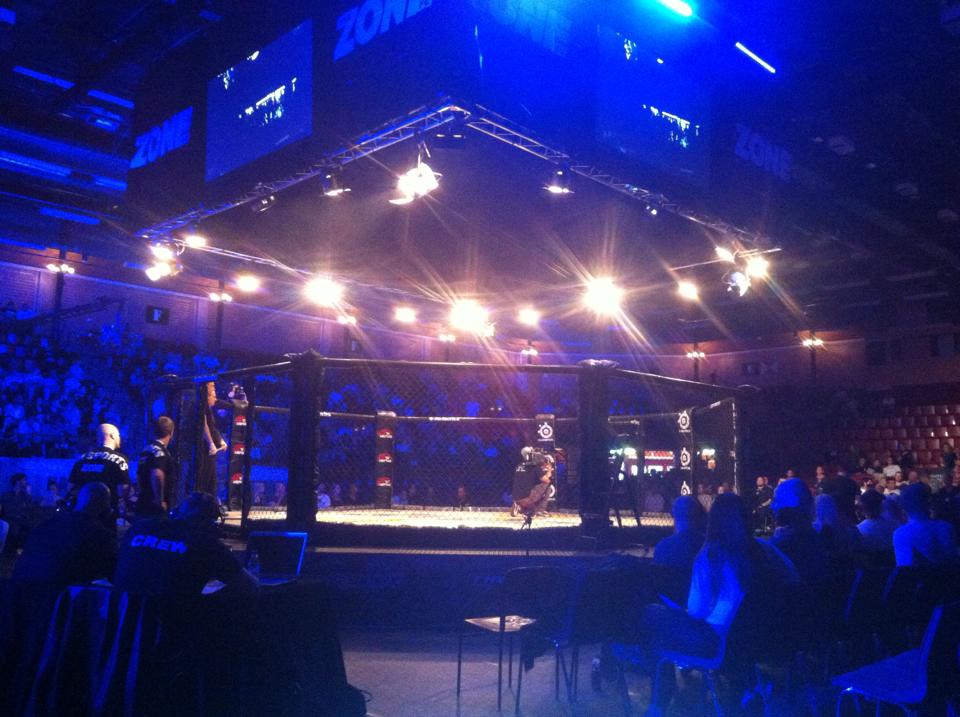 Play-by-Play
-60.0 Kg Fredrik Jostelius (1-0-0) Vs. Pedro Araújo (0-1-0)
Round 1 – The two start of with careful exchanges and Fredrik finally goes in for the takedown and gets it, landing in side control. Fredrik still on top and landing big punches along with knees to the side of Pedro, lighting quick moving to full mount and postering up, pouring down heavy punches until the ref have seen enough. Fredrik Jostelius wins by TKO 2:12 in the 1st round.
-88.0 Kg: Pierre Hedberg (debut) Vs. Ali El Idrissi (debut)
Round 1 – Action starts of with Ali's power right which visibly rocks Pierre! Another right hook, and Pierre is forced to clinch but Ali breaks it and lands another hard right. The two scrambles and Pierre ends up in full mount, Ali reverses but Pierre hangs on and gets his back, trying to lock in a rear naked choke. Ali reverses and stands up followed by Pierre who seems to be fatiqued already. Ali landing at will on the stand up and Pierre looking for the clinch and takedown, but Ali throws Pierre from the clinch and is now on top. End of round. MMAViking scores it 10-9 to Ali El Idrissi.
Round 2 – Ali looks for the right overhand again and on the second attempt he nails Pierre who goes forward to clinch again. Pierre with some knees in the clinch before Ali gets the trips and is now in the guard of Pierre. Both men are getting tired but Ali is getting the better on the ground aswell, not leaving any space for Pierre. Ali stands up, Pierre follows and now pressuring Ali against the cage. End of round. MMAViking scores it 10-9 to Ali El Idrissi.
Round 3 – Both men going forward, Ali feinting the right overhand and dives for the double leg takedown and is successful. Pierre stands up and looks for his one takedown but is unable to do it, instead Ali trips him yet again. Ali doing some damage on the ground and gets up, lands a few punches but Pierre dives for the takedown, landing good punches on Ali! Ali stands up and Pierre tags him with two knees, eventually falling down and Ali goes down with him. Pierre now looking for the armbar! It looks tight, and he rolls Ali over and finally gets the tap! Pierre Hedberg wins by Armbar 3:56 in the 3rd round.
-65.8 Kg: Simon Bandarian (1-0-0) Vs. Mattia Bertolucci (0-1-0)
Round 1 – Simon rushes his opponent with hard kicks and punches heard clearly, Mattia jumps for the guillotine choke, tries to drag Simon to the ground. Finally he lets go and goes for the takedown which is successful. Simon gets up and Mattia swarms the Gothenburg fighter with punches, and eventually takes him down from the clinch. Mattia postures and lands heavy punches on Simon who is now bleeding, Mattia goes for the rear naked but doesnt have both hooks in. Now adjusts his hold and gets both hooks in and he gets the tap against a very tough Simon! Mattia Bertolucci is the winner by rear naked choke.
-77.1 Kg: Niclas Danielsson (3-1-0) Vs. Ole Magnor (debut)
Round 1 – Niclas Danielsson bull rushes the Norwegian and with a right hook its lights out! Niclas Danielsson wins by KO 0:09 in the first round.
-61.2 Kg Binh Son Le (2-1-0) Vs. Zied Hadraoui (1-3-0)
Round 1 – Zied rushes forward but Binh very skillfully dives down and takes Zied down, carrying him against the cage. Binh is trying to advance on the ground but the frenchman is holding position. Now Binh postures, lands a punch and goes back to guard. Zied looks to scramble but Binh jumps on him and gets the back with one hook in, now adjusting and looks for the armbar, but Zied can escape briefly, again Binh trips the frenchman and now on top. Zied tried to postures, instead Binh tries to lock up a guillotine choke, not quite able to finish it. MMAViking scores that round 10-9 to Binh Son Le.
Round 2 – Zied again runs towards Binh with big hooks, clinches up, goes for the takedown and gets a big slam! Binh now pressed up against the cage. Zied advances to half guard and looks for the kimura but Binh acknowledges and can defend the submission attempt. The Gladius fighter Binh quickly steps up and directly succesfully takes Zied down again. Trying to do some damage is Binh but not much happening. MMAVikings scores that round 10-9 to Binh Son Le, but it was close.
Round 3 – Binh now trying to take the frenchman down but gets reversed and Zied ends up in half guard. Binh with a good reversal and is now in Zied's guard. Binh postures, lands a big punch on the way down. Not much happening, both men are trying to advance position, Binh is getting the better of Zied. End of round. MMAViking scores that round 10-9 to Binh Son Le. Binh Son Le wins by Unanimous Decision.
-77.1 Kg: Erik Carlsson (3-1-0) Vs. Aymard Guih (5-2-1)
Round 1 – Round starts with both men trying to land some punches but nothing significant, Erik looking to close the distance but Aymard backs away and circles. Aymard with a good combination but Erik looks ok and is the agressor so far. Aymard is having some success with his combinations, but Erik seems unfazed by the punches. Erik working the body of the frenchman, trying to clinch up but Aymard will have none of it. Front kick landed by Aymard, both guys are active and Erik lands a hard bodykick! Erik reaches for a thaiclinch and unleashes a good knee to the body. Erik Carlsson gets a point deduction for grabbing the fance from referee Marko Gyllenland. End of round. MMAViking scores that round 10-9 for Aymard Guih, but a very close round.
Round 2 – Again both are trading kicks and punches, Aymard is getting the better on the feet but it is close. Erik now the agressor landing a combination, but Aymard pushes Erik against the cage and is also able to land a combination of punches. Erik now locks in d'arce choke standing up and drags Aymard to the ground! It looks tight but Aymard is able to escape, the Swede ends up in half guard. Erik punishing the body now of the frenchman, trying to advance but Aymard is holding on, waiting for the round to end. End of round. MMAViking scores that round 10-9 to Erik Carlsson.
Round 3 – Both guys are eager to get right back to the action, throwing good punches and finally Erik gets close and is able to trip the frenchman, landing in side control, advancing to full mount. Doing some damage before Aymard is able to get back to half guard. Erik doing some damage on his way to full mount, Aymard tries to escape but Erik takes his back and locks in a rear naked choke and gets the choke! Beautiful job by the Swede. Erik Carlsson wins by rear naked choke in 3:25 in the 3rd round.
-73 Kg: Fernando Gonzalez Vs. Paolo Durao
This fight is announced as cancelled.
-77.1 Kg: Per Franklin (6-4-0) Vs. Vitaliy Kalynyuk (6-7-0)
Round 1 – Vitaliy finding the range with hard kicks and Per is forced to close the distance and he gets the takedown. Per doing some damage on top, and at the same time not creating any space. Referee steps in and stands them up, a weird stand up. Vitaliy right away looking to land some kicks but gets taken down, Per is in the crucifix and punches his way to a referee stoppage with Vitaliy unable to do anything. Per Franklin wins by TKO in 4:11 in the 1st round.
-65.8 Kg: Rafael Macedo da Silva (6-1-0) vs. Frantz Slioa (3-0-0)
Round 1 – These two are lightning quick with their punches, nothing significant lands, Frantz able to pressure Silva and gets the takedown, Silva however right back up looking to strike with the Allstars Gym fighter. Now landing powerful punches is Silva, but Frantz answers with a series of his own! Frantz ducks low and takes the brazilian down. Frantz postures up and lands a few good punches. Silva looking for submissions but is able to advance position, Frantz still on top however. Silva pushes Frants off and jumps on the guillotine but Frantz recognizes and reverses, now standing up. Lightning quick these two! Now it's Silva looking for the takedown and he gets it shortly before Frantz jumps right back up. MMAViking scores that round 10-9 to Frantz Slioa.
Round 2 – Silva feinting going low and lands a hook, doing good damage on his feet, now its Frantz exploding and lands a flying knee to the body of Silva. Frantz times one of Silvas low kicks perfectly and gets him down on the ground. Frantz doing some damage but Silva is able to get up again, Frantz is still holding onto him and trips him. Silva looking for submissions on the bottom but Frantz recognized quickly and advances position instead. Silva now looking for a kneebar but Frantz scrambles and both are back to their feet. Now it's Silva on the offense trying to take Frantz down but he beautifully reverses and yet again, finds himself on top. End of round. MMAViking scores that round a draw.
Round 3 – This round starts with Frantz looking to take Silva down and eventually he succeeds. Guillotine attempt by Silva but he gets out. A good scramble on the ground he from both men, Frantz still on top. Silva is hungry for that submissions, putting Frantz in dangerous positions. Now he spins for a heel hook but Frantz gets out yet again! Silva now locks up a triangle choke, Frantz able to shake it off however. Both men are very tired. End of round. MMAViking scores that round 10-9 for Frantz. Frantz Slioa wins by unanimous decision.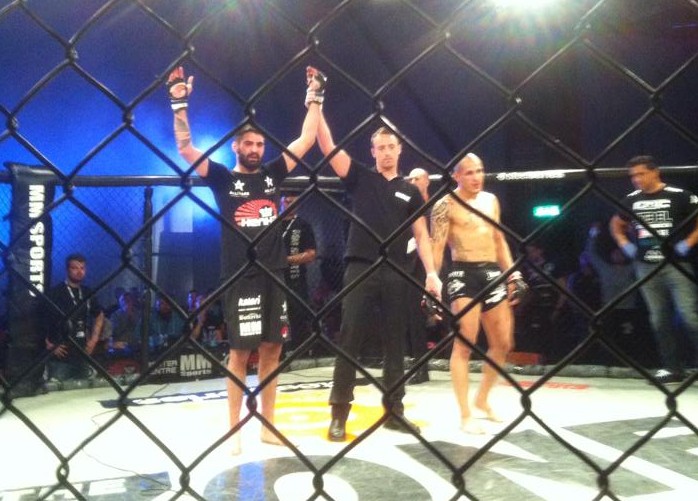 -61.2 Kg: Sirwan Kakai (9-2-0) Vs. Carl Fawcett (6-5-0)
Round 1 – Without a doubt the more technical fighters of tonight, a lot of feints and good combinations. Carl drops Sirwan! He goes down to the ground but still able to defend himself. Springs right back up but looks hurt, Carl goes forward and lands a couple of more punches. Sirwan is hurt right now and is trying to avoid the striking of Carl. Sirwan with a beautiful flying knee that looks to land, but does not faze the brit. Sirwan swinging and misses. Carl have been looking for the uppercut and keeps landing it flush, Sirwan going forward however. Sirwan tries for the takedown but doesnt get it, Carl throwing some good combinations, having success with the uppercut. Now Carl is going for the takedown, but Sirwan acknowledges and is able to defend, who is now looking like a recovered from that earlier punch. Hard leg kick by Sirwan! End of round. MMAViking scores that round to 10-9 to Carl Fawcett.
Round 2 – Carl again with some sneaky uppercut, but Sirwan keeps going forward also landing punches on Carl. Sirwan feints and goes low, eventually he gets Carl down but has to work for it. Sirwan doing some damage, Carl scrambles but gets slammed instead of escaping. Sirwan dropping punches really good and now Carl explodes up and Sirwan swarms him with heavy strikes! Back to the center of the cage, Sirwan having success with leg kicks and Carl trying to catch the Swede again. Carl looks slightly tired and Sirwan looks fresh. End of round. MMAViking scores that round 10-9 to Sirwan.
Round 3 – Sirwan even faster beginning of this round and tags Carl with a jab, who responds with a good low kick. Another one lands for Carl. Sirwan again tags Carl with good strikes, who is bleeding out of his nose. Sirwan goes low and tries for a takedown, and he succeeds. Carl explodes and gets up with a scramble, but Sirwan is the agressor and lands the crisper punches. Good hooks from Sirwan, who have found his timing late in this fight. Sirwan with a hard hook which rocks Carl! Now on the defense is Carl but gets tagged with another good punch from Sirwan who is rushing for the finish! Thai clinch and viscious knees! Carl goes down and Sirwan dives after him with brutal punches, referee is having a close look but the fight continues, Carl able to get up again with a very bloody face and the referee finally stopps it! Sirwan with a very impressive performance after being rocked in the first. Sirwan Kakai wins by TKO 4:34 in the 3rd round.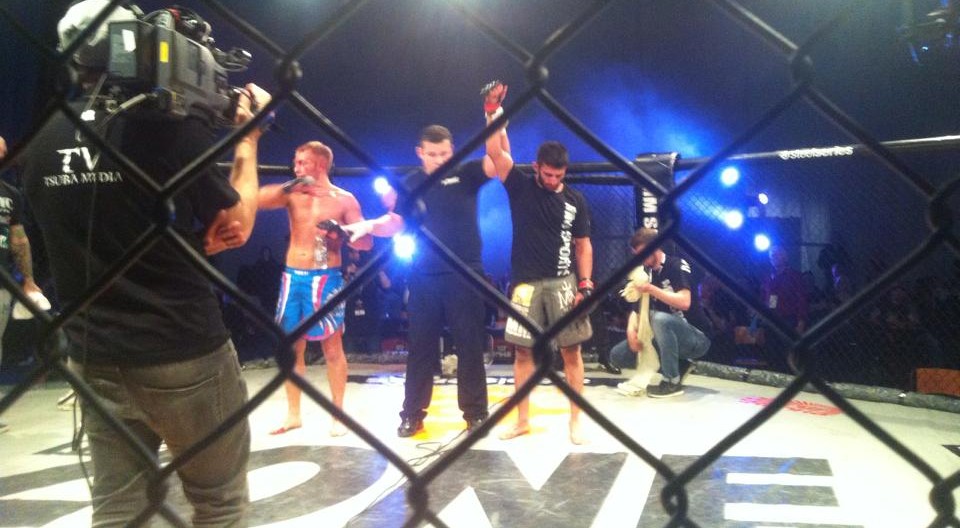 -83.9 Kg: August Wallén (7-1-0) Vs. Raymond Jarman (16-24-1)
Round 1 – August the agressor who pushes Jarman against the cage, scoring knees to the thighs of Jarman. August looks comfortable in the clinch landing good strikes everywhere, and now Jarman throws August down to the ground. Jarman trying to posture but instead August locks in a triangle choke and hammers on Jarman who is unable to do anything, August now switches side and squeezes! Jarman taps! August Wallén wins by triangle choke.