One of the more anticipated fighters on the upcoming fight card for The Zone FC 13 'Tough Luck' will not be featured as Fernando Gonzalez (5-1-0) is now left without an opponent. "My opponent did not show up" posts the Allstars Training Center on Facebook of Paolo Durao (3-3-0) who was already a late replacement for the card taking place at the Lisebergshallen in Gothenburg, Saturday the 26th.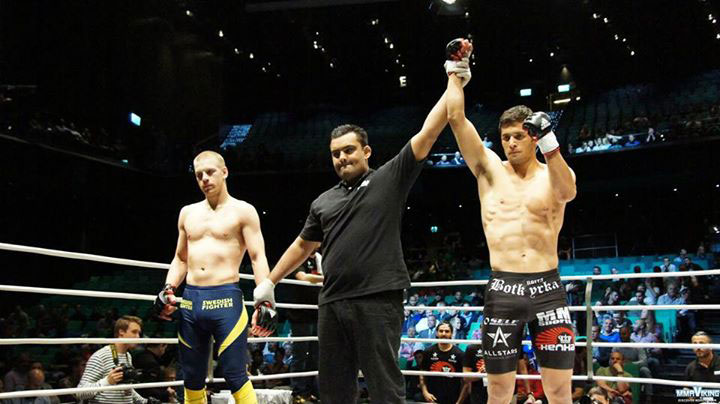 Card Preview
The promotion released the following card overview.
In the gala's main event the MMA-fighter August Wallen will face Raymond Jarman from Holland in a middleweight bout. He has about 40 fights during his career and he will fight anyone at any time and over the years has met European top fighters continuously.
In the gala's co main event Sirwan Kakai fights against Englishman Carl Fawcett at bantamweight . It's a come back from Kakai that many fans look forward to. Kakai is facing his international breakthrough. A win here would take him in the right direction.
Rafael Macedo has since he arrived to the Swedish Top Team made a name for himself and he is well spoken of. He takes on unbeaten Frantz Slioa Palander from Allstar Gym in Stockholm.
Per Franklin takes on KO machine Vitaliy Kalynyuk from Portugal at welterweight.
Erik Carlsson from FKC is known for the home crowd when he once again steps up in the cage. Now wait judoka Aymard Guih with 5 wins 2 losses and a draw in his record .
The strongman Niclas Danielsson, who has been absent due to injury for a longer period is in his best form ever and takes on the thaiboxer Ole Magnor from Norway, who is training with the Norwegian veteran John -Olav Einemo.
Binh Son Le fight in a fast pace and it usually means the action from start to finish , the opponent is Zied Hadraoui .
Fredrik Jostelius is back in the cage and meets Pedro Araújo from Portugal. jostelius won in his debut. Now he's back to show that it was not a coincidence.
Simon Bandarian makes his second professional fight, but his first in front of the home crowd. Bandarian has many fans both in Gothenburg and internationally since he lived for several years in Australia and studied . Expect the unexpected in this fight. He meets Mattia Bertolucci who has several amateur fights, just like Bandarian.
There are two debutantes on the fight card who will bring it all to the fight. The local fighter Pierre Hedberg is matched against hard hitting Ali El Idrissi from Stockholm.
Fight Card
-83.9 Kg: August Wallén (7-1-0) Vs. Raymond Jarman (16-24-1)
-61.2 Kg: Sirwan Kakai (9-2-0) Vs. Carl Fawcett (6-5-0)
-65.8 Kg: Rafael Macedo da Silva (6-1-0) vs. Frantz Slioa (3-0-0)
-77.1 Kg: Per Franklin (6-4-0) Vs. Vitaliy Kalynyuk (6-7-0)
-77.1 Kg: Erik Carlsson (3-1-0) Vs. Aymard Guih (5-2-1)
-61.2 Kg Binh Son Le (2-1-0) Vs. Zied Hadraoui (1-3-0)
-77.1 Kg: Niclas Danielsson (3-1-0) Vs. Ole Magnor (debut)
-65.8 Kg: Simon Bandarian (1-0-0) Vs. Mattia Bertolucci (0-1-0)
-88.0 Kg: Pierre Hedberg (debut) Vs. Ali El Idrissi (debut)
-60.0 Kg Fredrik Jostelius (1-0-0) Vs. Pedro Araújo (0-1-0)