Papy Abedi was set to challenge Superior Challenge's reigning welterweight champion Daniel Acacio for the belt at Superior Challenge X May 3 in Helsingborg Arena, but now Alan Carlos will step in due to multiple injuries, however it will not be for the title. The promotion announced that Abedi has had knee surgery and won't be able to compete. See the full press release below.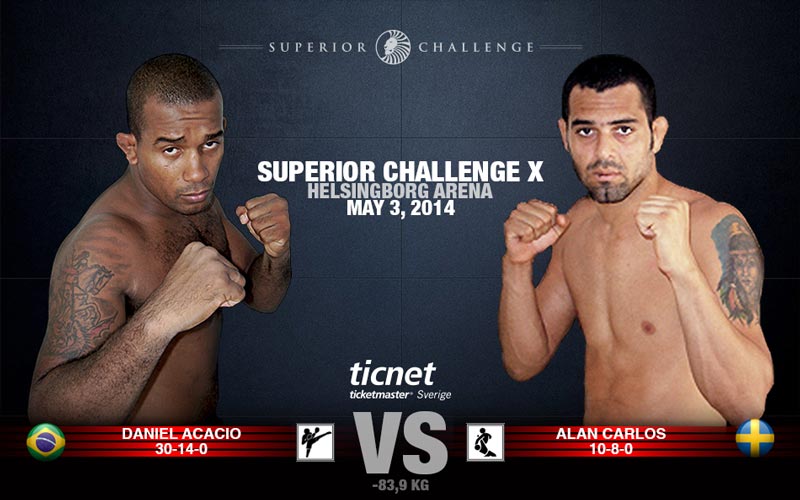 Press Release
Daniel Acacio faces Alan Carlos at Superior Challenge X
Daniel Acacio faces Alan Carlos at Superior Challenge X on May 3rd at Helsingborg Arena after both Papy Abedi and David Glasnovic had to cancel due to injury.
The experienced Superior Challenge Welterweight Champion Daniel "The Viking Hunter" Acacio, from Curitiba Brazil (30-14-0), next opponent is Alan Carlos (10-8-0). Alan who is currently living in Halmstad, a neighbouring city to Helsingborg in Sweden, is just like Daniel a Brazilian but he represents Sweden instead. It's a Middleweight (-83.9 kg) bout and Alan is hereby Daniel's fifth Swedish opponent, and this is Daniel's fourth bout in Superior Challenge. Alan has only competed once before in Superior Challenge and it was during 2009 at Superior Challenge 3 against Papy Abedi.
Papy Abedi had problems with his knee before the above-mentioned bout against Alan Carlos at Superior Challenge 3, but the injury has become worse to such degree that it has to be operated immediately. Also David Glasnovic has been dealing with an old injury in one of his shoulders, which have constantly worsened, to the point that it now has to undergo surgery.
Babak Ashti Aghavali, C.E.O. Superior Group International:
"It's never fun with cancelled bouts due to injury, but it is something that all MMA fan are familiar with by now. Our athlete's safety is always our top priority, and we hope that both Papy's and David's surgeries and their recovery goes well so that they may soon step in to the cage again. We will postpone the bouts Daniel Acacio vs Papy Abedi and David Glasnovic vs. Alan Carlos to possibly next Superior Challenge event if both athletes are fully recovered. This time we were lucky to be able to match both Papy´s and David´s opponents against each other. Acacio vs. Carlos is an incredibly exciting bout. These guys have previously been training together and got to know each other's weaknesses and strengths. Daniel is a very experienced fighter who has competed on a high international level for a long time, and Alan who has won three of his last four bouts is probably the hungrier of the two, and will have the home crowd on his side."
Experience adrenaline full sports entertainment when Europe's largest MMA promotion steps in to Helsingborg Arena with its tenth edition, Superior Challenge X on May 3rd 2014.