The last time Cage Warriors came to the Nordics in 2014.  Cage Warriors 66 in Copenhagen was one of the best cards to feature up-and-coming talent with six fighters (Dalby, Hadžović, Svensson, Lansberg, Hermansson, and Elmose) moving on to the UFC after the event. Now the promotion is back to Scandinavia for the second time with another stacked card, featuring top local talent and prospects that are a win or two away from Cage Warrior's title shots and Octagon dreams plus a couple must watch Nordic showdowns.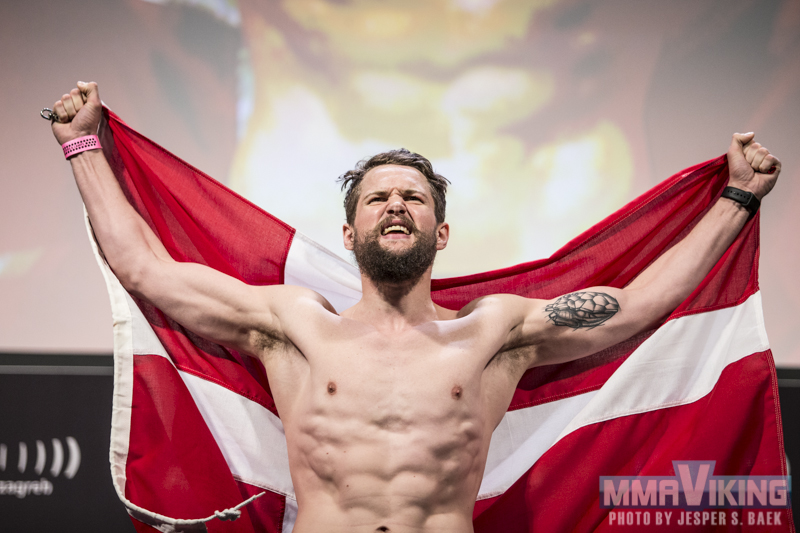 The Cage Warriors 93 card down on the April 28th in Gothenburg at the at the Lisebergshallen, a house that The Zone FC built till they stopped putting on events in 2015. Adding to the excitement is the debut of the promotion in Sweden.
Headlining the card is Nicolas Dalby (14-2-1), who also topped Cage Warriors 66. The Sharpshooter will face American Carlo Pedersoli (9-1) Jr. who is coming in on a 6-fight win streak
The Dane fought four times in the Octagon with a record of 1 win, 2 losses, and 1 draw since leaving behind his Cage Warriors belt. The 33-year-old won in a split decision over Elizeu Zaleski dos Santos in his UFC debut, had a majority draw versus Darren Till, then ended with back-to-back losses to Zak Cummings and Peter Sobotta.
"It's up to me to show the world that nobody puts Dalby in the corner. I'll be back stronger and more dangerous than ever!" – Dalby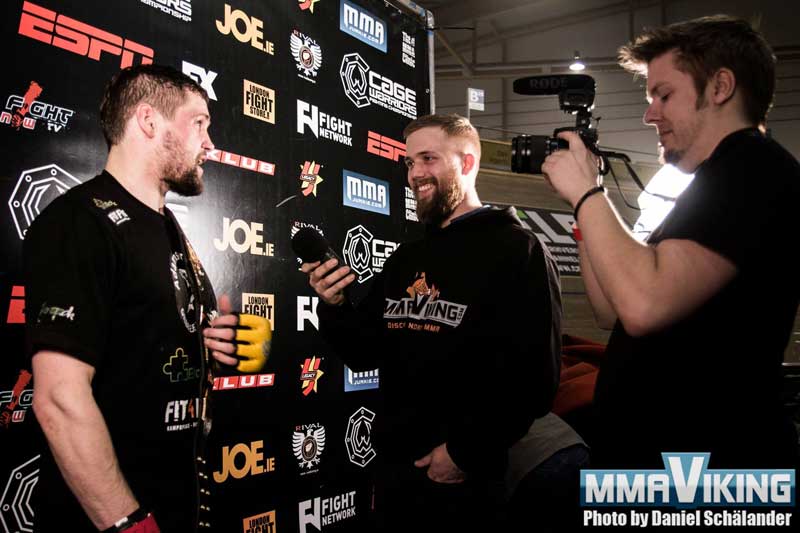 It will be interesting to see the Rumble Sports fighter in the cage, after he revealed the challenges he had since being released from the UFC, and more than one year and seven months away from the cage.
The popular and talented Norwegian light heavyweight Kenneth Bergh (6-0) will face Modestas Bakauskas (5-2) from Lithuania in the co-main event. "I'm overwhelmed with the amount of support I've received in advance of this fight and the amount of people who've bought tickets and are coming over to watch is humbling and and an immense motivating factor." says the Norwegian prospect that was offered a UFC contract, but had challenges getting his paperwork and visa completed to close the deal.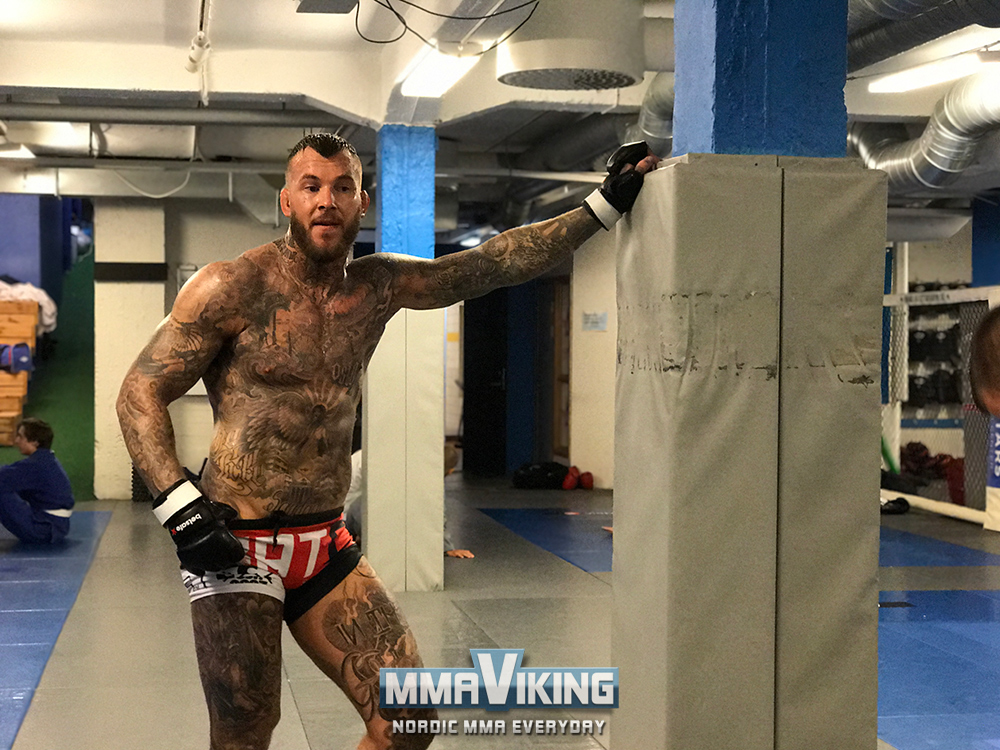 The battle of Nordic lightweight prospects happens as Dane Soren Bak (10-1) and Norwegian Alexander Jacobsen (9-2) battle in what should be a title eliminator resulting in a Liverpool showdown with Paddy Pimblett later in the year. The grappling of "the True Viking" and the boxing and power of "Bad Romance" should make this a good one.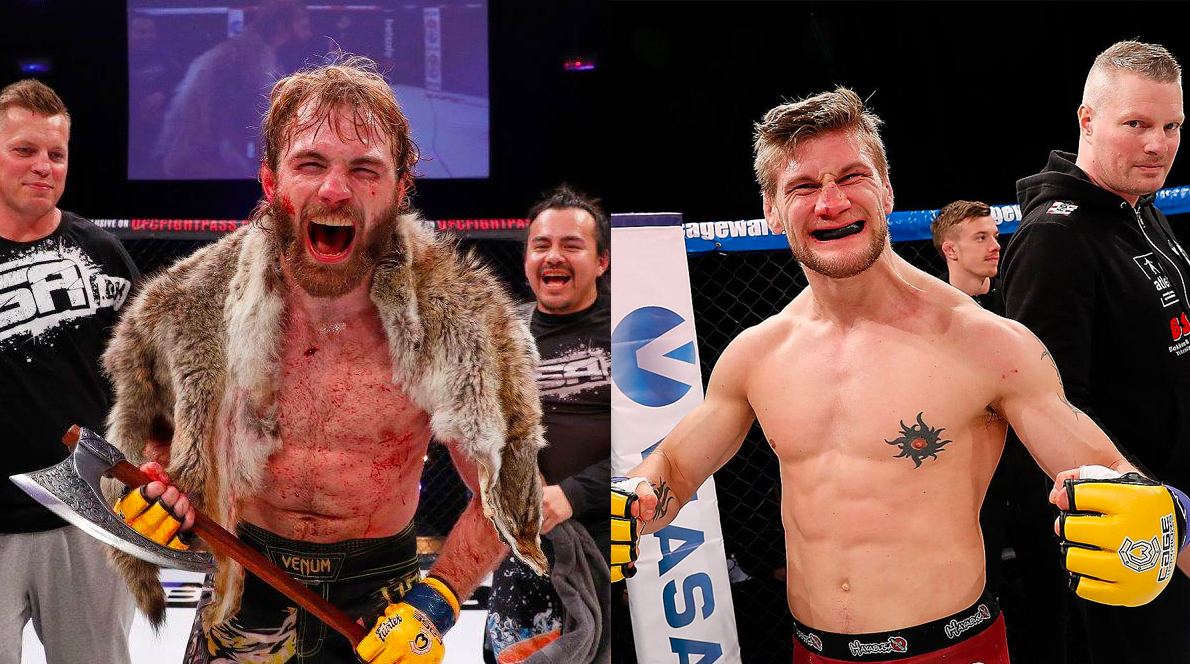 The best fight hype has been produced by Malin Hermansson (1-0) and Cornelia Holm (1-0) that showed their talent with words as they smack talked their way to a battle for the #1 Nordic flyweight spot. "Who the F*ck is that girl??" says Gothenburg's Holm when Hermansson first called her out.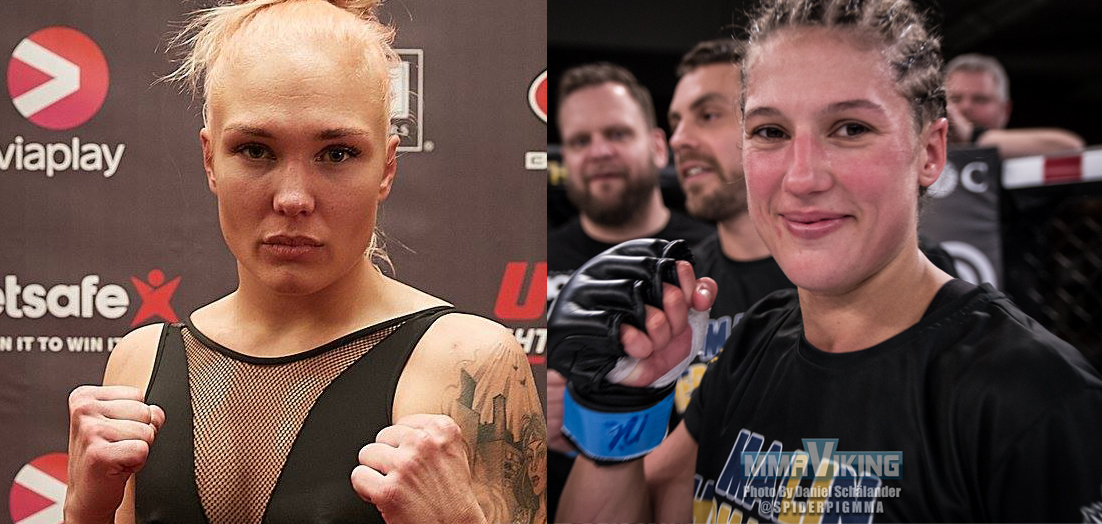 "Holm knows that her boring lay and pray style won't work with me." – Hermansson
One of Finland's biggest talents Aleksi Mäntykivi (11-4) will face Englishman Jack Grant (13-4). The HardKnocks Helsinki had a five fight win streak from 2014 to 2015, and is on a two fight winning streak now including a win over Bak. The Finn is in Florida training at ATT for the bout and will has an opportunity to beat a real veteran who is on a four fight winning streak.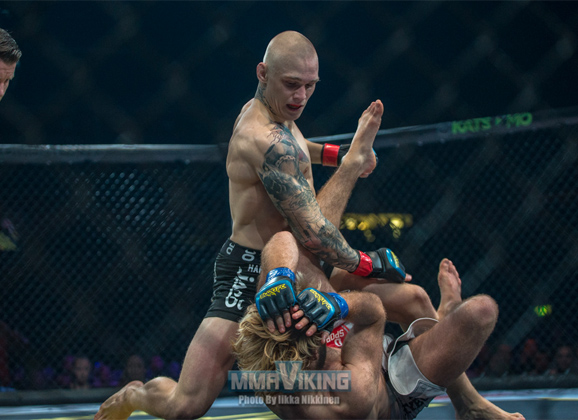 The explosive (see 8 second KO at SWFC 86) Junior Karanta (2-1) and grappler Rafael Macedo (8-4-0, 1NC) will have the Gothenburg home city advantage, as will Alan Carlos from nearby Halmstad. These fighters will be bringing their fans to the cage in big numbers. Carlos faces Frances Norman Paraisy in a showdown of former Cage Warriors title challengers.
Norway's Håkon Foss (8-5) will face vet Jack Mason (29-16-1). The Frontline Academy fighter will be looking to stop a two fight winning streak as he comes back to the country he grew up in.
Allstars Training Center will be sending Saeed Ganji (1-1) west to face Mohammed Habal (0-0) in his pro debut.
Norwegian Thomas Robertson (6-1) beat England's Phil Wells (8-4) at Cage Warriors 84 and will look for another win against a to be determined opponent.
Cage Warriors 93 Fight Card
Nicolas Dalby (DK) vs Carlo Pedersoli Jr
Kenneth Bergh (NO) vs Modestas Bukauskas
Soren Bak (DK) vs Alexander Jacobsen (NO)
Cornelia Holm (SWE) vs Malin Hermansson (SWE)
Alan Carlos (SWE) vs Norman Paraisy
Junior Karanta (SWE) vs Sofiane Boukichou
Jack Mason vs Håkon Foss (NO)
Jack Grant vs Aleksi Mantykivi (FI)
Perry Goodwin vs Rafael Macedo (SWE)
Saeed Ganji (SWE) vs Mohammed Habal (SWE)
Thomas Robertsen (NO) vs TBD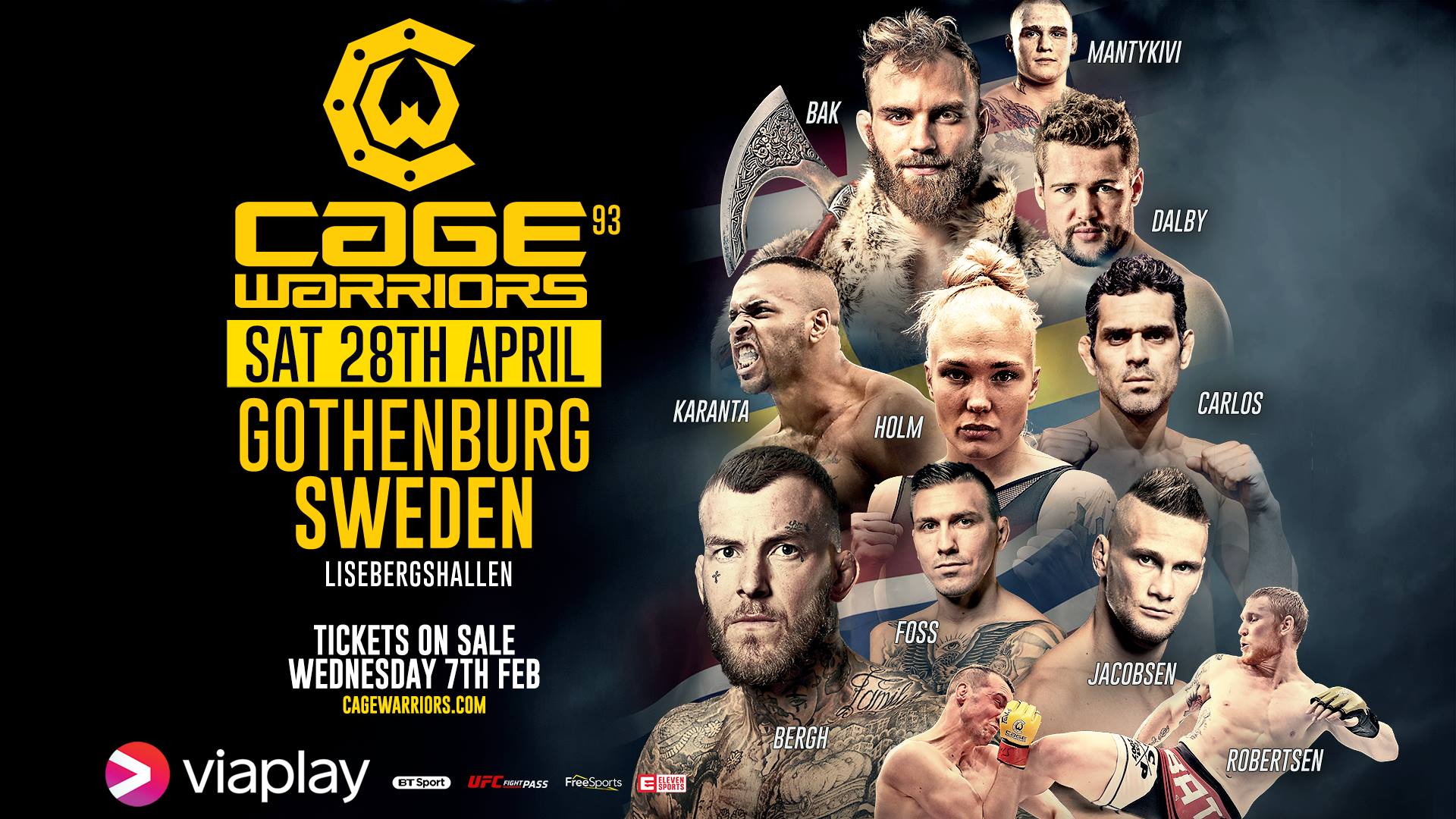 All in all a really solid card, featuring seven Swedes, four Norwegians, two Danes, and a Finn. MMA Viking will be reporting live and taking photos cageside. The return of Dalby, Bergh back in the cage, top promotional Nordic lightweights nearing title shots, and Holm versus Hermansson are all story lines to follow on this one.