Danish MMA Night 1 goes down at the Brøndby Hallen.  There is a much hyped Dane-versus-Dane matchup between UFC vet Christian Colombo (8-3-1) and Nick Barnø (6-2), plus Invicta FC title challenger Pannie Kianzad (9-3) and wrestling silver medalist Mark O. Madsen (3-0) are featured. Not to be missed is a solid Nordic matchup between Swede Fernando Flores (5-3) and local Jonas Bødker Mågård (9-4).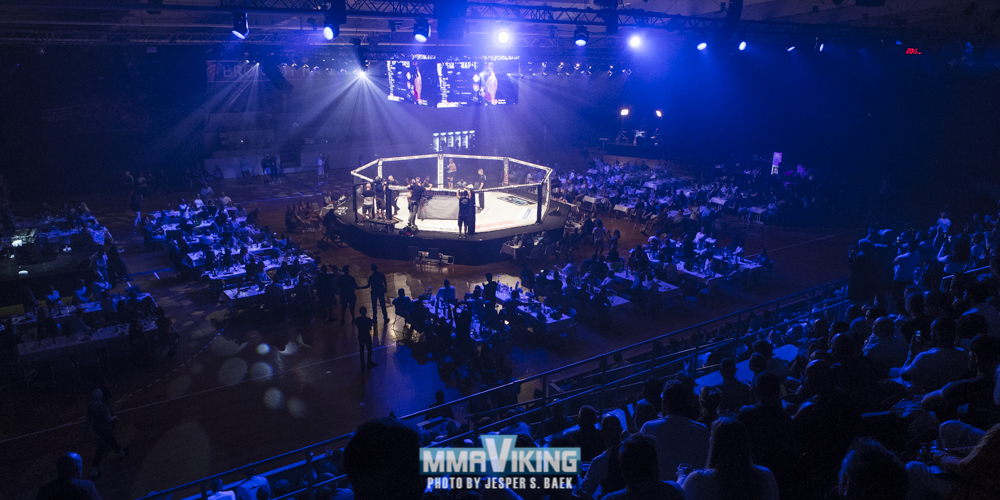 MMAViking.com writer Ryan O'Leary and photographer Jesper Baek are cageside for live updates and pics. Get all your updates here!
Jonas Troest vs Espen Kolltveit
Round 1 – Troest with a great head and arm throw bringing Kollveit to the mat, and Jonas immediately locks up a tight guillotine.  It's a tap and the first fight of the night is all over!  Jonas Troest wins by submission in round 1.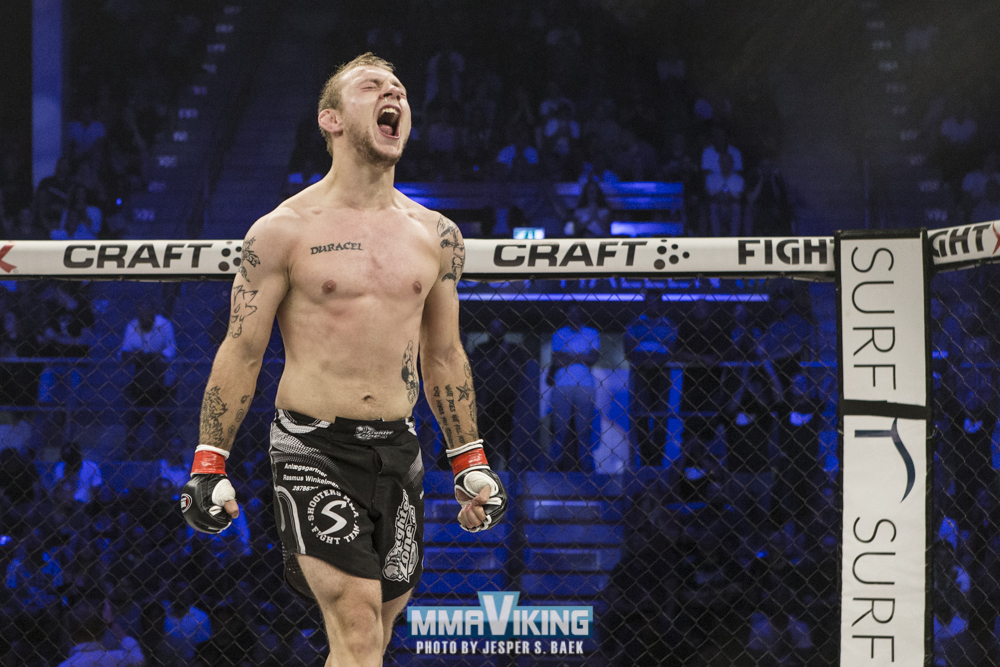 Milan Silva vs Matthias Carl Freyschuss
Round 1 – Takedown early from Silva.  Milan is fully in control of this and stays on top throughout most of the round.  Freyschuss gets up to the feet, and not much time left in the round.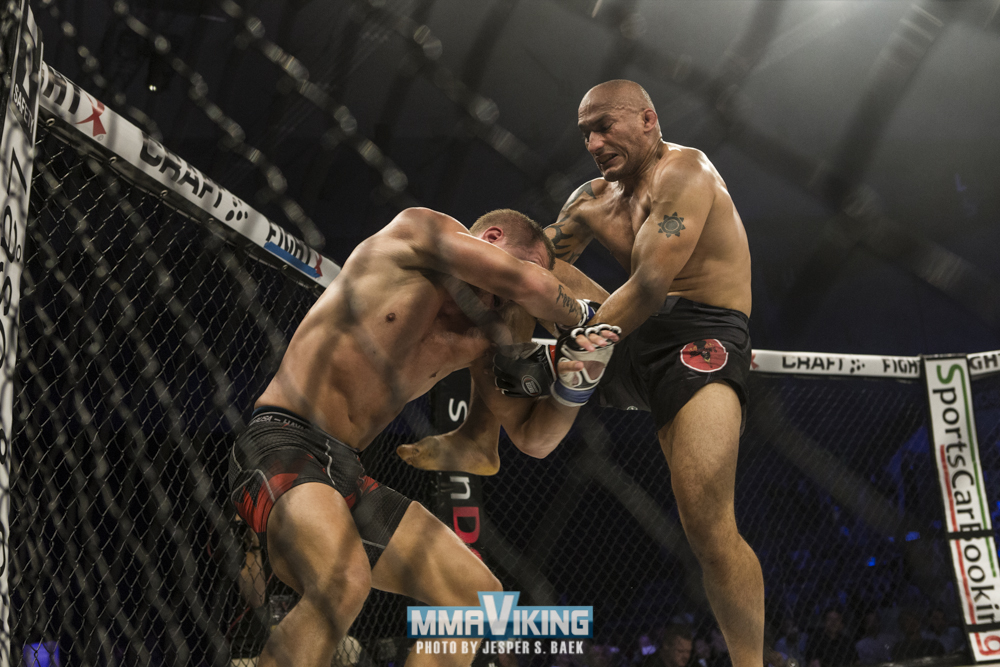 They both land punches, but it is Silva that ends up on the ground and shoots for a take-down.  Freyschuss locks up a guillotine!  There is the tap.  Over before the bell.  The Swede gets the win.
Rhassan Muhareb vs Martin Fouda
Round 1 – Muhareb looks good early, but gets taken dwon by Martin.  Elbows and more elbows from Rhassan that has a huge crowd behind him.  Fouda gets rolled and now Muhareb on top in a nice reversal.  To the feet, and Martin taked a knee the head and looks exhausted.  A big takedown from Martin.
Round 2 – Both fighters look relaxed and taking turns landing.  A takedown from Fouda, but he just gets elbowed to the side of the head over and over.  Now a huge upkick from Rhassan that rocks Fouda, but he recovers and gets back on top.
Round 3 – The local fighter is warned again for throwing a kick at a downed opponent, and gets 1 point deducted.  Muhareb throws a high left kick, it is blocked.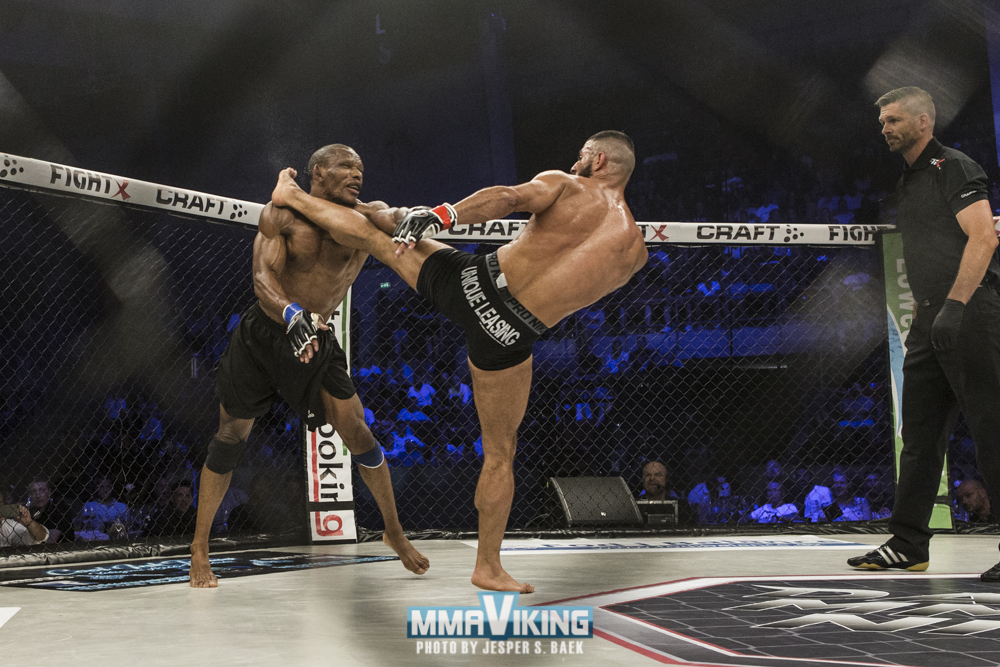 Another high left kick and it crumbles Fouda in a highlight KO.  Third round stoppage.  The Swede has troubles walking out of the cage on his own.
Jonas Mågård vs Fernando Flores
Round 1 – Takedown from Jonas and the Shark is looking for the neck, but Flores is composed.  The Swede grabs a leg, but leaves his neck out.  The Dane can't finish it and Flores remains on his back.  Two real big elbows from Jonas to end the round.
Round 2 – Another take-down to get things started in the second from Jonas.  Full control with ground and pound in half guard.  Two more big elbows on top, and just a tough fight so far for El Toro.
Round 3 – Just like the second, it is all Mågård that gets the fight to the ground and is in full control. Winning all 15 minutes of the fight.  Fernando's eye looks busted up, a potential orbital break by the way it is swelling.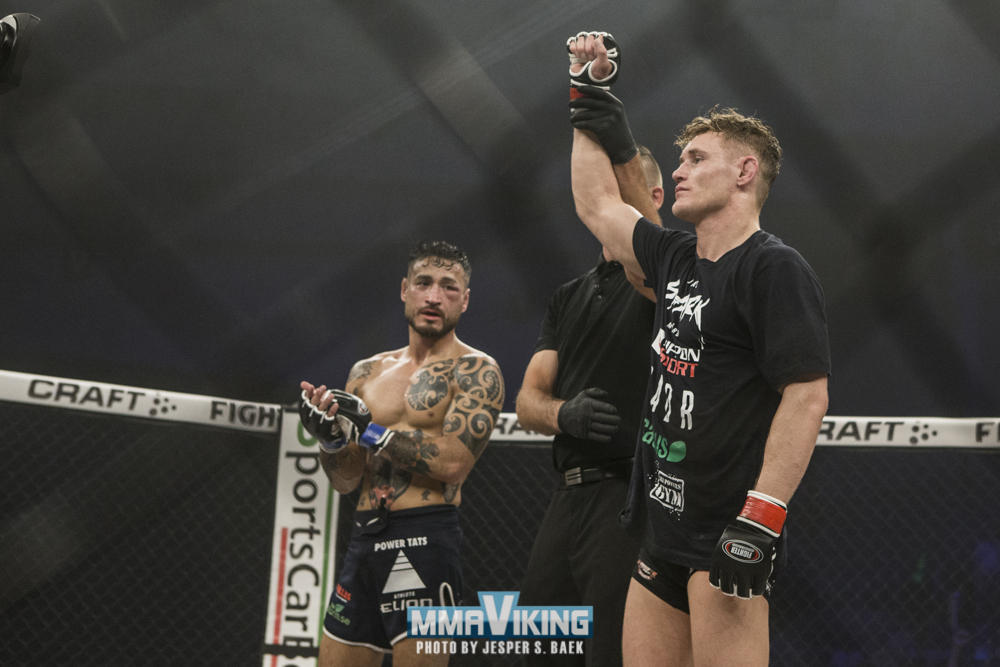 Jonas winner by unanimous decision.
Mikkel Kasper vs Jonathan Bosuku
Round 1 – Kasper takes a few shots early and Jonathan looks composed in the pocket.  No distance between the two fighters, Kasper finding a home for his left kick.The left hand of the French man lands some nice lefts.  BIG right hand and Mikkel is in trouble, dropping to his butt after that punch.  Mikkel changes it up and goes for a take-down, but cannot get it.  Good round for Bosuku.
Round 2 – Both fighters trying to establish their game on the feet.  Kasper's keeps his head moving, Jonathan with a takedown that he doesn't want to finish.  Nice one-two combination from Jonathan that lands.
Round 3 – The2014 IMMAF World Champion will need something big to get back on track here.  His nose is bloodied and will be looking at his first MMA loss.  The Dane moves forward and lands some good shots, but is swiftly countered.  Now it is full force from the Dane that land several good combinations!  An uppercut!  Both fighters exhausted, a flighting knee from Mikkel and now Bosuku dives in for his first take-down.  30 seconds left.  Bosuku on top and lands some good elbows to secure what should be a UD.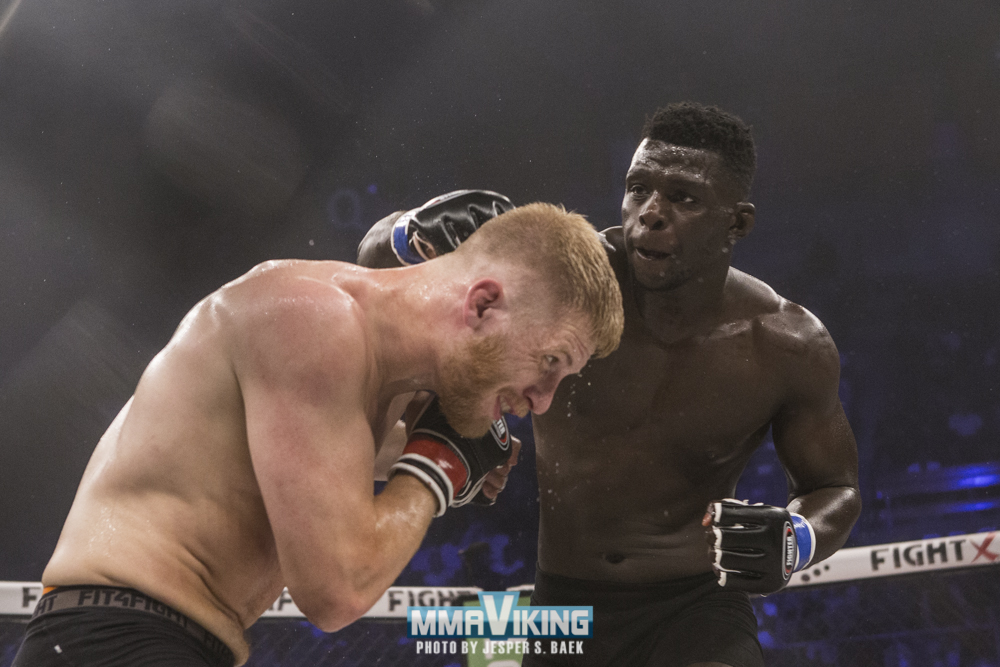 Jonathan Bosuku wins by unanimous decision.
Christian Colombo vs Nick Barnø
Round 1 – Colombo initiates the tie-up and pushes Barno against the cage.  Nick escapes and lands a solid right hand.  Good right hand by Colombo, and they tie-up again.  Two minutes in and you can feel the tension.
Barno reaches down for a leg.  The two are apart and a surprise take-down attempt from Barno, that lands on his face.  Colombo knees him.  Again Nick in on the legs and Godzilla lands a knee to the head.  Again in a tie-up, and a short right by Barno.  A bigger right from Christian and the round is over.  But, as the two celebrate, they do not want the round to be over.
Round 2 – Combination for Colombo.  Nick swinging for a KO, but it is Colombo that lands a shot and gets on top as Nick goes to his knees.  But, the True Dane is looking confortable and gets a double leg as he turns to get a take-down.  Back to the feet, and now Barno gets a take-down!  The two are grappling for position and Barno is on top landing punches to the face and looking for a submission.  A crucifix from Barno that lands a bunch of punches, before Colombo is on top.  What a round!  Now barno takes back and landing punches.
Round 3 – Good punches from Barno early, and he seeks a take-down against the cage.  Colombo lands a good shot, and Nick comes charging back.  One two from the True Dane.  The two exchange high kicks, and looking for a KO punch.   A flying knee from Christian misses.  Barno goes for a take-down, but Colombo sprawls but lets Nick off the hook staying on his feet.  Not much time left.  A very close fight.
Split decision win for Nick Barno.
Mark Madsen vs Dez Parker
Round 1 – Mark looking for big strikes early, but Dez is confident. Wow Parker ends up on top with the wrestler on his back, but Madsen uses his strength to roll through and get out of the dangerous position.
The wrestler using a jab, and looking to land a big overhand right.  A huge takedown from Madsen, but Parker came to fight and keeps his hands down forcing Mark to find ways inside.
A KO punch at the end of round 1 for the Olympian for the KO.  And one more to the face of the downed opponent.
Pannie Kianzad vs Kerry Hughes
Round 1 – Tie-up for Pannie that pushes Hughes against the cage.  Right hand from Kerry, then Pannie jumps in for a take-down and takes back briefly.  The two are apart and Kianzad throws a spinning backfist.  Now Pannie gets the fight to the ground again, then back up.  Both landing some good shots.  The Swede using a nice left hook here early.  Big left hand wobbles Hughes.  Solid round for Pannie.
Round 2 – Kianzad with hands up high, showing real solid boxing skills.  Kerry does have good snap on her punches and lands some on Pannie.  Two left hands from the Arte Suave fighter after missing a spinning backfist.  A take-down attempt stepped after a nice sprawl and hammer fists from the visiting fighter.  A lead left hand lands as Pannie lunges in, and you can sense the power of both fighters as they land in exchanges.  Both fighters with some moments in that round.
Round 3 – It is the counter left hand of Kianzad that is making the difference.  Pannie also going to the body to mix things up.  Kerry lands a good inside leg kick.  Another counter punch to a kick.  The pace picking up here and both fighters having fun.
Kianzad wins by unanimous decision.
Louis Glismann vs Melvin Van Suijdam
Round 1 – Louis with a take-down and gets half mount.  The Arte Suave fighter lands some good ground and pound as he postures up.  Now looking for a kneebar, switching to a foot lock.
Round 2 – Glismann in total control, and searching for a finish.  He finally gets a slick knee bar (or is it a Suloev Stretch?).  Either way, it is done and an impressive finish!
Frodi Vitalis Hansen vs Per Franklin
Round 1 – Per looking for his opening, and Frodi is back pedaling.  Half way through the round, and no fighter has landing anything significant.  Per loads up on a big right hand that lands.  Another punch from Per, then a few from Hansen at the end of the round.
Round 2 – Both fighters throwing some straight punches waiting for an opening.  Franklin flings out some kicks.  A solid punch from Per as the pace quickens.  Frodi trying to land with his left.  Some better exchanges toward the end of the round.
Round 3 – Per comes bareling in and backs Frodi up against the cage.  The Swede with a take-down, and Frodi on his back with butterfly guard.  Per moves to full mount, but Hansen reverses and is on top.  Per is on his knees, and Hansen fires knee in the Swedes face.  Well, that's illegal.  There is now a stop in the action.  One point deduction, and I like that decision by the referee.
Frodi comes out swinging and lands some good punches and goes for legal knee, but Per gets a take-down to slow the desperate attack.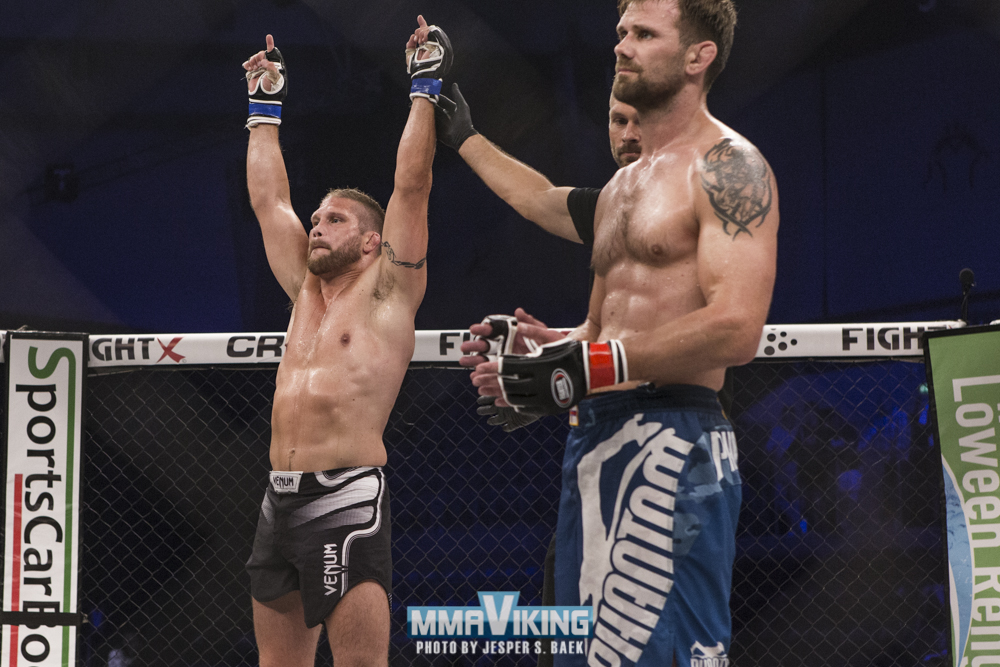 Majority decision for Per Franklin.
We will have full photo galleries of all the fights, so check back!