Today, DARE announced that Dane Ole Laursen would be entering the October lightweight tournament. The Filipino born 35-year-old has amassed a 6 win and 3 loss record, and has won his last 6 out of 7. The lightweight last fought in March for the Once FC promotion, where he won a split decision over Eduard Folayang. Read the press release below.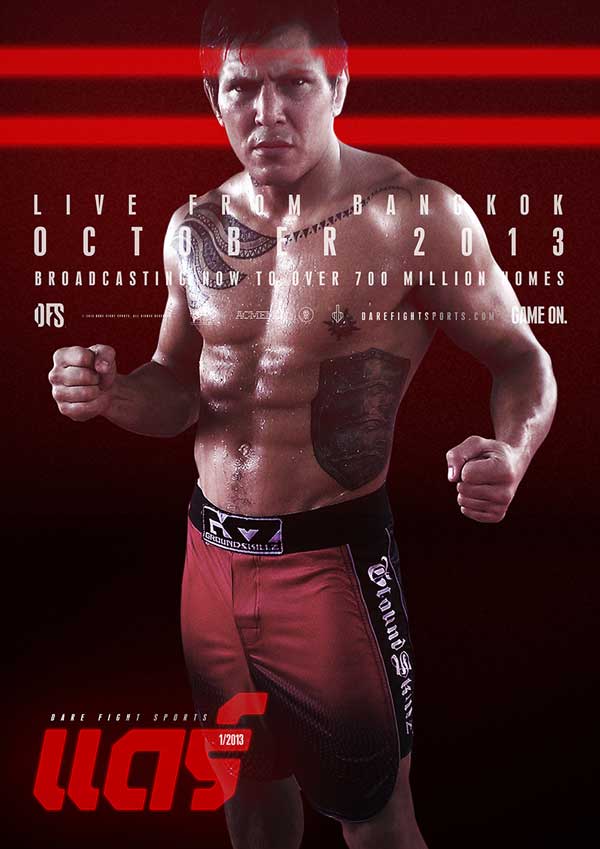 Press Release
Hello Everybody, How you doing?
Dare Fight Sports is happy to welcome one of the Top MMA fighters in Asia, IRON FIST – Ole Laursen to DARE's One Million Dollar Tournament and its Lightweight (70 kilo / 155 lbs) Division.
IRON FIST is set to land his Fist into someones face inside the DARE cage at this coming October. Against WHO you ask?!?
GAME ON.
IRON FIST – DARE 1/2013 – October 2013 – Live from Bangkok
Born in the Phillipines with Insight and an Iron Fist, Ole Laursen is a True Fighter's Fighter. A journeyman in the Game, Ole is prepped and ready for any opponent that comes his way. World traveled, and humble, it is no wonder why Children of all ages look up to the Man known as Iron Fist. He simply sweats Awesomeness. The type of guy that could steel your girlfriend… But wouldn't. Iron Fist was truly blessed by the Fight Gods with a Combination of Brute Force and Rugged good looks. Allowing for his ears to hear the screams of Joy from lady fans, and screams of pain from gassed opponents.
He has proven himself in battle time and time again as the type of Fighter who not only can dish it out, But a Fighter that can take it. If you hit him with a punch, you probably should've kicked. You hit him with a Bat, you may wanna use Crowbar too. If you hit him with a Mack Truck you better put it in reverse and drive over the Iron Fist a couple more times. Otherwise, you can be sure that Ole will Plant his Iron Fist in your face so many damn times, that we'll either have a Homicide or a Rose Garden by Fights End.
It is this Respected Fight Style that Makes Iron Fist Perfect for the DARE Realm. This OCTOBER, The Bangkok Bad Boys proudly Welcome IRON FIST into their Million Dollar Tournament. To be a Winner of this Tourney you need to step it up some Levels. We're pretty positive Mr. Laursen will make opponents bring their "A" Game. After All… The world is run by Powerful Men who Rule with an Iron Fist. Ole "Iron Fist" Laursen Fists those types of men… With an Iron Fist. So by the way… GAME ON!