Fight For Glory's is bringing out the big guns for it's second installation. In the main event hometown hero Markus "Maaku" Halkosaari (5-7)  takes on experienced American veteran DJ Linderman (15-6) in a light heavyweight bout.
FinnFighters Gym's Markus Halkosaari is a FinnFight veteran who has been fighting since 2004 with a slow pace. Halkosaari has been battling with various injuries over the years and this might be his last run in the professional fighting circuit. News from the gym tell that the heavy handed Halkosaari has been training hard and will be ready to throw down come fight time.
American DJ Linderman has been fighting in both heavyweight and light heavyweight weight classes. The Bellator veteran holds notable wins over Mike Hayes, Mario Rinaldi and Raphael Davis. In his 2013 Linderman has gone 2-2 with wins over Michal Kita and Mike Hayes while losing to BJJ champ Robert Drysdale and  heavyweight prospect Richard Odoms, who beat Linderman by decision this  month at LFC 23. Linderman doesn't come from a wrestling background but in MMA he has mostly succeeded by utilizing his wrestling skills. The American has taken nine of his fifteen wins by finishes.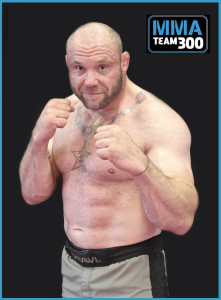 In the co-main Finnish meat truck Marko "Battery" Patteri (4-1) faces the toughest test of his career so far when he jumps into the ring with Ukrainian Dmitry Poberezhets (15-5). Patteri hasn't fought since September of 2012 when he beat American Mike Connors by TKO in under three minutes at DARE FC show in Thailand. Since that fight the Finn has had to deal with agreed fights falling apart and minor injuries. Patteri has also changed to a different training camp which has improved his training. Ukranian Poberezhets is a heavy handed striker who has taken four of his last five wins via knock outs. In November 2012 the Ukranian knocked out Swedish wrestler Eddy Bengtson at Zone FC 11.
Besides pro MMA bouts the card will feature also amateur MMA as well as Muay Thai and American Boxing fights.
Fight Card
LHW: Markus "Maaku" Halkosaari (4-7) vs DJ "Da Protege" Linderman (15-6), USA
HW: Marko "Battery" Patteri (4-1)  vs Dmitry Poberezhets (15-5), Ukraine
FW: Janne Rantanen vs Kriss Larcin, Belgium
FW: Aleksi Kainulainen vs Juhani Aho
MW: Mika Kuronen vs Owen Willberg
Full card with ammy MMA, Muay Thai and American Boxing fights can be found at FFG's website.
Fight videos from Fight For Glory's first show are available here.