Fightergalla 25 takes place tonight in Denmark headlined by a title bout by Denmark's rising star Nicolas Dalby who will face Christian Brinzan. The card also features standout Kenneth Rosfort and also Emil Weber Meek from Norway.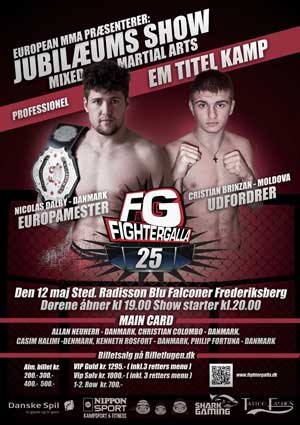 Fight Card
Main Event – Middleweight Title
Nicolas Dalby – Danmark Vs. Christian Brinzan – Moldova
Main card
Morten Djursaa Danmark Vs. Vincent Del Guerra Frankrig
Christian Colombo Danmark Vs. Shwan Bradosti England
Kenneth Rosfort Danmark Vs. Hyram Rodriguez Holland
Philip Fortuna Danmark Vs. Aron Bland USA
Emil Weber Meek Norge Vs. Mohammed Abdallah Sverige
Note : Morten Djursaa will not be on the card. He took the title fight shot last weekend against Assan Njie at The Zone FC instead.
Video Promo
Amateur MMA Stream Has Been Finished
Professional MMA Stream Has Been Finished, But Many Problems Were Reported
You can buy the professional MMA card through the website below:
http://ekstrabladet.dk/sport/anden_sport/anden_sport/article1755761.ece
UPDATE – EB.DK HAS POSTED THIS MESSAGE (TRANSLATED FROM DANISH)
After technical problems for most of Saturday evening's SPSTV in cooperation with ekstrabladet.dk ready to present the main fight by MMA tournament in Falconer Salen, Frederiksberg.
We regret that there has been such big problems with streaming. And working now that the fighting that has taken place within the stream functioned properly, will be shown for free at a later date.