FightSport.fi is reporting that Finnish light heavyweight Marcus "Caveman" Vänttinen (21-4) might do one more fight in the promotion before Bellator LHW tournament kicks off in late June. Bellator contacted the young Finn last week about the possibility of fighting before June. The proposal came as a surprise for Vänttinen who was getting ready for the tournament's opening round where he faces Brazil's Phelipe Lins (5-0). However Vänttinen, who lost his Bellator debut by split decision, is in shape and ready to step up even on short notice.
"Apparently Bellator would like me to have a win under my belt before the tournament begins. I'm in a good shape and didn't suffer any injuries in my last bout so I'm ready to fight anytime. " Said the young Finn.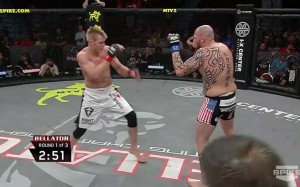 If Vänttinen fights in the Bellator before the Bellator 71 event in June, the bout much take place at Bellator 70 on the 25th of May. The card is headlined by the heavyweight championship bout between Eric Prindle and Kyle Conrad.
MMA Viking will follow the situation closely.