Last night was Denmarks's popular Fightergalla show, which had 5 amateur bouts, 5 pro bouts, and a title fight.  Nicolas Dalby continued his successful run, and won the welterweight championship bout over Christian Brinzan in the main event.  Top Danish fighter Kenneth Rosfort-Nees also got back on track with a decision win over Hyram Rodriguez.  Below are results from the fightfan.dk, who reported live from last night's event live.  Be sure to visit Denmark's fightfan.dk for more pictures and interviews.

Amateur MMA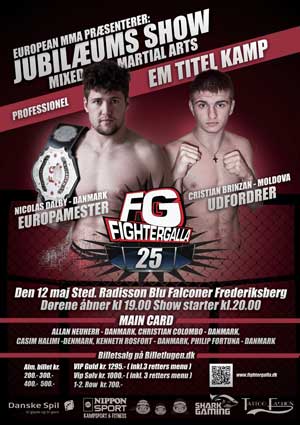 -71 kg: Peter Palmgren vs. Axel Apergis
Winner: Axel Apergis (Submission R1: Rear Naked Choke)
-70 kg: Skjalg G Oppedal vs. Lasse Walther
Winner: Lasse Walther (Submission R1: standing guillotine choke)
-74 kg: Kim Rytter vs. Thomas Poulsen
Winner: Kim Rytter (Decision 2-1)
-88 kg: Dan Ruben Hagen vs. Jesper Ryom
Cancelled
-81 kg: Daniel Bergström vs. Thomas Jessing
Cancelled
-71 kg: Mathias Lodahl vs. Charles Nilson
Winner: Mathias Lodahl (Decision 3-0)
-72 kg: Erik Friberg vs. Mads Burnell
Winner: Erik Friberg (Submission R2: Triangle Choke)
Professional MMA
-70 kg: Allan Neuherr vs. Cazim Halimi
Winner: Cazim Halimi (Submission R1: Armbar)
-77 kg: Mohammad Abdallah vs. Emil Weber Meek
Winner: Mohammed Abdallah (TKO R1)
84 kg: Aron J. Bland vs. Philip Fortuna
Winner: Philip Fortuna (Rear Naked Choke R1)
-70 kg: Hyram Rodriguez vs. Kenneth Rosfort-Nees
Winner: Kenneth Rosfort-Nees (Decision)
-115 kg: Rok Kokotec vs. Christian Colombo
Winner: Christian Colombo (TKO R1)
Pro MMA Welterweight Championship Fight
-77 kg: Christian Brinzan vs. Nicolas Dalby
Winner: Nicolas Dalby (Sidechoke R2)
Note : Ekstra Bladet's website (www.eb.dk) who was responsible for streaming the fights say that they had so many issues that they will show the fights later for free.