The Finnish MMA stars are out to shine in the southern part of the country as both Cage 29 and Fight Night Finland 8 – Karkkila take place Saturday night. Here are 5 stories to follow during the evening.
1. Marcus Vänttinen's Heavyweight Debut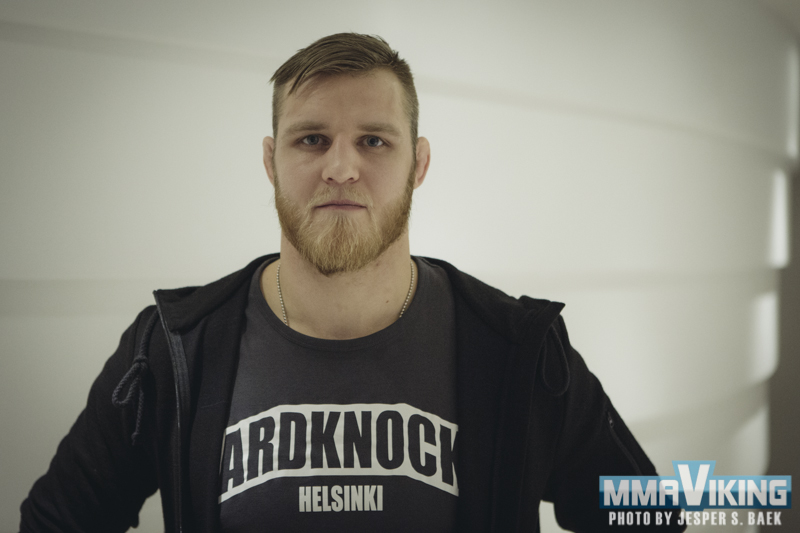 Marcus Vänttinen (24 wins, 5 losses, #3 Nordic ranked LHW) is ready to step back into the cage, but it won't be to defend his Cage Light Heavyweight strap but at heavyweight.  After being out of action for over a year with injuries "Caveman" will face a massive and athletic Jarjis Danho (4-0) with the nickname "Man Mountain". This will be a war, and wouldn't be surprised to see the winner in the Octagon after this bout.
2. The Return of Anton Kuivanen
Anton Kuivanen (20-8) finally got an opponent for his bout in experienced Sergej Grecicho (20-5-1) –promotion has said that "92 opponents refused the fight"!. The former UFC fighter has been battling injuries for the last couple years, and will be interesting to see what a healthy fighter looks like. He will have a big size advantage against the Lithuanian.
3. They Aleksi Nurminen Hype Train
Aleksi Nurminen won the IMMAF world championship gold medal last year and now the 22 year old looks to improve his pro MMA resume in Helsinki at CAGE 29 on February 28th. "I know nothing about my opponent and I don't care to know either." says the confident and outspoken Finn who will be facing Jonathan Ramon from France. Nurminen has high goals, so look for the Finn to show he can beat a veteran with a 6 win and 7 loss record.
3. They Nyyssönen Undefeated Streak
4. The Hardknox Helsinki Experiment
Jussi Halonen (4-3), Rasul Khataev (4-2), and Mikko Ahmala (4-2) have joined the Vänttinen to try and develop at the newly established pro team of Hardknox Helsinki. It will be most interesting to see how the young Ahmala will have progressed. At just 22 years old, the strong and athletic grappler has submitted his last two opponents early, and with another win would keep his momentum moving forward. The talented wrestler Jussi Halonen has yet to breakthrough and show his true potential. He hadn't had a real win since 2012, where he submitted Matias Rentals at Cage 20. Good time for a win as he faces Laurent Beranger. Khataev is headlining the FNF card against late replacement Laimonas Stancikas. With only one win in his last three bouts, it's time to get featherweight back on track in the right direction.
4. The Emergence of Suvi Salmimies
Fight Cards
Fight Night Finland 8 – Karkkila
Pro MMA: -64kg
Rasmus Bergman Karkkilan SISU vs Topias Vaittinen Porin NMKY
IMMAF: -52.5kg
Tiia Kohtamäki GB Gym vs Minna Grusander FFG
IMMAF: -77.1kg
Lari Lindeman Salon Zanshinkan vs Mikko Pasanen Jyväskylän Fight Club
IMMAF: -70.3kg
Petri Hämäläinen GB Gym vs Jesse Koivuniemi KKU
Boxing: -70kg
Ossi Vuorinen Team FNF vs Timo–Juhani Hirvikangas FFG
IMMAF: -77.1kg
Aleksi Putkonen GB Gym vs Mika Kallio Jyväskylän Fight Club
IMMAF: -74kg
Zanko Eliassi FFG vs Janne Kuusela Sisu Gym
IMMAF: -77.1kg
Kennet Mattson GB Gym vs Atte Alakortesniemi RNC
Pro MMA: -72.6kg
Patrik Pietilä GB Gym / Primus Fight Team vs Arman Popal Team Superior Sweden
Pro MMA: -71kg
Hannu Nylund Barreto Lahti vs Aleksi Savolainen MMA Imatra
Pro MMA: -70.3kg
Jani Salmi GB Gym / Primus Fight Team vs Janne Häkkinen MMA Utti / Team East Front
Pro MMA: -67 kg
Rasul Khataev, HardKnocks Helsinki vs Laimonas Stancikas Team Knight of Plunge Lithuania
Cage 29
Pro MMA: -93 kg
Saku Heikkola (3-5-0, 1 No Contest) Valkeakosken Heracles vs. Matej Surin (4-1-1) Slovakia
Pro MMA: -70,3 kg
Niko Myllynen (3-2-0) RNC Sport Club vs Kevin Ruart (2-1-0) Switzerland
Pro MMA: -56,7 kg
Suvi Salmimies (2-0-1) Team East Front vs. Karla Benitez (10-7-0, 1 No Contest) Spain
Pro MMA: -77,1 kg
Jussi Halonen (4-3-0) Hardknocks Helsinki vs. Laurent Beranger (4-2-0) France
Pro MMA: -70,3 kg
Aleksi Nurminen (3-1-0) RNC Sport Club vs. Jonathan Ramon (6-7-0) France
Pro MMA: -77,1 kg
Mikko Ahmala (4-2-0) HardKnocks Helsinki vs. Julien Piednoir (4-1-0) France
Pro MMA: -70,3 kg
Mikael Nyyssönen (7-0-0) MMA Team 300 vs. Thibault Gouti (9-0-0) Ranska
Pro MMA: -120,2 kg
Marcus Vänttinen (24-5-0) HardKnocks Helsinki vs. Jarjis Danho (4-0-0, 1 No Contest) Syyria
Pro MMA: -70,3 kg
Anton Kuivanen (20-8-0) Primus Fight Team vs. Sergej Grecicho (20-5-1) Lithuania