The event DARE 2/11 is being promoted as the "most anticipated MMA event ever held in Thailand". While this September 24 gala is held in Asia, the visionary team behind the promotion is from Finland.
"We are working on presenting some of that great Nordic MMA talent for the bigger promotions of Asia."
MMA Viking takes an exclusive look at this Nordic driven up-start promotion.  We interview Jussi Saloranta, a founder and public relations manager of Dare Fight Sports to learn more about the promotion and the upcoming event.
Interview
MMA Viking : Give the readers some background on yourself and how you got involved in MMA.
Saloranta : My own background is that I am from Finland and have been involved with MMA since 1998, when I was very lucky to be helping in the team that organized the first ever MMA events in Scandinavia.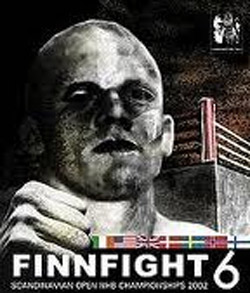 These were the first "Finnfight" events held in Turku, where so many of the biggest names in Scandinavian MMA scene have had their first big challenges with old-school NHB rules (guys like Joachim Hansen, Jani Lax, Sauli Heilimö, Tom Niinimäki etc).
Therefore, many of the top names of Finnish MMA are also my friends, such as Tom Niinimäki and Sauli Heilimö (with whom I went to school with) and many of the other guys from Finnfighters Gym.
I have been doing martial arts myself since I was 10. Some years more actively and sometimes almost none.  These have been Karate, Hapkido, Muay Thai and Submission Grappling.
MMA Viking : How did a Finn get connected with Thailand?
Saloranta : I moved to Thailand in 2006 and noticed that no one was doing anything with MMA in the country. There was a couple of gyms who were training MMA at that time and had a growing amount of tourists coming to Thailand to improve their Thai Boxing skills, but the training in BJJ and other areas of MMA was very limited as there was a very little of permanent talent available for teaching.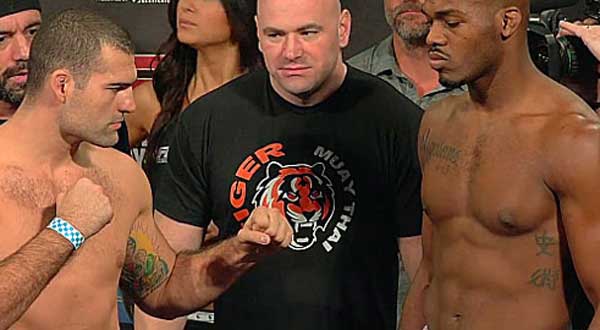 "Tiger Muay Thai", a camp located in Phuket was pretty much the only gym that had some professional fighters living and training regularly at its facility and occasionally sent fighters to compete in shows in other countries, but basically the scene was generally non-existing.
"For me, coming out of Finland where MMA was at that time literally booming, this seemed very strange."
Especially, when you consider that there is approx. 65 million citizens, who's National Sport and Pride is Muay Thai and 8 out of 10 is a some sort of a fight fan.
MMA Viking : Give us some background on the history of MMA and the current scene today.
Saloranta : The scene of training MMA had been growing a bit in general, with several new camps popping up and offering both Muay Thai and increasing amount of MMA training, mostly for foreign tourists.  To mention a few of the most well known gyms: Legacy Gym (in Ubon Ratchathani), 301 MMA (in Pranburi), Golden Triangle (in Chiang Mai), Boxer Rebellion, Bangkok Fight Club and 13 Coins (in Bangkok) and Phuket Top Team and again Tiger Muay Thai (in Phuket).  Still the MMA in general has mostly been a sport of the foreign tourists and expats with a rather limited involvement of Thais.
Still some Thais had started to train BJJ and Submission Grappling and there was even a Thai Amateur MMA organization launched in 2008-2009 in Bangkok, called "Naksu", where many of the foreigners living in the country and the Thais started to test their skills with amateur MMA rules.
The level of the fights ranges from very poor to average with some good exceptions, being mostly foreigners with wrestling or BJJ background and therefore being superior in the ground game, compared to many of the local contestants.
Tiger Muay Thai had by 2010 become the top place to train MMA in the country, with a lot of fighters from all over the world, traveling to Thailand to improve their skills in Muay Thai. These visitors also include regular visits and trainings by several UFC fighters, such as Roger Huerta, Phil Baroni, Mike Swick, Jon Fitch and for example Brian Ebersole.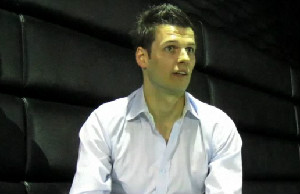 Still, even if Thailand had started to create a name for itself as one of the top Training-Holiday destinations in the world, where a lot of pro and amateur fighters traveled to improve their skills in an authentic environment, there was nothing happening in the area of Pro MMA events.
MMA Viking : What is DARE?
Saloranta : Me and my partners decided in 2010 to enter the market with our own promotion, DARE, that happened in June 2011, when we held our first event in Bangkok.
The event, "DARE 1/11" featured a total of 14 fighters from 8 different countries, being not only the first Pro MMA event ever held in Thailand, but also one of the most "talent rich" events for a long time in Southeast Asia.
Fighters such as BJJ blackbelt and World Champion Zorobabel Moreira from Brazil, Judo blackbelt and Olympic Contestant Ferrid Kheder from France and South African Muay Thai Champion Daniel Mashamaite competed in the first card.
Most importantly, DARE 1/11 also featured two Thai fighters, of from which the other, "Ngoo Ditty" is considered to be the first real, home grown Thai MMA fighter (record of 4-2 and a BJJ bluebelt).
You can see his fight here, against the South African Muay Thai Champion and current MMA fighter, Daniel Mashamaite:
The event was a full scale success and a proof that the biggest reason for the small popularity of MMA among the Thais, has not been the lack of interest towards the sport, but the lack of exposure and availability to both, compete in it and to even see it.
There has simply not been a possibility for the Thais to really get involved with the sport and therefore they seem not to know what its actually all about.  Now, this is about to change big time.
MMA Viking : What are the reasons that the sport of MMA isn't already popular in Thailand?
Saloranta : A couple of simple reasons why there has been a very limited involvement of Thais in the sport:
As MMA has been growing rapidly around the globe, more and more fighters and tourist travel to Thailand in order to improve their skills in Muay Thai. Some do this in order to become better in their standup game in MMA, some to learn Muay Thai at an authentic environment and some just for the general interest to the quickly growing sport itself.  This has lead to a huge growth in Muay Thai gyms and training centers around Thailand and naturally also into a growth of Muay Thai fights in various small and big stadiums at almost every city of the country.
Many of these shows are organized basically for the foreign tourist audiences and for the local people who like to gamble at the fights on the weekends.  Muay Thai therefore employs probably more people than ever before and is also the biggest gambling sport in Thailand.
Fighters in the sport earn from one to couple of thousands of baht per a weekly fight (few tens of dollars) up to couple of tens of thousands at the top level and approx. 100,000 baht (3,000 USD) at the very top elite level. The last being limited to just a few fighters at the legendary Lumpini Stadium in Bangkok.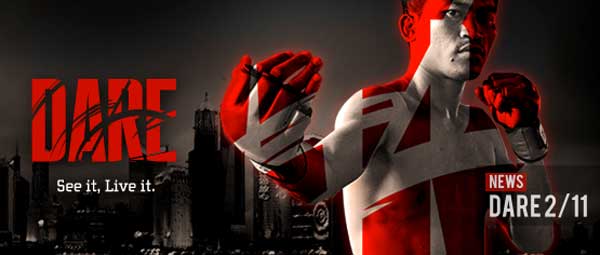 This being the situation and the Thai fighters being able to fight basically every week and earn a living with Muay Thai fights and teachings, there has not been much interest from fighters to make the switch or start training in BJJ, grappling or in MMA in general.
And why would the professional Muay Thai fighters start to train seriously in these other areas, as there has not been any way for them to turn their practice into money. Meaning that there has not been a promotion willing to pay for them and the few occasional, single MMA fights that there has been in Thailand during the years, have paid them just a few thousand baht, similar or less they would make in Muay Thai.
MMA Viking : What has been the reaction since your launch and first DARE event 1/11 in June?
Saloranta : After the launch of DARE a lot of things have happened, and many of the aforementioned Muay Thai & MMA training centers have since started really pushing the training of their Thai fighters and trying to get them into the action as soon as possible.
In Thailand, DARE – being the first pro MMA organization, plays an important part of getting these fighters featured and most importantly, getting the audiences educated about the sport and exposed to it.
DARE's plan is to create a professionally operated MMA organization that features the best Thai and International fighters in the country and hosts a variety of special appearances from all over the world. This including guys from Scandinavia, Brazil, Japan, USA etc.
To make the thing more interesting, DARE is currently working with several areas of the business, that will be somewhat new to the whole sport and in general we are trying to think as much "out-of-the-box" as possible.
We are not in a hurry and at the moment we don not compete with anyone, but we take our business very seriously and look to create the most interesting MMA promotion in the internet.
MMA Viking : Tell us about the upcoming DARE 2/11 event.
Saloranta : DARE 2/11 event will again feature a mix of MMA talent from 8 different countries. We are also having a total of 6 Black Belts on the card, four of them from BJJ and two from Judo.
As the first ever Scandinavian fighter in DARE Championship we will present a Swedish fighter and a BJJ Purple Belt – Wiktor Svensson (3-0) from Tiger Muay Thai & MMA, who will be facing a Polish Submission Specialist Cris Haja (2-0) from Golden Triangle International Martial Arts.
This and the other 6 fights on the card will be broadcasted on the 24th of this month at: www.darelive.tv
"Like" MMA Viking on Facebook and follow us on Twitter for updates on DARE and Nordic MMA.