Gunnar Nelson will be headed back to MMA next year says manager and father Haraldur Dean.  In an exclusive, MMA Viking gives some background and insights into what's the next move for one of Nordic's most elite MMA prospects.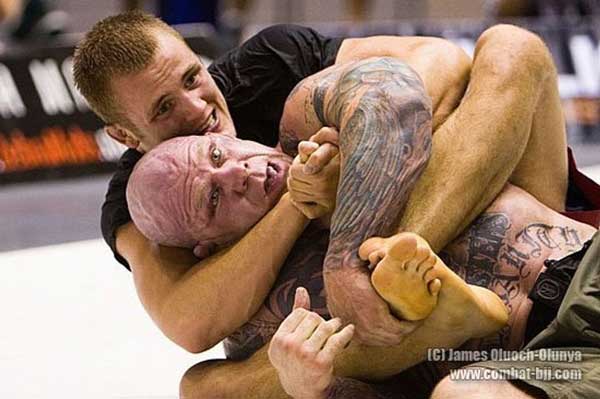 For those that aren't familiar with the standout, Nelson is a staple on any and all prospect lists of fighters not already signed to the UFC or other major organization.  Read the on-line MMA forums after another dominant Georges St-Pierre victory, and you'll eventually see the name of Gunnar Nelson appear as the guy that has the skills to threaten GSP.
Take note of this 23-year-old special talent, with a unique and evolving skill-set, as he heads back to MMA in 2012.
Background
Gunnar Nelson was born in Akureyri, but grew up in Reykjavik Iceland.  He started with Goju-Ryu karate at the age of 13 and was natural, grabbing medals in all his competitions and eventually being tapped as "Iceland's most up-and-coming karate talent" at 16.
He started training MMA and BJJ at 17, and received belts from Matt Thornton (Straight Blast Gym) and John Kavanagh (SBG Ireland), before earning his BJJ black belt under the legendary Renzo Gracie in 2009.  The well schooled and traveled Icelander has taken trips to Hilo, Hawaii, with BJ Penn, and spends time training at SBG Ireland and at SBG Mainline in Manchester with Karl Tanswell. However today, Nelson spends much of his time in New York with Renzo Gracie and John Danaher, among others.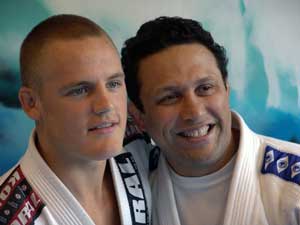 At the age of 21, he came out of nowhere to make an splash on the premier grappling platform ADCC (Abu Dhabi Combat Club World Championships).  As a welterweight, Nelson was victorious over former heavyweight champion Jeff Monson and submitted light heavyweight David Avellan in a showing that put him immediately on the map in 2009.
In addition to these and other prestigious grappling accomplishments, Nelson has already run up an impressive undefeated record in his nine professional MMA bouts.  After a draw in his first professional fight, the Icelander has taken the judges out of the equation by stopping his next eight opponents in either the first or second round to establish an 8 win, 0 loss, and 1 draw record.
It's important to not that while many prospects may develop similar impressive records, Nelson has faced much tougher opposition than most in his rise on the MMA scene.  Most notably, his last victory over was over the talented Eugene Fadiora from the UK, whose only loss was to Nelson in his 11 professional bouts.
Today, he fights out of the Icelandic club Mjölnir SBG Iceland and the Renzo Gracie Academy.  With a Karate background, high-level grappling credentials, and an undefeated MMA record, the Reykjavik fighter one of the most interesting prospects to keep an eye on.
Back to MMA in 2012 / Interview
Nelson however hasn't fought a professional MMA bout since September of 2010 with BAMMA. It was widely understood that this layoff from MMA competition was due to a complete focus on ADCC 2011, which just took place in Nottingham, England, September 24-25.  Now that this event is over, much of the talk is about Nelson's next steps. Below is the interview from Nelson's manager and father Haraldur "Halli" Nelson regarding Gunnar's status with MMA:
MMA Viking : Can you tell us about the reason's for Gunnar's layoff from MMA?
Halli Nelson : "Gunnar decided to take this year off from competitions but he has been training both MMA and BJJ. The decision however was not made because he wanted to concentrate on grappling for the ADCC even though some sources have said so. Gunnar simply wanted to take this year of to concentrate on his training without be specifically training for some special tournament. However when Gunnar got invited to the ADCC he of course decided to compete there. We were happy with his performance there."
MMA Viking : When will Gunnar return to MMA?
Halli Nelson : "Gunnar will start competing in MMA again next year but where has not been decided."
MMA Viking : Is Gunnar locked into a BAMMA agreement?
Halli Nelson : "Gunnar is a free agent. Both his fights at BAMMA where single fight contracts."
MMA Viking : Where will he make his return?
Halli Nelson : "Gunnar has been contacted by some big organizations in the USA but he answer to them was the same as to everyone else. He will decide his next MMA move in the beginning of next year. But next year he will definitely enter the MMA stage again."
Interview Post-ADCC 2011
2010 Highlight Video
For more information on Gunnar Nelson, visit www.nelson.is
"Like" MMA Viking on Facebook or follow us on Twitter for the latest on Nordic MMA.