Swede Jack Hermansson (20-4) fighting out of Oslo, Norway faces Alaskan Jared Cannonier (12-4) at the UFC's first trip to Denmark. MMAViking.com is cageside to cover the Nordic action with five fighters stepping into the Octagon.  Get your live updates here.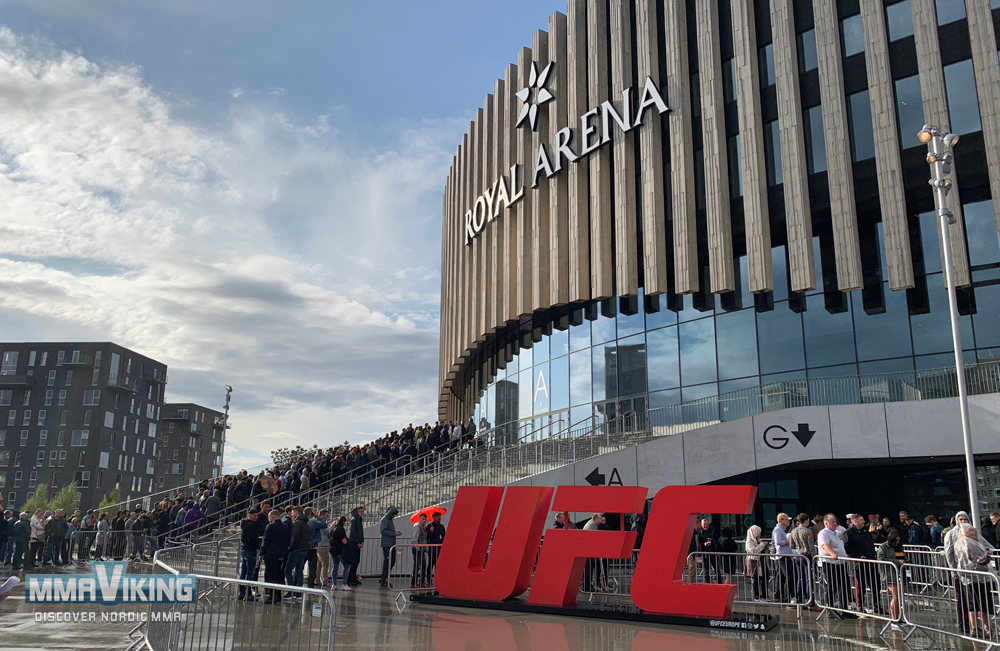 PRELIM CARD
Nohelin Hernandez vs. Jack Shore – Shore wins by RNC in 3rd round.
Marc Diakiese vs. Lando Vannata – Diakiese wins by decision 30-27, 30-27, 30-26
Macy Chiasson vs. Lina Lansberg (Sweden)
The two tie-up after a few strikes, and Macy pushes the Swede up against the fence. The two circle each other if they battle position. Macy trying to get lower for a take-down, and landing some knees in the clinch. Not much action with 1 minute left. One good knee to the face from Lina, but probably not enough. First round to the American
Round 2 starts out with nice strikes from Lina, and Macy goes for a spinning elbow, but Lina locks around teh waste and gets the fight to the ground. Chiasson is looking for a sub off of her back but Lina postures up and lands a good right hand. Teh American gets to her feet, but Lina gets a front headlock and lands two crushing knees. Some dirty boxing against the cage, and when the Swede gets distance and goes for a take-down is met with a knee to the face. That round should go in favor of the Elbow Princess.
It's a grueling battle and it shows as the two strike then clinch again to start the last 5 minutes. Now Lina presses in behind her combinations, grabs a body lock and brings the fight to the ground. Impressive grappling skills are surprising the powerful TUF winner. "Lina, Lina, Lina" chants begin. Lansberg moves to half guard and even lands a few right hands as Macy is flattened to her back. Two quick hammer fists and things are looking good for the local fighter with two minutes left. Lina is finishing the round strong, pressing the action against the cage. Clear round for Lina.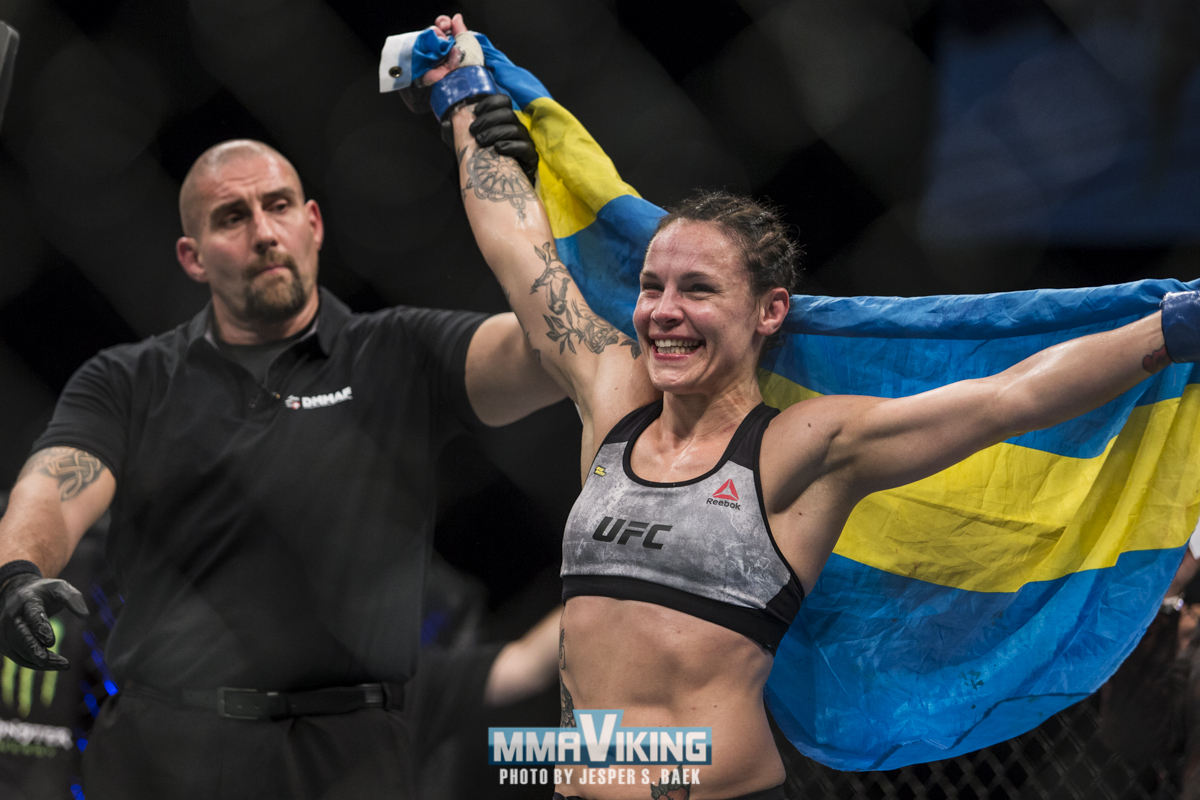 29-27, 29-27, and 29-28 for the unanimous decision.
Giga Chikadze vs. Brandon Davis – Split draw (29-28, 28-29, 29-29) was announced, but there was a math mistake.  The real score is Chikadze by split decision (29-28, 28-29, 29-28)
Siyar Bahadurzada vs. Ismail Naurdiev – Naurdiev wins unanimous decision (30-26, 30-26, 30-25)
Alessio Di Chirico vs. Makhmud Muradov – Muradov wins 29-28 on all judges.
Alen Amedovski vs. John Phillips – Phillips wins by KO in just 17 seconds.
MAIN CARD
Nicolas Dalby (Denmark) vs. Alex Oliveira
The Brazilian comes out swinging early, and Dalby looking to counter punch.  The crowd is electric.  The "Dalby" chants start again.  Both fighters are checking low kicks.  A missed spinning kick from the Brazilian.  And one from Nicolas in return.
The Dane with a flurry and the crowd goes nuts, but nothing lands.  Wild punches miss from Alex.  A take-down attempt from the Sharpshooter, but doesn't get it.  The Rumble sports fighter with a body lock, but in transition falls with the Brazilian on top with less than a minute to go.  Unfortunate, and likely a deciding frame in the first here as Alex lands a few punches.  Dalby reversed the take-down in the last second.
Dalby looks to be the fresher of the fighters coming out to round 2.  A break due to an eye poke.  Dalbe in a tight exchange, and looks to get clipped but comes right back and a right head-kick attempt at tight range.  The two clinch, and now Dalby brings the fight to the ground with a switch.  Dalby in half guard and lands a few little elbows.  In control with 2 minutes left.  Short right hands as Olveira backs up into the cage to escape.  Now standing with 1 minute left.Dalby pressed the action and lands a few good punches, the Brazilian looks hurt and backs into the cage.  Oliveira gets the take-down, but Dalby re3versed quickly as Alex throws a kick to the face from the ground and the ref jumps in to stop the action.  And now re-starts the fight on the feet as the round comes to a close.  Good round for the Dane.
Round 3 begins with Dalby nearly landing a big left kick to the head.  Now in a double-leg take-down, bminutes leftut Alex is able to regain position and is now able to bring the fight to the ground, quickly moving into side mount.  The Brazilian seems content on relaxing a bit to catch his breath, but does work into half guard with Dalby against the cage.  Two minutes left and the referee brings the fight to the feet.  Dalby again however finds himself on the bottom, but now reverses position and is on top!  Fulll mount!  Dalby is punching away with less than a minute. Dalby punching away in total control and the place is going wild.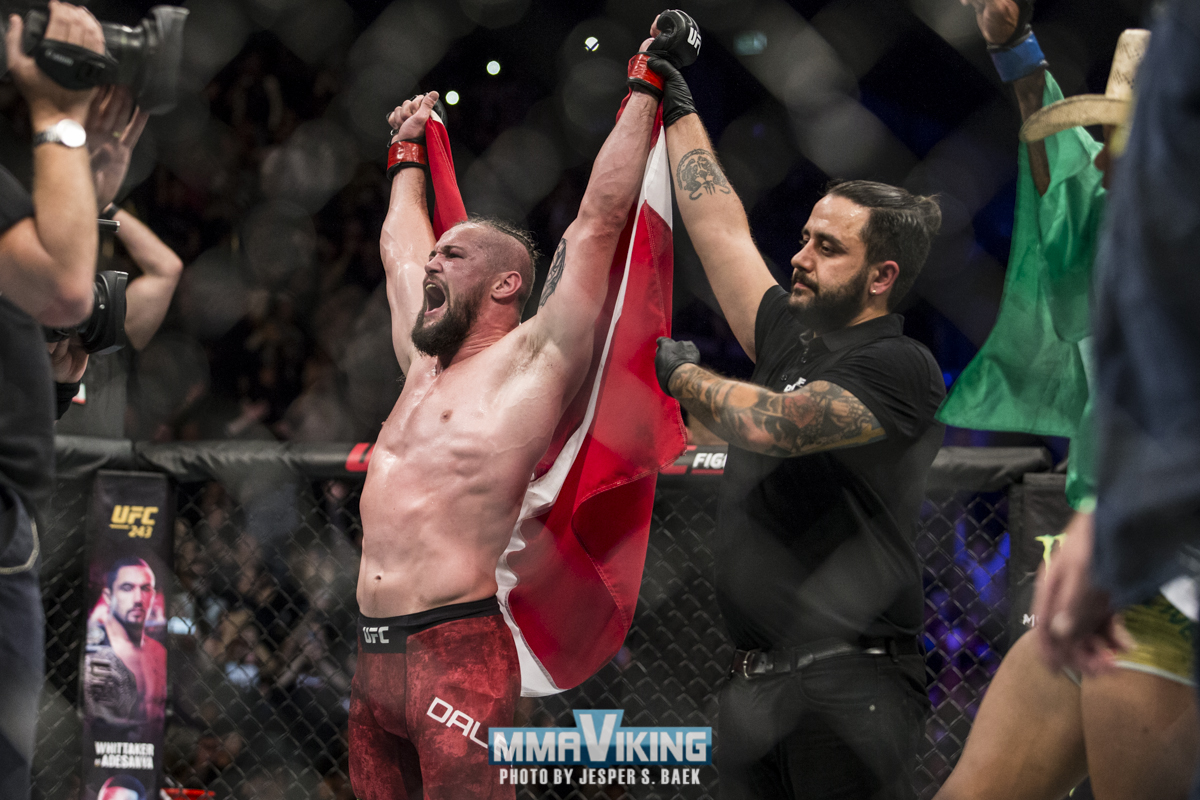 Dalby via unanimous decision (29-28, 29-28, 29-28)
Michal Oleksiejczuk vs. Ovince Saint Preux – OSP wins via submission (Von Preux choke) – Round 2, 2:14
Ion Cutelaba vs. Khalil Rountree – Cutelaba wins via TKO (punches and elbows) – Round 1, 2:35
Gunnar Nelson (Iceland) vs. Gilbert Burns
Gunnar briefly considers a take-down, but now standing staight up looking to counter a kick.  Burns with a few looping punches.  Lead left from Gunni that lands.  A high kick from Burns is blocked and anyones round with two minutes left.   The crowd is just going cxrazy in anticipation of Gunnar's offense turning on.  Nelson lunging forward with strikes, but nothing lands.  A take-down with 30 seconds left as Gunni turns on a body lock attempt from Burns that backfires, and Gunni is looking down on Burns that is throwing up his legs.  Well defended and a punch lands.  This round goes to Nelson.
A couple stiff jabs from Nelson to start teh second.  A solid right kick from Nelson and he rushes his way into a body lock against the cage.  After a brief break, they are back in a tie-up.  Nelson trying to get in on the legs.  Half way through the round.  A good right calf kick from Burns, and Gunnar's leg is getting red.
Gunni grabs around for a body lock, but is thrown on his head buy burns.  Nelson is up but takes flying a knee to the face standing, now Nelson shoots for a take-down and Burns grabs a front headlock and looking for a d'arce with time running out jumps on top for some punches.  Good round for Burns.  It will come down to the third.
The fighters touch gloves and give a smile before staring the last frame.  Nelson again with a body lock in a scramble, but realizes he has to be careful here.  The Icelandic fighter lets go and just backs Burns up against the cage.  Nelson in on the legs, but too slippery to secure anything solid.  Three minutes left and it is anyones fight.  Nelson with a good lead body shot, but Burns counters.  Again Nelson lands a strike but Burns lands a knee.  Nelson pushes up the Brazilian against the cage.  One minute left.  Burns picks up Nelson for a clean take-down, but Nelson scrambles to the feet.  Back up standing.  Close fight.  Could that last take-down make a difference?
Burns wins by unanimous decision 29-28, 29-28, 29-28
Danilo Belluardo vs. Mark Madsen (Denmark)
Mark leads with pumches, then gets a body lock and throws Belluardo to the ground.  Next it is a guillotine, but switches to elbows and punches… and it is all over!
TKO win for Madsen at 1:12 of the first round.
"This is absolutely amazing"
Jack Hermansson (Sweden/Norway) vs. Jared Cannonier
Jack shoots for a take-down after a couple of kicks, and Jared pushes Jack's head down and defends well and even lands an elbow on the way out.  Back to the feet.  Hermansson with a double leg take-down, then a suplex!  Jack looking for a rear-naked choke, but nothing it there. Cannonier gets up.  A fast paced two minutes.
Good low kick from Jack, but Jaren looks calm and cool moving forward.  Jack fails on a take-down.  Now a good low kick from the American.  Another good low kick that buckles Jack's knee.  One more.  A failed take-down from Jack, but leaves with a knee to the body.  A few good kicks from Jared to end the round.  That is Jack's round.
Big uppercut from Jared that drops Jack.  The American is on top swarming and throws more punches on the Swede that is covering up, and the referee jumps in.  The fight is over.
"These fans are awesome… this is the happiest country in the world." says Jared.
"I am not the best at the moment, and I have a lot to learn.  I will go home and do my homework and make sure it doesn't happen again." says Hermansson.