Yesterday, the UFC released its first official rankings, and two Nordic fighters made the top 10. Swede Alexander Gustafsson is ranked as the number 3 contender, while Dane Martin Kampmann is ranked number 7.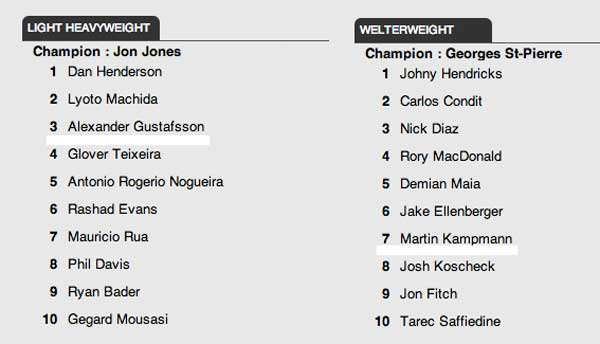 Rankings were generated by a voting panel made up of media members. The media members were asked to vote for who they feel are the top fighters in the UFC by weight-class. A fighter is only eligible to be voted on if they are in active status in the UFC and a fighter can only appear in one weight division at a time. The champion and interim champion are considered to be in the top positions of their respective divisions and therefore are not eligible for voting by weight-class.
Gustafsson will be headlining the UFC in Sweden 2 this April, where he will face Gegard Mousasi, who is the number 10 ranked contender. This bout will push the Swede closer to a shot at the title, as he awaits the #1 and #2 ranked fighters of Dan Henderson and Lyoto Machida who will face off later this month on February 23 at UFC 157 in Anahiem. Gustafsson has won 6 straight UFC bouts dating back to October of 2010.
Kampmann has not fought since losing by KO to Johny Hendricks at UFC 154 in November. The Hitmann was on a 3 fight win streak, before losing to who is now the #1 contender.
To see the full official rankings – www.ufc.com/rankings