Jack Hermansson (19-4) outpointed Ronaldo "Jacare" Souza (26-6) in the main event at UFC Ft. Lauderdale today. The Swede used a pressure attack to outstrike, and nearly submitted the middleweight #4 ranked contender in the 5-round fight.
Jack used movement to start the fight, while Jacare waited to counterpunch. The Joker rocked Jacare with a right hand, then another right hand and dropped the Brazilian to the ground. Jack immediately tried an arm-in guillotine for the finish, and it looks close, but can't get it against the BJJ black belt and they are back to the feet. The Swede lands some nice jabs to finish the round.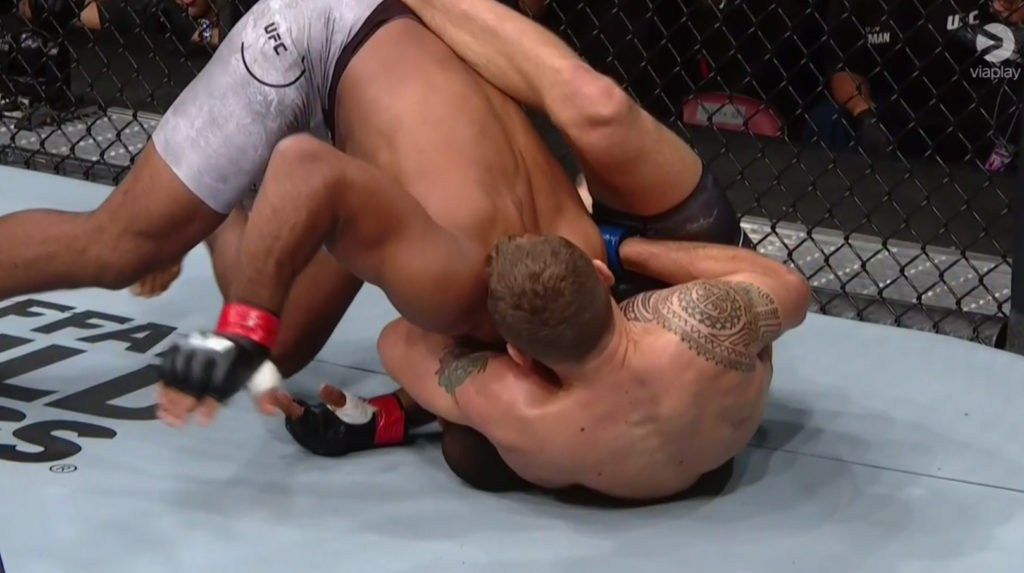 "Respect his power" said the Brazilian's corner before coming out for the second round. Both fighters looking to land on the feet, but when the Jacare kicked it was Hermansson to immediately shoot for a take-down. Hermansson landing small punches while trying to posture up for bigger punches. But half way through the round and Jack is controlling and landing frequent hammer punches. A solid left elbow at the end of the round and clear round for the Oslo-based fighter.
Jacare looks tired coming out to the third, and the Frontline Academy fighter shows he is not by moving lightly on his feet to start the round. A flying knee counter for Hermansson slowed Ronaldo's forward pressure. Solid counter right from Jack that has the reach advantage. Souza lands a big right hands and Jack looks impacted by the shots. 20 seconds left and Hermansson looks threatened by the attack and knocked to the floor briefly with a punch. Big round for Jacare.
Hermansson failed at a take-down attempt to start the 4th round. Jack lands a big upper cut, and then a combination of punches, and Jacare trying to fire back as Hermansson lands more and more punches. A super man punch caught the Brazilian off guard. The jab allowed Hermansson to control the Octagon, and land solid right uppercuts and the fourth round another clear round for Jack.
Jacare looks exhausted coming out for the fourth, and Jack was the first to get off his chair. A more conservative Hermansson in the first three minutes, but Jacare knows he needs a finish and throwing big punches, but Jack stays busy. Jack gets a take-down with 20 seconds left to wrap up the victory in Florida.
The official scorecards were 48-47, 48-47, and 48-46 in favor of Hermansson.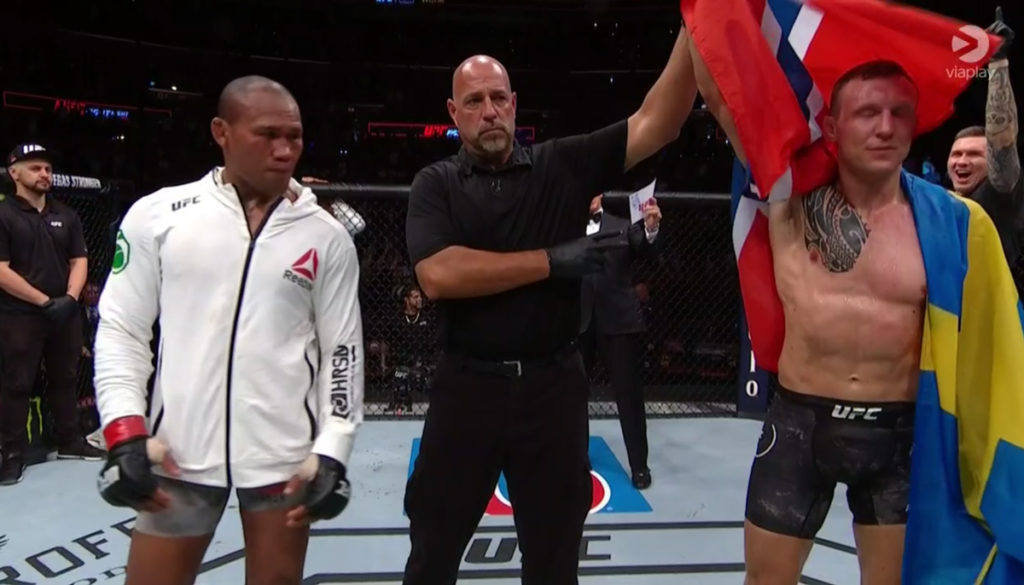 "I am a title contender." exclaims Hermansson in the post-fight interview. "I am looking forward to finishing the next one."