Nordic's best female fighter Katja Kankaanpää convincingly beat Valkyrie Flyweight Champion Mei Yamaguchi at Botnia Punishment 11 in Seinäjoki, Finland. Kankaanpää talks to MMA Viking about the big victory. Also included is the fight video.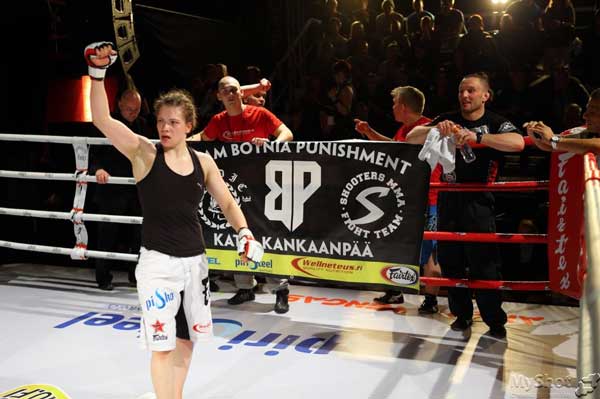 MMA Viking : Did the fight go as you planned?
Katja : I was trying to go with our game plan and listen to my corner for advice. I didn't want to take any risks. I tried to control and pace the fight suitable for me. I expected Mei to be more aggressive but I got good hits through standing up so I think those held her back.
Fight Video

Video produced for Botnia Punishment by Siltaloppi Productions.
MMA Viking : Tell us about the threat of Mei's submissions.
Katja : The only situation where I was a bit the underdog was Mei's triangle attempt. I made a mistake at the first round and Mei caught me in a triangle. However I had no worries at the situation. I had my other hand between and kept myself ready if she would have attempted armbar.
MMA Viking : How does she feel to defeat the known Valkyrie champion?
Katja : It always feels good to win, but this one felt especially good. This fight was very important to me so I've put a lot of effort to it. Me and my team worked hard and win was the result we hoped for.
MMA Viking : How will this win impact you as you look to the future?
Katja : Mei is good and experienced fighter and it was nice to notice how my skills was enough to defeat her. Personally winning this gave me fate to my own abilities. Now it's good to carry on with confidence to the next tough fight.