Katja Kankaanpää (10-2-1) is just a week away from her first fight after losing her title to Livia Renata Souza back in April. Now she'll face undefeated American DeAnna Bennett (7-0) in the co-main event of Invicta FC 14 as she takes steps toward another title shot.  'Killer Bunny' travels around Finland constantly in search of top quality sparring, in mid August she found herself in Tampere at MMA Team 300 in two tough sparring sessions where mmaViking.com caught up with the former Invicta belt holder.
"We have a couple people in my home gym who I can spar with, but I have to travel around the country to receive the level of training that my career requires. For example in Jyväskylä they held a charity sparring marathon so me, Eeva Siiskonen, Veera Nykänen agreed to meet there and train. Vuokko Katainen has also been very important training partner, but now she's recovering from shoulder injury."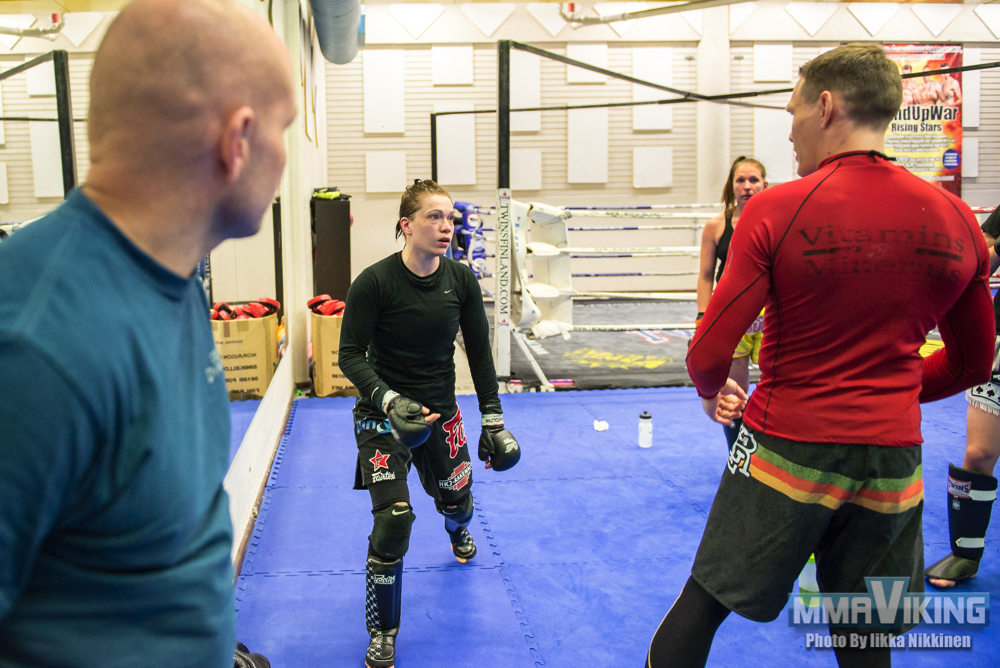 Preparation for the match has been going great according to Kankaanpää, she enjoys the fact that there wasn't a long gap between this bout and her previous one. Also she didn't have to go to the fight with a short camp, the fight was announced two months ago, giving her a full training camp.
"I have my own style so we train in a way that I can force her to fight at my pace and take the fight where I'm strong."
Invicta FC 14 takes place in Kansas City, but previous event was held in Las Vegas as part of the International Fight Week that the UFC arranges every year mid-July. The strawweight stated that it would have been cool to fight in Las Vegas, but that Kansas feels like a second home to her. "I love fighting for Invicta, they take care of me and truly feel appreciated there. Invicta always gives me great, challenging fights."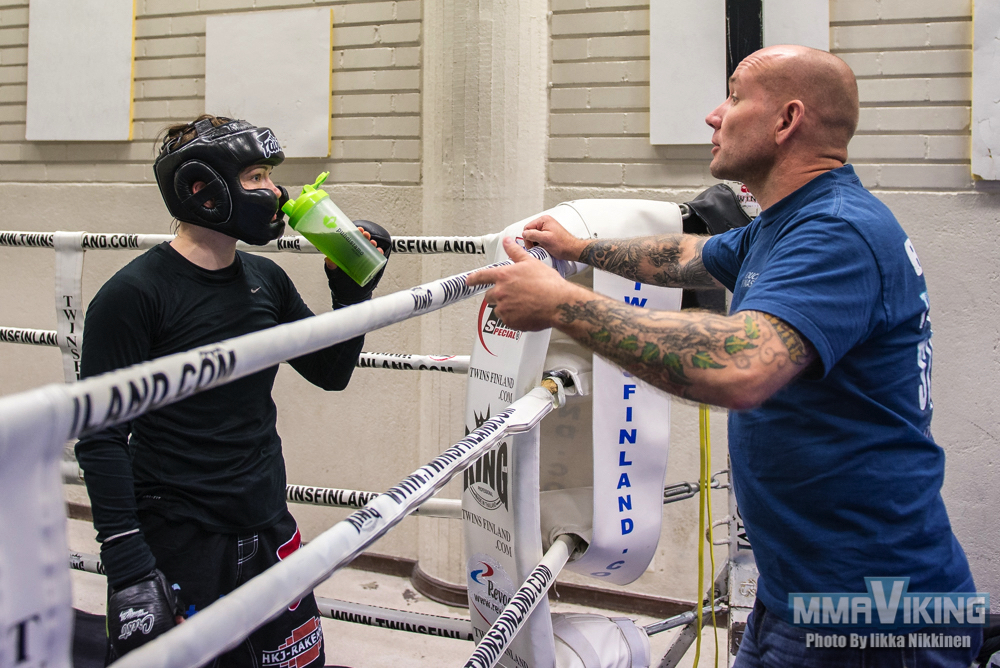 Kankaanpää is in a unique situation with her fighting career as she also has a fulltime job which supports her fighting career. She works at Lapuan Piristeel as an media manager for eight hours a day and still manages to find time to train and fight at the world champion level. "Of course I've had to make sacrifices, I don't enjoy a lot of free time, but I've been blessed with a supportive family and a great work and training environment." 
Lapuan Piristeel is also one of Kankaanpää's sponsors and Kankaanpää bursts out laughing when she recalls the text message she received from her boss after she won the Invicta Strawweight Title back in September 2014; "You can have a few days off from work, we'll call it the Champion's Vacation".
"I absolutely love my job and I'm annoyed that now after my fight we'll fly back on sunday evening and I find out that I'm not going to be able to go back to work on monday!"
Reflecting on her career she lists her achievements and of course the biggest one is capturing the Invicta Strawweight Title. "I never fantasized fighting outside of Finland, but things just gradually evolved and suddenly I was a world champion. Kankaanpää has two fights left on her contract with Invicta and when asked about her plans after those fights, she smiled and said: "I don't like to plan too much ahead, we'll see what happens."
Invicta FC 14 is an historic event for Nordic MMA as the event will feature another Nordic fighter in Pannie Kianzad. Sexy Scramble will be fighting for the promotion's bantamweight title against current champ Tonya Evinger.
Invicta FC 14 will be streamed via UFC's Fight Pass and live play-by-play will be available on MMAViking.com.